I feel a little intro is necessary here: Demi the Demoness is of course not a real person, she's a character appearing in adult comics and was created in 1992 by SS Crompton for Carnal Comics and that has only recently (as in 2008) made her leap to the big (or rather small) screen in the film Demi the Demoness Movie, in which she's played by Ellie Idol.
But please, just because this is an interview with a fictional character, don't dismiss it as a cheap publicity stunt: While Demi the Demoness might be fictional, the person I did the interview with was real (though I have no idea who she [he?] actually was) and perfectly capable of answering all my questions.
Having said that, have fun with my first real interview with a fictional character !!!
First of all, could you please introduce yourself to those who do not already know you?
Umm gee, letís seeÖ Iím Demi the Demoness and I live in Hell in a big pyramid with a banished Egyptian cat goddess named Kit-Ra. Iím not like most Demons, Iím carefree and nice. I donít torture people or send them to Hell or anything like that. I DO have a lot a sex thoughÖ I guess I have a sex aura that makes people want to make out when they meet me Ė or maybe Iím just really cuteÖ
A film about you, fittingly called Demi the Demoness Movie, has only recently been released. A few words about the movie?
Well Ė itís really flattering to have a movie made about oneís life and stuff. Itís a great, but weird feeling seeing your life story up on the big screen (uhh well I guess on dvds anyways). I thought they did a really great job telling the story of how me and Vampirooni (another girlfriend of mine), got captured by that evil Nazi witch Lyssa. Thatís pretty much how it all happened that day. A true slice of my life!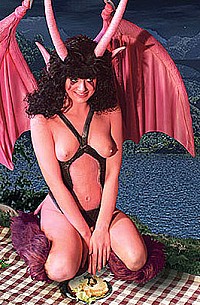 Ellie Idol as Demi the Demoness
What can you tell us about the film's cast, especially Ellie Idol, who can be seen as Demi the Demoness herself?
Ellie was really good at playing me Ė donít you think? She really captured how I am, it was uncanny! Though I think the costume wasnít quite right, but it was still pretty amazing to see! I guess they had to spray paint her pink and give her horns, wings & my tail. Quite a lot of work! I think Ellie retired form doing anymore movies, so I guess playing me was her swan song. I guess once youíve played hellís cutest Demoness Ė whatís left to do?

Sinn Sage played Vampirooni and she was really amazing too! She totally looked like Vampirooni Ė it was like looking at her in a mirror! She really played the part of my lesbian vampire girlfriend great! They painted her whole body white. Sheís very nice.
Audrey Elson played Lyssa the Witch. She did a really great job too. Very scary, but still really sexy too. I think the real Lyssa had a more German accent, but Audrey played the evil witch very well! Really Audrey is very nice. I got to meet her at the premiere party.
A few words about director Steve Steele?
I donít really know him all that well, but he sure did a great job with filming everything and doing the editing of the film and stuff. It canít be easy filming naked women having sex all dayÖ Hmm actually I bet itís probably great fun doing that - Tee hee!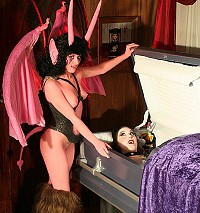 Ellie Idol with Sinn Sage as Vampirooni
How did the whole project come together in the first place?
I think that Steve Steele met Carnal Comics publisher SS Crompton [SS Crompton interview - click here] at San Diego Comic Con in 2007.
He was filming x-rated Super-hero parodies and saw my comics and then they started talking about maybe doing a Demi movie. I think Sinn Sage was there too and everyone thought sheíd make a great Vampirooni , so it just sort of grew from there. They did the actual filming of the movie in February, after they got all the props and costume stuff made.
What do you personally think about your depiction in the film, and in terms of sex, does the film go too far, not far enough or just right?
Well I kinda cover that up above, but Iím very happy with it all! Iím cute, sexy and get to use my sex energy to defeat the Witch & her big long, magic staff. Ohh I think it went far enoughÖ Itís pretty x-rated by human standards!
The 64-Dollar-question is of course - where can one get your film?
Thatís an easy one! Go to www.DemiDemonessMovie.com. You can buy the DVD or download my movie. Itís really fun.
You are not an original movie-character though but started your life in comics back in 1992. What can you tell us about your creation and your career in comics?
WellÖ I guess SS Crompton started drawing my comics after he got summoned to Hell by accident. Anyway we met and then he started drawing comics about me. I think heís done over 30 books with me in them at this point. All of them are my true life adventures. You can see those at www.DemiComix.com. Iíve crossed over with a ton of other comic books over the years, maybe more than any other adult comic character.
Plus I have a trading card set, t-shirts and they even made a resin model of me a few years ago.
A few words about your creator, SS Crompton [SS Crompton interview - click here]?
HmmmÖ he seems like a nice guy. I think his nickname is the Gentleman Pornographer. Guess thatís suits him pretty well. He spends most of his time making comics. Heís always looking for new artists willing to draw naked girls!
... and about your publisher, Carnal Comics?
Carnal was the first company to publish my adventures back in 1992. Though Iíve also been published by Eros Comix, Mu Press, Rip Off Press and others. But Carnal is kinda my home base. I think my favorite book is my graphic novel and my Pin-Up Diary. The graphic novel is the best place to start reading my adventures, cause thatís where they start.
While it's commonplace for mainstream movies to be based on comics, this is something very new in the adult comics- and movie-world. Do you think the film might start a trend and are you proud to be (among) the first?
Gee I am kinda proud to be one of the first. Sure Ė I hope lots of other adult comic characters get movies. Wouldnít that be cool?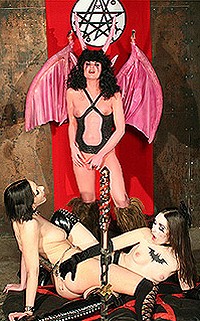 Ellie Idol, Audrey Elson, Sinn Page
Will there ever be a sequel to the Demi the Demoness Movie?
Ya never knowÖ But I bet there will be one day!
Your website, mySpace, whatever else?
Oh Yes please come to my Myspace page and letís be friends! www.myspace.com/demidemoness
I answer all my messages & stuff.

Feeling lucky ?
Want to search for books by
Demi the Demoness
yourself ?
The links below
will take you
just there !!!


Anything else you are dying to share and I've just forgotten to ask?
Ummm be brave, and try my movie or one of my books Ė youíll like them, I promise!
And I love you all!
Thanks for the interview.