Your movie Devil May Care - in a few words, what is it about?
KYLE: I would say Devil May Care is about a lot of things. Mostly, for me anyway, it's about taking that first step to forgiveness and a family struggling to reconcile the horrible things that one of them has done. Movies like to make forgiveness look easy, but it isn't always. Sometimes it takes work.
GREG: To me, what the movie is about is surprising, because it's not about forgiveness, or redemption, or reconciliation. It's actually about getting to the very first step before all that. The struggle and thought process one needs to go through in order to either go back to the status quo or move forward to achieve those things.
How did the project come into being in the first place, and how did you all get involved? And how did you meet up in the first place?
KYLE: Justine and I were making movies all the way back in high school and even went to film school together and Greg Metro has been my friend and writing partner for a very long time. I was going to take a different route to film Devil May Care but when she read it, she asked to be involved and really put us on the right track.

GREG: Kyle, Justine, and I have known each other since we were freshmen in high school, and that is where we found our common interest in storytelling. Writing up scripts and shooting them at our houses with our friends on a Handicam. Justine and Kyle went to college together in Chicago to study film while I stayed in MA and studied Communication with my focus in Digital Media. It was in those years where Kyle came to me with the concept of this movie. From there it evolved from various drafts and took on a more personal tone for Kyle. Once Kyle and I got it to a point where we really felt good with it we showed to Justine and she fell in love with it. After a bit more tweaking, the rest is history.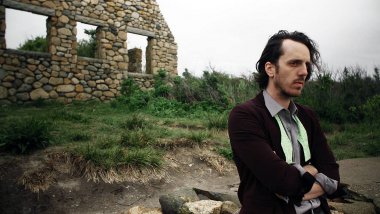 Nat Sylva
JUSTINE: We've been friends for half our lives, which is scary to say. Kyle and I have acted in plays together. Kyle and Greg formed a band in my parents' basement. We've always found a way to express ourselves through art - and filmmaking is our biggest passion. I saw Kyle posting on Facebook about his latest script he wrote and I was like, "Oh yeah? Sure, let me read this new script." And then it turned out to be really, really good so I said let's make it right.
Devils and Angels, Heaven and Hell - what did you find inspiring about this topic, and in your private life, would any of you describe him/herself as a religious person?
KYLE: I am not a religious person in the least, but I needed a character that was instantly irredeemable without getting into a lot of backstory. I was also interested in portraying the Devil as bored and miserable which we haven't really seen before. He has been doing the same thing for millions of years and still hasn't taken over Heaven. I feel like he'd just be fed up at this point. My major inspiration was that I have a close family member that struggled for many years with drug addiction and those years were an absolute Hell on earth for me and my family. Although that family member has now been clean for many years, I still haven't healed completely and the movie is about those feelings.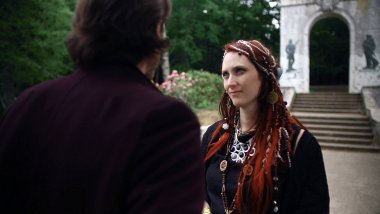 Diana Porter
GREG: I'm not very religious myself, but I do find mythology of all kinds interesting. We weren't really focused on the religious or supernatural aspects of this story, what we were really looking at was the family aspect. The father and son having a profound falling out, the son after years trying to reconcile with his family, these were the aspects we were truly after.
Do talk about the film's look and feel for a bit - and since you three all had production duties on Devil May Care, how did you get along when it came to creative decisions and the like?
KYLE: I knew I wanted a really washed out look for the film and we were really lucky that it was so overcast the weekend we filmed because it really helped achieve that. We are seeing everything through Lou's eyes and he does not have a high opinion of earth. Mikel J. Wisler, the director of photography, is amazing and has a fantastic eye and really allowed me to focus on framing the shots and working with the actors. We built up a great level of trust and even though he is semi-sorta retired, I hope I can convince him to work on my next project.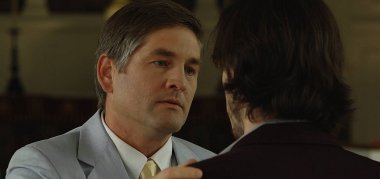 Jay Dunigan
GREG: The film takes a somber tone with the overcast gray sky and haunting music, but it also has a feeling of hope that maybe, just maybe, even the Devil can change. I love working with these two, I feel our strengths compliment each other so well. Sure we bump heads from time to time but who doesn't? Once we get on the right path there really is no stopping us.
JUSTINE: New England is filled with so many unbelievably great locations. The Massachusetts Film Office website is a fantastic resource, especially for myself being in LA, to find our perfect locations online. One of the locations - the burned down building was a complete surprise, and not something we had originally planned.
What can you tell us about your cast, and why exactly these people?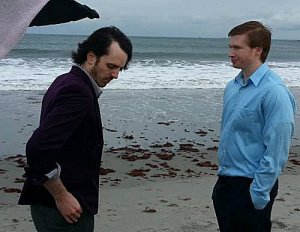 Nat Sylva, Chris Goodwin
KYLE: I love this cast. They made me look really good. I never would have guessed that I would have such a high level of talent on my first film. Nat Sylva is this Lucifer and just has a natural understanding of the material, as everyone did. We couldn't rehearse with Diana Porter because of some schedule problems, but I was never worried for a second as again, she was absolutely perfect for the role. She actually won an award for her performance as Death and she absolutely earned it. Chris Goodwin was up for the part of Lucifer, but we immediately felt he would be a better fit for Gabriel and was a ton of fun to work with. Jay Dunigan was also great to work with and has some fantastic stories about acting. As soon as he walked through the door for auditions I knew it was going to be him. When he got into his amazing costume he just became that character.
GREG: This cast was literally the perfect storm. I have never met or seen any group of people have such a complete grasp of the material before, nor gel so quickly. I can't wait to work with this cast again in the future.
JUSTINE: The cast was a joy and a half to edit. Really, an editor's dream cast.
Do talk about the actual shoot, and the on-set atmosphere?
KYLE: We had great time filming, even during the more stressful moments of the shoot we maintained a really loose and fun atmosphere. That doesn't mean we didn't work really hard. We had a ton of work to do in a very shot period of time and everyone in the crew knew exactly what had to be done. I honestly hope to work with everyone again very soon.
GREG: Fun and fast and frantic. That was the shoot in a nut shell. We had a few scares when it came to locations but we were able to nail everything down last minute. It was a four day shoot all over the MA and RI so we were moving at a pretty quick pace. The cast and crew gelled so well it didn't feel like work at all, it felt just like back in the day with that Handicam.
The $64-question of course, where can the movie be seen?
JUSTINE: Everyone can purchase a DVD, which is loaded with goodies at www.devilmaycarefilm.com/store. We'll also likely have it for rent once our festival run is complete.
Any future projects any of you would like to share? And based on the experience on Devil May Care, could you ever be tempted to working with each other again?
KYLE: Justine, Greg and I are working really hard on a number of ideas and we're hoping to get a lock on the next idea and get back to work really soon. I don't know what I'd do without Justine and Greg. We're a team.

Feeling lucky ?
Want to
search
any of my partnershops yourself
for more, better results ?

The links below
will take you
just there!!!

Find Devil May Care
at the amazons ...

amazon.com

amazon.co.uk

amazon.de
Looking for imports ?
Find Devil May Care here ...
Something naughty ?
(Must be over 18 to go there !)

GREG: We are currently in the creative process working on our next project. Like I said, I love these two and will continue working with them for as long as I can.
JUSTINE: If people are interested in funding our projects we'll keep making them! :D
Your/your movie's website, Facebook, whatever else?
JUSTINE: All of our info is at devilmaycarefilm.com and we're on Facebook of course - facebook.com/DevilMayCareMovie and you can chat with me on Twitter: @TheDevilMay - Come talk to us!
Anything else you are dying to mention and I have merely forgotten to ask?
JUSTINE: One thing I like mentioning is that this film was made with the collaboration of people from all over the world. We had fantastic support for our IndieGoGo campaign from as far away as Australia. We have a producer in Michigan, sound designer in Chicago, it was edited and color corrected in LA, and of course filmed and scored in Rhode Island and Massachusetts with cast and crew from all over New England. With technology these days it really is much easier to work with the people you want to work with no matter where they live.
Thanks for the interview!