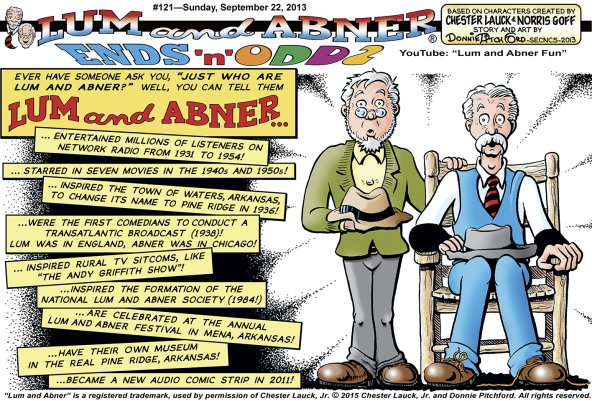 You are the writer and artist of the Lum and Abner comicstrip - so please explain, especially for those of my readers not familiar with Lum and Abner of old, what is your comic all about?
Lum and Abner, the comic strip, is based on the American radio comedy program of the same name, so I write a continuity that presents those characters and a few I introduce from time to time in a format that resembles the shows somewhat, but I have to adapt it to the style of a Sunday newspaper strip. It takes place mostly in Pine Ridge, Arkansas, which is a real town, by the way. The characters are friendly, small-town people, a little exaggerated, but not much different than my own relatives who are from Arkansas. I keep the characters in the basic time period of the radio show, mainly the 1930s and '40s. It's suitable for family reading - or listening - since I also do an audio adaptation every week.
What inspired you to turn exactly these two into comicstrip characters?
For one thing, I love what has become known as "Old Time Radio". I love the dramas, the comedies, everything about it.
I started hearing Lum and Abner in 1980, first on a college radio station, thanks to a professor named Dr. Joe Oliver, and then in 1981 on an AM radio station, KHYM-1060, near my then-home in Spring Hill, just outside of Longview, Texas. I was hooked by the daily 15-minute serialized stories.
A good friend, David Miller, got into listening to the shows in his town, and we started researching the characters. We were impressed that the show was created by two boyhood friends who grew up in Mena, Arkansas, which was only about four hours from where I lived. There was an older gentleman named George Lillie who'd done a lot of research on Lum and Abner, and we all saw national newspaper articles about him, and through him, a man named Sam Brown of Illinois contacted us, and that started a long friendship.
We learned there was a Lum and Abner Museum in the real Pine Ridge, Arkansas, and Sam and I met there in 1982 during their Lum and Abner Days festival. I was finishing college a bit late, but a younger college student named Tim Hollis of Alabama located Sam and me in 1983. In 1984, we founded a radio historical organization called the National Lum and Abner Society, and started publishing a bimonthly newsletter called The Jot 'Em Down Journal, which ran until 2007.
Starting in 1985, we produced an annual NLAS Convention in the Pine Ridge and Mena area, and invited numerous Old Time Radio ("OTR") celebrities to be our guest stars. We managed to bring in most of the surviving actors, writers, announcers, producers, and friends who worked with Lum and Abner, or Chester Lauck and Norris Goff. Sadly, we were too late to meet Lauck and Goff themselves, but members of their families made it to our conventions.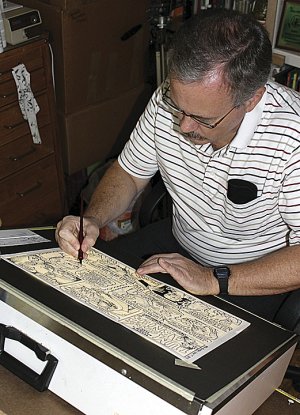 Donnie at the drawing board
Our last NLAS Convention was in 2005, but in 2011 and 2015, we produced two "NLAS Reunions" I suppose you'd call them. I just returned from the most recent one. We were unable to have anyone who worked with Lauck and Goff, sadly, due to the few that survive being of advanced age, so we had two world-syndicated newspaper cartoonists who love Lum and Abner. John Rose, who writes and draws another rural humor strip, Barney Google and Snuffy Smith, and Mike Curtis, who writes Dick Tracy, were our guest stars.
So I'd say "all of the above" inspired me to want to produce a comic strip about Lum and Abner! That, and the fact that there was never a strip about them, although Chester Lauck did draw his own caricatures of them in their various printed premiums.
Are Lum and Abner actually under copyright - and if so, what kind of a challenge was it to get permission to use them?
The name or title "Lum and Abner" is a registered trademark, and it is owned by Chester H. Lauck jr, the son of the man who co-created the show and played the part of Lum. Since I'd contacted him back in 1984 to secure permission for us to found the National Lum and Abner Society, I knew him already. When I decided to try a comic strip based on the characters in 2011, I contacted Mr. Lauck. He wanted to see samples, so I worked up model sheets and four weeks of strips. He asked for a few changes, we worked out the financial arrangements, and he approved the launch of the project which we announced at the 2011 NLAS Reunion in Mena, Arkansas. I like the fact that we celebrated the 80th anniversary of the Lum and Abner radio show by introducing the characters in a format that was new for them.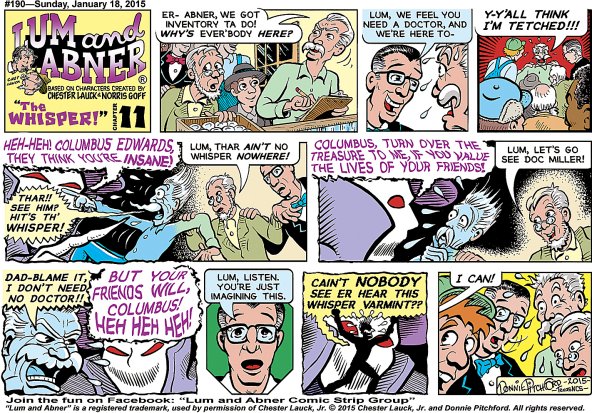 What can you tell us about the look and feel of your comicstrip, and is it in any way influenced by the comicstrips from back of Lum and Abner's days, stylistically?
I'm a fan of the classic comic strips and comic books, as well as animated films, so I lean more toward what I call the "classic" style. Chester Lauck's style of drawing Lum and Abner characters is more "bigfoot," which I love. "Bigfoot" in comics is a term that goes back to the circus, with clowns and their big shoes, or big feet. Bigfoot characters are often round-headed and exaggerated and really comical. Mickey Mouse, Popeye, Snuffy Smith, all those characters fall into that category.
But I thought about the fact that many folks knew Lum and Abner from the movies, which, of course, starred real people, Lauck and Goff themselves, and they would expect a more realistic look. I decided to go for a "happy medium" in the look of the characters, but I think I've moved it toward more of a bigfoot look as the past four years have moved along. I like to exaggerate facial expressions and poses for comedic effect.
What can you tell us about your comicstrip's brand of humour, and to what extent do you borrow from Lum and Abner's radio programs and movies?
I try to keep the strip in line with the kind of humor the Lum and Abner radio shows and films provided. There are some wonderful characters in the mythical Pine Ridge, and some were based on real people in the real Pine Ridge, which was originally known as Waters, Arkansas. On first listen, a newcomer might think the shows are slow and boring, as I did, but you need to relax with them and allow them to transport you back in time. The accents and expressions and general feel of the programs is like stepping back into my childhood and spending time around my own family members - my grandparents, uncles, aunts in Arkansas and East Texas. I remember going to little country stores and hearing the old fellows telling tall tales, and spending my pennies on hard candy and just hearing the breeze rustle the trees. In some ways, Lum and Abner is like reading a Mark Twain novel. There is comedy, but also adventure and sometimes mystery.
I've written all but two of the continuities I've illustrated. One was based on a series of recurring dreams. I called it Murder! in Pine Ridge? and first wrote it as a script we performed at the 2003 NLAS Convention. We had two amazing guest stars. One was actress Kay Linaker, who, in addition to being Lum's love interest in the 1943 film Two Weeks to Live, was also in several Charlie Chan films at Fox. I cast her in dual roles as the "woman of mystery" and as "Miss Earline Biggers" (named for Earl Derr Biggers, creator of Charlie Chan), a librarian Lum was in love with. We had cartoon voice man Dal McKennon ("Gumby") as Charlie Chan. What a great time we had!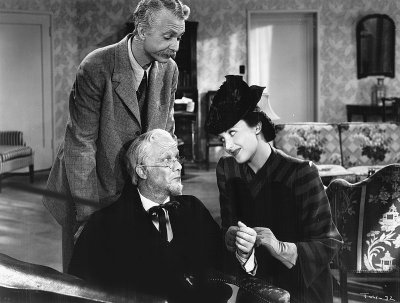 Lum and Abner with Kay Linaker in Two Weeks to Live
I turned that into a comic strip story than ran several weeks, but had to write Chan out, of course. Couldn't afford the rights. It became a dark mystery at times. Other stories have been lighthearted, dealing with Lum's latest attempts at romance, or Abner's confusion over simple matters.
There is a lot of wordplay in Lum and Abner. Lum will use an expression, like, perhaps, "Abner, we've got to bite the bullet and get this done," and Abner will take it literally, and say, "HUH?" and go off on a tangent, which leaves Lum frustrated. Lum pronounced his last name of "Edwards" as "Eddards" and called his expressions "Old Eddards Sayin's." Those moments in the radio series are classics, and among my favorites, so I try to present similar routines in the strips.
I've used characters from both the radio shows and the movies. Two movie characters I adapted are little boys named Jimmy and Washington who have been in several of my strips. Another character from radio is the town bully, Snake Hogan. So I try to mine both areas.
I've adapted two stories from original Lauck and Goff radio scripts of the 1930s. These are scripts for which no recordings exist. In 1936, Lum tried to run for U.S. President, and failed, of course, and in another series, he tried to become a prize fighter. I'm sure I'll revisit those old scripts in the future for more ideas.
Which were your favourite and least favourite films of the duo?
Good question, and a hard one to answer. I like all the movies, but the one that really seems closest to the radio series, and may be my favorite, is The Bashful Bachelor. It was adapted from scripts written by Lauck and Goff themselves, and was the first Lum and Abner movie I ever saw. Incidentally, we had their costar, Louise Currie, as our NLAS Convention guest in 1992 when we celebrated the 50th anniversary of that film with a special screening in Mena, Arkansas. Miss Currie lived to be 100 years old! She was reported dead several years ago, and our Sam Brown cleared that up. He called Louise, and she said, "As far as I know, I'm still alive!"
The Lum and Abner films all vary from the radio show in various jarring ways, but they're still entertaining. Lauck and Goff play their characters of Lum and Abner using heavy old-age makeup, since they were only in their 30s and 40s at the time, so you have total authenticity there, although to me it's still a bit awkward, since I'd developed a mental image of each character. That's the problem adapting radio to a visual medium. In fact, there are some who contacted me about the comic strip, and said, "I just can't read your strip. Nothing looks right, and nothing ever will." I fully understand.
I think it is universally agreed that the worst Lum and Abner film of all time is Lum and Abner Abroad, their seventh. It was the last production of their careers, and they undertook it at the end of their radio season in 1954. Their head writer for many years, Roswell Rogers, told us Lauck and Goff contracted with the Nassour Brothers who wanted to produce a film using frozen funds in Europe. The idea was that the characters of Lum and Abner had won a contest to be "Good Will Ambassadors" for the United States, and they got to tour Europe. Actually, the film was started as a TV series, and each segment was to be in another country.
The problem is the three pilots were shot in Yugoslavia, where the film studio was using technology equivalent to the advent of sound motion pictures. Everything was shot in and around Zagreb, even though Lum and Abner were supposed to also be in France and Monte Carlo!
In one segment, shooting was done on location in an old castle, and the cast and crew got stranded overnight because the drawbridge froze up. Lauck and Goff spend a cold, damp night there, and before trying to sleep, Norris "Tuffy" Goff asked Chet Lauck, "Why don't we quit this business?" Lauck said he'd think it over. The next day, he agreed, they shook hands, and decided to finish the filming and call it quits.
The pilot episodes did not sell to television. They were so crudely produced. Howco, a production company headquartered in Texarkana, a city not far from where I live, released the three segments, awkwardly edited into a feature. For years, it was reported that this film had never been released, but we later found evidence of some bookings at small theaters in 1956 or so. It went unseen for decades until Chester Lauck jr released it on home video in 1985.
The other six films were all well-produced and entertaining. Even though Lum and Abner Abroad might "feel" like an Edward D. Wood jr [Ed Wood bio - click here] production, though, I must say the characters of Lum and Abner come off perfectly, thanks to the talent of Lauck and Goff!
You always release your comicstrips together with little audioplays for your blind audiences. So what gave you that idea, and do talk about these recording sessions for a bit!
This came about when we first announced the comic strip. I have several blind friends, and some of them congratulated me, and said, "Maybe I can find someone to read them to me," or "That's great, but I won't be able to follow the strips." One guy suggested I include a text file with each strip, one that would read like a radio script. I liked that idea. They told me their screen-readers wouldn't translate comic strip lettering, which is done by hand. Or it's a computer font based on hand lettering.
At the time, 2011, the strip was being carried by a web-based news organization called FirstArkansasNews. I asked the editor if we could include a link to an audio file. He thought it was a good idea, so we started including audio adaptations from the official launch date.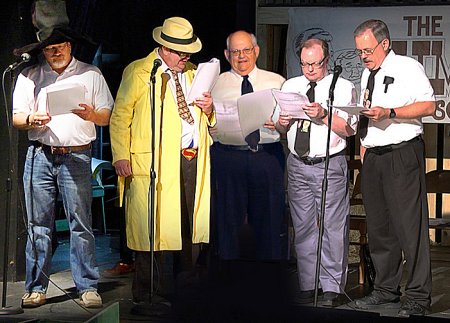 Cast of "Lum and Abner Meet Snuffy Smith and Dick Tracy," performed June 6, 2015, Mena, Arkansas, in "Old Time Radio" style. Left-to-right: John Rose (cartoonist of "Snuffy Smith," playing that part), Mike Curtis (writer of "Dick Tracy," playing that part), and National Lum and Abner Society Founders Sam Brown (as Dick Huddleston), Tim Hollis (as Lum, Grandpap, and Snake Hogan) and Donnie Pitchford (as Abner and Squire Skimp). Also in the cast were Jeff Sinsley as Coffee, and Candace Riner as Little Orphan Annie
Most of the audio versions are one-man shows. I never claim to be able to duplicate the great character voices of Lauck and Goff. I just try to get close enough to make the strips come to life for the blind audience. I include music and sound effects too.
I used to use recordings of the original themes for the music, but about a year into the project, a talented composer-musician named Marc Ridgeway contacted me and asked if he could provide some new music. I was happy to do that! The sound effects are sometimes created live, and sometimes they're vintage ones from the old Valentino library of discs.
Currently, I have help on the audio. I was able to record a dozen or so scripts on location in Mena and Pine Ridge, Arkansas, with my friends Sam Brown and Tim Hollis providing many of the character voices. We'll also have John Rose and Mike Curtis as themselves in one strip and audio segment, and Kathy Stucker, owner-manager of the Lum and Abner Museum, in another. I mentioned the young boys in Pine Ridge. For 25 years, I was an educator-broadcaster for Carthage ISD here in Texas, and two graduates of my program, known as CHS-TV, played those parts - Kyle Cage and Daron McDaniel. Another graduate, Jackson Herod, played the part of the town bully, Snake Hogan. These guys do a great job!
Funnier than any of the audio comic strips are the bloopers! But I'm afraid those can't be released.
The audio segments are broadcast each Friday evening on YUSA, during their live shows, at www.yesterdayusa.com. The three hosts, John Gassman, Larry Gassman, and Walden Hughes, are blind, and they're among the friends who suggested the audio productions. In fact, I paid tribute to them with a character named Larry-John Walden, a blind man, who ended up the hero in a recent storyline. He was able to save Lum and Abner from an evil hypnotist. Larry-John couldn't see the hypnotist's shiny watch or hypnotic gestures, so he wasn't mesmerized! Larry Gassman recorded those voice parts for me in California.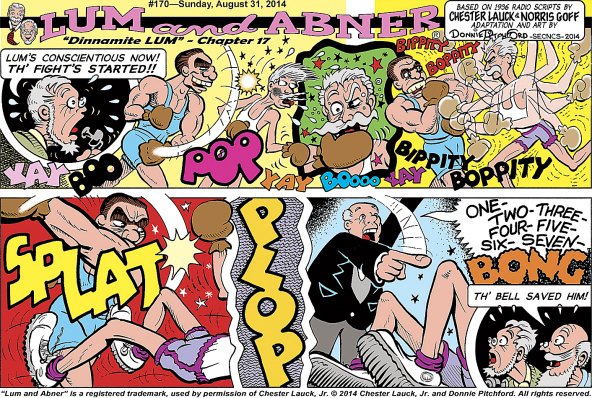 The $64-question of course: Where can your comicstrips be found?
The home website is http://www.lumandabnersociety.org/Comic-Strip-Home.html, and this is where you can find both the current comic strip, and its audio adaptation. Some readers like to play the audio track while they view the panels of the strip.
Also at that site, I have archive pages where readers can view entire stories. Those disappear as the strips are put into printed collections, so I encourage folks to check them out soon.
There is another online source I encourage, and you can sign up for a free subscription. It's www.gocomics.com/lum-and-abner. You can't hear the audio there, but there are also archival strips available. Plus there are lots of other comics on that site, including Dick Tracy. More about that shortly!
In print, we're available in some Arkansas newspapers, along with a monthly appearance in a national magazine called Today's Grocer. There's a digital magazine called Old Radio Times that carries one strip per month.
I've released two printed volumes of strips: Lum and Abner Year One and Lum and Abner Year Two. They're available for PayPal ordering on the home website. I've not tried selling them outside the USA, so anyone who may be interested, please contact me by e-mail (there is a link on the site) so I can work out the postal charges for such an order.
What got you first interested into Lum and Abner - and am I guessing right, you were not around in their heyday?
I've wanted to be a cartoonist since age five, which was over 50 years ago, and when I was eight or so, my dad took me to a Lum's restaurant in Memphis, Tennessee. I asked about the name "Lum", and he told me all about the radio show he listened to growing up in Arkansas. I asked what it was like, and he compared it to our then-network TV shows the likes of The Real McCoys, The Andy Griffith Show and The Beverly Hillbillies. I was intrigued, and wanted to hear Lum and Abner, because I'd heard some of the last of the network radio shows, like Gunsmoke, but sadly, Lum and Abner was a few years away from coming back in radio syndication.
For the uninitiated, what can you tell us about the original Lum and Abner, how did they develop their characters, get their start, and what can you tell us about their radio show(s)?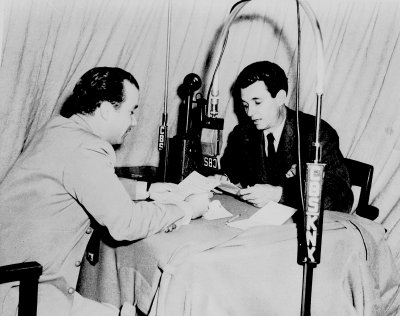 Goff (left) and Lauck, as they really looked, broadcasting their show from a remote location during the 1938-40 CBS era
Chester "Chet" Lauck and Norris "Tuffy" Goff met as kids in Mena, Arkansas. They were born in the early years of the 20th century. Tuffy's father owned a large wholesale grocery company, and Chet's dad ran a lumber company and was a bank officer, and both fathers put their boys to work, and at times, they'd work together for one of the other men. Their routes took them out to Waters, where they met a gentleman named Dick Huddleston, who had the largest general store in that area. They'd hear the tall tales and enjoyed meeting the "local characters" of Waters.
They were in their late 20s when they had a chance to perform at a benefit, a sort of talent show. A radio station in Hot Springs, Arkansas, was having an open audition of sorts, and Lauck and Goff drove to that city, and because most of the other male teams were imitating a popular radio show called Amos 'n' Andy, Chet and Tuffy decided they'd better do something different. On the spot, they decided to mimic the Waters folks, and poked a little fun at Dick Huddleston and friends. Chet said, "We were always careful, because we were talking about our own folks." Before the announcer introduced them, he whispered, "What do you call your act?" Tuffy said, "Well... call me Abner." Chet said, "Okay, I'll be Lum." The announcer approached the microphone and said something like, "And now, we present a visit with Lum and Abner."
This was April 1931. They were a regional sensation, and were invited back for several weeks, and there was a demand for publicity photos, which they had made in Mena. After several weeks, they secured an audition in Chicago for the NBC radio network, and scored a success with a national sponsor, the Quaker Oats Company.
There were ups and downs in the early 1930s, but they rebounded and were sponsored for a time by the Ford Dealers of America, and then by Horlick's Malted Milk. Old Mr. Horlick himself loved the show, and would have continued with them had he not died. At that point, General Foods picked them up for the CBS network, having them plug their coffee substitute, Postum.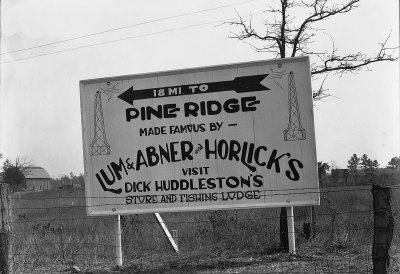 circa 1934-38
They moved to Hollywood to begin film production, and for much of the 1940s were on the NBC Blue network which was sold and became ABC. Miles Laboratories, makers of Alka-Seltzer, One-a-Day Vitamins and Miles Nervine sponsored them until 1948. By that time they'd moved to CBS again, and did an ill-fated two years of half hour weekly shows. The format wasn't accepted by the audience overall, and that ended in 1950.
They returned to ABC for a final series of 15-minute "strip" shows (Monday through Friday) which ran in 1953 and 1954.
Incidentally, "strip" shows are daily serialized shows, and they got their name by being considered "comic strips of the air," so I guess Lum and Abner becoming a comic strip 80 years after they began is only fitting!
My favorites are the strip shows. They're serialized, with little cliffhangers at the end, which can be anything from a gentle little gag to a scary situation. There is always something to tug you back the next day. The characters are likeable, and downright lovable.
Lauck and Goff played most of the characters themselves. Chet Lauck played Lum, Grandpappy Spears (a cantankerous older fellow), Cedric Weehunt (a young man who wasn't very bright), Snake Hogan (the bully), and others from time to time. Tuffy was Abner, Squire Skimp (a con man), Mousey Gray (a younger fellow who was small, gentle, and poetic), Ulysses S. Quincy (whose favorite expression was "Okay!"), and the town physician, "Doc" Miller, who shows up in their annual Christmas episode, a classic of radio.
Eventually, Lum and Abner also made a total of seven films - so you have to talk about those for a bit, and in what way did they mirror the duo's brand of comedy?
I'll cover them briefly, one at a time. Dreaming Out Loud was first. It was released by RKO-Radio Pictures in 1940, and a premiere was held in their home town of Mena, Arkansas. In fact, our NLAS Reunion show was held at that very theater June 6 of this year! Sam Coslow, composer of "Everybody Loves Somebody," "Sing You Sinners," and "Cocktails for Two", wrote the title song, which was sung by Frances Langford, costar in the film. Miss Langford had appeared in 1933 on the Lum and Abner radio shows known as The Friday Night Sociable, back during their Ford Dealers of America sponsorship. Also in that film was radio star Phil Harris, a good friend of Tuffy Goff, who was famous for his roles on Jack Benny's radio programs and films. This is the film with the children, Jimmy, played by Bobs Watson, and Washington, played by Troy Brown jr. Bobs Watson was our NLAS Convention guest in 1990. This film combined humor and drama, and is probably the darkest of the films, with a very tragic death of a young girl central to the plot. It varies from the radio show, in that a major character is a doctor, played by Frank Craven, who has an upstairs apartment and office. There was no second floor to the Jot 'Em Down Store on radio! Also in the cast are familiar faces Clara Blandick ("Auntie Em" in The Wizard of Oz) and Irving Bacon, a character actor who would turn up again in Lum and Abner movies. This film was directed by Harold Young. All six RKO Lum and Abners were produced by Jack Votion.
While Lauck and Goff played Lum and Abner, other actors were cast as supporting characters. First Oscar O'Shea, and then Dick Elliot played Squire Skimp. Grady Sutton took on the role of Cedric Weehunt, and Danny Duncan, who'd played Town Marshal Uncle Henry Lunsford on radio, donned a beard to be Grandpappy Spears in some of the films.
The Bashful Bachelor came second, in 1942, directed by Malcolm St. Clair. Zasu Pitts was cast as Lum's love interest. As I said before, this may be my favorite, as it was written from storylines created by Lauck and Goff. Lum is trying to become a hero to impress Zasu Pitts, and ends up endangering Abner's life in various stunts. This one is more lighthearted, with a rousing horse race at the climax, with Abner as the jockey. Singer Marni Nixon has a small part as a child in this film.
Their third movie, Two Weeks to Live, was co-written by their radio writer Roswell Rogers, and directed by St. Clair. This is the first film in which Lum and Abner travel to a big city, with Abner thinking he's inherited a valuable railroad company. This is the one with Kay Linaker as a slinky con-woman who sweet-talks poor Lum into helping her with a nefarious deed! There are some familiar faces in this, such as Flash Gordon's nemesis, Charles Middleton, who has a small part as a crusty character from Pine Ridge, and silent star Herbert Rawlinson appears early on. Irving Bacon shows up again as an eccentric window washer, and the ever-fussy Franklin Pangborn is a paranoid representative of the building where Abner suffers a painful fall on the stairs. This leads to a misdiagnosis, thanks to a love-sick nurse who hands Lum and Abner the wrong slip of paper. Poor Abner thinks he will die in two weeks! They are in dire need of money, and Lum starts volunteering Abner for various dangerous stunts, and we see several slapstick antics. It's a fun film, with more physical comedy than others. Director Malcolm St. Clair certainly had experience in that realm, having worked with Mack Sennett, Harold Lloyd, Buster Keaton [Buster Keaton bio - click here], and Laurel and Hardy!
That and the next film, So This is Washington, were both released in 1943. Raymond McCarey was the director of their fourth film. By this time, with World War II in full force, Lum and Abner were addressing wartime issues on radio and in film. This fourth film dealt with Abner's attempt to develop a synthetic rubber compound to assist the US government, and he and Lum travel to the nation's capitol. This is another based on radio scripts, only on the air, it is Grandpappy Spears who develops the rubber formula, and then suffers a blow on the head causing amnesia! British character actor Alan Mowbray is a bombastic government official who assists the old fellows. This film has the distinction of being the only Lum and Abner movie to be nominated for an Academy Award! James L. Fields was nominated for "Best Sound Recording", but sadly, the Oscar went elsewhere.
The fifth Lum and Abner movie, Goin' to Town, was released in 1944. Lum and Abner are convinced they have oil on their property, and once again, Lum is in love, this time with a lady played by Florence Lake. Leslie Goodwins was the director. An actress who would become famous as television's "Della Street" on the series Perry Mason, Barbara Hale, has a small role in this film, working with another character played by the returning Herbert Rawlinson. Incidentally, Rawlinson turned up on the Lum and Abner radio shows occasionally. This film is similar to Two Weeks to Live, in that Lum and Abner again travel to Chicago on business ventures, and we see them attempting to blend in with the "city folk" at places like nightclubs and restaurants. Chet Lauck's daughter Shirley has a small role as a hatcheck girl in this film. Sadly, she passed away only recently. She and her husband, Dwight Babcock, were our NLAS Convention guests in 1994 when we screened this film.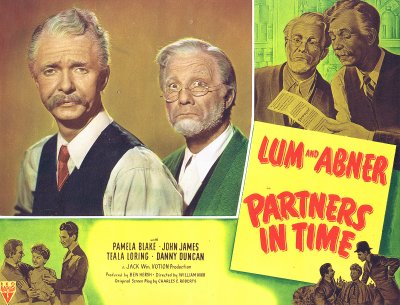 Their sixth and final RKO film was one of their most unusual: Partners in Time, released in 1946. It was directed by William Nigh. The story isn't totally true to the radio series, but it depicts how Lum and Abner got together in Pine Ridge to operate the Jot 'Em Down Store some 40 years earlier. Lauck and Goff portray Lum and Abner as young men, and while there is no old-age makeup, Tuffy sports a toupee to give him a more youthful hairline. Both come across as handsome young men, and play their youthful parts using their natural speaking voices, which makes one wonder why they developed the more rural sound as Lum and Abner aged! It's an entertaining film, with sentiment and some bittersweet moments, as we're shown scenes in which young Lum is in love with a beautiful lady named Elizabeth, played by Pamela Blake, only to see her swept off her feet by the dashing young Abner! I believe by this time, Lauck and Goff had perfected their on-screen portrayals of Lum and Abner, and the old-age makeup is perfect. Sadly, this was their last truly good film.

I mentioned their seventh film, Lum and Abner Abroad, earlier. It's a mess, even though it was directed by James V. Kern, who'd helmed some excellent TV episodes of I Love Lucy and other programs. I've heard an interview with Tuffy Goff in which he was asked, "Was Lum and Abner Abroad your last picture?" and he replies, "That would be ANYBODY'S last picture!" Chet Lauck called it "a most interesting experience," but Mr. Goff's memories of it were miserable!

Before you launched your comicstrip almost 5 years ago, were there previous incarnations of Lum and Abner as comicbook characters?

No, other than Chet Lauck's little cartoon illustrations in the 1932 book, Lum and Abner and Their Friends From Pine Ridge. A reprint of that is available from the Lum and Abner Museum. You can find them online at www.lum-abner.com, by the way, and I highly recommend visiting there if you have the chance to travel to Arkansas. It's a fascinating place.

Some of Chet's cartoons also show up in another radio premium, a book called Jot 'Em Down Store: Catalogue, Calendar & Game and Party Book for 1939.

Between those books, there were some newspapers called Pine Ridge News, and three issues of a digest-sized soft cover called Lum and Abner's Family Almanac (1936, 1937 and 1938), which printed some nice drawings and paintings of Lum and Abner, but, to my knowledge, there was never an actual comic strip version of Lum and Abner.

What can you tell us about Lum and Abner's fanbase nowadays, and how would you explain the continued interest in them?

When the National Lum and Abner Society ceased its annual conventions a decade ago, and stopped publishing in 2007, the fan base has continued thanks to the internet. I must say this: The NLAS was a major force in propelling Lum and Abner's OTR fandom. I can say that, even though I was part of it, because of the sincere, dedicated efforts of my co-founders, Tim Hollis and Sam Brown. Tim was the major scholar of the group, and tirelessly researched Lum and Abner, and sought contacts with so many of their surviving associates. I'm guessing he wrote 95% of the articles we published, and was the editor of The Jot 'Em Down Journal for 23 years.

Sam Brown secured the donation of the largest collection of Lum and Abner transcription discs and films to the NLAS, and his efforts brought about the discovery of hundreds of radio programs thought lost. Anyone who hears a Horlick's Malted Milk commercial, or the actual recording of the famed "Transatlantic Broadcast" (Lum in London, Abner in Chicago), or the broadcast in which Waters, Arkansas became Pine Ridge in 1936, can thank Sam Brown.

Today, fans are linked by the Internet, and all the extant Lum and Abner programs are available as MP3s (in sometimes poor quality), while a company called Radio Spirits is releasing digitally-cleaned versions on CD.

Visit Facebook and I invite you to join the groups Lum and Abner Comic Strip and Lum and Abner Radio Show Fan Club. Some of the most enthusiastic fans of Lum and Abner are much younger than I!

After all the talk about Lum and Abner, let's talk about you for a bit - how did you first get into drawing comics, and did you receive any formal training on the subject?

I was drawing on fogged windows with my finger as a toddler. I loved animation as a kid, and The Flintstones on TV grabbed my attention, as did any comic books, newspaper comics, or storybooks I could find. I drew on everything, ruining my storybooks by adding my own characters to the scenes, and scrawling all over the undersides of my parents' kitchen table with a crayon.

The Sunday comics became a highlight of my week, and I loved Dick Tracy and Snuffy Smith, and what a treat to have the current creators of those two strips at our recent NLAS stage show! Plus, Lum and Abner were guests in Dick Tracy on Sunday, July 20, 2014!

I announced I wanted to be a cartoonist to family and friends in 1963, and created my own characters, which I drew in pencil and crayon all through my childhood. I'd be inspired by the TV programs of Walt Disney, Walter Lantz, and the reruns of the Warner Brothers cartoons.

I loved comic books of all kinds, especially the bigfoot characters of Disney, MGM, Hanna-Barbera, Lantz, Warner Brothers, etc.

Popeye has long been a favorite character, first from his animated cartoons on TV, then the comic books by Bud Sagendorf, and later, those illustrated by George Wildman. I found the work of Popeye's creator, Elzie Segar, last! But that was because reprints were not available until later.

I wrote a letter to George Wildman in January 1971, and that kicked off a friendship that has lasted until the present. Along the way, George, a comic book editor at Charlton Comics, offered lots of great advice. He drew Popeye from the late 1960s until the early 1980s, and has illustrated countless comics and books starring the most famous characters of animation.

Spring Hill High School (Texas) had no art classes when I was a student there. I wanted to attend the Kubert School in New Jersey, which was brand new when I graduated high school, but I couldn't afford it. I majored in commercial art at Kilgore College, Kilgore, Texas, and after working in the printing industry for a while, went back to school at Stephen F. Austin State University in Nacogdoches, Texas, where I completed my BFA with a certification to teach art on the secondary level.

I taught art and graphic arts for a year at Hawkins High School in Hawkins, Texas, and finished my MA at the University of Texas at Tyler, with a major in art.

I was "sidetracked" for 25 years with my work as educator-broadcaster at Carthage ISD here in Carthage, Texas. Though I was yearning to be a professional cartoonist, I taught broadcast journalism and video technology, and produced over 1,000 weekly radio-TV programs with my students, and several hundred other productions along the way. My wife taught at various campuses in the district as well.

I was pleased to see several of my CHS-TV graduates go to work in various areas of broadcasting and cinema work, some in New York, some in Hollywood, and others in various areas of the USA, as well as abroad.

I did several illustrations for both the NLAS and a group called the Popeye Fan Club, and finally got to meet my mentor, George Wildman, in 1994. I also met Hy Eisman, who draws The Katzenjammer Kids and Popeye Sunday comics, and Nicola Cuti, and longtime writer for Popeye.

It wasn't until I was able to "retire" (I tell people I just "changed jobs") from education that I had time to start my chosen career as a cartoonist in earnest, and one of my first commissions was a painting of George Wildman for the cover of Charlton Spotlight, published by Argo Press, Austin, Texas. Michael Ambrose is the editor: www.charltonspotlight.net

What can you tell us about your comicstrip/-book work prior to Lum and Abner?

Only that, other than my private work, and some work for fanzines, it was contributed to the NLAS and the Popeye Fan Club. I was so busy teaching and broadcasting, I just didn't have a lot of time and energy for much else.

How would you describe your overall style?

I prefer "cartoony", but I've also done realistic paintings and various types of commercial art. I enjoy depicting facial expressions. I prefer the "classic" style of cartoon illustration, and work in a traditional manner, meaning I use paper, pencil, and ink. I do my layouts digitally, but print out paper where I pencil in the art, then convert that to a non-repro blue, print it on plate-finish Bristol board, and ink it using a flexible Gillott 170 pen with high-carbon black India ink and a brush. The color is added digitally.

Comicbook artists who inspire you, and some of your favourite comicbooks and -strips, old and new?

I mentioned George and Hy, but others who come to mind are the great Disney "Duckman" Carl Barks, Elzie Segar, Steve Ditko, Russ Manning, Pat Boyette, Joe Staton, and friends like John Rose. I recently co-edited a book on a great one named Tom Sutton. There are so many! I'm afraid to leave someone out! If you asked me this next week, the list would vary! I don't want to slight anyone.

Your/your comicstrip's website, Facebook, whatever else?

For comics and audio, books and CDs, and more: http://www.lumandabnersociety.org/Comic-Strip-Home.html

For weekly e-mail subscription: http://www.gocomics.com/lum-and-abner

Facebook, comic strip: https://www.facebook.com/groups/LUMandABNERcomics

Facebook, radio series: https://www.facebook.com/groups/63432192147/

Lum and Abner costar in Dick Tracy: http://www.gocomics.com/dicktracy/2014/07/20

Anything else you are dying to mention and I have merely forgotten to ask?

I think we've covered so much! I just encourage folks to visit my comic strip. I have books for sale, and sponsorship opportunities. I have to be honest and say this isn't making me a million, not by a long shot! But I love drawing these characters, and meeting the folks who enjoy my comics and the radio shows and films. In a time when lots of entertainment is filled with violence and language we couldn't hear on radio and TV decades ago, Lum and Abner is, to me and others, a refreshing change, and it's like a trip in a time machine to a simpler time in history. I hope you'll join us!

Thanks for the interview!

Thanks to you, it's been an honor!