Your film Cleaners - in a few words, what is it about?
Well, on the surface Cleaners is obviously about two teens that do drugs and clean their home. Below that, however, there is a lot more going on. This film was definitely not about creating a brilliant narrative but about expressing emotions I have concerning certain personal feelings. The film is really about the naivety of being young and convinced you are in love. These teenagers believe they are in love, but what they don't realize is they are in a relationship fueled completely on their substance abuses, their immaturity about sex, and the dominanting nature of the other. Throughout the film, it's a play for dominance - and the female character has it and abuses it just as much as she does the prescription pills.
A very obvious question: Why the emphasis on cleaning?
Well, after doing research on the prescription drug abuse, the kind of pills the characters are snorting had the common side effect of hyperactivity. Most junkies of this nature are compelled to clean as a way of burning out all of the "speeding" energy. That's the main reason for the actions of the characters, but there is still this monotonous and repetitive nature to their relationship as well. Anger and then forgiving with a kiss. Anger and then forgiving. Just like the house they are constantly cleaning, nothing seems to change. The dust and dirt only keeps showing up.
What were your main inspirations to make Cleaners?
Well, after experimenting for the past two years doing short films and other feature projects without real aspirations in mind, I had learned many of the flaws in being a no-budget filmmaker with a MiniDV camcorder and a lack of solid professional audio equipment. So, therefore, when it came to Cleaners specifically - I wanted to use those limitations I had and create a piece in which the atmosphere boiling from the disorted audio and the grimy imagery would create an effect similar to the character's mindsets. Their brains are on drugs and are foggy - dirty. It's all distorted and unclear, but there are those bits and pieces of light that cryptically shine through occassionally.
You are credited as the writer of Cleaners together with your two actors, Jeremiah Hall and Denelle Kjellman - how did that creative process work?
The film was completely improvised in terms of dialogue. There was no script for what was said, and for that I feel both Hall and Kjellman deserved full credit as writers alongside of me. What I contributed, other than the performance of the older brother, was the layout for the film's scenes. Every sequence was scripted and planned ahead of time; each frame laced with a piece of symbolism that I was trying to subtly place there. The surface shows this simple premise, but beneath every moment is something lurking taking the viewer further into the world of the characters and their emotions.
Speaking of Jeremiah Hall and Denelle Kjellman - as far as I know, they are not actors ... so how did you get them to be in your movie, and why did you choose them?
Nope. Neither one are professional actors, but they have both worked in my experimental short films that I did prior to Cleaners. Hall is my little brother, actually, and Kjellman was his girlfriend at the time - which definitely gave the characters a little spice of natural care for one another. But I'm definitely shocked and surprised at the levels of commitment they gave the film. I wasn't expecting them to be as good as they were. There are these subtle mannerisms in their performances that range from positive to negative attributes - some of the negatives bordering on disturbing. There's this moment in Kjellman's performance where she speaks to Hall's character about the pills she took throughout the day and she falls silent for a few seconds and does this thing with her eyes. As if she's tripping heavily on drugs and trying not to fade out. There's a moment of emptiness in her eyes in that moment that just scares the hell out of me. For thirteen years old, the girl really brought it. Surprisingly mature.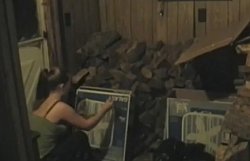 What can you tell us about the actual location you shot your film in, and why did you choose to restrict yourself to one location?
The location for the film is actually my parents house in Upper Michigan. The reason for this location is because I naturally find it quite perfect at capturing a trashy aesthetic. I've actually used the location many times before Cleaners, but I felt it worked best here. The way it hauntingly casts shadows of darkness and random shades of intrusive light verges on surreal. It feels like a whole other world, and that's perfect for what I was attempting with the environment of these characters.
How would you describe your directorial style?
I don't know. I'm still searching for my true style, I think. My films I've done over the years have all been about me finding my aesthetic - and I have yet to really say I own one. I do know, however, that I'm purely in love with the no-budget way of making films. It causes for more heart to be placed in the films being created - and for that they feel much more personal and, at times, downright ugly. But I find that form of expressionism to be more fascinating than the majoirty of higher-budget pictures. I'm hoping more no-budget work starts to surface over the next many years.
Cleaners was shot on no budget. Was this only limiting or also inspiring, and what would you have done differently with sufficient funds?
I know it sounds prude, but I wouldn't change anything. Outside of the occassional clicks of the camcorder that appear on the soundtrack (unlike the distorted music in the background and the fans intrusively making racket) which were not at all intentional. The no-budget approach to this piece really made me pull through with delivering a raw connection with other viewers. Many who have liked the film have commented how they felt thoroughly uncomfortable with the film, even though it's obvious the budget was verging on nothing. There's this aura to the film - one that just unsettles. It's hard to describe where it comes from, though. It naturally came through during the editing process. It's ghostly.
As far as I know, Cleaners ran into a few copyright-problems when you tried to commit it to festivals, right? Would you like to elaborate on this?
Well, I was quite immature with the process of distributing films. I mean, I'm from a rural American town where nobody knows much about the filmmaking process and I naturally was never aware of the high level of copyright issues when using music for a picture. The music for Cleaners was carefully chosen and put in the film in a creative way (filmed in real time with the performances) to underline the mood of the piece. Unfortunately, the film can't be distributed for money's sake without purchasing those rights. Therefore, I'm only allowed to share the film with non-profit intentions, as I am through Youtube, MUBI, Awards Daily, and IMDb.
What can you tell us about audience reactions to Cleaners so far?
I was surprised. I really was. I didn't expect it to be as positive as it has been. I've had nearly thirty responses so far and only five or six of them were neutral to negative comments. The rest were positive. Many haven't approved of my creative choice concerning sound, but many have liked and even loved the film, and for that I'm very grateful. Truly.
Let's leave the present behind for the time being and head forward into your past: What got you into filmmaking in the first place, and did you receive any formal education on the subject?
I've been obsessed with films the day my mom gave birth to me, I think. My grandma actually is one of the biggest responsible for it - as she too is a major film buff. I grew up watching films with the director's points in mind - and have developed a strong appreciation for the craft of making a film. It wasn't until my teen years that I got into actually developing films myself - and using them as a way to express emotional things within me in as cryptic-a-manner as possible. Therefore, in the end, I've created many films I proud of and really rattle me as reminders to how I have felt in the past. Cleaners is definitely a very personal effort - and the emotion I was expressing while creating the story and its underlying themes is one I feel best keeping ambiguous. I do know, though, that it's this emotion that viewers are feeling and can't explain.
What can you tell us about your filmwork prior to Cleaners?
Just a bunch of random, experimental efforts with no ambition compared to what I had for Cleaners. Some I'm proud of, many others are just purely terrible. Around twenty-five short films and four other features - and none make me more proud that this one.
Any future projects you'd like to talk about?
Yep. I'm currently developing a follow-up to Cleaners. A film that will also have the same style as that film. No-budget, expressive, and low-on-narrative. The main premise for this one is a sixteen-year-old boy who comes to the decision of prostituting himself in order to raise money to leave the United States. Currently processing the scenes, and will probably film the entire film before the end of 2011.
Directors who inspire you?
These aren't necessarily my favorite filmmakers, but they're definitely the ones that most inspire me when it comes to films I've made - most specifically Cleaners. Stanley Kubrick is there. As is Gus Van Sant, Andy Warhol, Paul Morrissey, Kelly Reichardt, and Andrew Bujalski. These directors are all fantastic artists who I admire and respect completely.
Your favourite movies?

Feeling lucky ?
Want to
search
any of my partnershops yourself
for more, better results ?

The links below
will take you
just there!!!

Find Douglas Reese
at the amazons ...

amazon.com

amazon.co.uk

amazon.de
Looking for imports ?
Find Douglas Reese here ...
Something naughty ?
(Must be over 18 to go there !)

My favorite films? Hard to really answer this question with a short response. I love so many. I even have a personal top 250 I composed. (laughs)
But for sure - the top dogs for me personally are Chaplin's City Lights, Sharpsteen/Luske's Pinocchio, Kubrick's Eyes Wide Shut, Malle's Murmur of the Heart, Parker's Pink Floyd - The Wall, Fellini's Nights of Cabiria, Lynch's Mulholland Drive, Clement's Forbidden Games, Reed's The Third Man, Hitchcock's Vertigo, Altman's 3 Women, Roeg's Don't Look Now, Lumet's Running on Empty, Anderson's Magnolia, Kazan's East of Eden, Shindo's Onibaba, Verhoeven's Showgirls, Malick's Badlands, Bellocchio's Fists in the Pocket, Morrissey's Flesh, Laughton's The Night of the Hunter, Bertolucci's Last Tango in Paris, Schlesinger's Midnight Cowboy, Takahata's Grave of the Fireflies, Godard's Vivre Sa Vie, Erice's The Spirit of the Beehive, Van Sant's Death Trilogy.... I'll just shut up now. (laughs)
And of course, movies you really deplore?
Nothing more than a 2002 film called Gone. Offensively empty to such a degree that it hurts me. Ben and Arthur is another one. Both deliriously terrible. Other than that, I really have a strong respect for film in such a way where I hardly hate a film to such a degree. I usually find something admirable about every piece of work.
Your website, Facebook, whatever else?
No current website, but a Facebook? Yes. Just look me up. You know my name!
Anything else you are dying to mention that I have merely forgotten to ask?
No, not really. Just that I'm happy to have fans for this film and that I'm very pleased you reviewed it on your site. Thanks so much!
Thanks for the interview!
No problem, man. Thanks, again. Thanks.