Your movie The Phoenix Rises - in a few words, what is it about?
The Phoenix Rises is a science FACTion film that centers on a group of scientist who must band together with a secret branch of the US government (based on the actual Phoenix Project) to help develop countermeasures against a group of environmental terrorists.
How did the project come together to begin with?
I was originally hired to DP a feature for Denny Wilkins and after shooting one film... he decided he liked being behind a desk better than being in the field. So he asked me if I would like to direct one of his films. Itís a different process with these guys than most indies, I suppose. Theyíre kind of like a studio at first and basically gave me a packaged film to make. This was SkyHook. It came attached with full cast - with the exception of Maxine (Allison Smith). So after SkyHook - he wrote a sequel and asked me to direct that one. It was originally called Chemtrails, but I felt the film wasnít quite Ďchemtrailcentricí so we altered the title to The Phoenix Rises. The title is kind of a personal reminder as much as it is the metaphor.
What can you tell us about your writer Denny Wilkins, and what was your collaboration like?
Working with Denny is great. Weíve now written three films together in full collaboration. The first of those is called Sons of Liberty. Heís a genius - so it's like having a free research aid in all your writing. He knows so much about science from his background (former DOD guy) that he adds a ton. It also helps that heís a tremendous science fiction fan.
How would you describe your directorial approach to your story at hand?
I attended a very small film program at the University of South Alabama, which isnít Ďknowní for film, so I assume my approach is a wee bit different than tradition. I enjoy the process of letting the actors perform the character without a ton of over-direction - safe for blocking elements. Once we see how their performance is, I really try to make it as collaborative a process as is feasible to the serve the story. I think of the audience first then go after my own wants. Because I was a DP first, I see things from the lens perspective then begin to block the framing and character around that--this in turn leads to some on-set rewrites but I feel it makes for a better narrative. As a drummer I approach the process like making music. Sure drums alone can sound cool, but to me they sound much better once you start adding other instruments. On set we call it "jamming".
Of your cast of key characters, who could you identify with the most?
I most click with a combo of persons - Tom and Bob - as they were in The Phoenix Rises my characters to write. Iím a huge military fiction fan so it was nice to be able to pull in my own passion to theirs, plus Iím a bit of a workaholic, which both men seem to carry through in their characters.
So what can you tell us about your key cast, and why exactly these people?
I was fortunate to find a great group of people locally (here in Mobile, AL). Weíre like a family of sort - as we have all shot 3 films together now.
Do talk about the actual shoot for a bit, and the on-set atmosphere!
I like a calm set, but Iím also super passionate so there are times the intensity level rises beyond the calm. That said the more films Iíve directed the less loud I have become. Film is a team sport to me and it's important to know that everyone has a duty to perform and has their own interpretations. By allowing them the freedom to express themselves, within context of the story, the viewer is able to experience a better motion picture. We typically have a swear jar - that I fill up first - that we donate to a charity. On The Phoenix Rises and Sons of Liberty it was towards the Wounded Warrior program. As far as the rest of set - itís fun. I mean weíre here to do a job, but luckily the studios (MudBrick and Frame29Films) allow us to be as creative as we want within fiscal reasoning.
The heroes of The Phoenix Rises return in Sons of Liberty - so what's that one about, and what made you revisit the world of the earlier film?
Sons of Liberty is a loose sequel in that if you have seen the other films itís much more dense, but as a stand alone itís meant to juxtapose the world of the scientist against the backdrop of the soldier. Both feel a call for duty, but with completely different approaches. Sons of Liberty focuses on the forced relationship between scientists and soldiers as they work together to stop a micro nuclear device from being detonated inside the US by a villain who blurs the line between terrorist and revolutionary.
The tagline of Sons of Liberty is "One man's terrorist is another man's patriot" - care to elaborate, also of course in relation to your movie?
I grew up a child of the 80ís, meaning our villains in cinema were very stereotypically defined. I mean look at GI Joe - Cobra is Cobra, they really never seemed like they had an agenda beyond "world control". In reality we all know that there are always two sides for every story. By definition the Sons of Liberty in US history are very much terrorists - in fact Iíd argue that they started out as a violent organization that later realized more could be accomplished through Ďprotestí rather than detonation. I wanted to step away from the easy stereotypes and create a world where the real villains are those pulling the strings from behind the curtain. To me the desire for real political change is rare, most of the time itís more about the self than the good of the people and I think that AJ showcases that reality. Heíll claim heís out for revolution, but in reality heís truly just hellbent on revenge. AJ is funded by a group called the Ordo Mundi and their goal is to change the political landscape of the world - itís an homage to the theory of the NWO. I just wanted to ask the question, "Whoís worse", the man building the bomb or the men offering the means to do so.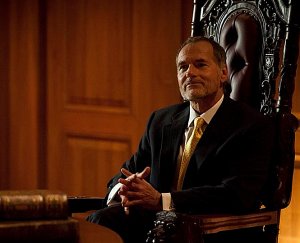 Neil Dickson
I think we have covered all the protagonists of Sons of Liberty above already, so what can you tell us about the villainous (?) characters in this one, and the actors who play them?
For Sons of Liberty I really wanted to layer in the antagonists as again I donít think we live in a black and white world anymore. There is a hefty grey area. Tamer Hassan, who played AJ, came in with such force and understanding of his character that we actually rewrote scenes to allow his character more time to unfold. Heís a deeply conflicted character who has a passion for more than just chaos.
Neil Dickson (Allister Salinger) was the perfect actor for his character. He is such a charming man in real life - so allowing him the pilot seat of such a large organization like the Ordo Mundi was great. It feels like heís just supposed to be there.
Keith David is a tremendously amazing man. Nathan Reynolds has such a huge role in the film in conjunction with delivery the Ďgoodsí to AJ and Rourke that we knew we needed a veteran actor on our side. Along with Mark Sheppard and Elyse Levesque, Keith has been on my wish list of actors to work with for a very long time. Speaking of Elyse, she is such a doll. I simply cannot imagine a better Rourke. We both agreed that we wanted Rourke to be a slightly conflicted antagonist - torn between her love of money and the harsh reality that is the destructive power of a salted bomb.
Sons of Liberty features a pretty amazing showdown - so how was that one achieved, from conception to execution?
DP Kevin Duggin and I both agreed that if we wanted a multi-layered shootout at the end that we HAD to make the geography clear to the audience. So we spent a good bit of time working with our tactical consultant, Dino Washington, in order to make the movements, entries, and shootouts as solid as we could. The trick of course to any action film is finding the line between real and reel. We shot that sequence over a week - one sixth of our entire production timeline - in order to get it right. Jerrid Jones the sound designer was integral in order to make that sequence work. Luckily, he works with me daily so he and I can also jam on the notes, but his instincts really make the scenes pop. I donít typically like to put my name all over a movie so I used a pseudonym for the editor (Ben Young). I had that sequence written out with the cuts in mind, but still found new ways to explore the scene in post.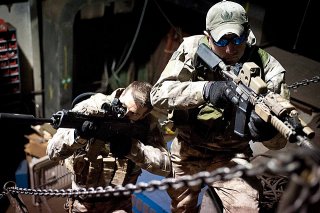 The $64-question of course, where are The Phoenix Rises and Sons of Liberty available from?
The Phoenix Rises is available for rent and purchase on Amazon, Vudu, Redbox, and almost every VOD network in the US. The guys and gals at Acort/Midnight Releasing have been so absolutely wonderful to work with. They really tend to the filmmakers needs, but gently steer them in the best business direction. Overseas Iím not quite sure all of the delivery vehicles, but I do know its out there. Sons of Liberty was just released at AFM in November so Iím not yet sure of full distro outlets.
Despite their scope, both The Phoenix Rises and Sons of Liberty were made on a relatively low budget - so how did that influence your filmmaking, and would you have done anything differently with considerably higher funds at your disposal?
Wow... good question. Yeah both films were made with a pretty tight Dollar sign, but I think we did great with what we had. I like to have some limitations as a filmmaker. It forces me to always consider the shot, cut, cast, crew, and audience more. How do I cheat this explosion without cheating the audience. I find itís best to lean on the expertise of your department heads. Necessity breeds invention.
If we had more money... I would have liked to pay the crew a bit more. We didnít shoestring anyone, but I know that in a value for value exchange, the production got a better deal. I would also like more shooting time. Donít get me wrong we had a crazy shooting ratio on Sons of Liberty. Something like 12:1, but just a couple of extra days would have been amazing. For The Phoenix Rises... I would have added in two more big action set pieces. It would have been great to have a Heat-style shoot-out in the factory location.
Many key characters of The Phoenix Rises and Sons of Liberty are actually introduced in Skyhook. So you obviously have to talk about that movie for a bit, and was Skyhook ever designed to be the launching pad of a series?
I believe that Denny always had a series in his head from the birth of SkyHook. I wanted to make a TV/web series out of it from day one, so I think it kind of was a launching pad. Thereís not a ton of good science fiction on TV anymore and the shows that were good got cancelled really early (Firefly, Dollhouse) or exhausted their narrative too quickly.
Is there a chance we'll see more of the characters of Skyhook, The Phoenix Rises and Sons of Liberty, and any (other) future projects you'd like to share?
Iím not sure if weíll revisit the gang from Sons of Liberty or The Phoenix Rises again. It was nice to close it out, but we built such a large world it would be fun to explore the Sons of Liberty versus Ordo Mundi relationship. I recently finished a supernatural psychological thriller I wrote and directed called Convergence. It stars Clayne Crawford (Rectify), Ethan Embry (Once Upon a Time), and Mykelti Williamson (Heat, Forrest Gump). Itís in post production now and is easily the best film weíve made to date.
We are in preproduction on a steampunk epic called Aether. No cast yet as we just got greenlit about a month ago. I am also producing three films. Hayride 2 is due out any day now, and a World War Two psychological horror film codenamed Ubermensch with writer/director Horst Sarubin make up the narratives. The other one is a documentary called Who are These People? that focuses on the enconomic impact of Close Encounters of the Third Kind had on the city of Mobile.
What got you into filmmaking in the first place, and did you receive any formal education on the subject?
It all started with Raiders of the Lost Ark. There was something about telling a story that rich that drew me in as a kid. In fact Iíd argue that many of my male archetypes are homages back to Indiana Jones - who I thought my Dad was as a kid. Iím sure thereís some sort of psychological connection there. As I mentioned, I attended college at a small commuter school in Mobile, Alabama. There was no formal film program, but a group of us banded together and started one. We found out that the school had several Bolex H-16 REX cameras available in their archives... so we snuck in and "rented" them. Pretty soon the school found out and allowed us access. We built our community from there. I learned most of my film knowledge by working. I was lucky enough to be introduced to a producer named Scott Lumpkin, who graciously took me under his wing and began teaching me everything. It wasnít long before I began working in the locations department... and the rest is history.
What can you tell us about your filmwork prior to Skyhook?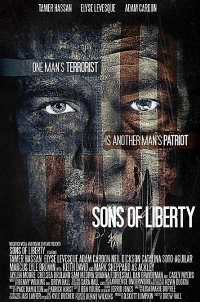 Feeling lucky ?
Want to
search
any of my partnershops yourself
for more, better results ?

The links below
will take you
just there!!!

Find Drew Hall
at the amazons ...

amazon.com

amazon.co.uk

amazon.de
Looking for imports ?
Find Drew Hall here ...
Something naughty ?
(Must be over 18 to go there !)

I started my career in filmmaking working as a PA on a low budget action film called Sacrifice (with Michael Madsen). From there I moved into locations and eventually into camera department. Thereís not a ton of work in Alabama circa 2004, so I began working for an advertising agency. I stayed in that world until I lost my job in 2010. I moved from Columbia, MO back to Mobile and linked up with Denny. Itís pretty boring really, but every project I did was a brilliant education into filmmaking--and thatís what itís all about. Every job I learned a new tool. Now I can pull those tools out on a film and know exactly what I need from them and if I donít know... I get to learn. Itís very cyclical.
How would you describe yourself as a director?
Obsession. I become obsessed with every project I currently am working on until it is delivered. Iíve just learned over the years to hire way smarter so you can worry less on the small stuff and focus on the overall narrative. Every movie gets easier in some function or another. Challenges now appeal to me more than ever.
Filmmakers who inspire you?
Hitchcock, Antoine Fuqua, Paul Greengrass, Alfonso Curon, Peter Berg, Spielberg, John Ford, and oddly... Peter Greenaway
Your favourite movies?
Yikes...thatís tough... Children of Men, Gravity, Spielberg before War of the Worlds, Rope, North by Northwest, The Shining, Star Wars, anything by Joss Whedon, Oceans 11, Un Chien Andalou. Every film in some way inspires me...
... and of course, films you really deplore?
There are not a ton of films Iím not into. Sometimes for me it's more that the hype is bigger than the film itself. Like Drive. Decent film... but to me not the end all be all that it was described to me. I loathe Contact, Green Lantern, and Dracula: Dead and Loving It. Lastly... Iím not a fan of Man of Steel, but that's because I nitpicked it.
Your/your movies' website(s), Facebook, whatever else?
Earlier films and my production company can be found at http://www.frame29films.com
Thanks for the interview!