Your new movie Convergence - in a few words, what is it about?
Convergence is the a psychological thriller following an arson detective as he tries to unravel the mysteries surrounding a series of explosions while being chased by a religious zealot and hunted by some sort of shadowy entities in an abandoned hospital.
Your inspirations when writing Convergence?
There's the long version and the short...
The short truth of it - the story unfolded to me one day when I forgot my sunglasses. That's it.
The long version is that I've always seen horror and sci fi as the most entertaining devices to challenge an audience. I love it when on the surface a film seems like one thing, but as the story rolls on various layers are reveal adding tremendous depth. It's even more fun when those layers are part of a genre film. Most horror/thriller films don't really scare me as they always feel a bit too separated from me. So when I began outlining Convergence I wanted to isolate the villain who would in "real" life scare me - and that is a religious zealot. I grew up in the South, so religion is part of our lives, but I also grew up during the height of the late 80's/90's violent anti-abortion movement. Many of the primary violent attacks at abortion clinics either took place in my home city or in Pensacola, FL - a mere 40 miles away. That made for a very honest backdrop for the characters. Daniel (played by Ethan Embry) is actually based on the terrorist who bombed an abortion clinic in Birmingham, AL and later set off a pipe bombs during the 1996 Olympics in Atlanta, GA.
It's the idea that religion at it's core teaches peace and understanding and yet there are people who have figured out how to manipulate these teachings into the most dangerous weapon of mass destruction.
In Convergence, you also tackle subjects like religion and the afterlife - your personal thoughts on these subjects?
I am not one to be directly associated with any 'formal' religious group, but my personal spiritual beliefs are aligned with Christianity. That said, I love movies, be it R-Rated or not, so for me, I wanted to make a series of realistic portrayals of people with similar beliefs, but each is challenged in their faith in a very personal way. I feel like there is an afterlife, but I also feel like it might not be as cut and dry as mankind has made it. Dante's Purgatorio was a huge influence on some of the narrative mechanics in the film.
How would you describe your directorial approach to your story at hand?
There are several key factors that went into the our approach as a creative team.
This marks my second feature with DP Kevin Duggin. He is an incredible director of photography and it shows in his work. We knew from the onset that there were going to be several "looks" in the film. So we designed our shot structure around those looks. We created a series of guidelines for the locations and I mapped out the blocking to accentuate those angles as best we could. The goal was to make every set in the film feel believable, yet still tease the brain with the "wait what?" factor. There were lots of massive lighting set ups in order to benefit the shift in looks.
Another key for my work is in the art direction. Due to the complexity of the story we wanted to make sure that the building felt timeless. Production designer Mark Terry and his set decorator Kim Murphy spent hours selecting the right pieces for every set. There wasn't just a rush out and grab to fill space - every item has a purpose. The signs marking the floors for example correlate with numerology in Dante's Purgatorio. Mark and I went through each space and made sure that each set aligned with the emotional state of the characters. The structure itself is basically two buildings connected by a long hallway. The West tower is 5 floors and the East is only 3 - and their shapes are octogonal and rectangular - but we didn't want it to feel like two buildings. Just one massive one.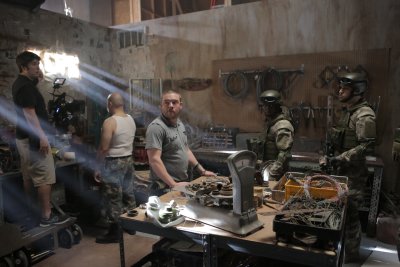 Jerrid Jones, post audio supervisor, and I have worked together on 6 films. We have a solid language between us, but for Convergence we knew that from the onset the sound design would help direct the viewers - so we basically designed sound sketches of the entire film before we started production. Of course, we adjusted those in post via the wisdom of John Frost, the re-recording mixer from Sonic Pool.
VFX on a budget can be tricky - moreover, they're really tricky when the actor has nothing to interact with. We basically shot every single VFX shot with the shadow people twice. Once with several actors dressed in black who could interact with the actor then we'd pull the shadow doubles out and shoot it again for VFX. My business partner has a strong VFX background working with WETA Digital in New Zealand. His knowledge of on-set needs met perfectly for the VFX artists in post (also from New Zealand). We had one more local VFX team member who did the non creature based VFX [gunshots, paint outs, bullet holes]. Charles is a trooper as late in the edit we decided to drop a scene which forced us to have to paint out a gunshot wound on a character, but Charles nailed it.
Convergence is the first film with editor Shane Hazen. He is an accomplished writer so his understanding of a through-line was fantastic. His past work on several of Terrence Malick's films meant that he deeply understood subtlety - which was tremendously valuable in telling a story like Convergence. He's also extremely fast - so that meant we could explore variations on the through-line without disrupting our schedule. We made some difficult choices and Shane invented some brilliant solutions. Just after the 2nd explosion there is a quick montage of the chaos that was engulfing the world. Those shots were made up from the heads and tails of the roll. Shane had that piece earmarked from day one of post. It still gives me goosebumps.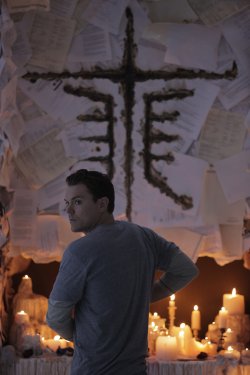 Clayne Crawford
Music is deeply important in my work. Since the film is set in 1999 we wanted to make sure that the audience felt that right away. Ken, the music supervisor, had some great ideas in regard to finding the right tracks for those cues. Having Santa Monica in there by Everclear was all Ken and I love it. The score was a completely different beast. Page Hamilton and Patrick Kirst have worked with me on 4 of my 5 films. We are all just comfortable with one another. I trust those guys blindly as I know what to expect. The film came in under budget so the investor that backed us gave permission to spend additional monies on the score. Patrick and Page arranged their cues to be recorded at the Bastyr Chapel in Seattle with members of the Seattle Symphony Orchestra. Seeing your film live scored - dream come true. I have the score on my iPhone and listen too it from time to time. It's just so beautifully tragic.
Do talk about your key cast for a bit, and why exactly these people?
Casting Convergence for the most part was the best casting experience of my career. I have this list of actors who I'd like to work with one day and Clayne Crawford, Ethan Embry, and Mykelti Williamson are all on that list. So when it came time, producer Scott Robinson, and I were able to reach out to the talent I had envisioned - and then they blew it away with their performances.
I was familiar with Clayne's work on Rectify and had really been drawn to his abilities coupled with the fact that I knew he was a southerner - important for that Atlanta accent. I grew up watching Ethan Embry, but it was his performance in Cheap Thrills that put him over in my mind. He's got this ability to have the most caring eyes in the world, and yet they can express vengeance in a way that deeply hits your heart. I've been a fan of Mykelti Williamson since Forrest Gump, but his role as Fearless on the tv show Boomtown really solidified his place on my "list". He is so incredibly genuine and honest about his characters. The role of Saul Miller was tricky as he is easily the most covert of all the characters in Convergence. His clarity is never truly revealed until late into the film.
I've worked with the extremely talented Chelsea Bruland before. For starters, she is soooo much fun to have around, but she is also an extremely strong actress. Couple that with her background in stunts and you get the total package. Her take on the Nurse character was so creepy/weird, yet heartbreaking, that she had all of us at the monitors transfixed any time she was on screen.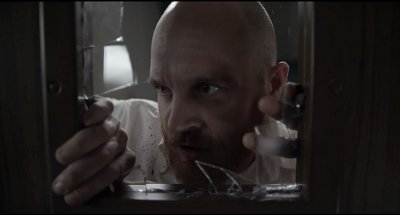 Ethan Embry
I tend to personify people from my life in my filmic characters and Esther was an amalgamation of both my Mother and my late Aunt. I was very protective of that role and thankfully, so was Laura Cayoutte. She just got it - there's a scene where her performance forces me to tears no matter how many times I've seen it.
With your film mostly shot at a single location (it looks like it anyways) - what can you tell us about this location of yours, how did you find it, and what was it like filming there?
I knew when writing it that the location needed to be as charasmatic as the characters in the film. The hospital where the majority of the film took place had been closed for around 6 months, but the company in charge of it kept a full time maintanence team on staff. Once we toured it, we all left with a very Shining-like feeling. This massive but empty structure that was a labrynth of hallways and corridors had it's own character to it. In 98% of the hospital it was as if everyone just got up and walked out one day - the feeling of abandonement was perfect considering the subject matter.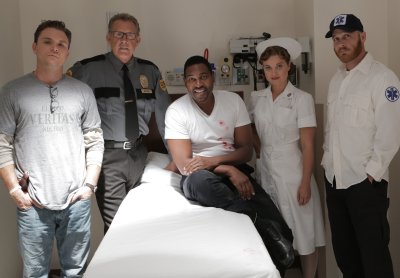 I mapped out Ben's journey using the blueprints provided to us by the location. It is technically impossible to move around that building the way that he did. The DP, Kevin Duggin, and I spent hours making sure that the screen direction of each intro/outro further enhanced the disorrienting nature of the hospital - it fits with Ben's journey and frankly, navigating a hospital in the real world isn't so simple.
What can you tell us about the shoot as such, and the on-set atmosphere?
If you can't tell already, I'm a big proponent of the crew. Most of these guys and gals I've worked with before, but even the new ones we hired are considered part of the family from day one. Scott and I believe that a happy crew is an effective crew. I work really hard to make sure that any changes issued are in consideration of the entire staff. The crew follows the emotional tide of the set - when we can be loud and laugh, we do... lots, but when we need to show that quiet resolve for cast - its immediate. There's rarely any yelling, but in the few cases that volumes may flare, it's often attributed to passionate people expressing their belief for making the film better - but again... that occurance is extremely rare. We try and set up from the onset that this is a collective work under the creative supervision of a director and fiscal leadership under a producer.
The cast is a totally different scenario. In the end, we are riding on their backs. We are successful if they feel trust, appreciation, and are given the tools to accommodate their task. I always try and give them as much or as little space as they need in order to set the mood for the scene. Meanwhile, we do our best to make sure they are happy - the less interference, the cleaner the signal.
The last bit to note... we had quite a few 'odd' occurrences. Everything from seeing people who weren't there, to being whispered to, and ultimately moments that felt as if a major pitfall had overtaken us, only to see that pitfall was meant as a moment of redirection/redemption. Every day the slogan of "everything happens for a reason" became more and more evident. For me it was a spiritual thing - God turned problems into amazing opportunities.
Anything you can tell us about critical reception of your movie yet, and when will it be released onto the general public, however tentatively?
Thus far we have been blessed with nothing but positive reviews. We played an indie festival in New Orleans and won both Jury and Audience Awards for Best Picture. The small sample screenings we did were amazing. People kept asking when they could see it again. We're in the process of negotiating the release dates. There's been one common result of all the viewings - people want to see it on the big screen and, of course, I agree as the filmmaker, but as a viewer we structured, framed, and mixed the film for a theatrical release. I think audiences are hungry for unique cinematic experiences and I believe that independent film is the best vehicle to deliver that.
Any future projects you'd like to share?

Feeling lucky ?
Want to
search
any of my partnershops yourself
for more, better results ?

The links below
will take you
just there!!!

Find Drew Hall
at the amazons ...

amazon.com

amazon.co.uk

amazon.de
Looking for imports ?
Find Drew Hall here ...
Something naughty ?
(Must be over 18 to go there !)

We are just finishing up post on a comedy called Nigel and Oscar Vs. The Sasquatch. It's a great movie with an incredible cast including Neil Flynn, Tim Meadows, Paul Brittain and the hilarious Adam Herschman. It should be making the rounds in a few months...I hope.
We're also in prep on a bigger budget science fiction fantasy film called Aether. It's a steampunk fantasy about a group of outcasts who must band together to defend their homeland from a power hungry political saboteur, outlander assassins, and a ruthless chancellor obsessed with keeping his floating city kingdom sky born.
Your/your movie's website, Facebook, whatever else?
Facebook: https://www.facebook.com/ConvergenceTheMovie
Twitter: @frame29films and mine is @teslapunk
Website: http://www.frame29films.com
Thanks for the interview!