Your new short Cluster - in a few words, what is it about?
Cluster is a visual metaphor; it's about how it feels to deal with debilitating headaches.
Why make a movie about headaches and migraine in the first place, and what made you choose your very unique approach?
I've had headaches since I was in High School (in Germany, for you European readers of this site!), and they got worse during and after College. I was eventually diagnosed as having cluster headaches which are incredibly horrible. I basically explain it as all the pain of a six hour migraine crammed into 90 minutes, then it goes away for 30 minutes, then back for 90 minutes, then away… for maybe 12 hours, maybe 2 days. Sometimes longer. They are nicknamed "suicide headaches" because so many people who have them kill themselves. Women that have them have described them as more painful than childbirth… I wouldn't know about that, but I do know they are the worst pain I've ever had and at one point in my life I was having migraines a couple of times a week and one or two clusters every month. People would ask me what it was like and I would try to explain but it always fell short, so I decided to make a movie that tries to show both the pain and the helplessness. This is actually a re-make, I originally made Cluster back in 2005 as a test run on the equipment my producer and I had procured to shoot my first feature, Defective Man!, but that version of the film never was finished.
Pain as a masked intruder - you just have to elaborate on that!
When you have headaches, they just burst into your life, without warning, and often without a trigger. Just out of nowhere, "bam!" here's a huge damned slice of pain for you. So I wanted The Pain to be a faceless, hulking monster that bursts into The Man's life without warning (well, there is a little tiny bit of warning if you pay attention to the audio, as some people do get "aura" before a headache) and torments him for no reason, because that's how it feels to have these headaches.
Whichever way you put it, Cluster is also a horror film - a genre especially dear to you, and why (not)?
I love horror movies. I don't love horror movies exclusively – I'll be very happy to sit down and watch a silly comedy, or an intelligent sci-fi, or a good, heavy drama, lots of things (no romantic comedies please) – but they do have a near a dear place in my heart. People like being scared. I think it is especially scary when what is out to get you in a movie is plausible, and the home invasion is plausible. Not to say all of what happens to The Man could literally happen to someone and they'd be ok, but I think it's a bit extra scary that conceivably one could fall asleep on their couch watching a late-night movie and wake up to someone hulking over them with a hammer.
Cluster does get quite violent and gory at times, so for the sake of the gorehounds among my readers, do talk about the gore effects for a bit, and was there ever a line you refused to cross?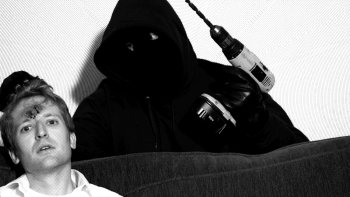 The gore was actually what did in the first version of Cluster. One of the crew on the first version back in 2005 was very tech-savvy and convinced me that they could do really cool CGI gore and we could save time by skipping practical gore, and since that version of the movie was really just "training wheels" if you will, I was ok with that idea. I actually welcomed it, because I wanted someone to change my outlook on CGI. Those effects never got done; people are busy. So this time around when I met Seth Adam(s), the producer, one of the things I insisted on was all practical effects all done on set, nothing did not get shot, and he agreed. He had a friend that had assisted on makeup effects on one of his earlier shorts, Chirality I believe, and Seth suggested he was talented enough to take the lead. Roel and his girlfriend Brenna are both talented makeup artists, and I put the effects in their hands and I think they delivered, especially within out budget constraints. There was no specific line I refused to cross; I wanted to have the gore to have a visual punch when it needed to but with an 8 minute short that is really truly NOT about the gore I didn't want it to be too over the top, and I think we ended up with a nice balance by making the first assault mostly implied, the second assault is quick, and only on the third assault to you really have to stare the gore in the face.
Do talk about your two actors Reid McIver and Roger Garcia for a bit, and what made them perfect for their roles?
They showed up. No, seriously, Seth was responsible for the casting and I think he did a great job. Seth was a former video store manager and Reid was a regular customer that had expressed interest in helping with one of his films in the future. He's got a good, "everyman" type look to him, and Cluster is a great project to cut one's teeth on acting-wise, as there is no dialogue in the film! That does not mean there is no acting, and Reid did a great job of taking my direction and giving me the different looks and feels that the film needed. I think he was a bit surprised and how much "hurry up and wait" there is making a movie, so I hope this experience didn't sour him from trying it again some time in the future. Roger is a childhood friend of Seth and Roel, and he was suggested because he's a big dude, and he has very expressive eyes, and with The Pain, that's all you get to work with. He was also a newbie to the whole acting thing, but again took direction really well and I think did an amazing job in the film.
What can you tell us about the shoot as such, and the on-set atmosphere?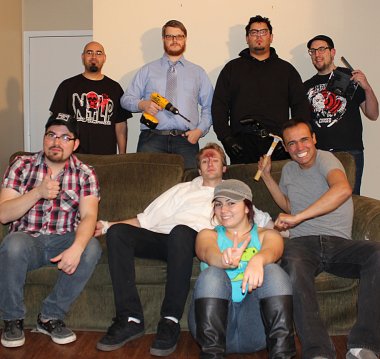 back row: Ernest Perez, D. Ryan Mowry, Roger Garcia, Anthony Goff
front row: Roel Garza, Reid McIver, Brenna Vives, Seth Adam(s)
The initial shoot was two evenings, one day with Reid and one day without, so we did all the stuff that has The Man in it the first night (which was the much longer shoot) and then the second night we did all of the shots that do not include Reid. We had a lot of fun overall; while I try to make my shoots professional I also try to keep the atmosphere as light as possible. I've worked on films before with people that feel the need to be the dictator, and all that does is make people mad and make them less likely to work with you and instead just work for you. I'd rather be the president – the boss, but on the people's side – and that way people want to not only be in the movie but actually be considered a part of the movie. After our two days of shooting, we had to go back and do two days of foley as well. None of our "on-set" audio – with the exception of the first few seconds outside the apartment – was used in the film, all of the sound was re-recorded later. We did this to ensure that there would be good crisp sound (as this is one of the aspects of Defective Man! I find most cringeworthy) as well as not having to worry about boom mics on set, as well as the fact that we shot Cluster on a digital SLR camera that did not have a great on-camera mic and did not have an XLR input for my boom mic to be attached.
The $64-question of course: When and where will Cluster be released onto the general public?
Cluster premieres Sunday, 10/6/13, at the Oshkosh Horror Film Festival in Oshkosh, Wisconsin. From there I am submitting it to other fests and we'll see. I'd love to eventually see it on some sort of a horror shorts compilation DVD or something like that. As of now it's not going to be up on YouTube or any place that the general public can see it, but you can check out the trailer here: http://youtu.be/v4UgcYzU2l8
Any future projects beyond Cluster you'd like to share?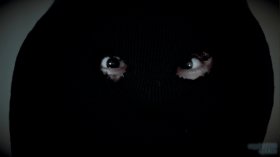 I don't know. I had another short I had considered making instead of this one, a ghost story called Mile 173, and then I have been working in my head (and somewhat on paper) on a giallo that I want to make that would be the ultimate nod to fans of the genre, but truthfully I don't know if that will ever happen. I made my last feature for very little money, and in order for me to convince myself to make another one I would need to secure a much more sizeable budget beforehand. Not that you can't make a good movie for little to no money – you can – and not that you need money to throw at problems, but with my last feature it took over four years because we had to work on nights and weekends around people's ever-changing schedules and watched people drop out left and right. Myself and the producer either tweaked or re-wrote probably 50% or more of the film on the day we were shooting that scene because either someone didn't show up or we didn't have the location we needed or whatever, and I'm not going to put myself through that stress again.
What got you into filmmaking to begin with, and did you receive any formal training on the subject?
Reservoir Dogs. After I watched Reservoir Dogs for the first time on VHS way back when, I decided "that's what I want to do." I had always really liked movies, but once I saw that film I fell head over heels in love with movies. I don't have formal training in filmmaking, though I do have my degree in English and Communications which helps with the writing aspect (not that you see much of that in this film I've made with no dialogue!)
What can you tell us about your filmwork prior to Cluster and your growth as a director?
My first film was called knuckleheads. and it was a short film about the stupid things you do to keep yourself entertained while waiting, and it was shot guerilla style on the streets of Kaiserslautern, Germany, back in 1999. Since then I've done some public access TV, a few shorts, two features (one that was finished, and one that was not), and then Cluster. For other people I've done some work as an Assistant Director, an Actor, a PA, etc. I got to work with Scott Phillips twice, and working on his movie Gimme Skelter really convinced me I could get the people together and make Defective Man!. The movie that The Man is watching in Cluster, El Super Bobo y El Perro Dos Mil conra los Monstruos de Lexington, is an old short film Scott made with a buddy of his, John Howard. You can look me up on IMDb, that has the majority of my filmmaking credits listed: http://www.imdb.com/name/nm2038084/
How would you describe yourself as a director?
I like making movies. I try to make them interesting, intelligent, and a bit off the beaten path. I try to surround myself with people more talented than myself, and when that happens I make better movies that make me look good!
Filmmakers who inspire you?
There's a ton. Initially of course it was Tarantino with Reservoir Dogs, but at about the same time I saw Clerks and found out you could make a real movie for next to nothing, so I cite Kevin Smith as an influence as well. I also have to give a lot of credit to Lloyd Kaufman for really fostering an independent spirit into my filmmaking. I've never really wanted to make a big, Hollywood film (not to say I wouldn't given the chance, that's just never been a goal) and a lot of that comes from Kaufman and Troma's independent spirit, which I caught the bug from them when I got to talk with him a few times at the TromaDance New Mexico Film Festivals. As far as directors I really like, well it's a long list but here we go: PT Anderson, Wes Anderson, Dario Argento, Darren Aronofsky, Tim Burton, John Carpenter, the Coen Brothers, Guillermo Del Toro, Atom Egoyan, David Fincher, Lucio Fulci [Lucio Fulci bio - click here], Christophe Gans, Terry Gilliam, Michel Gondry, Stuart Gordon, Frank Henenlotter, Tobe Hooper, Toshiharu Ikeda, Peter Jackson, Jean-Pierre Jeunet, Bong Joon-Ho, Richard Kelly, Takeshi Kitano, Stanley Kubrick, John Lassater, Spike Lee, Umberto Lenzi [Umberto Lenzi bio - click here], Michael Mann, Takashi Miike, Vincenzo Natali, Neveldine / Taylor, Christopher Nolan, Trey Parker, Doug Pray, Sam Raimi, Robert Rodriguez, Martin Scorsese, Michele Soavi, Steven Soderbergh, Paul Verhoeven, John Waters, Ti West, Edgar Wright (and a WHOLE LOT MORE).
Your favourite movies?
Seriously? Do you want me to write a book??? How about my favorite movies that I've watched this year (I watch usually somewhere between 175-250 movies a year). I really enjoyed Jennifer Lynch's Surveillance, Wes Anderson's Moonrise Kingdom, Tarantino's Django Unchained, David C. Snyder's Dark of Winter, Ti West's The Inkeepers, Zack Parker's Scalene, Darren Lyn Bousman's Mother's Day (didn't think I would but I did), Ari Gold's Adventures of Power, Eli Craig's Tucker and Dale vs. Evil, Lucky McKee's The Woman, Pixar's Monster's University, James Wan's The Conjuring, Craig Mazur's The Specials, Paul Bunnell's The Ghastly Love of Johnny X, and Edgar Wright's The World's End. That's what I've really liked THIS YEAR. Favorites ever would be too hard to narrow down into something not longer than the rest of this interview.
... and of course, films you really deplore?

Feeling lucky ?
Want to
search
any of my partnershops yourself
for more, better results ?

The links below
will take you
just there!!!

Find D. Ryan Mowry
at the amazons ...

amazon.com

amazon.co.uk

amazon.de
Looking for imports ?
Find D. Ryan Mowry here ...
Something naughty ?
(Must be over 18 to go there !)

It's hard to say I really "deplore" many films. Most films have some redeeming aspects. If you read my reviews site, Ryan's Reviews (http://lownobudgetreviews.wordpress.com) you'll see I always try to find something good about every film I watch. That being said there are a few horrible ones on there, but personally I just don't like to bad-mouth other people's movies. There's an audience for every movie, even if I think that audience is pretty stupid for liking that piece of crap!
Your/your movie's website, Facebook, whatever else?
http://www.facebook.com/clustermovie, http://www.imdb.com/title/tt3208984/, http://www.sb-films.com, and in association with http://www.sublimationsinema.com.
Anything else you are dying to mention and I have merely forgotten to ask?
My hands hurt. I think this is enough. Thanks Mike!
Thanks for the interview!