Your upcoming movie The Dummy 2 - in a few words, what's it going to be about?
The Dummy 2 tells the story of a group of college kids who find the "real" Dummy from the murders 20 years ago. After they obtain him from a creepy back alley peddler they decide to throw a party which includes a seance. Of course it isn't long before the Dummy is wrecking havoc and bumping them off one by one.
The Dummy 2 follows 1995's The Dummy by Dante Falconi - so how closely are the two movies related, both narratively and stylistically?
The original The Dummy was actually directed by Todd Jason Falcon Cook. Todd is a friend of mine and I grew up a fan of and inspired by his early SOV films like Demon Dolls and Night of The Clown. I had already remade both of those films by basically creating films that where more of an "homage" to the originals. A re-invention, if you will. This time around I went the sequel route, which would allow me to more closely follow the original film stylistacally and in tone. While the original film is about a possessed Dummy killing off a group of "cursed" friends, this sequel exists in a world where The Dummy is a movie based on a real crime. So while narratively it's a totally unique film, we still had fun paying homage by lighting the death scenes similar to the original and referencing the original movie throughout it. We even had a scene with a Palm Reader!
Other sources of inspiration when dreaming up The Dummy 2?
Other than the original The Dummy, I took note of the way the dolls moved and were presented on-screen in the flicks Pinocchio's Revenge and Dolly Dearest, as well as the first Child's Play. On a low budget you try and make best with what you have so instead of showing the Dummy in full motion we had to rely on more suspenseful tactics like showing his feet run across the frame, project his moving shadow on a wall, stuff of that nature so I had to refer to a lot of the classics to see how they did it and basically try and replicate it the best I could. Luckliy I had the talented Michael Johnson on set to puppeteer him. He really added a lot to the character of the Dummy.
Do talk about your film's approach to horror for a bit!
While a killer doll movie is naturally campy in nature, we did try and take a more serious approach when it mattered. I didn't want the film to be too cheezy, I did that already with Demon Dolls. I wanted something that could be taken on a more serious note while still containing the Dustin Ferguson trademark dance/shopping montages, smoking scenes and fun soundtrack.
What can you tell us about your overall directorial approach to your story at hand?
It was a very "meta" story so we tried to really create a movie that felt like "reality". Everyone had their real names, they did real, everyday things and in the end, suffer the same fate as the victims of the "original murders". While the film utilized more tripod and steady cam work than the original, it also had a lot of more modern looking "hand held" and "POV" shots to spice it up a bit and give it some freshness. Like several of my films, this was a really fast production. 4 days of filming (that's not even full days) and 1 day of pick-ups. It was made fast and cheap, in the spirit of the original, but with an artistic and modern touch.
Do talk about your key cast, and why exactly these people?
The film stars Schuylar Craig [Schuylar Craig interview - click here], whom I first worked with on a Dragonsclaw music video shoot. She was fun and outgoing, not to mention drop dead beautiful so I started casting her in my flicks. She's only had one real "show piece", and that was the Camp Blood-flicks. I wanted to give her something to show off her strong points, and she really did here. Breana Mitchell [Breana Mitchell interview - click here] was a co-star. She's been in around 15 films now, she's also a big fan of killer doll movies so I always include her in those when I can. Danielle Brookshire is another co-star. I've only got to work with her a handful of times in the past and she's always so much fun to be around. She's from out of State, but always so willing and eager to come act in my stuff that I just had to give it to her. And rounding out the local scream queen cannon is Jennii Caroline [Jennii Caroline interview - click here]. She has a brief part as a party girl who's the first to die, setting of a chain reaction of death. Daniel Stier plays Breana's boyfriend, he has a lot of funny lines and always does such great adlibbing. Clint Beaver from Omaha, whom I met at a Thrill Kill Kult concert, plays Danielle's annoyed and horny boyfriend, and Nate Christensen, who had done several film scores for me in the past, stepped up to the plate to play Schuylar's boyfriend in a last minute recasting. Also, Timothy Ohearn from New York traveled down here to play the creepy "Man in Trenchcoat". He's the one who provides the Dummy to the kids in the film. Together they form a really fun and likable cast.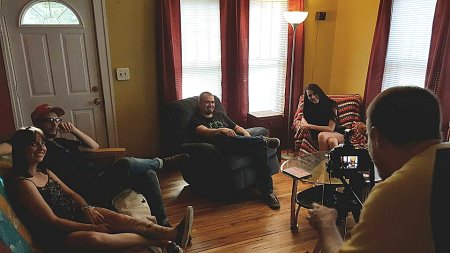 You of course also have to talk about your Dummy-prop for a bit!
It was tough to find the right one to use because he had to be not only creepy looking, but also vintage yet functional. I finally found one online and a producer friend Elliot Monroe purchased him for us to use. After a few alterations he was all ready for some stabby action! He was puppeteered by Michael Johnson.
What can you tell us about the shoot as such, and the on-set atmosphere?
Like I mentioned earlier, it was a super fast shoot. We had one day that was probably 60% of the movie to shoot at once. This included a scene at the county fair, the palm reader scene, the Dummy purchase downtown and all the party/death scenes. It got a little daunting at times, but overall was a lot of fun and we just made that night a giant party.
The $64-question of course, when and where will The Dummy 2 be released?
I believe it will be out in early 2017. It's coming from Screamtime Films, who recently released my films Night of The Clown and Tales For The Campfire.
Any future projects beyond The Dummy 2?
In late September I plan to start shooting Meathook Massacre 2. After that is Tales For The Campfire 2. In the meantime I'm working on two projects for other people. One is a secret project with Tim Ritter, the other is a very special feature for the upcoming Blu-ray release of Slumber Party Massacre 2. More on those when they are announced! Also, I'm finishing up my documentary called Mondo Shock, which will be available soon on my Vimeo channel, and lastly, I'll be shooting a short film for the upcoming UK produced anthology film Conspiracy X. It''ll be a retelling of an infamous Skunkape attack at a slumber party.
Your/your movie's website, Facebook, whatever else?

Feeling lucky ?
Want to
search
any of my partnershops yourself
for more, better results ?

The links below
will take you
just there!!!

Find Dustin Ferguson
at the amazons ...

amazon.com

amazon.co.uk

amazon.de
Looking for imports ?
Find Dustin Ferguson here ...
Something naughty ?
(Must be over 18 to go there !)

Sinister Studios page: https://sinisterstudiosblog.wordpress.com/
42ND street films Facebook: https://www.facebook.com/42ND-street-films-451815011576883/
Vimeo: https://vimeo.com/user53480512
StorEnvy: http://sinisterstudiosvod.storenvy.com/
Anything else you're dying to mention and I have merely forgotten to ask?
Props to Mark Thimihan for the amazing lighting! He added a lot visually to the film and I'm always pleased with his work. Also, Meathook Massacre has a prequel comic book coming out as well as a Nintendo (!) game based on the movie! Both will be available in limited quantities at the Sinister Studios Storenvy. The Amityville Legacy is currently available the purchase on DVD there as well, or you can download/stream it on Vimeo or Amazon Prime! Finally, watch for our VHS Double Feature Vol. 2: Invitation To Die / Meathook Massacre release hitting Vimeo on September 1st!
Thanks for the interview!
Thank you!