Your upcoming movie Hauntedween 2 - in a few words, what's it going to be about?
Hauntedween 2 picks up at the end of Part 1 then jumps to 25 years later where Eddie gets his revenge!
How did the project fall together, and why make a sequel to the almost a quarter of a century old original Hauntedween? And what did you like about the first one enough to want to make a sequel?
The movie was originally going to be a remake. I was a big fan of the original movie and thought it was a fun story that could be done with a modern twist and appeal to new audiences. Low budget horror and comedy sort of go hand-in-hand and a lot of those films from the late 80s and early 90s are the new cult classics. I contacted Doug Robertson, the director of the original film to ask his thoughts on a new film. After some discussion we both agreed a "sequel" was actually the way to go for several reasons. With a remake, you have certain expectations you must meet to please all the fans. Often times the remakes don't live up to the original or people see it as disrespect to the original film. And since they jokingly said there was a Part 2 'coming soon' during the end credits of Part 1 we figured it made the most sense to go this way. Die-hard fans love sequels, especially if they are directly connected to the original film. There has also been a recent trend of classic horror franchises reverting back to producing sequels to the original series instead of pursuing remakes (Texas Chainsaw 3D and the upcoming Halloween Returns are great examples). We can tie our film to the original while still "doing our own thing", which of course is making a different film but in the style and tone of Part 1.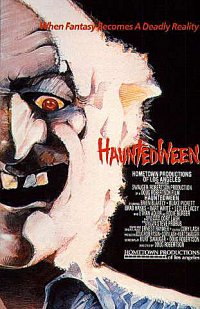 Story- and stylewise, how close will you remain to the original Hauntedween, and what can you tell us about the intended look and feel of Hauntedween 2 as such?
We aim to make a movie that looks and feels like it was made by Doug Robertson a year after Part 1. We have a lot of comedy and goofy gore scenes, casting mostly locals and filming it in our hometown (in small town Nebraska) so it will look a lot like Bowling Green, KY (where Part 1 was filmed). We are opening the movie with a scene that picks up at the ending of Part 1, so we are teasing the possibility of shooting the opening scene on 16mm to match the look of the original footage. If that doesn't happen, we will go with S-VHS probably. The rest of the film will be shot on HD, but we are lighting and framing it almost exactly the same as the original. The story has a lot of the same elements too: a group of young adults who need to raise money for a college event so they re-open an old haunted attraction and the killing starts all over again. We've got all the slasher film stereotypes for the characters, yet with rich character development like Part 1.
Hauntedween 2 promises its fair share of humour and gore - so how will you approach these two aspects of your movie, how will you merge then?
Ironically the original Hauntedween was a big inspiration for a lot of my older films. I loved the montages (especially when set to the theme music) so that was something I began incorporating into most of my movies. Shots of a band playing, the low brow humor and over-the-top gore are also elements I have taken into my other work as well. So you can expect most of those things to be present in Part 2 no doubt. I really like the raw comedy in Part 1. The scene at the house party with the kids flipping a cigarette in their mouths, the drunk guy falling in the background, the "drunk vision" part, all that stuff is classic and we will have some very similar scenes. And since it's a sequel, it's important to us to up the ante on the gore as well. We have a couple death scenes that are direct homages to the original too :)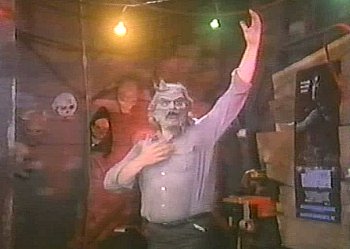 scene from the original Hauntedween
As far as I know, the creator of the original Hauntedween, Doug Robertson, will somehow be involved in Hauntedween 2 - so what will his role be? And what can you tell us about the rest of your key crew?
Doug is involved in many aspects. For one, I felt I owed it to him to ask his opinion first. He made the original, it's his baby, and I don't want to step all over his work. He also has been reading the outlines and offering suggestions on certain plot points. He has a cameo in the movie too. I won't reveal what just yet, but so that means he will also be here for a big part of the production to sort of "oversee" things. Doug has become a friend over the course of all of this so I want to make a sequel that is worthy and won't let him down. It's very important to me that he likes the film. I'm only doing a Part 2 because he and his crew worked so hard to make Part 1. We have a couple pending crew members but so far Dorothy Booraem (director of Wake The Witch, and several cool web series') and Chad Haufschild (producer on Blood Rites and Meathook Massacre) will be crewing with me, Mark Thimijan is shooting it (he did Silent Night, Bloody Night 2, Cheerleader Camp To The Death, and a slew of others for me) and Wetworks SFX will be handling the gore. My ever trusty boyfriend Jarad Allen will be the production assistant and possibly stand in for Eddie in a scene or two. Jason Harlow [Jason Harlow interview - click here] and Jeremy Lubash will probably be involved in some form as well.
Anything you can tell us about your projected cast yet, and why exactly these people?
We have cameos and a couple small parts pending for some horror vets. It's too early to officially announce anyone but let's just say we are in talks with stars from 2 different A Nightmare on Elm Street films and we are hoping to work out having Kevin Vanhentenrych, the star of the Basket Case trilogy, step in as "Eddie Burbor". The rest of the casting hasn't happened yet save for a couple parts. Breana Mitchell (Doll Killer and Invitation To Die) will have a part for sure. It's important for a film of this caliber to have some name recognition, for the fans, so a large portion of our budget will be going to landing these people.
As we speak, Hauntedween 2 is still in its fundraising stages - so what can you tell us about your fundraising efforts?
We literally launched it like 2 days ago. We have 4 funders on board so far but have a long ways to go. Our goal is $10,000, but only need $5000 to physically make the film. However, that other $5000 guarantees the big actors, quality gore, more time to shoot and being able to pay our actors and crew upfront. This is the first fundraiser I've ever done, as most of my other films had private investors and producers. But I'm in a tough position right now, having recently left New Wave Pictures and without a "regular" producer. Since this film has been planned for a long time I didn't want to bail out of it just because I don't have a guy to just hand me a check to make it. We considered lots of other options to help make this film happen, and since the original is such a fan favorite, we figured allowing the fans to be the ones to make it happen made sense.
https://www.indiegogo.com/projects/hauntedween-2/x/10940568#/story
Once the funds are raised, what's the schedule? And any idea when and where the film might be released yet, however tentatively?
We plan to film it in mid August, probably done by mid September. I believe our distributor, Screamtime Films, is aiming for a Halloween release, so I'll be busting my ass editing after we wrap. It will be on both VHS and DVD as well as streaming on Amazon. Screamtime will also do a special re-release of the original film alongside it too.
Any future projects beyond Hauntedween 2 you'd like to share?

Feeling lucky ?
Want to
search
any of my partnershops yourself
for more, better results ?

The links below
will take you
just there!!!

Find Dustin Ferguson
at the amazons ...

amazon.com

amazon.co.uk

amazon.de
Looking for imports ?
Find Dustin Ferguson here ...
Something naughty ?
(Must be over 18 to go there !)

This year I had 5 movies booked. I've wrapped 2 of them already. Hauntedween 2 is the 3rd film, then I have 2 more I'm doing for a company called Nemesis Video. One is a killer animal flick called Blood Claws, the other is a meta horror called Shockumentary about a group of friends who discover their missing friend in a Faces of Death style movie getting killed. Their investigation into her disappearance leads them into the dark and seedy world of snuff filmmaking. Both of those will film in the fall and be released exclusively to VHS. Then I get a couple months off during the winter before (hopefully) starting Death Doll 2 in the spring next year.
Your/your movie's website, Facebook, IndieGoGo?
Facebook: https://www.facebook.com/Hauntedween2
Indiegogo: https://www.indiegogo.com/projects/hauntedween-2/x/10940568#
Anything else you are dying to mention and I have merely fogotten to ask?
Please donate if you can! Only $5 gets your name listed in the "Special Thanks" of the movie credits! If you can't afford a donation, please share our IndieGoGo link! Every little bit helps and we are counting on the fans to make this happen!
Thanks for the interview!