Your upcoming movie Dead Men Tell No Tales - in a few words, what's it going to be about?
It's about this guy who has a boring dead end kind of life where most of the people annoy him. He meets this unusual man who gives him the power to make his thoughts come to life and "get rid" of these pests. Being a horror movie fanatic, he brings his celluloid creatures to the real world to do his bidding.
What were your inspirations when writing Dead Men Tell No Tales?
I love 80's style dark comedies and have always wanted to do one. Also I wanted to break the norm of horror in the sense that there is one killer or one type of killer. In this film I get the chance to explore a lot of different types of monsters/demons/killers. So I wanted to do something that I could "spread my creative wings" so to speak.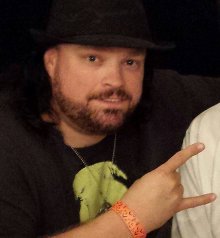 Dusty Fleischman
If you had the powers of your movie's protagonist for, let's say, one day - what would you do ... and how would you make sure it wouldn't end up in chaos?
Honesty, I would probably kill everyone just like this guy did, there is no way to control such a power. That is kind of the essence of the film. The main character is not a bad guy, in fact he is a very likeable and nice guy, but even the nicest person in the world can be pushed too far and when you have a power like he is given, you would easily lose control. Plus most people in general can be very annoying at some point. With this kind of power, once is enough.
What can you tell us about Dead Men Tell No Tales' approach to horror (as in suspense vs sudden shocks, atmosphere vs all-out gore and the like)?
I like to do different things in film. I steer clear of traditional formulas and don't follow trends. Like everyone I know is making zombie movies because they are popular because of the Walking Dead series. Fuck that. If I want to watch zombies, I will watch The Walking Dead, or watch Romero movies. So I stay away from trends.
When I write and direct films I look for ideas that are unique and give me a chance to try new things. In a film like this I can really explore different styles and characters. There will be blood and gore, there will be monsters, there will be some scares, and there will be some laughs. I try to bring as much to the table as I can in an hour and half. I hope that answered your question.
How would you describe Dead Men Tell No Tales' brand of comedy then?
Dark would be one word. Not "stupid" comedy. Like when you're onset shooting and someone says, "Oh I got an idea of how we can make this really funny", that's not going to work for me. I don't want that kind of humor. The laughs are written into the story. It is funny by design, not by mistakes or because we just wanted to be goofy. That kind fo humor is popular in indy horror these days and has really turned me off to some films. Everybody wants to be like Ed Wood [Ed Wood bio - click here] or Troma. I don't. If the story is written to be funny, then it should be, if it isn't then it shouldn't be. A lot of filmmakers on this level give up on story because they don't have the money or technology, so they just let it become silly.
I just wrote and porduced a film called The Crawlspace Chapter II: The Succubus and even with a limited budget the film has no humor. I watched it and was like, "man, if anyone finds this funny, there is something wrong with them". There was nothing funny about it. That was a learning experience for me. I realized I can make films on this level and not make them silly. So then I thought, what if I could make a stylized dark comedy and not make it silly? So there is my challenge with this film.
Do talk about the intended overall look and feel of your movie!
It's going to be a wild ride. There is a lot going on and we explore a lot of different genres of horror all in one film. Then you splash in a dose of 80's style humor and mix it all together and there you have Dead Men Tell No Tales. There is a lot of narration throughout the film, because the main character is telling you his story. So one of my actors told me it was like "Ferris Bueller Goes to Hell" (laughs)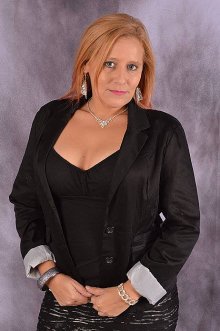 Rita Christine

What can you tell us about your co-director Rita Christine, what has your collaboration been like so far, and how did the two of you first meet even?

She is a pain in the ass…no just kidding, Rita!

Rita came to my company as an actress when I did my first casting call back in January. She showed a lot of dedication and drive and became my special FX artist. We worked so well together that I made her my production assistant. She was just heavily involved in everything I was doing that I made her co-producer. The next step in her "film" evolution was to start directing. She was assistant director on Radioactive Flesh Eating Foliage, and that worked out well. I play the main character in this film and needed someone to help behind the camera so I could focus more on acting. Rita was the natural selection for me.

Anything you can tell us about your projected cast yet, and why exactly these people?

Well I am playing the main character, Matt Shreck. I also have Jesse L. Green and Rick Jermain as my detectives. Rita Christine is also in the film. Adult film star Nadia White and Tromette Jenny Jannetty are also going to be featured in the film. Invader Bethany, Matt Burns and Steve Fiendish, who were in Radioactive Flesh Eating Foliage, will be making appearances. Then I have some new faces Steve Boliek, Kelly Spikas, Tiffany Divelbliss, Lindsay Day, and Rebecca Chambers will be appearing in the film.

From what I know, you're presently still raising funds for Dead Men Tell No Tales - so what can you tell us about your fundraising campaign?

It's slow going… (laughs) I am new to the crowdfunding thing. We want to upgrade our equipment and maybe bring in a few horror stars to help us round out the film and the funding would certainly help with that. We offer some nice perks and it will help out supporting indy horror. So anyone who can afford to help out in any way please do so. I promise you will not be disappointed with the outcome. We are also doing a tee shirt campaign on Booster, check out our Facebook page for info on that. The Tee shirt was designed by artist Tony Fero. It is amazing!

https://www.indiegogo.com/projects/dead-men-tell-no-tales/x/11933377#/story

https://www.booster.com/cceshirts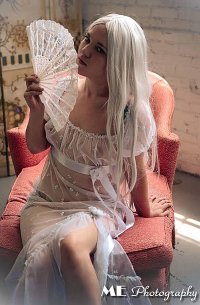 Jenny Janetty


Feeling lucky ?
Want to
search
any of my partnershops yourself
for more, better results ?

The links below
will take you
just there!!!

Find Dusty Fleischman
at the amazons ...

amazon.com

amazon.co.uk

amazon.de
Looking for imports ?
Find Dusty Fleischman here ...
Something naughty ?
(Must be over 18 to go there !)

Once the funds are raised, what's the schedule? And any idea when and where the film might be released onto the general public (however tentatively)?
Filming has already begun. The film is in production now. We are looking at a possible Christmas release, but most likely it will be out after the first of the year.
Any future projects beyond Dead Men Tell No Tales you'd like to share?
We are actually going to be shooting two movies at once. In a few weeks we are starting production on a second film called The Town That Feared Halloween. This is a film where trick or treaters don't wait for the treats, they go right in for the tricks. I have always wanted to shoot a movie about Halloween and this is going to be a good one.
Your/your movie's website, Facebook, IndieGoGo, whatever else?
http://creepycrawlenterta.wix.com/creepycrawl is our website....
https://www.facebook.com/pages/Creepy-Crawl-Entertainment/
1541726356083868 is our company Facebook page…
https://www.facebook.com/pages/Dead-Men-Tell-No-Tales/
1477682802527947 is the Dead Men Tell No Tales Facebook page…
https://www.indiegogo.com/projects/dead-men-tell-no-tales/x/11933377#/story is our campaign page for IndieGoGo….
https://www.booster.com/cceshirts our Booster campaign…
https://www.youtube.com/channel/UCDVlj3l9KPG3YVFpcrCM4Bw our YouTube channel…
To sign up for our monthly newsletter send an email to: creepykryptnewsletter@gmail.com
Anything else you're dying to mention and I have merely forgotten to ask?
Just want to thank all the fans, who I affectionately refer to as "Creepy Crawlers", for the support you have shown us. Buying our products, getting our newsletter, coming out to events and seeing us, it makes all the hard work worth it!! We have the new The Crawlspace Chapter II: The Succubus coming out this month! We have our highly anticipated new film Radioactive Flesh Eating Foliage and a new Creepy Crawl Entertainment Calendar coming out, and we will be at The Four State Slasher Con in October!
Thanks for the interview!
Thanks Mike!!!