Your new film Nipples & Palm Trees - in a few words, what is it about?
Nipples & Palm Trees is about a guy searching for love in Los Angeles.
How did the project come into being in the first place, how did it get off the ground - and were you always attached as producer and director?
You can say the project evolved a bit…
It began with a series of "shorts and sketches" written by Mathew James (also the lead) where a character named Jackson explored a series of bizarre and (mostly) sexual encounters. From my understanding some of it is based upon real experiences he's had, and the rest came from his twisted imagination.
First we did a short film called Jackson and Harmony - which was more of a personal dramatic piece that he wrote based upon a tumultuous relationship he went through. From the casting of the short we discovered Sadie Katz - who had a unique, real and gritty approach to her performance.
The experience on the short was good and from that we felt that a feature based on this material would be a worthwhile venture. So the love for the Harmony character was always the heart of the story - and from there a "journey" was created for this guy to take in his attempts to find true and meaningful love - and all the confusion and frustration that comes with it.
What can you tell us about your writer and star Matthew James, and what was your collaboration like - also in the light that you were pretty much visualizing his vision?
Matt and I met on a horror movie that some mutual friends were shooting in Colorado. We kept in touch throughout the years and we eventually got into the idea of doing some projects together. He's a talented and unique actor who has been in Jay and Silent Bob Strike Back and had a reoccurring role on Angel.
Matt wrote the script and we collaborated on fleshing out some plot points, but for the most part the story and "set pieces" all came from him. He also had a very distinct acting style and characterization that he wanted to achieve with the role of Jackson.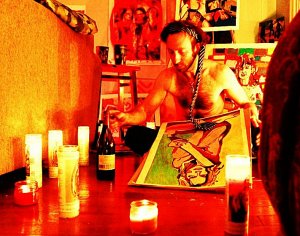 We were both really into 70s Hollywood cinema ("New Hollywood") - especially films that were character studies of extremely flawed but ultimately redeemable male protagonists. Some examples of the flicks we discussed while developing Nipples & Palm Trees were Five Easy Pieces, Shampoo, The Long Goodbye, and Killing of a Chinese Bookie (and probably everything by John Cassavetes)..With visualizing the work our mantra for making the movie was "there are no rules" and as such I drew inspiration from the story telling techniques of maverick filmmaking movements like New Hollywood, French New Wave, and Mumblecore - which basically means we weren't tied to any kind of standard or predisposed criteria and instead allowed each scene and moment in the movie to exist as it's own "piece".
Also - along with cinematographer Matt Gulley - we discussed the film being a "sleazy Wizard of Oz"- where we kind of go on this colorful journey into the seedier side of the Los Angeles dating scene. So with the look and tone we wanted to achieve something both surreal but also realistic.
So putting it all together in the editing room we were always trying to achieve a balance between absurd/broad humor, the random/bizarre 'out of left field' moments, and the heart-felt drama.
Was the movie based on a very rigid script, or was there much room for improvisation and the like?
The script was there as were most of the one-liners and jokes, but improvisation "between the lines" was certainly utilized. We would shoot long and uninterrupted takes and just kind of let things organically happen in the moment. I ended up using a lot of the "mistakes" in the final product. There are some drawbacks to that method but you end up capturing these pure human moments that you wouldn't otherwise by trying to make every frame "perfect".
To what extent can you identify with the things that happen to Jackson in the film, and your personal thoughts about the LA dating scene?
Well, I think any guy can identify with the plight of Jackson. He just wants to find love. I probably haven't had as many romps as Jackson - but I think every guy has had some sexual experience with a 'nut job', or a very 'adventurous girl', or a dirty 'two condom' type, or any number of 'bad ideas' that we went along with despite our better judgment.
I think a lot of the single dating scene (not just L.A.) is a whirlwind full of ups and downs. It's also a lot of building up anticipation for something and ultimately being let down and still feeling lonely.
I recently got married and have been with my wife for a few years so I've started to have some perspective on the "single man's life". And the analogy I come up with is high school. There were some great times, cool stories, and fond memories. But more often than not it was a living hell and I wouldn't want to go through it again.
What can you tell us about your key cast, and what made then perfect for their roles?
Sadie Katz was there since the short and her character became the main narrative drive of the feature script. So as the script developed she brought a "female perspective" - which is exactly what the project needed I think. Sadie also has a good sense of "broken people" and the sadness of someone who can't let themselves be loved. To top it off she was always there to provide feedback, ideas, and encouragement. So you can say Sadie contributed greatly to the final film.
Once we set forth with casting the feature we were lucky to find some very talented people who agreed to be part of it. Vanessa Rose Parker stepped into the role of Liz (the girl who orchestrates the "gang bang") and I thought she perfectly captured the almost "Lynchian" weirdness of that situation by just being honest and never resorting to broad humor - which would have been an easy but less successful choice I think.
Akihiro Kitamura (from The Human Centipede) was a guy I knew from a job we both had at a movie theater. I found him to be a charming and funny dude and we asked him to read and it worked great for the role.
Dallas Malloy came from a casting call we made for a "transvestite prostitute" - a scene from the original script. She was a champion body builder (a unique look I thought) and when we met her she had a very warm and calming presence. This inspired us and we actually ended up reworking the role and adding a scene to make her a kind of 'Yoda'/ 'wise man' type of part in the movie.
Everyone else either came from casting calls or were actor friends that we knew could deliver the goods.
How easy/difficult was it to cast a movie full of bizarre and sex-crazed characters to begin with?
It was tough, no doubt about it. As a matter of fact I think there's a few actors that are still embarrassed to be associated with a movie called Nipples & Palm Trees. There was some push back from people and it is still a very polarizing movie. It surprised me at the beginning and it still does sometimes. I think it ultimately reveals that people (i.e. Americans) are very prudish about sex.
Case in point, if we were making a movie about people getting decapitated or impaled on meat hooks I know there wouldn't be any problem. But as soon as you start talking about blowjobs or whatever, you seem to get in this whole other category that doesn't really make sense when you think about it.
Anyway - so the first hurdle with casting the movie was convincing the female actors that braved to come in and audition that we weren't shooting a porno. People seemed to take lines in the script like "She gives him a handjob" pretty literally. So it was an uphill-battle but I think we found some great actors to tackle the roles.
In my review, I described Nipples & Palm Trees as "the evil twin of your typical sanitized Hollywood-style romantic comedy" - a comment you can at all live with?
Hell yeah, that was my favorite line in the whole review. And I think it perfectly sums up what the movie is… a romcom with some dramatic moments. The only difference is that there isn't the safe "PG-13" filter. Everything is pretty much in your face. And I'm not really talking about language or nudity. I think all the human emotion is raw and unfiltered as well.
How would you describe your directorial approach to your subject at hand?
I'm always learning and evolving as a director each day and with each project. Asking me now I think the role of the director is:
Get shit done… no matter what the delay or disaster you got to keep shooting and getting your coverage so you can edit the scene. Especially with low budget stuff, this the most important task… keep shooting. Not everything can be figured out in editing but you won't have a chance in hell if you don't cover your ass.
Provide everyone on the set the opportunity and ability to do their best work. At the end of the day filmmaking is collaborative so the best thing I can do as a director is give another creative person a chance to be an artist.
Those two things may sound like conflicting goals and sometimes they are. So number 3 is "Achieving a Balance between #1 & 2". In other words, between getting shit done and creating art.
What can you tell us about the actual shoot and the on-set atmosphere?
Someone once told me that the act of making a movie is like living a year of your life (with all the joys and stresses that come with it), all condensed in just 2-3 weeks. And there's a lot of truth to that.
We shot the movie in 12 days (including night shooting), with no permits, a crew of 4-5 people, and of course very little money to do it with.
So the atmosphere on set was at times a lot of fun with everyone enjoying each other and relishing in the wonderful experience of filmmaking. And sometimes you wanted to tear your fuckin eyeballs out of their sockets. And it basically went from those two extremes and anywhere in between.
What has critical and audience reception been like so far?
Like I said before, Nipples & Palm Trees was a polarizing movie at every step. And that's pretty much been reflected in the critical response: There's great reviews from people like you and searchmytrash.com - some other sites that enjoyed the flick are Sandman Cinema, Cinesploitation, NerdRemix, and Mondo Digital.
But when we did the short theatrical run, the Los Angeles Times hated it… and I mean hated it. Their review was so spiteful that the reviewer sounded offended that we would dare put this piece of trash out into the world. It was really funny actually.
But I figure it's better to have "hate it" reviews than "it was just okay". So much of cinema functions on mediocrity and playing it safe, and if the point of indie film is to take chances then you have to be prepared to get those kind of reactions. That's the big take away I have from this experience.
Let's go back to the beginnings of your career: What got you into filmmaking in the first place, and did you receive any formal training on the subject?
I didn't receive any formal training. I always wanted to become a director and just watched movies and read filmmaking books. I graduated with a degree in Business Marketing from Cal State Northridge but pretty much right out of college I started working on indie film sets by scouring the "Gigs" section on Craig's List. Eventually I managed to work nearly every position on a film set. But the goal was to always make my own movies.
Your debut as a director was I think Chain Link - want to talk about that movie for a bit?
Sure… Chain Link is a crime drama that got awards at five international film festivals and is available at Amazon, Netflix, and a few other spots. I was the writer/editor/director and it was pretty much my first child.
The story is about an ex-con who is trying to get his life back on the right track and reconnect with the girlfriend and child he left behind when he went to prison. But despite these good intentions he is forced to back to a life of crime, and his actions lead to disastrous results. Again I was influenced by 70s New Hollywood cinema with the story and style of the film - gritty, real, and passionate.
I didn't realize it at first, but both Chain Link'and Nipples & Palm Trees share thematic similarities. Both deal with an extremely flawed and offensive male protagonist who by all accounts doesn't really deserve the sympathies of an audience. But under that rough exterior is something very human… they are a person who wants nothing more than to love and be loved. And in the end everyone deserves those things, because love is what makes us human.
Other past filmwork of yours you'd like to talk about or any future projects you'd like to share?
I've made two feature films so far - and I'll hopefully continue to make more. The studio system would be awesome but I would love the ability to continually produce a movie every couple years and not have to work a real 'jobby job'… the usual starving artist pipe dream.
In the meantime nothing definite is lined up. I've done a drama and a comedy and I'm a big fan so ideally I would want to make a horror flick next. I'm writing stuff and developing multiple projects with people so we'll see what happens. It's all about getting the money to make it.
How would you describe yourself as a director?
I'm not sure how people see me. I know I'm not perfect but I would like to think I'm supportive and fair to the crew and actors but also have a clear focus and goal.
I think I'm still developing as a director and I'm mostly just learning from mistakes still so I can't really define myself yet. I just want to keep making movies and tell stories and challenge myself.
Filmmakers who inspire you?
Depends on what day and time you ask me. I'm always getting into a different filmmaker and obsessing over their work and it still amazes me how many damn movies have been made and are still being made. And there's no way to see them all!
First, Spielberg and Lucas were my childhood. Then I think most filmmakers of my generation (I was born in 1980) are in some way directly influenced by the 1990s indie film scene and the parallel rise of the Sundance film festival - especially Tarantino, Rodriguez, Smith, Soderbergh, Coen Brothers, and Linklater. As mentioned before - the 70s are really big for me; Cassavetes, Altman, Coppola, Boorman, Scorsese, De Palma, Roeg, Corman [Roger Corman bio - click here] etc. The big art house people like Godard, Lynch, and Koraine. And I also really like genre auteurs like Larry Cohen [Larry Cohen bio - click here], John Carpenter, and Dario Argento.
Your favourite movies?
Again, that's tough. Depends when you ask me. Right now I've been obsessed with Italian exploitation movies of the 60s and 70s. No one makes 'em like the Italians and it's a crazy era of filmmaking to get into from giallos, spaghetti Westerns, peplums, zombie flicks, and the endless series of rip-offs of Hollywood movies like Mad Max, Dirty Harry, and Rambo.
"Favorite movies of all time" sounds like a daunting list so these are some flicks I can always watch (even if it's an hour into the movie) and I can never really get tired of: Ed Wood, Monster Squad, Cloak & Dagger, Predator, Heat, Die Hard, Boogie Nights, Flash Gordon, Blade Runner, Wayne's World, Rocky 4, Goodfellas, They Live, Let It Ride, Great Outdoors, From Dusk Til Dawn, and Scarface.
... and of course, films you really deplore?
Maybe it's because I work on movies I can't really flat out call certain movies terrible. I've certainly been disappointed. And I think most of the films that win Best Picture aren't that good and I'm still pissed that Drive got fucked over last year.

Feeling lucky ?
Want to
search
any of my partnershops yourself
for more, better results ?

The links below
will take you
just there!!!

Find Dylan Reynolds
at the amazons ...

amazon.com

amazon.co.uk

amazon.de
Looking for imports ?
Find Dylan Reynolds here ...
Something naughty ?
(Must be over 18 to go there !)

Ironically, if I had to pick my least favorite genre it's probably the romantic comedy. Which as mentioned before is what Nipples & Palm Trees ultimately is. Maybe that's why it comes across as the "evil twin" of the Hollywood romcom.
Your/your movie's website, Facebook, whatever else?
The movie website is http://nipplesandpalmtrees.com
We got a Facebook and there's some YouTube trailers and clips. Here are some spots where people can get the flick:
Amazon: http://www.amazon.com/Nipples-Palm-Trees-Matthew-James/dp/B008VR7U4S
Netflix: http://dvd.netflix.com/Movie/Nipples-and-Palm-Trees/70247846?strkid=
764217860_0_0&strackid=1927b5cc45f5fdb4_0_srl&trkid=222336
Best Buy: http://www.bestbuy.com/site/Nipples-%26-Palm-Trees---DVD/20614651.p?id=2586393&skuId=20614651
Blockbuster: http://www.blockbuster.com/browse/catalog/movieDetails/565176
Anything else you are dying to mention and I have merely forgotten to ask?
I don't think so… Thank you so much for this opportunity and your support of indie film!
Thanks for the interview!