Your new movie Dime Crimes #34 - in a few words, what is it about?
Doll, played by Ashlee Mundy, has her world turned upside down when a man who appears to have stepped out of her favorite pulp comic arrives at her door. She must decide whether to embrace her fantasies or stick with the life she has built with her distant boyfriend - a life that, while imperfect, is safe. Dime Crimes #34 tells the story of a young woman who spends her days hiding out from the world and, ultimately, her attempt to crawl out of her slump.
How did the project come into being in the first place?
I was approached to direct the film in fall 2013 by writer/executive producer John Michael Wagner, who is an old classmate of my friend (and Dime Crimes #34 director of photography) Jaime Medrano jr. They had joined forces and were looking for someone to helm the project. Jaime is someone whom I have a great deal of respect for both on and off set so I was keen to work with him. He brings both a terrific amount of pathos as well as humor to his imagery, so that was a big selling point. The other side of it was that I tend to avoid dialogue when I write my own projects and was itching to work on something that was dialogue-heavy. JMís script was clever and his talent showed through right away. Other than that, the idea of working on anything with executive producer and Tony Award-winning actor John Benjamin Hickey was huge. Iíd been a fan of his for a while and that kind of sealed the deal.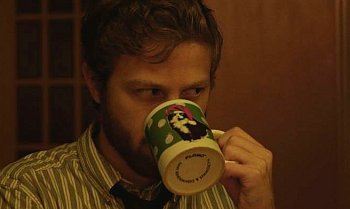 John Michael Wagner
What can you tell us about your screenwriter John Michael Wagner, and what was your collaboration like, both before and during the shoot?
I loved working with JM. He is the perfect mix of strong opinion and eagerness to see the other side of the coin. I threw a lot of curveball suggestions at JM during preproduction and he was always willing to try them out on the page. He went through about thirteen drafts before we landed on something we were both happy with - and that isnít to say many of them werenít totally fun, shootable drafts. He could have stopped at any point but I think we both saw an idea at the end of the tunnel and were willing to do the legwork to get there. The theme of pulp comics is one example of something that was absent from early drafts that we came to together. As for during the shoot, JM played the third character, that of Dollís boyfriend, Jack. I had seen him act in a production of Our Town and was blown away, so it was good fun directing him. I think we ended up doing one take of a lot of his close-ups because he would always nail it.
Dime Crimes #34 was quite obviously inspired by vintage pulp fiction and film noir - something that holds special place in your heart, and how easy/hard was it to bring the fitting imagery across?
Oh yeah. Many of the Menís Adventure covers that grace the walls of Doll and Jackís apartment were originally on my own. I love that stuff. You know, I believe you can thank Jaime Medrano for the overall look of the film. I had planned on giving it a more Edward Hopper/stylized comic book look, and Jaime walked me away from that. There is a sort of sadness to the film that he created by using a more realistic lighting design (while keeping strong directional light from outside). Victoria Aguila, the production designer, also played a big role in the final look. I am forever grateful to them for teasing out so much emotion in something that could have been done in a sort of stylized, emotionless way.
Dime Crimes #34 was filmed in no more than a handful of rooms - so what kind of a challenge was it to keep things interesting? And do talk about your location for a bit!
We had booked another location but it thankfully fell through a week before the shoot. I think what we ended up with worked much better, though it was a scramble at the time. During preproduction we decided not to venture outside of Dollís apartment for budgetary reasons. Indie projects often suffer from a desire to cram too much into a little amount of resources and we wanted to embrace the limitation. The entire movie was shot on a Ronin camera-stabilizing rig which allowed us to have a fair amount of movement in those tight spaces. We were lucky to work with a killer Ronin operator, Kyle Deitz.
What can you tell us about your directorial approach to your story at hand?
JM wrote a script that could be interpreted in many different ways and I spent a lot of time breaking it down with the cast, making sure they knew exactly what each line was responding to or driving at. I would try to get the performances to a certain place each rehearsal knowing we would add a new layer the next time, so they started out quite different from where they ended. An example of this is Ashleeís take on Doll - we focused on the depressed nature of the character almost entirely up until the last couple of rehearsals, when we started adding in the geeky, comic-loving side. I find her performance pretty hilarious in the film. She has these wonderful twitches and comic timing, but it is layered on top of that deep sadness. For JM, we did a lot of backstory on why his character was so angry, and then found a way to temper it to explain why he doesnít just explode or kick Jimmy Daltonís character out.
Do talk about your cast, and why exactly these people?
I think we were just incredibly lucky to have Jimmy and Ashlee nail their auditions. We had met with a fair number of actors but it was difficult to find ones with the right mix of humor and depth. Many had one but not the other, or just werenít the right age or build. Both Jimmy and Ashlee are excellent listeners and that is a wonderful skill for an actor to have. They were very receptive to notes and played off each other well - finding actors who could be so vulnerable with each other was probably the hardest part. The part of Bug was originally written with musician Bosley Brown in mind, and Jimmy brought a similar swagger to it. Bosley wrote all the music in the film -- Iím a big fan. Bug isnít an easy role to play, though, and Jimmy pushed himself quite hard to find the right mix of childishness and menace. Because we had done so much rehearsal, there were few on-set changes made to performances which lowered the number of takes.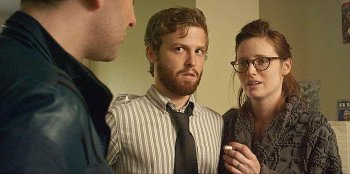 What can you tell us about the shoot as such, and the on-set atmosphere?
We shot the bulk of the movie on location but a large number of the close ups and insert shots were filmed several months later in a School of Visual Arts classroom. Eric Pennycoff edited the film and we realized we wanted that little thing you never have enough of - coverage, so we did the pickup shoot. It came out seamless which I think surprised everyone. Any closeup where the background is obscured by a body was done during the second shoot. As for the atmosphere, it was your usual harried, everything-that-can-go-wrong-will, low budget shoot, but we had a fun crew who kept everything light.
The $64-question of course, when and where will Dime Crimes #34 be released onto the general public?
It is only just now entering the film festival circuit, so the best answer I can give is to ďlikeĒ us on facebook at www.facebook.com/rebelrebelproductions to stay updated on when it plays near you. We are eager to share it with audiences!
Any future projects you'd like to share?
Iíve been focusing on commercials and directing music videos - do you have a band? - but have a few narrative projects in the works. One is a sort of Roald Dahl meets Todd Solondz meets Creepshow story. Iíll leave it at that and just say itís going to be awesome. Iím also still trying to find a home for The Plight of Cecil, a web-series created by my friend Carla Rhodes (find it on YouTube)! I directed the pilot episode. Carla and I have spoken at great length about where she wants to take the story and I love how her mind works. Sheís delightfully mad. That one is executive produced by Mallory Lewis, who is the daughter of the late, great Shari Lewis of Lamb Chop fame.
What got you into filmmaking to begin with, and did you receive any formal training on the subject?
My older brother was into it when I was young so I needed to copy him. Much later I studied film at Bard College and then received my Masters Degree from The School of Visual Arts in 2013. Bob Giraldi, who is an executive producer on this film, was my professor at SVA. It is the second project we have done together, the other being Retire for the Evening, a short about a sock puppet who tries to continue performing after his puppeteer has died, dragging the dead body around behind him.
What can you tell us about your filmwork prior to Dime Crimes #34?
Retire for the Evening
Well, other than Retire for the Evening and the web-series The Plight of Cecil, Iíve directed music videos, commercials... Iíve directed three Indie features but that was a long time ago and Iíve learned a lot since then. When Iím not directing I tend to assistant direct. Iím a naturally impatient, detail-oriented person so jobs dealing with schedules and time management fit nicely. There was a time in my life where I worked closely with hotel labor unions and saw many workers treated unfairly - the assistant director gets to ensure a film set is run safely and respectfully.
How would you describe yourself as a director?
Matt Fleischer was the assistant director for Dime Crimes #34 and I owe much of my sanity to him. He was a perfect sounding board and kept me from dipping too much into my assistant director side, which tends to be a worrier. Iím still learning and growing as a filmmaker, but I try my best to empower my cast and crew while being decisive. I try to stay willing to compromise and shift gears during a shoot in order to make the day. Thatís the assistant director side of me talking, too. Films are great because they are a group of people creating something together. I like that and do my best to adapt during shoots as opposed to fighting against all the variables at play.
Filmmakers who inspire you?
Hitchcock always gets me. The way he plays with audience culpability and voyeurism is impressive. I love how in a movie like Psycho he gets you to side with Janet Leigh, and then switch to Tony Perkins, and then switch again to Vera Miles. It happens so effortlessly that you barely notice. Another favorite director is Antonioni - I find LíAvventura maddeningly deep. Hmm... Shout outs to the Coen Brothers, Todd Solondz, and David Lynch, too...
Your favourite movies?

Feeling lucky ?
Want to
search
any of my partnershops yourself
for more, better results ?

The links below
will take you
just there!!!

Find Ed Hellman
at the amazons ...

amazon.com

amazon.co.uk

amazon.de
Looking for imports ?
Find Ed Hellman here ...
Something naughty ?
(Must be over 18 to go there !)

Fargo, Psycho, LíAvventura, The 400 Blows, and The Talented Mr. Ripley. Authors Patricia Highsmith and Bret Easton Ellis continue to inspire me.
... and of course, films you really deplore?
Men of Honor, sir.
Your/your movie's website, Facebook, whatever else?
Check us out at www.dimecrimes34.com, ďlikeĒ and follow us at www.facebook.com/rebelrebelproductions, or hit us up directly at rebelrebelfilms@gmail.com
Anything else you are dying to mention and I have merely forgotten to ask?
The comics in the film were all illustrated by Italian comic book artist, Emilio Lecce. I was a fan of his since he worked on IDW Publishingís GI Joe: The Cobra Files series. The covers were colored by SJ Costello, whose recent work can be seen at goingtoweather.tumblr.com. The movie would not have been the same without them!
Thanks for the interview!
Thank you!