Your movie Wolf House - in a few words, what is it about, and what can you tell us about your character in it?
Wolf House is the classic camping trip gone awry. Some folks shoot something in the woods and decide it's a fabulous idea to take it home to eventually take to the media.
The creature is still alive and through the course of the film we learn that the beast is only one of its guises and it loves being the cat in this cat and mouse game. My character tries to keep the group together and eventually tries to reason with the monster.
How did you get involved with the project in the first place?
Ken Cosentino, the director, had this idea since he was a kid, a monster movie with wolves. He invited me on the project.
Since you're also one of the writers of Wolf House, have you written your character with yourself in mind, and how much Elizabeth Houlihan can we find in Donna?
Ken is very kind to say that I helped write this with him. We have very different styles. I like Victorian fiction and the occult and he likes comic books and Carlos Castaneda. We both like the supernatural however and we sat down to hash out the rough plot points. Dialogue however was more challenging. I wanted more humor, but he thought it would start to seem "scripted". It was definitely his baby though.
How much of me is in Donna? I'm pretty tough but would I go down to the basement and let a ghost creature who's exhibited less than friendly tendencies sniff my hand ...uhhhhh.
What were your inspirations when writing Wolf House?
Native American legends and werewolf films.
Do talk about your collaboration with your co-writer and director Ken Cosentino, both during writing and on set? And how did you two first meet even?
We met in 2012 on set of a short film Matt Lord wrote and was directing. Unfortunately the film will never see the light of day due to some audio issues. But it served its purpose since we're getting married in October of this year.
It's difficult sometimes having a romantic relationship while conducting the business of filmmaking. We butt heads creatively, but we both highly respect one another and each other's work. But I cannot wait for the day when I can direct him.
Wolf House is shot found footage-style - did that in any way influence your performance?
Found footage is a much more difficult genre to perform in than I thought. It's challenging to act as if you're not acting. To tell a story fluently and realistically. People in movies don't talk that way, that's part of why we watch them and get caught up in them. We had to write and act out a story in a way that was natural and interesting.
What can you tell us about the shoot as such, and the on-set atmosphere?
Indie film sets can have incredible atmospheres when working with a team of people who just want to make a movie. We all worked hard, long hours, for free. Ken especially while building the animatronic head. We were exhausted to the point of being goofy. We camped in a cabin without heat, in the rain, in October but we loved it!
Any future projects you'd like to share?
We have plans to continue expanding our "Shrewniverse" created in Attack of the Killer Shrews!. Ken and I are writing a book together titled something along the lines of 50 Stories to Scare Your Pants Off. I have two scripts I'm working on at the moment, an action-comedy and a mystery. My immediate goals include finishing those and submitting them to festivals... but... we'll see.
What got you into acting in the first place, and did you receive any formal training on the subject?
I was always 'dramatic'. That kid who'd always get in trouble for rolling their eyes. Our school had put on plays but I was too shy to actually audition for one. Several years later I was working in an office being ridiculous and a co-worker asked point blank "What are you doing here? You don't belong here." I left that job and a few years after I graduated with my BA in Theater.
What can you tell us about your filmwork besides Wolf House?
I've been lucky enough to have a great mix of opportunities when it comes to film work. I've been in a faith-based film (Through a Mother's Eyes), a comedy (Attack of the Killer Shrews!), and Wolf House. I've also been in a few of Ken's music videos. I really hope I continue to get the chance to create 'characters' from the dorky to the terrifying.
Besides movies, you've also done your fair share of stagework - so what can you tell us about that aspect of your career, and how does performing in front of a live audience compare to acting for the camera?
I feel I was made for film! Whatever that means. I was always told I was too quiet on stage, I wasn't big enough for the back row, so you can imagine I prefer being on camera with a mic in my face. I like being able to do take after take and let that energy build. On stage I'd have that moment and then it was gone, I'd make a note maybe of what I could've done better but that would have to wait until tomorrow night's show to play out. I was way too much in my own head on stage, no so on film. I also have the luxury of, oh hell I forgot my line, let's do it again.
How would you describe yourself as an actress, and some of your techniques to bring your characters to life?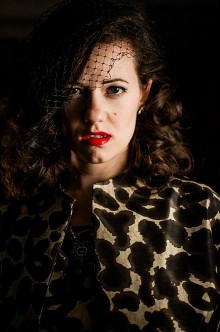 I would describe myself as someone who's humble, not a diva. I'll kick ass, I'll get dirty, and I'll perform the heck out of something. Only creature comfort I need is some hot tea. During Through a Mother's Eyes, it was such a sad film and I was often overcome with that sadness in what I guess you'd call "Method Acting", that I was so tired. After that film, I was approached with opportunities for more sad, weary characters and had to turn them down. Thankfully Attack of the Killer Shrews! came along and I had a blast (I think of myself as more of a comedian). The best advice I was given was "If you feel stupid doing it, you're doing it right." And I apply that to all genres. Also listen to your scene partner. I can't be too excited about my dialogue, or "I'm going to say this line like that, and it'll be so cool." I have to listen so my reactions and subtext will all be there. I do think actors have to be some of the smartest, well-read people to succeed.
Actresses (and indeed actors) who inspire you?
Kurt Russel, Meryl Streep and fine, Daniel Day Lewis. I say it like that because I avoided his work for so long, because he scared me. I sat down for Gangs of New York and felt like, you really can only act in something every 5 years Daniel Day Lewis, because I can only watch one of your films every five years, you're so intense (hope you're not reading this).
Your favourite movies?
I'd consider these movies that, if they just happened to be on, I couldn't walk away... I love The Thing, Misery, Crimson Tide, but hell I also couldn't turn off Turner and Hooch if it was on. I have pretty eclectic taste. I wish Hollywood would just leave these 'older' movies alone, Big Trouble in Little China and Overboard do NOT need to be remade. Knock it off.
... and of course, films you really deplore?
Remakes and found footage hahaha. There's so much trash out there. But I truly deplore films with way too much sex, nudity, drugs. To me that just indicates that you're a bad writer. Sure these things are a part of life these days but if you need to fill the gaps in your crap script with this stuff, it's just unwatchable.

Feeling lucky ?
Want to
search
any of my partnershops yourself
for more, better results ?

The links below
will take you
just there!!!


Your website, Facebook, whatever else?
Actor Elizabeth Houlihan on FaceBook.
Anything else you're dying to mention and I have merely forgotten to ask?
You killed it with these questions! Whew, a marathon you had me running. But if I think of anything ...
Thanks for the interview!
Thank you so much!