Your new movie Mister White - in a few words, what is it about?
In a word: Revenge. Mister White is the story of Tyler Rooney, a bizarre college freshmen, who is mercilessly bullied. Tyler has finally had enough and decided to play one last card to stack the deck in his favor, and that is to conjur up Ė through hoodoo Ė the legendary Mister White to help him seek the ultimate revenge on the bullies.
To what degree do you personally identify with Tyler, the bullied killer of Mister White, and related to that, are any of his actions secret wishful thinking, honestly?
I grew up very much like a female version of Tyler. I grew up in a fairly poor household in Wyoming and was very awkward in school. I did bizarre things and I think I didnít have many friends because I weirded a lot of people out. I dealt with some bullying: kids used to chuck pennies at me from the school bus as I waited for my ride home, I was called some names... but none of it was to the extent that I see bullying go on nowadays. I think the internet and texting and picture mail has paved the way for harsher bullying because people can hide behind their devices and feel REALLY brave.
None of what Tyler does is wishful thinking on my part. When I was writing it, I simply wanted the audience to feel that the bullies in this film really got what they had coming... and then some.
What were your actual inspirations when writing Mister White, and how did the project get off the ground?
Well I wanted to create a character that you can follow through the film that isnít your typical hero. And I knew what I wanted most was a character you could follow that would lead you to actually cheer for the murderer down the line, feeling as if his actions were justified. I wanted someone who, when a murder takes place, you find yourself cheering for and then you have to look at yourself and think ďwait, what is wrong with me? Iím cheering for a murderer!Ē
I was working on post production for my last horror film, Loverboy, when I came up with the concept, and I spent the next few months fleshing out the idea while at the festival circuit for that one. It wasnít hard to get a great group of people ready to take on the project. Since my husband and I fund my films all ourselves, funding didnít hold us up either.
With Mister White being essentially a slasher movie - is that a genre you're at all fond of?
Absolutely. Horror in general is a genre Iím in love with. All types of horror. Found footage, home invasion, slashers, monster films, evil babies, supernatural killers... it all appeals to me. I grew up on horror at a very, very early age, and my parents are both horror nuts so I was raised on some of the finest. The only thing you wonít catch me doing is what is ďhotĒ at the moment. Right now, zombies and vampires are all the rage so that is the last topic I would ever dream of touching. Iíd rather be criticized for standing out than to be rewarded for ďgoing with the flowĒ.
No slasher without a certain amount of blood - so what can you tell us about your gore effects and the like?
The gore was my doing. We used a lot of blood slime (my newest creation that I canít get enough of) throughout scenes of the movie.
As far as the gore, I just got very creative with it. For example, I am going to give away a little spoiler, at one point in the film one of the characters gets hung from a tree by his/her own intestines, fashioned like a noose. I knew I wanted the shot, so I started very early on making the guts by hand. My husband walked home one day and I hollered from the other room ďdonít step inside the dotted lines!Ē I had painted a fat strip of latex all along the floor from my living room to my kitchen to my office... all through the house. The dotted lines were so you could tell where the latex was when it dried almost completely clear. After it dried, I bought some thick rope and fashioned a homemade harness and glued the bunched up latex all around the rope and painted it. Thatís how it was able to hold the character up and still look like intestines. My husband is a trooper for dealing with me!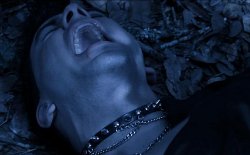 Andy Delgado
What can you tell us about your principal cast, and why exactly these people?
Originally Tyler was going to be played by someone else but it didnít work out with that person and I had met Andy at the read through (he was cast for a one-line role) and I thought he has the small physique I was hoping for for the character. He really put a lot of effort into learning how to stutter and doing research on tardive dysconesia (the disease Tylerís mother has in the film) in the next few weeks.
Amber was the lead in my last film, Loverboy, and never have I met anyone more driven and prompt and serious about her craft. I knew I wanted to work with her again.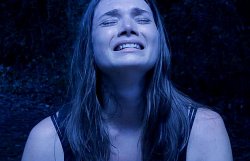 Amber Watson
John Salamone (he plays the slave owner, the living Mister White in the flashback sequence) was also in my last film. When he plays an evil character it absolutely chills me to the bone. He is one of the nicest people you will ever meet in your entire life, but no one plays an evil bastard like John.
There were a lot of new faces in this film though, some really amazing people Iíve never gotten to work with before. Dakota Morrissiey was amazing. He plays the leader of the douche bags, Scott. He came in and knocked the audition out of the park. I made my decision to cast him on the spot. Summer Perkins was another treat. She is a very dedicated actress and so easy to work with and she can really play fear very well.
The whole cast is amazing. I could go on and on about all of them. I think they all worked together really well and they really sell the story.
What can you tell us about the actual shoot, and the on-set atmosphere?
The actual shoot was VERY hot. Every day I came home covered in sweat. I decided to start production in the mid summer in Florida (not the brightest move on my end but with the festival circuit still going for Loverboy, I didnít want shooting to overlap), and I remember particularly the slave flashback scenes were so hot and so sauna-like I was sure people were going to pass out. But we brought popsicles and colt cuts and ice cold water and beer for everyone and we really made the best of it. That was actually my favroite day of shooting even though I think the temperature was like 104 or 108 that day. Sweltering and with no shade whatsoever. And the night surprizingly was even hotter.
The on set atmosphere was a lot of fun the majority of the time. There was some drama, as there will be with any ensemble cast, but overall there was a lot of laughter and dancing and joking around off screen.
The $64-question of course: When and where will the movie be released onto the general public?
Currently we donít have an exact date yet but Iíd like to release it this summer. However we have a big festival in LA coming up in a few weeks and if we should get a distribution deal at the festival, they may control the release date. But I will be sure to let you know so that you can spread the news when it is available.
Let's go back to the beginning of your career: What got you into filmmaking in the first place, and did you receive any formal training on the subject?
I originally wanted to be an actress and during my first film, at 16, I discovered I loved the control of being behind the camera a lot more. I have been a published writer since I was roughly 14 and I have written ever since. I have a lot of stories in my brain and I really love the writing process.
Originally I had no training. Just my do-it-yourself make a mistake and learn from it sort of deal. After my third or fourth feature film I decided to put myself through film school and I got a degree from Lights Film School Academy. Most of my training was just learning things the hard way and allowing myself to make mistakes and learn from them.
What can you tell us about your movies prior to Mister White?
Every one of my films gets much, much better. I always want to outdo myself. Two of my films, Rag Doll (a drama) and Loverboy (a thriller/horror) are available on Amazon. I love my past films but I hope that people see my newest films with fresh eyes.
Any future projects you'd like to talk about?
Absolutely, we are gearing up for a film right now, an action horror with some amazing and sexy female leads, called Mantis. I am in the screenwriting part of the process right now so I canít say too much about it but I do think we are going to outdo ourselves once again. So keep an eye out for that.
Besides making shorts and feature films, you're also a wedding videographer, right? So how does making movies compare to filming weddings?
I do. I earn money for my films by filming weddings, music videos, virtual tour videos... you name it. I love what I do. Any time I get paid to be behind the camera itís a true joy for me. I feel very lucky that the job that pays my bills furthers my comfortablility with my filmmaking equipment and keeps my editing skills sharp.
How would you describe yourself as a director?
Ohhh thatís tough. In a word Iíd say ďrelentlessĒ. The only thing that could stop me from making films is death, and even in death if my ghost fingers can figure out how to control someoneís camera, by God, Iíll film from the afterlife.
Filmmakers who inspire you?
First and foremost, David Cronenberg, David Lynch, and Dario Argento. Those are my favorites of all time. The rest I donít watch very closely. I donít try to hold myself to the standards of other directors. I want to be a horror filmmaker that one say inspires someone else. The ultimate goal would be to have my name in the list with Craven, Romero, Savini... those household names. I want to be the first woman on a list with them.
Your favourite movies?

Feeling lucky ?
Want to
search
any of my partnershops yourself
for more, better results ?

The links below
will take you
just there!!!

Find Erica Summers
at the amazons ...

amazon.com

amazon.co.uk

amazon.de
Looking for imports ?
Find Erica Summers here ...
Something naughty ?
(Must be over 18 to go there !)

My favorite of all time is Pumpkinhead. After that I could name off a whole slew of them and never touch on all the ones that shape or inspire me like: Nightmare on Elm Street, FEED, Eden Lake, Motherís Day, From Beyond, Demons, Creepshow, Shietan, Them (Ils), Night of the Demons, Reanimator, Dolls - I could go on forever. Anything 80's is usually a love of mine. Iím passionate about 80ís horror.
... and of course, films you really deplore?
To each, his own. Every film is someoneís baby. But if I had to pick, I am pretty anti-Twilight.
Your/your movie's website, Facebook, whatever else?
http://www.misterwhitethemovie.com
http://www.facebook.com/iammisterwhite
Anything else you are dying to mention and I have merely forgotten to ask?
No, I truly appreciate the opportunity to be interviewed by you. It was a real treat! Thank you so much for asking such great questions.
Thanks for the interview!