Your upcoming movie Extended Release - in a few words, what is it about?
Extended Release is a story about Tim, a recent college graduate, who moves across the country to escape the haunting memories of his best friend Brendan's death. Tim struggles from the same drugs that Brendan overdosed on. When Tim gets to a new place, meets new people, he is forced to face sobriety and leaving his best friend for the second time. What? You'll have to watch to see what I mean.
With Extended Release being about substance abuse - is that anything you have (active or passive) experience with, and what prompted you to make a movie on that subject?
There is a national drug epidemic happening right now. I'm not sure what's triggering it, but there have been more deaths recently to drug overdoses. It has been affecting my home state, as well as many others. It's such a powerful subject for me. Personally, I don't have a substance abuse problem, but I am very familiar with the strain it puts on family relationships, friends, and loved ones. I've seen first hand people I love struggle with addiction and it's something I want others to see. This story opens up addiction discussion but also lets people know they are not alone.
(Other) sources of inspiration when dreaming up Extended Release?
I have been sitting on this story for a while. Originally the characters were different age and sex, and there were more familial ties involved. After brainstorming with a friend on a set one day, we bounced around some ideas that really helped shape the plot. The trans-atlantic side of the story was inspired during my own move. I have only been living in LA a year now, but when I first moved here (and started really writing) it was a really big adjustment. It's lonely at first. I think that really helped me shape Tim's struggle. When you're alone, little things don't seem so little anymore. It takes a lot of strength just to make it through the day when you're isolated.
Do talk about the intended look and feel of your movie for a bit?
The look and feel of Extended Release is something I've put many hours into. It's a very introspective piece, so we're inside Tim and his thoughts a lot, but I didn't want it to have that Twilight Zone-feel. I think the scariest part of the human brain is how real things can seem when they're not. Tim is coping with the loss of his best friend and also substance abuse, but his interpretations of his daily life and struggles are completely real. I haven't locked down what I'm shooting on yet, but I love the Alexa (who doesn't?). However, there is something beautiful about a Canon C300. That image is just superb and it's so easy to move around. It really frees up ideas as a filmmaker when you can put the camera any place you want with little adjustment.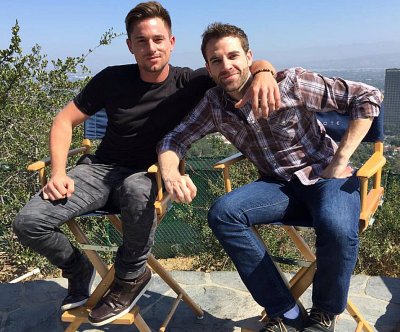 Jarrett Ricker, Ben Whitehair
Anything you can tell us about your projected cast yet, and why exactly these people?
Our cast is going to knock your socks off. We held three casting sessions. We probably went through close to a 150 people. I've been asked if it was a challenging process. The quick answer: no. The long answer: yes. Of course it's challenging- you want to find the perfect actor but also don't want to compromise your vision. When Jarrett Ricker [Jarrett Ricker interview - click here] walked into the room, it was instant. One of my photographers and I exchanged glances as he set down his water. "This LOOKS like Brendan." And he can act? I wanted to offer him the role right then and there. The same thing happened with Ben Whitehair, who plays Tim. He walked in with confidence and when he did his read, I had goosebumps. He literally took my breathe away, after looking at his resume I was really shocked. He had been in a lot and had amazing representation. I felt so honored to have him. It was challenging to go through so many people, but when I found them, I knew instantly they were the one.
As far as I know, you're presently running a fundraiser for Extended Release - so what can you tell us about your fundraising efforts?
I decided to choose Kickstarter instead of IndieGoGo or GoFundMe because of the exposure. It's all or nothing. Looking back now, I probably would have gone with IndieGoGo so I could have kept whatever I made. Not because I want to make a knockoff version of the film, but because sometimes grants and fundraising can't be done in a month. I'm in talks with a lot of organizations who are interested and we are in talks with funding, but that stuff doesn't happen overnight. Certainly not in the 11 days remaining. I have reached out to hundreds of rehab centers asking for an underwrite, I have made hundreds of cold calls, and I have sent out press releases which have gotten me some exposure. It's challenging because exposure doesn't necessarily translate into Dollars. How can I make my campaign successful? How can I make it so people feel compelled to contribute. Substance abuse is a serious topic for me, but how do I convince others of this? It's been a marketing challenge. It would be nice if I threw a Kickstarter up there, put my feet up, and watched the money come in each day but that's NOT how it works. I have put more work into this than anything before. We have 72 backers and are about halfway to $15,000. We have 11 days left. It's daunting, but I haven't lost faith.
https://www.kickstarter.com/projects/119758561/extended-release
Once your funds are raised, what's the schedule? And any idea when and where the film might be released onto the general public yet?
Million Dollar question right there! I have a shooting schedule, a line budget, rental agreements drafted, but it's all tentative. It's hard to get ahead of ourselves because we still have 11 days left of funding and we're only halfway there. If we're successful, I would like to shoot in September/October, and have it out before Christmas. I want to try my hand at the festival circuit but also looking into other forms of distribution as well.
Any future projects beyond Extended Release?
Absolutely. I just finished a feature that was top 5 in the California Women's Film Festival. I have a meeting on Monday regarding it. The script is still in circulation, but I hope to have it coming down the pipeline as soon as possible next year.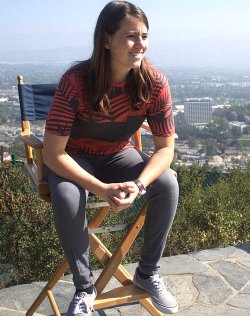 Erica Tamposi
What got you into filmmaking in the first place, and did you receive any formal education on the subject?
I loved to film as a kid. My dad had the big Sony camcorder that my friend Charlie and I would make horror films with. We'd be down in the basement for hours. There wasn't editing software that I had access too, so I remember trying to edit on the camera, rewinding and filming over it to make effects. Then Windows Movie Maker came out. I made music videos to all of my favorite songs. I took a video production class in high school and made one awesome thriller short. My teacher said after that how I should seriously consider filmmaking as a profession. I went to UNH and studied Communications with a concentration in Media, and a film minor. We didn't have a big film program so anytime a production would come through the area, they'd reach out for some film students wanting to work for free. My professor would send them my way. It gave me a lot of on-set experience and exposure I am so thankful for.
What can you tell us about your filmwork prior to Extended Release?
I've made a few shorts before with no budget. They were with acting friends in the theater program, or anyone I could get my hands on. I'm constantly making content, but this is my first project with a small budget. I have been working on sets for a while. I am the post production coordinator on Mr. Robot on USA right now, and worked in post on FX's Justified. I see production from start to finish and have worked on many sides of the spectrum. I have done reality TV to features, to broadcast TV, I love all the different styles and it's been one giant classroom for me.
How would you describe yourself as a director?
I'm very open to suggestions. I think it's imperative that an actor feels like they can suggest things and take risks. Just because I have something playing out in my head a certain way doesn't mean that it's the only way. I'm also very aware of people's feelings. I think it's one of my strengths. I am very good at connecting with people and I think that will translate to my work. My characters will be real and honest and I think that's the most important thing.
Filmmakers who inspire you?
In how many characters?! Hands down Scorsese is brilliant. I have seen Taxi Driver probably 10 times. Rear Window is my favorite Hitchcock movie, and I am so shocked at his filmmaking with the technology he had at the time. That in itself is inspiring. Stanley Kubrick's Clockwork Orange is bizarre but entrancing and that was the point. I think stylistically his work is very beautiful. Birdman was mind-blowing, and I am now completely enthralled with Alejandro Inarritu. It would be a dream come true to meet him. Lastly - can you really argue that anyone could have directed Jurassic Park BETTER than Spielberg? He's a legend!
Your favourite movies?
Taxi Driver, Rear Window, Birdman, Brazil, Volver, Scary Movie 3 (I'm serious).
... and of course, films you really deplore?
Plenty, but I plead the fifth.
Your/your movie's website, Facebook, Kickstarter, whatever else?

Feeling lucky ?
Want to
search
any of my partnershops yourself
for more, better results ?

The links below
will take you
just there!!!

Find Erica Tamposi
at the amazons ...

amazon.com

amazon.co.uk

amazon.de
Looking for imports ?
Find Erica Tamposi here ...
Something naughty ?
(Must be over 18 to go there !)

https://www.kickstarter.com/projects/119758561/extended-release
https://www.facebook.com/events/884281594985432/
885463474867244/
http://m.eagletribune.com/news/new_hampshire/nh-native-to-make-
film-about-drug-addiction-epidemic/article_d4e56506-8074-56d0-acb4-02944d822af6.html?mode=jqm
http://www.hippopress.com/read-article/making-extended-release
https://www.youtube.com/watch?v=0l1cC1p5gVs
Anything else you are dying to mention and I have merely forgotten to ask?
11 days left, please visit our Kickstarter link to learn more and contribute! Support indie film :) Thanks so much!
Thanks for the interview!