Your upcoming movie Stoplight - in a few words, what is it about?
A woman desperate to distance herself from the violence and darkness in her life believes she's finally breaking free when she joins a total stranger on a cross-country road trip. But her demons are also on the road - and they're catching up to her.
What were your inspirations when writing Stoplight - and what was your collaboration like with your co-writer (and star) Eli DeGeer?
The first seeds of the story were planted by a strange incident that happened to me, years ago, at an intersection late at night. I let my imagination start conjuring "what if" scenarios based on that. When I pitched the concept to Eli, she added another layer that I liked. Then I added another layer that she liked, and so on. We built the plot from there.
Sometimes you get enthusiastic about a story idea - but then after you sleep on it, it isn't as exciting the next day. Stoplight however really struck a chord with me. As I worked on other projects, my mind kept drifting back to this idea. Weeks went by, and instead of losing interest, I became more and more fascinated by the cinematic possibilities - and I knew I had to make this film.
How would you describe Stoplight's approach to horror (as in suspense vs sudden shocks, atmosphere vs all-out gore and the like)?
The quasi-supernatural horror in Stoplight is an undercurrent. It's not on the surface, and it's handled in a Twilight Zone way, rather than a monster/gore/slasher way. This is a violent film, but the violence is there to propel the story and provide a vicious edge, an atmosphere of ever-present danger - not to dump buckets of gore onto the screen. To be clear, I don't have problems with buckets of gore on screen - but that's not the right emphasis for this movie. Stoplight will be heavy on suspense, and it will have an engaging visual style that submerges the characters in a nightmare. It's a road-trip film gone to hell.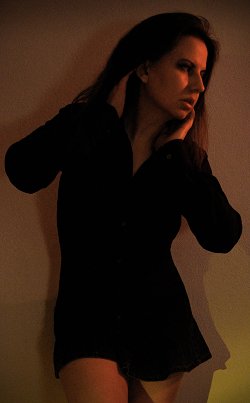 Eli DeGeer
Do talk about your intended look and feel for a bit?
As a jumping off point, I saw this as if Terrence Malick made a dark, vicious thriller / horror movie. I'm evolving the visual style from there. I intend to create a very dream-like world where real-life violence and horror is presented with an otherworldly twist.
With Stoplight being, among other things, a road movie - where do you see the challenges here?
The challenges are not that different when I compare Stoplight to my other films. It comes down to making a bigger, better movie than what our small budget would usually result in. Budget always represents the biggest challenge, whether we need an abandoned amusement park for Deadwood Park, or authentic looking Nazis for Ratline, or the epic scope of a road-trip through the Midwest and Southwest of America. We're figuring out the cheapest and safest way to take this production across the country.
What can you tell us about your projected cast, and why exactly these people?
We're still casting for the film. We are in talks with a few more people about adding them to the cast, but I can't divulge names yet. Currently cast is Eli DeGeer. I knew from day one we'd be writing the movie around her as the lead. She actually started her career as a production assistant on my first movie, Savage Harvest two decades ago. We've worked together off and on in a variety of ways over the years. Most notably, she was a lead in China White Serpentine, and that working relationship was extremely fruitful and enjoyable. It showed me a glimpse of what I know she can pull off in Stoplight.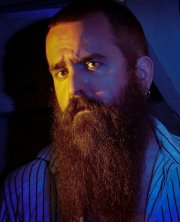 Jason Christ
Jason Christ is in the movie because I've worked with him many times, and I know what a reliable, talented, and dedicated actor he is. He'll also be a major force behind the scenes of Stoplight. I'm sure I'll be thrown many obstacles, unpleasant surprises, and attacks on my sanity during the making of this movie. And I'm sure I'll survive it all, and come out the other side with a film I'm proud of. But having Jason on the project means weathering these storms will be a lot easier.
Adam Ahlbrandt has been cast in a supporting role. First, I was impressed with the fervent fan base that had been whipped up around Adam, and I thought he was doing a lot of things right in terms of promoting his movies, branding himself as a filmmaker, and experimenting with distribution tactics. Second, I saw Cross Bearer and The Cemetery, both directed by Adam. I was sent the screeners when I was writing for FEARnet because the filmmakers were looking for some press on the movies. I liked Cross Bearer, and I really liked The Cemetery. It was very well shot, jam-packed with brutality, and full of creative twists and turns. So then I knew Adam was talented. The buzz and flourish around his movies wasn't just an empty box... there were actually good movies within the promising, enticing packaging. Then I saw an advance clip of The Sadist, which Adam directed and acts in. I said, "Hey, this guy can really act." And suddenly it clicked. A character in Stoplight, one I thought was going to be tiny (so small he wouldn't even have any dialog) had evolved into a substantial supporting role. I realized Adam would be perfect for it, so I reached out to him.
I didn't even get a chance to finish pitching the movie to Adam, or even formally ask him to play the part. He essentially cut me off and said, "I'm in. Wherever, whenever you need me, I'm there." I appreciate that level of enthusiasm.
As far as I know, Stoplight is still in its fundraising stages - so what can you tell us about your fundraising efforts?
We're mixing fundraising methods we've used in the past, with new ventures, like our IndieGoGo campaign. This is our first venture into crowdfunding - so I knew going in it was going to be more of a learning experience than anything else. Now that we're in the middle of a campaign, and I have my head around it better, I think I'll enjoy doing it again in the future. I knew it would be tricky and time consuming, but I didn't anticipate the degree to which it would be. Now I understand that months in advance, major money needs to be invested into marketing the campaign, or the campaign needs to be the sole focus of the entire production team for three to six months (kinda like, we'll produce the IndieGoGo campaign, then produce the movie). Or, someone needs to be hired to spearhead the campaign and relentlessly carpet-bomb the world with press releases for months. Or all of the above.
https://www.indiegogo.com/projects/stoplight--2
Once your funds are raised, how do you plan to proceed - and any idea when and where the film might be released onto the general public yet (and I know it's probably waaay too early to ask)?
Yes, it is too early to speculate on a release date. I always say, there's Cheap, Good, and Fast. Pick two of 'em, because no product or service - ever - is all three. We'll be bringing Stoplight in for about a tenth of the budget another production company would likely spend - so it'll be Cheap. I'm pouring my guts into making a unique, artistic, well-written, attention-grabbing movie, and making it look like a film produced for twenty times its actual budget - so it'll be Good. Which means it won't be Fast. We'll be a small crew, in production and post-production. Everyone will be wearing multiple hats - most of those hats will be on me. Yet I'm going to fight for every shot I think the movie needs, and I'm going to spend a lot of time working with the footage in the edit, to craft the best possible finished film. I can pull this off, as I have many times before, but unless someone comes along with an extra several hundred thousand dollars to speed up the process, I'll be appreciating everyone's patience.
Any future projects beyond Stoplight?

Feeling lucky ?
Want to
search
any of my partnershops yourself
for more, better results ?

The links below
will take you
just there!!!

Find Eric Stanze
at the amazons ...

amazon.com

amazon.co.uk

amazon.de
Looking for imports ?
Find Eric Stanze here ...
Something naughty ?
(Must be over 18 to go there !)

Yes, a few. Some are smaller films than Stoplight, but the one film most likely to happen next will have a substantially bigger budget. These things are always in flux, always changing, so I can't spill the specifics. In six months, all of it may change.
Your/your movies website, Facebook, IndieGoGo, whatever else?
Support Stoplight here, through July 26th, 2014: https://www.indiegogo.com/projects/stoplight--2
Official website: http://ericstanze.com/
Bio: http://ericstanze.com/about/
Follow me on Facebook: https://www.facebook.com/eric.stanze
Follow me on Twitter: https://twitter.com/eric_stanze
Wicked Pixel Cinema Official Website: http://wickedpixel.com/
Stoplight Blu-ray pre-sales: http://wickedpixel.com/films/stoplight/
Wicked Pixel Cinema on Facebook: https://www.facebook.com/WickedPixelCinema
Wicked Pixel Cinema on Twitter: https://twitter.com/WPCnews
Thanks for the interview!
My pleasure, sir!