Your new movie In Memory Of - in a few words, what is it about?
In Memory Of is about a young woman named Amber Sheridan who is the only surviving subject of a clandestine medical experiment gone horribly wrong. She flees for her life, missing her most precious memories of childhood, suffering terrifying hallucinations, and pursued by those who stand to profit from her damaged brain. She finds herself on a cross-country road trip to track down a mysterious stranger - the one man who can end her madness, and restore the memories that have been stolen from her.
What were your sources of inspiration when writing In Memory Of?
Cinematically, the jumping off point was the road trip aspect of the film. I looked to classic road trip films for inspiration, like Vanishing Point (1971), Two-Lane Backtop (1971), and Badlands (1973). Then we started layering on the weirdness, allowing ourselves to be inspired by David Lynch's more surreal output, Alejandro Jodorowsky films, and from the horror genre, Carnival of Souls (1962), A Nightmare on Elm Street (1984), Jacob's Ladder (1990), and Dust Devil (1992). As In Memory Of is a blend of genres, David Cronenberg's combo horror / sci-fi films were a big inspiration as well. One of my all time favorite films, Apocalypse Now (1979) was an influence too. The journey in that film, a trek up a river mirroring the character's journey into his own darkness, is not unlike an existential road trip film, or the road trip Amber takes in In Memory Of. Just replace the river with a road.
On a personal level, my co-writer Jason Christ and I had both witnessed close family members succumb to severe memory deterioration in old age. My grandmother could not remember anything past five minutes ago. Jason and I discussed whether or not a person suffering from such a thing was the same person they used to be. My grandmother sure seemed like she was the same person. Same personality. Same wit. But how could you be the same person if you lose access to all the good and bad experiences you've had, and all the good and bad decisions you've made? As you live your life, these experiences form who you are. One would think that being cut off from these memories would turn you into a different human being. Jason and I did not want to address this philosophical contemplation directly in the screenplay, but our discussions on this topic certainly colored the writing process.
To what extent could you actually identify with Amber - or with her chief puppeteer Simon?
Unless you are supremely lucky and privileged, you have felt helpless at times. I think Amber's helplessness, and her ability to keep up the fight despite feeling helpless, is what I identified with.
Simon I did not identify with so much. He feels like a personification of the trials life throws at you. There is likely no purely evil bad guy trying to do you in each day in real life. But you can be thrown into tough times and subjected to loss and hardship by a variety of types who make questionable decisions, or people with good intentions who still act destructively, or people who work for their own gain without considering the negative impact their activities will have on others. To me, Simon feels like an intermingling of all those kinds of people and the damaging results of their actions.
In Memory Of is very labyrinthine in structure and doesn't always follow a traditional narrative continuity - so what were the ideas behind this, and how easy or hard was it to (literally) not lose the plot telling a story that way?
That wasn't difficult because, when we first started developing the story, it began with the Amber character and the basic plot. We nailed that down before we started throwing in all the curveballs, all the madness - all the surreal stuff. Because we did it in that order, it was not hard to stay on the rails in terms of telling the story. Conjuring the abstract, surreal stuff was more difficult. We'd have a theme or an aspect of Amber's psychosis we wanted to touch on, and then we'd have to find a cinematic way of presenting it. Sometimes that came easily and sometimes we really struggled.
You've written In Memory Of together with your leads Jason Christ and Jackie Kelly [Jackie Kelly interview - click here] - so what was your collaboration like when conceiving the script?
Jason wrote the initial treatment - it was maybe ten pages long. Then I expanded it to twenty pages or so. Jackie, Jason and I would then discuss the story treatment, fine tune it, and get it where we wanted it to be. Then I literally drew lines across the pages of the treatment, chopping it into thirty segments. I assigned ten of these segments to Jason, ten to Jackie, and I took ten. We all went away and wrote on our own, turning our segments into pages of the screenplay. Jason and Jackie would email me their segments - now in screenplay form - and I would stitch them together with mine.
Once it was all together, I gave it a first-to-last-page pass to smooth out all the rough edges so that it had a singular voice and maintained the proper tone, beginning to end.
Then came numerous meetings where Jackie, Jason, and I discussed what was in the screenplay and how it could be improved. I'd do a new revision after each of these meetings. It was a very odd way to write a screenplay - but it worked for us. The whole process went very smoothly and was incredibly enjoyable.
How would you describe In Memory Of's approach to horror?
I wanted the horror in In Memory Of to be about keeping the audience uneasy, on unstable ground, and feeling like anything could happen at any time. It's not about jump scares, gothic horror, monsters, or masked killers - though there is nothing wrong with any of that stuff. For this film, I wanted a fever dream soaked in anxiety.
What can you tell us about your overall directorial approach to your story at hand?
It was similar to the way we began the writing process, establishing the main character and the basic plot before we got into the abstract, surreal stuff. On set, the actors came first, and I was determined to get the performances I needed before moving on to the next crazy camera move or surreal image.
Collaboration was also a key element. I may or may not implement a suggestion from an actor, but I always want to hear it. I want to keep the discussion open, keep the creativity flowing, keep fresh ideas brewing. The movie will always be better when the whole team has input, and it's not just the product of a director who won't budge and who blocks everyone else out.
Also, I think on any movie, at any budget level, but especially on this film, thinking on your feet and taking advantage of opportunities as they present themselves was extremely important. I plan way ahead, and I know going into each scene the coverage I need - I've got it all meticulously planned out in advance. But I know to embrace opportunities that are not on my shot list. On every day of shooting, there was at least one interesting or useful thing to point the camera at that I was unaware of until right then and there. Many of my favorite moments in In Memory Of were captured by maintaining enough wiggle room to take advantage of these opportunities that presented themselves on the day.
Do talk about your key cast, and why exactly these people?
Especially at this budget level, I think it's ideal to mix familiar faces - actors I've worked with before - with new people who I have not worked with before. I have a trust and shorthand with the actors from past movies of mine, and the new people bring a much welcomed fresh energy to the shoot. We wrote the screenplay knowing Jason would play Simon. We wrote a lot of the characters with specific actors in mind - some of them I'd worked with before, and some of them I had not. Familiar faces or newcomers, we wrote these characters with actors in mind because I simply wanted to work with them and I knew they would bring something special to the project.
At the beginning of the writing process, we did not have Jackie in mind to play the lead role of Amber. Jackie had risen through the ranks to become a co-producer and co-writer on the film - but she was not part of the cast. The three of us started to work on the screenplay with no actor in mind to play Amber.
However, I knew Jackie had been acting for years, and I had seen her performance in a short film that clearly showed me she was very skilled. Still, I didn't know how Amber would evolve in the writing process, so I did not immediately visualize Jackie in that part. Later on in the writing, after the three of us had better zoned in on what kind of character Amber was, Jackie seemed perfect for the part. I discussed it privately with Jason and producer Jeremy Wallace, and they both enthusiastically agreed we should ask her if she'd be interested in playing Amber.
I offered Jackie the part, and understanding the level of commitment and pressure the role represented, she wisely thought it over for a week or two - then said yes. Casting her was absolutely one of the best decisions I made on this film.
A few words about the shoot as such, and the on-set atmosphere?
It was a long and very difficult shoot. Forty-six days of shooting, and most of those days were fifteen to eighteen hours long. We pushed ourselves hard. But the on-set atmosphere was remarkably cheerful. Lots of smiles and laughter.
It seems odd, given how dark the movie is - but I think the darker the subject matter was, the more upbeat and jovial cast and crew were while we were shooting it. Overall, despite how exhausting and grueling the shoot was, the experience was a blast, and I was sad when it was over.
Anything you can tell us about audience and critical reception of In Memory Of?
I don't follow trends or take the path of what's hot in horror. I don't look at what's getting attention on the indie film scene or what's making bank at the movie theaters and say, "That is what's selling right now, so let's make something like it." Instead, I make the movie I want to see and that I believe will give me the filmmaking experience I want to have at that time. So I go into every project assuming the finished movie will not have any level of widespread appeal - and I am 100% comfortable with that. However, the overall response to In Memory Of has been amazing. The film has won more awards than any of my past films. The reviews have been incredibly good. And the response from the fan base has been wonderful. So I am again pleasantly surprised.
Any future projects you'd like to share?
We're in the early stages of writing the next project I'll direct, but I'm not ready to divulge details about that yet. In the meantime, I encourage everyone to keep their eyes peeled for a couple of projects that I did not direct, but have great enthusiasm for. Tennessee Gothic is a feature film from director Jeff Wedding (A Measure of the Sin) that is in the final stages of post-production. I was the director of photography on Tennessee Gothic, Jackie Kelly [Jackie Kelly interview - click here] plays a lead role, and two other In Memory Of stars, Jason Christ and Jim Ousley, play supporting roles in it. Also be on the lookout for The Man in Room 6, a feature film currently in production, directed by Trevor Juenger (Coyote) [Trevor Juenger interview - click here]. Jackie Kelly is the lead in this one as well, and Jason Christ and I play small roles in the film.
Your/your movie's website, Facebook, whatever else?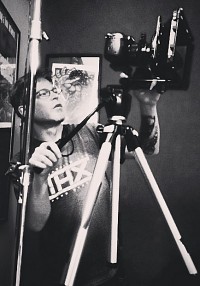 Feeling lucky ?
Want to
search
any of my partnershops yourself
for more, better results ?

The links below
will take you
just there!!!


Current happenings can always be found on our official websites wickedpixel.com and ericstanze.com.
Follow me on Twitter: https://twitter.com/eric_stanze
Follow me on Facebook: https://www.facebook.com/eric.stanze
Follow Wicked Pixel Cinema on Twitter: https://twitter.com/WPCnews
Follow Wicked Pixel Cinema on Facebook: https://www.facebook.com/WickedPixelCinema
Anything else you're dying to mention and I have merely forgotten to ask?
Sure! Making In Memory Of was a unique and wonderful filmmaking experience - the best experience I've had in my quarter-century of making movies. The production of the movie was an amazing adventure. If you like the finished film, and if it resonates with you in any way - or if you simply want to peek inside the machine that created In Memory Of from a very low budget but with a passionate and dedicated cast and crew - I recommend picking up the two-disc Blu-ray. The second disc of this release contains an in-depth feature-length making-of documentary directed by Trevor Williams. The doc addresses a lot of what I've touched on in this interview and digs much deeper. The documentary is exclusive to the two-disc Blu-ray release - ya can't catch it anywhere else. You can find the Blu here: https://wickedpixel.com/films/in-memory-of/
Also, in my opinion, a huge part of what makes In Memory Of work is the original music score by Gus Stevenson and Rocky Gray. Gus created the music score for my previous film, Ratline, and he also did the score for a cool zombie apocalypse movie called Sound of Nothing. And Rocky Gray is a two-time Grammy award-winner and the former drummer for the multi-platinum band Evanescence. I think these two guys knocked it out of the park. In Memory Of would be a different movie without their music. To put your ears to their In Memory Of original score, scroll down to the soundtracks section here: https://wickedpixel.com/webstore/
Thanks for the interview!
My pleasure! Thank you sincerely for your interest in our film!