Your new TV series The Cobblestone Corridor - in a few words, what is it about?
The show takes place at a quintessential New England boarding school an centers on the newspaper club as they investigate the most thrilling and forbidden mysteries on campus. Think of them as a modern day private investigation firm comprised of descendants of The Hardy Boys and Nancy Drew.
What were your inspirations when dreaming up The Cobblestone Corridor?
We have a ton of them. At its simplest, the show is Dead Poets Society meets Gossip Girl and The Maltese Falcon. We also have the playfulness and hyperreality of 90s cartoons like Hey Arnold! and Recess - and the black comedy, social commentary and dark edges of Brick and Scream Queens.
The Cobblestone Corridor is based on a short of yours of the same name [click here] - so what can you tell us about that one, was it always meant a a launching pad for a series, and will the series be a direct continuation of the short (including characters, cast, etc.) or did you make changes to serialize things more smoothly?
The series is a relaunch ó or better put ó a reimagining of the world of Alfred Pierce Preparatory School (where the show takes place). The short was created as a standalone piece, but we soon realized that there was a lot more story to tell. In crafting the series, we massaged some story elements in order to facilitate a long term narrative and to incorporate new ideas.
So how did the series get off the ground then?
The short premiered on CPTV (the Connecticut PBS affiliate) in July 2015 to really great ratings and a uniformly enthusiastic response from viewers, after which the network and I began discussions about the viability of a series adaptation. Long story short, we entered production last winter!
A basic question probably: Why a prep school? And connected to that, do talk about your school locations, and what's it like filming there?
A prep school gave us the opportunity to play with high stakes at the micro level, which allowed us to oscillate to between a tone that was, at times, tongue-in-cheek and, at others, deathly serious. Iíve also always been drawn to the aesthetics and cultural significance of academia. Itís so rich for storytelling. Our primary locations, UConn Law School and The Ethel Walker School, were incredibly supportive in bringing Alfred Pierce Preparatory School to life.
The Cobblestone Corridor does play with film noir motives - care to elaborate on those?
We definitely pay homage to the classics and reinvent conventions for a contemporary time. We utilize many noir tropes and play on that "ping-pong" style dialogue seen in those movies.
You also play the lead in The Cobblestone Corridor - so do talk about your character for a bit, what do you draw upon to bring him to life, and did you write him Allan Archer with yourself in mind from the get-go?
Allan and I have definite similarities, and, in a larger ideological sense, he shares many of my beliefs and passions ó the pursuit of truth, the value of tradition, a love for a good story well told. There are definite differences too. It was in the back of my mind that I might play him, but it wasnít decided until a lot of other elements were already in place.
What can you tell us about the rest of your main cast, and why exactly these people?
I first have to say that we had a really fantastic cast that worked on the original short film, and Iím incredibly grateful to them for all of their work. However, in crafting the series, we had to move several chess pieces around for the ďlong gameĒ, which meant changing certain character qualities and eliminating some characters completely. As such, we have many new faces that Iím very happy to have as part of the school community!
Do talk about the shoot(s) as such, and the on-set atmosphere?
We had a really aggressive shooting schedule, but the atmosphere was always very professional, playful and positive. It was a joy to come to work everyday.
The $64-question of course, when and where can your series be seen?
We premiere on CPTV on Sunday, October 16 at 7:30 p.m. EST.
Any future plans for The Cobblestone Corridor? And/or other future projects you'd like to share?
Weíre all hoping that the regional premiere in Connecticut will make a dramatic splash. The plan is to go national as soon as we can! Stay in the loop by liking Facebook.com/TheCobblestoneCorridor.
What got you into acting in the first place, and did you receive any formal training on the subject?
Iíve been acting since I was very small and, throughout my life, have taken many classes, seminars, workshops, you name it! But at the end of the day, I think acting is a grand game of pretend. Weíre illusionists that conjure stories instead of pulling rabbits out of hats.
What made you pick up directing as well eventually?
It's another muscle for storytelling. There were things I wanted to say and worlds that I wanted to create that I could only do as a director. Iím lucky to be able to bounce between mediums (both in acting and directing) to be able to find fulfillment on varied artistic fronts.
How would you describe yourself as an actor and as a director?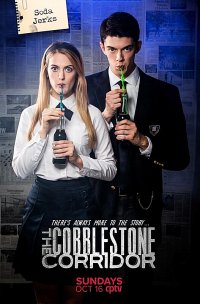 Feeling lucky ?
Want to
search
any of my partnershops yourself
for more, better results ?

The links below
will take you
just there!!!


I love surrounding myself with smart, talented, and passionate people with whom I can collaborate. Itís paramount that there is always a sense of buoyancy and trust on set so that we can make the best work possible.
Filmmakers, actors, whoever else who inspire you?
In totally random order: Christopher Nolan, Wes Craven, Richard Linklater, Steven Spielberg, Robert Zemeckis, Stephen King, Phil Lord, Chris Miller, Vince Gilligan, most recently, the Duffer Brothers ó and many, many, many more.
Your favourite movies?
In totally random order: School of Rock, Forrest Gump, Boyhood, Fright Night, Scream, Titanic, Die Hard, Gone Girl, Back to the Future, Sing Street, The Dark Knight, The Descendants, Spotlight, and many, many, many more.
... and of course, films you really deplore?
No comment :)
Your/your series' website, Facebook, whatever else?
www.Facebook.com/TheCobblestoneCorridor
www.Instagram.com/TheCobblestoneCorridor
Thanks for the interview!
Thanks for letting me share how excited I am about this show!