Your new movie Butterfly Kisses - in a few words, what is it about?
Butterfly Kisses is essentially a fake documentary about a fake documentary... about a fake documentary. It looks at the found footage genre and asks: What would happen if someone actually discovered a video record of the death or disappearance of the filmmakers in an alleged supernatural incident? Would anyone believe it? What steps would be taken to verify its authenticity? As such, it's the story of my film crew following a wedding videographer named Gavin York as he attempts to cash in on the box of mini-DV tapes he has discovered in the basement of his in-laws' new house, footage supposedly showing the misfortunes of two film students who went in search of the Flickergeist of Ilchester Tunnel.
With Butterfly Kisses being a mix of mockumentary and found footage movie, what are your personal opinions about these two genres?
I enjoy both. This is Spinal Tap is one of my favorite films of all time, and I love the entire Christopher Guest catalogue. It usually surprises people to hear how great an influence comedies were on what I suppose is best labelled a horror film, but that loose sense of scripted improv really helped us in crafting Butterfly Kisses both on set and in the edit, particularly given how many non-actors (Eduardo Sanchez, Matt Lake, etc.) were playing themselves. I'm also a fan of found footage, but like all genres, it begins to feel repetitive once you recognize the tropes and conventions inherent within a repeated framework. In that sense, Butterfly Kisses serves as a deconstruction of the genre, which shouldn't be confused with a takedown. It's an important distinction, I feel.
(Other) sources of inspiration when writing Butterfly Kisses?
I'm a student (and skeptic) of all things weird: cryptozoology, urban legends, the paranormal, conspiracy theories, and the like. Monsters and "true" ghost stories are my thing, though from a sociological perspective more than anything else. I'm fascinated by the origin of legends, and the inciting incident that first occurs and is then fed by a combination of superstition, embellished retelling, and hoaxes, all of which lead to the creation of a social construct. Butterfly Kisses contains elements of all these things I find so fascinating, and tries to comment on these belief systems we continue to feed. It's as much about, say, the Loch Ness Monster as it is the Vanishing Hitchhiker.
At least to me, there's also quite a bit of tragic comedy in Butterfly Kisses - would you at all agree, and if so, could you elaborate on that?
What's the saying: Comedy is tragedy plus time? Gavin York is in many ways an unreliable narrator, and I wanted you to either love him or hate him, but find him compelling regardless of which way you go on the emotional spectrum. Seth Kallick, who plays the role, is just so charismatic that you're kind of rooting for him, even if it's just to keep shooting himself in the foot. It was a delicate balance in hitting the sweet spot when editing: You didn't want the guy to be too funny because he becomes likeable, but neither did you want him to come off as overwhelming to the point where you lose any sense of emotional investment in his story. Considering this began as a three-hour film that had to be pared back to a tidy ninety minutes, Butterfly Kisses became as much a battle for narrative clarity given all the storytelling layers as it was a question of achieving the right tone. I'd like to think we succeeded in both regards.
To what extent could you actually identify with Butterfly Kisses' lead character Gavin and the trials and tribulations he's going through? And while we're at it, we also have to talk about your depiction of yourself in Butterfly Kisses for a bit, and how much of the real you is in the movie's you?
I think all filmmakers will recognize Gavin's plight on some level, whether in their own lives or in the lives of artists they've known or encountered. I try to avoid telling too much of my own story in filmmaking, as one has a tendency to romanticize their own history; I find it easily detectable and eye-rolling in the extreme. Nonetheless, there are certainly elements of my life in Gavin: We are about the same age, and we both have a child and mortgage and responsibilities that can sometimes hinder the Hollywood dream; but given that I appear as myself in the film, I'd say the onscreen "Erik" is a more accurate representation of who I am -- I need to finish this documentary about Gavin, damn it! It's an exaggerated version, but I'd say my on-camera freakout over the fate of Butterfly Kisses as a documentary, as depicted, is something I've felt when projects I'm emotionally and financially invested in become threatened. It rings true. There's also a bit of me in Sophia and Feldman, the missing students featured in the found footage, as I remember the film school experience and how crushingly important my senior projects were to me at the time, and the lengths I'd go to in order to stand out in my department. Real life always informs the fiction, but I prefer the fiction to be just that.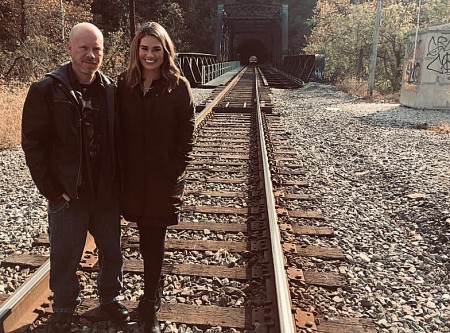 Do talk about the rest of your cast, and why exactly these people?
The film students in the found footage (Rachel Armiger and Reed Delisle) had zero romantic chemistry, which is why I cast them as Sophia and Feldman. Talent was obviously paramount, but how the characters interacted and what we could infer from a relationship that consciously lacks a backstory or frame of reference, was a part of what they brought to the table. I was looking for fresh faces, given that the "documentary proper" would feature so many Google-verifiable folks playing themselves. I had a list of three finalists for Sophia, and three for Feldman, and I brought them back for a second audition in which we more or less workshopped the movie, with me switching actors in and out and doing scenes with different boy-girl pairs. I had known Rachel previously, but Reed was new to me, and I felt very strongly about both from the start, but the combinations became fascinating, as identical scenes had romantic chemistry with certain actors, and absolutely none whatsoever when Reed and Rachel played off of one another. I loved it. There was no threat of predictability, a "Will they or won't they?" sort of thing. I needed their relationship to become somewhat ambiguous and open to interpretation, as late in the film their offscreen actions become questioned in regards to the legitimacy of their footage. Is he tricking her into believing they've filmed Peeping Tom, the Blink Man of Ilchester Tunnel? Are they in cahoots? Did they film the real thing? I prefer to let audiences draw their own conclusions, which is, I feel, informed by choosing not to inform you too much as to what seems like a potentially adversarial relationship... assuming it isn't all an act for the camera, of course.
The folks playing themselves are there because their voices absolutely legitimize the sense that we are watching a real documentary about alleged real-life found footage. Eduardo Sanchez co-directed The Blair Witch Project, so having him point out the tropes in Sophia and Feldman's school project tells the audience we're on their side and they shouldn't buy into Gavin's claims that this is the real deal... all while painting the documentary telling Gavin's story and containing this criticism as the real deal. David Sterritt (Chairman of the National Society of Film Critics) and Steve Yeager (Sundance-winning director of Divine Trash) fulfill a similar function. Matt Lake is a writer and editor of the Weird U.S. book series, and gives the Peeping Tom legend a touch of authenticity, at least in the sense that it's presented as a genuine urban legend; we counter it with the paranormal investigators, who call themselves Inspired Ghost Tracking, and don't believe a word of the story. Andrew Wardlaw is there to use his background as an editor on shows like Finding Bigfoot in examining Gavin's footage, and the guys from Studio Unknown, a Maryland-based audio house, are there to make discoveries of their own. And of course there's Mike Jones, a DJ for DC101, whose on-air scene is always a crowd favorite. Everyone appearing on camera seemed to enjoy the experience, even when acting was completely new to them.
Seth was vital in helping me to bring out performances, which they all achieved wonderfully.
What can you tell us about your directorial approach to your story at hand?
I felt very strongly that the film needed two distinct looks, and two distinct styles. The found footage had to look like films of the genre, and the documentary wrapped around it needed to feel slicker. More professional. More polished. I recruited Kenny Johnson, a documentary filmmaker, to act as DP and co-editor, to lend the project that sense of realism. I also tried to manufacture reality on set, by essentially directing three versions of every scene: one where we stuck to the script, one where the actors (and real people) went off-book while adhering to the main points as written, and then a complete and total improvisation of the scene. From there I had a wealth of material to pick and choose from. I found myself gravitating toward material in which the subject tripped over their words, or misspoke; it felt "real" in that way.
A few words about the shoot as such, and the on-set atmosphere?
It was fun! I've never directed anything like this before, and the actors felt the same way. It became very Method, in that I encouraged everyone to pretend this was all actually happening, and Kenny and I chose to forgo storyboards and shot lists. Instead, we just got in there and allowed the scene to dictate where we stood and how we framed the action. Again, it was as close to shooting an actual documentary as possible, and throwing people like Ed Sanchez and Matt Lake into the mix just added to the surreal, mind-bending quality of the whole thing. This was further enhanced by Seth Kallick arriving to the set and staying in character; many participants only knew him as Gavin, and never met the real guy until we wrapped. The whole thing was occasionally disorienting, and it could be difficult at times to discern real-life from meta-textual reality.
Anything you can tell us about audience and critical reception of Butterfly Kisses?
My last film, Roulette, garnered some regional press and some good reviews, but it was an arthouse thriller for people who like arthouse films. It didn't prepare me for the reception Butterfly Kisses has received. We toured the new film to festivals in the U.S. and Canada, and won a number of awards. That last point is cool, but not the point of filmmaking; rather, it's about finding an audience, and connecting with people. Forcing a discovery of the work. I met so many people in so many places during the festival run, people who loved the film. Since the release, that pool has grown exponentially. Art becomes a very insular thing, a private process in so many ways, and it can be difficult to see past the finish line. "What are my friends going to think? Will my parents like it?" That sort of thing. Getting Facebook messages from someone in Idaho who saw your movie and wants to talk about it never really occurs to you on a realistic level during the creative process, and it can spin your head around, particularly when those messages keep coming from so many different people. When you see folks tweeting about the film, and recommending it. When major websites give fantastic reviews, or the news stations begin reaching out with interview requests. I'm still trying to get used to dozens of Facebook friend requests each day. I'm both humbled and grateful.
Any future projects you'd like to share?
I have a dream project in my back pocket. Know anyone who can lend me a few million bucks?
What got you into filmmaking, and did you receive any formal education on the subject?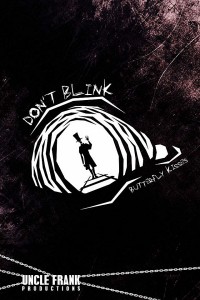 Feeling lucky ?
Want to
search
any of my partnershops yourself
for more, better results ?

The links below
will take you
just there!!!

Find Erik Kristopher Myers
at the amazons ...

amazon.com

amazon.co.uk

amazon.de
Looking for imports ?
Find Erik Kristopher Myers here ...
Something naughty ?
(Must be over 18 to go there !)

I've been a movie nerd since I was very young, sitting cross-legged in front of the TV and watching everything I could. An American Werewolf in London traumatized me as a five year-old; so did The Exorcist. I became obsessed with classic horror, devouring Nosferatu, the Hammer films and eventually discovering slashers. In time, I found films that were socially, thematically or structurally groundbreaking to be the ones that inspired me as a young storyteller. I grew up writing scripts, directing radio plays, and making terrible gangster movies with my high school friends; but I never actively included these things into my academic goals. I actually planned to become an English teacher. I thought maybe I could nudge myself sideways into the film industry at some point — maybe by writing the Great American Novel, or maybe selling a screenplay I cranked out in between grading papers. But I had a moment of clarity after seeing the first Lord of the Rings, and realizing that an indie filmmaker with an entrepreneurial attitude could become noticed on their own terms, regardless of whether or not they lived in Hollywood. You could be on the other side of the world. You just needed to prove yourself. So I dropped out of the teaching program, went to film school, made and released Roulette, and here I am, talking to you about Butterfly Kisses, for which I am incredibly appreciative.
Your favourite movies?
How much time have you got?
... and of course, films you really deplore?
How much time have you got?
Your/your movie's website, Facebook, whatever else?
Check us out on Facebook, and on Twitter: @BKMovie2018
Anything else you're dying to mention and I have merely forgotten to ask?
If you pirate independent films, or watch illegal versions of pirated films, you're an irredeemable asshole.
Thanks for the interview!
Thanks for suffering through the long-winded response!