Tell us a bit about your latest film, The Creek?
The Creek is my first feature film. It is an ultra low budget independent film. We took all the resources we had and put them into equipment and lighting and crew. The film suffers from some of the many low budget issues but we tried to make as a professional looking film as possible. In that sense I feel The Creek is a huge success.
A few words about your cast and crew?
We had a terrific cast and crew on the film. Everyone was extremely excited to be a part of the project. We had some experienced crew and some newcomers. The same can be said for the actors. Each and everyone gave 110%.
Everyone worked Thursday, Friday & Saturday nights for 6 weeks. Almost everyone had day jobs which meant Thursday everyone came from work straight to the set and then worked all night as well.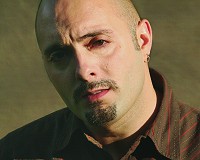 Erik Soulliard
What inspired you to make the film?
I have been doing acting in the NYC metro area for the past nine years and I have worked on a lot of independent projects that never get completed. I do freelance non-linear editing and I also write so I decided to make my own project so that I could see it through to completion. I now understand why so many projects never get finished and never get out into the marketplace. It is a very long road.
You have written, directed and produced The Creek, and you also do some acting in it. Which aspect of filmmaking do you enjoy the most?
Thatís difficult to answer. Acting has always been my main focus but I really enjoyed directing and cutting this project as well. I honestly love all the aspects of creating a film.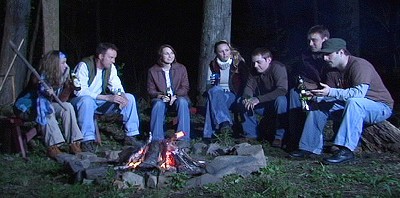 The cast of The Creek
The Creek was shot in Lebanon, Pennsylvania. Why there, and how easy/difficult is it to get a proper cast and crew and make a genre movie in Pennsylvania?
I am originally from PA and therefore had a lot of great friends and family who were very supportive. Our garage locations were donated by Bonalle Auto Sales and Stahleyís Automotive. The cabin was given to us to use by Bob and Mark Stahley. This support was invaluable.
Getting talent to PA is rather easy. We had two actresses from NYC and they had no problem traveling there. Our location was only 2.5 hours from the city so itís really not too bad.
The Creek was your debut feature as a director. What can you tell us about your on-set experiences?
I have to say that my onset experiences as a director were fantastic. I was actually annoyed on nights when I had to act a lot because it took away from the fun I was having behind the camera. This was exasperated by the fact that I was also producing and we didnít have a line producer or set manager to take care of all the little things that needed dealt with. So, if someone wanted to know where a spatula was for catering, I was the only one to ask. I now realize how integral it is to have someone on set to put out all the small fires and Iím definitely going to have someone else filling that position on our next feature 12 Bells. Iím also planning to act in 12 Bells but the role I'm playing has far less screen time and therefore I can enjoy both acting and directing more.
What did you do before The Creek and how did you get into the film business in the first place?
As I mentioned earlier, Iíve been acting in the NYC metro area for 9 years and before that I did as much as I could in PA. I earned a BS in Broadcasting at Millersville University in PA and then moved to NYC to pursue film and acting. I wanted to pursue film because I love movies, writing scripts, editing, the whole process. Film is extremely collaborative and thatís something I enjoy as well. Itís great to work with talented and creative people and just let them show you what they can do. We stuck very close to my storyboards on The Creek but there were a lot of times when my DP Jason Contino would call me over and say, ďHey, I know this isnít exactly what you had down but what do you think?Ē Jason has a great eye for framing and how it translates into the overall storytelling process. We have some really incredible shots because of his talent. This situation was the same with many people on our crew. Everyone surprised me at one point or another by going the extra mile and not just doing what they had to do.
Do you have any formal training as director, or how did you learn the craft?
The only training I had directing was from the large amount of projects I did as an actor and as crew. I learned as much as possible from these directors. Some were experienced and some were not. I learned what NOT to do from most of them. I'm a very visual person so the storyboarding process was fairly easy and because Iím an editor I knew what I needed to make a scene cut together.
A few words about your upcoming 12 Bells?
Ahhhhh you only want ďa fewĒ words huh? You are a smart man. 12 Bells (www.12bellsmovie.com) is going to be a huge step up for us in a lot of ways. First and foremost, we are going to be shooting on the RED ONE camera. We already shot the trailer on this camera with a great DP named Bill Simone (www.billsimone-dp.com). Also, weíre going to be getting name talent for the key roles and the script is extremely unique. This is going to be a very fast paced horror/thriller that keeps you guessing up until the end. It also has some amazing characters in it that I donít think youíve seen before. We definitely stepped away from The Creekís 6 white kids getting killed in the woods-territory.
Both The Creek and 12 Bells are horror movies. Is horror a genre especially dear to you?
I love horror but itís funny because Iím not considered horror enough by most of the people I worked with on The Creek. Most of the crew were die-hard horror fans who can name the most obscure horror movies ever made. I am sorry to say that Iím not quite on their level. What I like most about horror is that you really have a lot of latitude to create a fun story. You can step out of the box more with horror. If youíre doing a drama you NEED to stay inside certain conventions or storylines that are acceptable to your situation. With horror you can stretch those boundaries more by bringing in a sci-fi element or putting people in an impossible situation that in any other genre wouldnít play.
What can you tell us about your production company Annubis Productions?
Annubis Productions was formed because I was doing freelance editing and web design. I then decided to do the film under that banner as well. Since the film Iím no longer doing web work for anyone and weíre focusing on film and video production. We shot a great HD piece for the band Shift Seven (www.shiftseven.com) back in November. We have a couple other projects lined up now but weíre focusing on the next feature 12 Bells.

Feeling lucky ?
Want to
search
any of my partnershops yourself
for more, better results ?

The links below
will take you
just there!!!

Find Erik Soulliard
at the amazons ...

amazon.com

amazon.co.uk

amazon.de
Looking for imports ?
Find Erik Soulliard here ...
Something naughty ?
(Must be over 18 to go there !)

Your website, MySpace, whatever else?
www.myspace.com/annubisproductions
We have a fan page on facebook as well:
www.facebook.com/pages/The-Creek/47253089718
Any future projects you'd like to talk about?
12 Bells is the big one. Weíve also been approached by the Mental Health Association of Lebanon County to work with them on a project directed toward suicide prevention. Itís a great cause and weíre looking forward to that. Weíre also planning another collaboration with Bill Simone (www.billsimone-dp.com) on a short film and of course weíre always looking for music videos and other interesting projects.
Directors who have inspired you?
I always feel bad with this question because nothing Iíve done even shows a glimmer of comparison to my answer but I have to say Tim Burton has such an amazing eye. The look of his films are just incredible. Alfred Hitchcock on the other hand could tell a story like no one else since him.
Your favourite movies, both recent and all-time favourites?
I canít even begin to work on a whole list. Iíll be here forever. I will throw out a few random movies I find amazing.
Arizona Dream
Where the Day Takes You
Ed Wood
State of Grace
The Shining
The Sixth Sense
Rounders
And of course, some movies you really deplored?
Awww thatís just mean because Iím sure my movie would make this list for a lot of people.
REMAKES!!!! I am sick and tired of remakes. I just want to see something ORIGINAL!!!! Anything with Mario Van Peebles (I have a personal rule against his movies).
Anything else you are dying to tell us and I've simply forgotten to ask?
Nope. Iím good!
Thanks for the interview!
Thank you for your interest in our little independent film.