Your new movie Lasso - in a few words, what is it about?
In a few words? You obviously don't know me very well… ha! The simplest way I describe Lasso is a horror movie set at a rodeo. Todd Myers, one of the producers and he also plays Brando with the branding iron, loves to call it Texas Chainsaw Massacre meets Coccoon.
With Lasso set within the world of rodeo - is that something you're really fond of?
Rodeo is actually not something I was super familiar with going into the project. I had only been to a couple in my life when the idea occurred to me that it could make a new interesting setting for a horror film. If I had been more knowledgeable of rodeos the film might have been even weirder. There are a couple things in the script I, early on, wondered if were too far of a stretch that they seemed ridiculous (those were the dead animal pit, and putting the injured horse down in the middle of the show), but the rodeo folks I ran these elements by said they had seen both these things before… go figure!
What actually inspired the idea for Lasso, and what can you tell us about your screenwriter Roberto Marinas?
I have been asked this before and I always wish I had a better answer. Really it just came from a small-town rodeo I went to up in Garberville CA over 10 years ago. The vibe there that night was trippy and kind of creepy, especially set in the redwoods, rather than a typical western setting. Although, I do have a weird repulsion to mini ponies, I am not sure why, they creep me out and sort of make my stomach upset and drop out. Anyway, I like to jazz up this story with the fact that that night there was a super freaky little pony, cross eyed, tongue dangling out its mouth, that really sealed the deal that I wanted to make a rodeo horror movie.
Do talk about your movie's approach to horror!
What a great question. Hmmmmm… gosh, hard to answer. I guess maybe that it started with many typical horror film devices and either spins them or uses them in a different way. All of the seniors for example started as classic horror archetypes (cheerleader, jock, nice guy, stoner, final girl, etc). As the script developed, they came alive a bit more than that, but the character "Jacque" having that name is a reference to the fact that he is the "Jock" archetype. Normally these roles are hot teens, but in Lasso they are all senior citizens!
Another example is the main character Simon. Normally the audience will yell out "don't go in there!", "don't steal the ancient book", etc, but Simon's deal is that he hesitates all the time, so the audience ends up feeling "do something!"
Also, the typical male and female horror film arcs and reversed in Lasso. Normally the main character is a female that starts off soft and sweet and hardens up as the film progresses. But Simon, the male has that journey, while Kit, the female, starts off hard and softens up as we go.
I know there is a big kill scene (the rodeo protestors) that has a torture porn vibe to it. I love those kills and sequences, but I personally don't respond to that horror genre, but in Lasso I felt it was important to establish the threat of the bad guys, so we know what is at stake for our good guys if they get caught.
I have so many approaches, but I'll stop there!
What can you tell us about your main location, and what was it like filming there? And was Lasso written with that location already in mind, or did finding the right spot to make the movie come only afterwards?
Our main location was a rodeo arena in Holister CA. Our hosts were amazing! Just unbelievably accommodating and generous. Since we were there primarily all night, we sort of had the run of the place, and also use the awesome arena, as well as a ton of other locations we needed (the incinerator, the hay barns, underground tunnel and jail cell, etc). There were times we'd create a hot set all night with blood everywhere that we would need to stay put for the day and I'd be so embarrassed of what they'd think of us during the day. Elaine Gibson the producer would always check in with our hosts during the day, and they thought it was hilarious. Like I said, they were great, we honestly could not have done it without them going above and beyond the normal role of a location host.
A few words about your directorial approach to your story at hand?
Ok, I'd never never admit this out loud, but my directorial approach went out the window immediately! This film is so jam packed with stunts and action and gore and tons of characters and dogs and bulls and horses, etc. Every night ended up being "Ok, how can we cover this scene as quickly and interestingly as possible?" Luckily most of the crew, I have worked with for years, so we have an ability to read each others' minds. Without that history with most of the crew, I don't know how we could have gotten it done. Actually, when Matt Corbin, the special effects guy read the script, he said "Evan, if I hadn't worked with you and Elaine before I'd have turned this project down. There is no way anyone except you two could pull all this off with your budget and schedule. " It's a huge compliment and the funny things is, I feel the same about him and his role in the process, it should have been impossible, but he pulled it off!
Of course, that is not entirely true. My approach did not completely go right in the garbage, yes there was a big impact logistically on simply getting through the content, but the story itself is so dynamic that just getting it off the page and onto the screen was always the main goal. Also, not sure the high-art-answer you are probably referring to with this question. But not to be too much of a hippie, my directorial approach in general on everything I work on is not being a dickhead, managing stress without freaking out on others, loving to collaborate with the talent, department heads, appreciating the process, making quick decisions, being fluid, feeling like a team member not a boss, etc.
I also wanted to let the film have a sense of humor, without being too comedic, does that distinction make sense? I like the idea that a big kill scene might be disturbing and scary to one viewer, and completely hilarious to another.
What can you tell us about your key cast, and why exactly these people?
Well for me, the seniors were absolutely the most fun to cast. Nina Henninger the casting director was amazing, the process was actually pretty simple. I thought Karen did a great job, but of course a piece of me also thought it was just so dang cool that the mom from Little House on the Prairie would get so down and dirty making this horror film. The trickiest role was probably that of Simon, played by Andrew Jacobs. From the script a lot of people saw Simon as more of a nerdy awkward guy. Which would have worked fine, but I just felt like there was a danger of the audience disliking Simon too much to come around in the end and get on his side. I liked the idea to push Simon more urban and millennial was a great fix, it added a bit of fish-out-of-water vibe to the character which I think helped make Simon's missteps a little more forgivable… at least I hope so!
Do talk about the shoot as such, and the on-set atmosphere?
Well, I am not going to lie, it was rough at times. The all-nighter was probably harder on the cast than the crew because they more sporadically had to work all night, while the crew was up all night every night. It's interesting, my body quickly got used to staying up all night, but never got used to sleeping all day. Since we
had to be done shooting when the sun came up, we got to know that different sounds the birds and bugs made as sunrise was approaching. Once we heard certain bugs we think, "Uh-oh, the sun will be up in an hour", and then certain birds "Oh crap, the sun will be up in like 10 minutes!" In general, though, the set atmosphere was amazing, like I said before, I have a long history with most of the crew and almost every department head, so it was nice knowing and feeling how much people believed in the project and wanted to go above and beyond to make sure the film and myself succeeded.
Anything you can tell us about audience and critical reception of Lasso?
So far, Lasso has had a wide range of reviews and reactions. Some have loved it, and some less so. To me this is really cool. Sure, I'd love every single person that sees it be ape-shit for it. But this is the next best thing. In fact, it has always been this way, even in the post process while getting feedback on different stages of film, no one had the same feedback. People responded all over the place to the characters, the scares/kills, story. The saving grace for me is watching it on the big screen with an audience, it always has gone over big. Lasso has always been meant to be, at its core, entertaining and engaging; to keep the audience guessing on what will happen next. I'll never get tired of hearing people say they seen things they have never seen before in Lasso.
Any future projects you'd like to share?
Hmm, well the two that I am most excited about are Presipice and Bunker. Presipice is another horror film except that it has a heavy love story element to it. I like the darkness of the horror against the lightness of the emotion. And Bunker is a military thriller about a group soldiers regrouping after a failed mission to figure out their survival and at the same time solve the mystery of how their mission failed and if someone in the group had anything to do with it.
What got you into filmmaking in the first place, and did you receive any formal training on the subject?
I feel like it is a typical answer, but I have always played around with filmmaking since I was a little kid. Borrowing the neighbor's video camera to make little films with my sister and out friends. I did go to film school, but don't actually feel like I got a ton of hands-on experience, so yes, I have a degree but feel very self-taught.
What can you tell us about your filmwork prior to Lasso?
Well pre-directing my background is all over the place. I did lots of freelance work in various departments on bigger studio pictures in the bay area. I worked at Lucasfilm for a number of years. Finally, I started directing with a company called Indigo Films doing a ton of true crime shows. I directed the re-enactments. Lasso was great because I have always felt like a scripted narrative director but these true crime shows land somewhere in the documentary realm. It's great to be able to show off my story telling chops in a bigger way.
How would you describe yourself as a director?
I like to think I am relaxed. I like a communal vibe on set. Collaboration is huge to me. I am very open to hearing out and considering new ideas. There is fluidity required on set, and honestly a lot of the most magical things happen in the spur of the moment, rather than planned out ahead of time. I like to feel like part of the team, rather than the boss. Sure, my role is to keep track of the overall vision but ideally, we are all working together on that common goal.
Filmmakers who inspire you?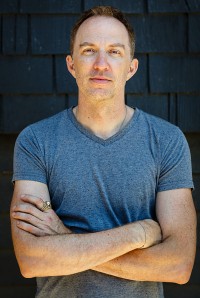 Feeling lucky ?
Want to
search
any of my partnershops yourself
for more, better results ?

The links below
will take you
just there!!!


So hard to answer a question like this. Currently I feel inspired by the teams behind Homecoming (the camera work/editing is awesome to me), Channel Zero (loving the slow burn of the storytelling,
especially seasons 1 & 2), and the British show Utopia (just everything about it). Of course, this is always fluctuating and developing, so this is my answer today!
Your favourite movies?
Well I am a little late to the party with this one, but I loved Hereditary, which I finally saw recently… wow… just wow!!! I thought it was amazing.
... and of course, films you really deplore?
I do tend to be a critical viewer, and often notice what didn't work as well for me or what I may have done differently. But also, I know how hard it is to make a movie, and how much stress and hard work goes into every single film. I'd never admit to finding a film deplorable… sorry is that a cop-out answer? Ha!
Your/your movie's website, Facebook, whatever else?
Sure, so follow Lasso:
Website: www.lasso-movie.com
Instagram: @lassomovie
Twitter: @lassomovie
Anything else you're dying to mention and I have merely forgotten to ask?
I guess just that I am humbled and appreciative for all the interest and feedback Lasso has received. I appreciate this and every interview, so thank you. Other than that, HAPPY HOLIDAYS to you and your family, and all of your readers out there.
Thanks for the interview!