Your new movie Mask of Thorn - in a few words, what is it about, and what can you tell us about your character?
It's an awesome 80's slasher! It's a story that follows a girl called Bethany and her friends from school as they celebrate her sweet 16th… but of course it all goes horribly wrong and there are some really gruesome scenes which we filmed, but I don't want to give away too much just yet! The character I play, Bethany Lovell, is a really sweet, innocent girl who kind-of finds herself swept along with the crowd on her birthday, as her and her friends break into the school at night for a secret 16th birthday party.
What did you draw upon to bring your character to life, and how much Eve Kathryn Oliver can we find in Bethany?
To be honest, the first time I read the script, it really took me back to being 15/16yrs old again… all the insecurities, all the uncertainty, wanting to fit in, being scared of 'doing the wrong thing' all the time. I was definitely the shy 'goody-two-shoes', similar to Bethany at times! Since I was 14, I've written letters to myself each year (I know, I'm cool), keeping a record by writing about what's important to me at the time, my biggest fears, my aspirations etc etc. Being able to go back over those letters was invaluable to me, I was able to get myself into that mind-set and start to build the character from there.
Without wanting to get personal, do you still remember your 16th birthday, and how did it compare to the events in Mask of Thorn?
Haha yes I remember my 16th very well! It was the summer that we all finished our GCSE's so I had friends over for a BBQ and the whole night it was such a lovely chilled atmosphere – we were half celebrating my birthday and half having a celebration that exams were over too! We had such a laugh planning our summer ahead and wondering what results day and beyond would bring!
How did you get involved with the project in the first place, and to what extent could you identify with the film's slasher theme?
I've been following Mycho Entertainment for years. Not long after I graduated I became interested in their films because they have such a distinct style. Not only that, I also knew they were based in MK so it was great to be able to follow local talent, and follow their journey. I had been in contact with MJ more recently with some of his latest projects, explaining that I would love to get involved on a project one day. I passed across a headshot/my CV and the rest is history!
What can you tell us about Mask of Thorn's director Mj Dixon [Mj Dixon interview - click here], and what was your collaboration like?
MJ is awesome. Seriously, I was so nervous the first time I met with him and Anna (Mycho's producer) and right from the word go, they made me feel part of the team. And that's how this whole film has felt, from start to finish – being part of an amazing, supportive team. MJ had a really clear image for Mask of Thorn and all of the characters in it. It was brilliant - it meant that MJ provided a distinct framework with which I was able to build a character that he could then fine-tune as he wanted once we got on set
Do talk about the shoot as such, and the on-set atmosphere!
The shoot was so much fun to be a part of! And I feel really lucky to have had the opportunity to have shared the experience with so many fantastic people. I know lots of people talk about working on projects like this as feeling like being part of a 'family' – and I hate to be cliché, but it really was just that. Not only were the whole team lovely, and really easy to get along with, but everyone went above and beyond to help create something really special. We were all taking on extra jobs all the time to make the whole project run smoothly, I think it says a lot about the passionate people who were involved in every aspect of the film.
Any future projects you'd like to share?
I've just finished working on a feature film called The Brink by Hundy Gilbert Media – another fantastic film company, and they are still in the process of filming at the moment, but keep an eye out for developments there - I can't wait to see what it looks like! I also perform with a comedy improv group At The Drop of A Hat – we have a Facebook page and we're on Twitter if you fancy taking a look for any upcoming shows! When I'm not filming, I'm choreographing, and after finishing Phantom of the Opera Youth Production – a sell-out run last month –, I'm hoping to be choreographing again in 2018 for a production called The Hired Man. Other than that, who knows what the future holds – I'm always up for a challenge!
What got you into acting to begin with, and did you receive any formal training on the subject?
I've trained in ballet since I was 4, so I've always loved performing, but it was my aunt that first got me into acting when I was 12! She found an advert for an audition for Mary Poppins at the Prince Edward Theatre in London (for the part of Jane Banks, the little girl) – I applied and got an audition, I went and had so much fun in the auditions that I decided that this was what I wanted to pursue. From there I started training with The Academy of Performing Arts every week along with joining various amateur dramatic societies as a teenager. Once I got my A-levels, I went off to train full time at Stella Mann, a dance school where I studied and graduated in Musical Theatre and Professional Dance. Somehow I've swapped the musical theatre for slasher/horror films! I love it, and I'm having so much fun with it!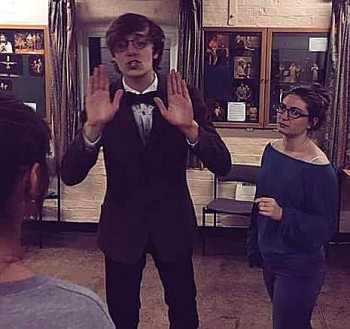 Eve performing with
At the Drop of a Hat
What can you tell us about your filmwork prior to Mask of Thorn?
I've worked with a couple of local film companies before Mask of Thorn. I was 'Holly' in Hundy Gilberts short film Flytrap which was my first job working in horror. I've also worked with Crucible Films in a number of short films, who are always an absolute pleasure to work with! Earlier this year I filmed a promo ballet short for the University of Hertfordshire which was so much fun, and great to do some ballet work again! Prior to that I had worked on a number of other features and short films, IMG5354, a psychological thriller short by The Raw Image, and Fabric Stories, another short, this one directed by Elaine Hannigan, being some of my absolute favourites.
How would you describe yourself as an actress, and some of your techniques to bring your characters to life?
Whatever you do – go for it! And research, research, research! I'm always on the look-out for courses and workshops where actors can share knowledge, and the one factor they all have in common is research! Getting to grips with the time period, the environment, the character, the age, trying to understand why a certain character is behaving the way they do, and then experimenting etc etc, it's like a jigsaw puzzle for me – fitting all the components together until you can see the bigger picture, if that makes sense. I guess the research bit never really finishes, but I feel I should be able to answer questions about the character as if I were them, because at the end of the day, that's what you do – you create a whole new being and bring them to life, and I find it really rewarding.
Actresses (and indeed actors) who inspire you?
Ooo, definitely Lauren Cohan (The Walking Dead) – I just think she is an awesome, stunning actress. She's so very natural and understated in everything she does. I adore her. Also, and I'm not sure if this one counts, but Lin-Manuel Miranda. I'm just in awe of him. He wrote the musical In the Heights which I loved and more recently he wrote and starred in Hamilton, the new musical about the life of Alexander Hamilton. I just think he is a genius, and when you see him in interviews he has this amazing, infectious love for life and I adore that.
Your favourite movies?
Just because of the stunning dancing – it has to be Chicago. Hands down. Sorry – musical theatre queen here! I just love it. Although more recently I have watched a lot more horrors and thrillers (I guess I've caught the bug!?) it definitely has to be either Hush or It Follows – that film sends shivers down my spine! Both were brilliant movies that had me on the edge of my seat pretty much throughout, although they are both very different films, these two set the atmosphere brilliantly from the off and genuinely had me rooting for the main characters.
... and of course, films you really deplore?
Um I don't think I've seen any films that I really hated as such... I must admit I'm not a huge fan of superhero films... although, that being said, I absolutely loved Wonder Woman – so I guess not!
Your website, Facebook, whatever else?

Feeling lucky ?
Want to
search
any of my partnershops yourself
for more, better results ?

The links below
will take you
just there!!!


If you'd like to follow my acting, dancing and general life shenanigans on Twitter and/or Instagram I'm @evekoliver on both! My website is www.eveoliver.com, and it's got various bits and pieces from past projects and my show reels too. Yes, I'm on Facebook, but it's just my personal account – I don't have an actors page on there.
Anything else you're dying to mention and I have merely forgotten to ask?
I have to mention Mycho's Patreon page before we're done – check it out at https://www.patreon.com/mycho. If you're a fan of their stuff, they have some really cool projects on there, and if you're able to subscribe you get some awesome perks. MJ and Anna Dixon are a really creative, passionate team and I know it would mean the world to them if you could check it out! Also, a huge shout-out to Tom, my partner who always puts up with my mad shenanigans and is an absolute legend, thank you, thank you.
Thanks for the interview!