Your new movie The Bastard Sword - in a few words, what is it about?
It's about three guys with very different motives after the same thing - a magical sword. But things might not be at all what they seem!
With The Bastard Sword being a fantasy movie, is that a genre you're at all fond of, and some of your genre favourites?
I've always loved fantasy, stuff like Conan the Barbarian and Red Sonja... and Krull. There's something classical about them where the rules can be rewritten. Not to mention the lovely landscapes and the style of music which is pretty much the source of my own classical background.
(Other) sources of inspiration when writing The Bastard Sword?
Although it seems I have taken influences from certain films, the chances are it probably wasn't those films. The Bastard Sword is a drama that's set in a fantasy world. It was written purely to be doable within our limited means. We wanted a fantasy, and we knew we had access to a forest. If we could get the cabin, it would be a no-brainer. It's all about the characters, and getting as much conflict as possible, in order to save on special effects, armies and general wallet-busting elements.
I'm really into my old DOS point-and-click adventures. I liked how Quest For Glory had the three classes: Fighter, Thief and Magic User. Putting the three main characters in as those was a nod to those sorts of RPG games, as well as a few other hidden easter eggs in the script itself - which nobody has found yet!
Do talk about your movie's approach to the fantasy genre, and to what extent did budgetary restrictions play a role in this?
The combination of fantasy and no-budget is going to be incredibly limited, so I chose the subject about an artifact which had rumour attached to it. By putting an idea, a legend into the heads of the characters, it would give them something to fight about. It's very small part of a fantasy world, magnified many times. Getting the characters to stay in the woods would also need something big - like loss of memory - in order to avoid what you would usually expect in a fantasy story, such as towns, castles, and horses.
With The Bastard Sword being mainly an outdoors movie, where was it filmed, and what was it like filming there?
It was filmed just up the road from where I live in Sussex, at a farm run by a lovely Dutch family. Seth worked at the farm, so I checked it out and he built the cabin whilst we were shooting other scenes. It was private and very peaceful. No distractions besides the generic planes from nearby Gatwick, but we knew it wouldn't be a a problem, because we replaced all the sound in post-production.
A few words about your directorial approach to your story at hand?
I usually have a crew of two or three at most, but this time it was only one or none. Actors often get involved in crew elements on my films, as jobs are shared. Emotionally, I'd just finished The Granary after a string of failures cooped up in there. Great spot, but I needed to get out of there. I made a promise we'd do some kind of woodland fantasy after the film, and that was fullfilled.
It's generally the same approach as any other film: Speed over quality. Not that quality doesn't matter, but if you don't get the shots, you might not ever get the film. It's all about getting the balance and getting through as many pages per day as possible. The small Sony camera was attached to my hand pretty much the entire time of shooting. I was surrounded by close friends the entire time, so although it was a lot to get through, it was relatively easy compared to some of the previous disasters I'd worked on. The actors took responsibility for their own wardrobe once it was decided, and everyone did their bit. A true collaboration where everyone is equal. All I'm really doing is tying it all together.
You've also done the musical score for The Bastard Sword - so do talk about the music in your film for a bit, and its musical influences?
Being honest, I wanted to showcase my musical abilities a little harder than I might have done on other projects. This is why the score alone is over two hours long. My influences cover quite a few typical ones like John Williams and James Horner, but there's also a lot of John Barry in there, and James Newton Howard. Anyone called John or James pretty much ticks the box! I'm a classical pianist, so I always like classical traditional scores. Although this time, I made the personal rule of having no piano in the film, not a single note. This would create a new challenge, forcing me to orchestrate everything and learn more about the orchestra itself. Writing piano music is far, far easier for me as I can just sit there and play it, but orchestrating and trying to make a digital orchestra sound relatively convincing on a budget is a major challenge. I would LOVE one day to work with a real orchestra.
What can you tell us about The Bastard Sword's key cast, and why exactly these people?
Of the three stooges, Seth Easterbrook (Ulysses) is who I've known the longest, since he was a kid. I did my first music video with him, Ben And I, where Seth replaced the key actor who flaked last minute. I've done some gigs with Seth too in rock bands. Basically the guy has never let me down, and he's always been up for trying new things (to quote his character). He deserved to be in the film, and he believed that the story deserved him.
Xander Phillips (Tias) I've known a good few years or so now, he's who I now own the business with, so he's always in on the action. He started off as a sound guy on my previous failed films. Every time a film blew up, he stood by me when others would run away. By the time he'd played a small role in The Granary, I promised him he could star in something fun, hence The Bastard Sword.
Finally Martyn Eade (Mars) the villain was a guy I knew from a local Jam session night. I'd played a few gigs with him too, but didn't really know him. He was recommended to me by my friend (and producer) Alex Willis as being very reliable. He showed up and did the part of the burglar for The Granary and was very easy to work with. When people are easy and fun to work with, I generally start writing more stuff with those people in mind. That's how it works. If people are a nightmare - regardless of their performance - I have to consider that nightmare for future projects. Making films is always about having new experiences, and by learning from previous mistakes. It's a recorded journal of your own personal improvement with a string of movies attached to it.
To sum it up, reliability is always the key factor when making no-budget (or incredibly low budget) movies. It's all about commitment and people showing up. You'd be shocked at just how many people can't fullfill commitments these days, and even more shocked at how many insist on making promises they can't keep!
A few words about the shoot as such, and the on-set atmosphere?
There were no external elements that upset us. No drama, no issues. Xander had an injury to his finger from Seth's sword, that's about it. It didn't rain much. Cows tried to eat my car, but I didn't care. Sometimes we'd shoot day and night in two sessions. During the sunset we'd have our break. I'd tell them where to make the camp fire ready for the next scene and I'd go home and eat. They'd get a take-away and chat and hang out. Being in the woods was generally really nice. We do this kind of thing for my birthday. In fact, the idea was concieved in the woods on my birthday in the first place, around a camp fire. Maybe that's why we did it!
Anything you can tell us about audience and critical reception of The Bastard Sword?
It's had mixed reviews from two extremes. I expected this. I think I put a £2000 price tag on the budget. In all honesty, I think there's a couple of lenses in there. It was probably closer to half of that. Even at £2000, that's 100,000 Hollywood fantasies at 200 million each. Imagine that, 100,000 Bastard Swords, how long would that be! (34 years apparently.)
Because audiences are generally desensitized to the fact that films cost biblical amounts of money to make, my film is probably not going to tick the boxes of the average consumer. It takes a little more imagination, than to have everything exploding with CGI in front of you. Ironically, £2000 as a budget is 5 to 10 times higher than the budgets of most of my films, so in the humble world of Rusalka Pictures, The Bastard Sword is a 'high budget' movie.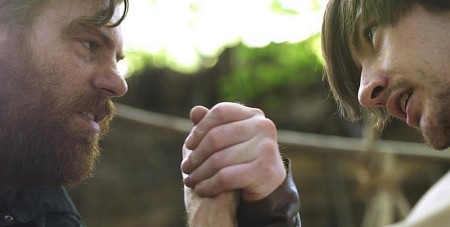 People enjoyed the film at the premiere. Maybe the atmosphere helped a little bit. I gave them all inflatable swords and did a small speech. We also had an intermission, which really got people stretching their legs and buying more booze. Funny enough, next door had that big Avengers film that was also 3 hours long. Alas, Marvel did not allow an intermission. I couldn't help but giggle at that. I think intermissions were a good thing. It's all about the experience at the end of the day. Cinema is in danger and they need everything to be as unique as possible.
As for watching at home, I suppose you could just pause it. I nearly cut the film into two halves. It nearly worked, as the mid-point climax was a good way to end the first film. The second film would have only been about 80 minutes long. Maybe I should have done it, but it wouldn't have been my original vision. It might have left the audience with no conclusion, and sometimes it's hard to get people back in the chair another day. If this film had costs millions, I would have had no choice but to cut it down or cut it into two. Because there were no risks and it hardly cost anything, I decided to go with my original vision and keep it as one. This is one of the benefits of making films for nothing. You get to take risks and do things your way. It might not be good, but it'll always be different.
I also wanted it to breathe and to hold the moments. Modern films are rushed, and they pack so many things into them. You never get to know the characters any more. It's nice to push things, even at the risk of people complaining and saying "it's too long!" Maybe it is, but what's done is done. I can always cut it shorter in the future, but I can't ever add to it. That moment in life has passed, and all the beards have been shaved off!
Any future projects you'd like to share?
There's loads. I've already shot three films that are edited and being scored. Ravenstein is the next one, a cheesy horror, and it's only 92 minutes long! Pavilion is a peculiar time-travel love story where the same character keeps bumping into multiple versions of himself. It's a rough and ready, almost video-documentary looking movie where everything clicks into place somehow. Finally, Broken Eyes is a drama about a blind woman who can see ghosts. I'm really excited about that one in particular. There's plenty more scripts on the table. Some doable, some not. It's all about casting and locations, people and places. If I had a budget, even a micro-budget, I could probably make most of these films right away. But for now, it's good to just do whatever we can at the time, using the tools we have and stretching it bit by bit.
What got you into filmmaking in the first place, and did you receive any formal education on the subject?
My brother and I got hold of our grandad's VHS camcorder and did puppet shows and so on. I'd be the actor/presenter, and my brother would be on the camera. We always loved films and the magic behind them. When we were really young we used to make pretend VHS covers of imaginary films and our own little video shop. It's just one of those things. I tried to shoot a film on HI-8 in 1998, but it didn't work out.
What can you tell us about your filmwork prior to The Bastard Sword?
I started with self-portrait photography, which gave me understanding of the visuals, and the difficulties of doing it myself on a timer, particularly in crazy outfits where it's difficult to even get to the spot in time. I then did music videos for my prog-rock music project Chalcedony. I did about ten of those, all different concepts and cameras, learning something new each time. They'd take ages to do, far longer than The Bastard Sword. After breaking a 17-year writer's block, I decided to tackle feature films again, now that I'd schooled myself and gained experience in all the aspects. I never did short films, but the music videos would have counted as short films, as they often told stories and were carefully designed.
The Granary was my first finished feature. I starred in it as we had no actors at the time. By the time I did The Bastard Sword, it was relatively easy because I'm not in it. In fact, it was absolute bliss in comparison. I highly recommend starring in your own feature if you want to destroy yourself in order to be a better filmmaker in future. It really does put the whole world on your shoulders. No DP either, you have to do all the shots and lighting!
How would you describe yourself as a director?
I'm quite aggressive in the approach of speed and efficiency. I'm constantly looking at that sun, waiting for that plane, doing calculations in my head of if-and-how it might work. Because we're making feature-length movies for nothing, the risks are really high and we can't just buy ourselves out of a situation. There are no permits if shooting in a public place, and anything can happen. I do or know how to do all the jobs, and will usually have my brother doing sound and someone else doing the clapper. Although I've always operated the camera, I would like to step back one day if I meet another DP.
Contrary to that, I'm not really a perfectionist. I like to arrive and see what happens. I give actors a creative freedom to try things out and interpret it their own way. If they struggle with that, I can step in and tell them how to do it more. Everything is a rush until someone says "action", then time slows down and it doesn't matter how long it takes. As soon as we cut, it's headless chickens again. I bring less gear than with the music video days. I'm not into massive setups. Less is more. I don't like doing CGI. The Bastard Sword effects are all composites and hand-drawn frame by frame. All that lightning was drawn by my hand in photoshop. It wasn't a special 'lighting' effect. It's just brush, dodge and burn. every individual frame and every little fork. That's why it moves a little more like it would in old films, like in Return of the Jedi, when it goes into Luke's mouth etc. We gave a special nod to that scene.
Besides being a filmmaker, you're also an accomplished musician with quite a few albums under your belt - so do talk about your music for a bit, how you got into making music, what a typical recording session's like, your preferred genres, and the like!
I'm primarily a classical piano composer inspired by the greats like Chopin and Beethoven. Then I'm into rock music, from prog rock to metal. I like many genres really, all sorts. I love film scores because they are classical but with more context. They really bind the music to the story and use every trick in the book to beef it all up. Recording lately has been classical so it's all on computer with VSTs by myself. Previous prog rock albums have taken so long to make with life's distractions, but I would imagine making any NOW would be much faster since doing all these films. I can play most instruments, but my strongest are piano, drums and vocals. I was a drummer in a band, Confusion, for a long time before the Chalcedony project.
I got into music because I found the upright piano at primary school to be the most attractive and fascinating thing I'd ever seen. I was banned from going near it due to my terrible behaviour (probably ADHD or thereabouts), so naturally I had to learn how to play it. I got into drums later when I was 10, because a friend who said they could play the drums couldn't actually play, so I tried the tin-can drum kit we'd built. My brother said I was pretty good, so I stuck with it. The bass guitar was too heavy for my tiny frame at the time, but the drums were fun because it was like being in a space-ship cockpit with all these different controls around you. Easy to make, easy to play compared to the piano. Stamina is the real trick to drums.
I really like synth wave music lately. I listen to it constant, but I don't really write it. I like retro computer game music from adlib soundblaster sound cards. The OPL ones in DOS games like Monkey Island and Kings Quest 6. That sort of thing has really inspired me musically.
Filmmakers, musicians, whoever else who inspire you?
I like Spielberg for his diversity and his voice, he has the most beautiful voice! His enthusiasm and childlike imagination is just the perfect benchmark for story telling. I like Lucas because I love Star Wars, and the fact that he actually documented the making of the prequels far more than any other film at the time (next to say, Lord of the Rings). It allowed me to really see into the process of this thing that was personal to him. Lord of the Rings has a lot of behind the scenes documentaries which is fascinating, but I must say rather frightening because of the money. Not the best inspiration for no-budget filmmakers by a long shot (pun intended), but Peter Jackson is lovely. I admire people like Tarantino for allowing movies to 'breathe', having long takes, and involving a bunch of random culture that most modern films just glance by without a second thought. His films are almost about the flavour and texture as opposed to just getting a story told. That's why Pulp Fiction is so easy to watch again and again. I learned about Werner Herzog later in life, after I did most of these films. I'm not sitting in awe of his films, but I am in awe of how much I can relate to him and his attitude towards them. People like him help remind me that these things are possible and that I'm not alone. He also has an awful lot of culture in his films from places around the world I never even knew existed. The real spark would probably be James Cameron, because he does everything and takes so much control over it to get it done. You can't argue with him about your job, because he already knows how to do it and has done it. Again, might not love all his films but it's the approach to making them where I gain the most from. That's an important factor to keep in mind, I think. Not all good films are entertaining, and not all entertaining films are good.
As for musicians, besides the film composers it really comes from all sorts of unrelated influences. Bands like The Wildhearts, Metallica, Genesis, Lita Ford, X-Japan (massive influence there). Michael Jackson's Bad album. All sorts of stuff as a kid that I might not listen to as much now.
Your favourite movies?
For inspiration: Aliens, Titanic. General favourite movies: Romancing the Stone, Switching Channels, Dances with Wolves, Star Wars (5 & 6 the most), The Postman (another long Kevin Costner one!), the Indiana Jones films, Back to the Future and so on. A Bollywood film, Asoka, gave me the most inspiration for cinematography. Those films are epic!
... and of course, films you really deplore?
Nobody has ever asked me that question before. I think there's a few comedies that try to be funny by being 'dark' and they just fail. There was this Twilight comedy spoof that was really, really bad. Every opportunity for a joke, they didn't take it. Believe it or not, films like The Room are odd because yes, it's really bad, but it's successful and I guess I may be envious in some immature way. I'm sure it would be very easy to make a film worse than The Room, but the moment is lost. People would know I was trying too hard and wouldn't endorse it. The Room is just something discovered by luck and promoted by people who made an effort - I think he had millions put into advertising for one. That film could be reshot for probably £200 by students and still be better, but nobody would watch it. Sometimes people enjoy 'bad' movies. The Granary was my The Room, where I wrote, starred and directed. All my humiliation is there to a degree, but it will probably go unrecognised. Good for my own sanity, bad for my success.
I think that film by Werner Herzog The Great Blue Yonder is possibly the worst film I've ever seen, even though it came from a legend and many people rate it highly. I'm not massive on the ultra high budget Marvel films in case you didn't notice, but they seem to be entertaining and have moments (that are short-lived). Alas, I must confess that I think I need to watch about 26 of them before I can watch the latest one, so I'm a little behind there.
Your/your movie's website, social media, whatever else?

Feeling lucky ?
Want to
search
any of my partnershops yourself
for more, better results ?

The links below
will take you
just there!!!


The Bastard Sword Facebook page: https://www.facebook.com/TheBastardSword/
Everything we do for movies goes on www.rusalkapictures.com.
Rusalka on Facebook: https://www.facebook.com/RusalkaPictures/ and https://www.facebook.com/Rusalka-Records-310460368983186/
Team Rusalka Pictures group where people can interact: https://www.facebook.com/groups/rusalkapictures/ - that group was actually made more to recruit and collaborate than to promote. We encourage anyone who shares the same dream to come and work with us!
There's also a Rusalka Pictures Twitter floating around there somewhere that Xander runs!
Anything else you're dying to mention and I have merely forgotten to ask?
Yeah! I just wrote a book called Shooting on a Shoestring: The Hopes and Horrors of No-Budget Filmmaking and it's on Amazon for paperback worldwide. It talks about loads of my filmmaking experiences and strange techniques to help others make films for virtually nothing. If you are into guerrilla filmmaking and want to do features, definitely take a look!
Thanks for the interview!
Thank you for your time, it is very much appreciated!