Your new movie American Backwoods: Slew Hampshire - in a few words, what is it about?
Impalement, lechery, cannibalism ... and cheese doodles.
Or, as our short synopsis reads: "A local rite goes frightfully wrong when a group of teenage boys encounters a sinister hunting party, a bloodthirsty tribe and a mythical beast in the backwoods of New Hampshire."
Expounding ever so slightly, it's a hybrid horror amalgam that pays homage to genre tradition while also tweaking the formula. It's a gritty, grisly, gory trip into the fringes of society - and human nature - with hints of existentialism, transcendentalism and Darwinism.
And, of course, plenty of cheese doodles.
Your own feelings about the (real) American backwoods - and which group cin your movie ould you identify with the most, the hapless youngsters, the gun-toting hunters ... or the lost tribe of vikings even, and why?
I'm an enormous fan of the backwoods - particularly the uncharted pockets that have somehow managed to remain unstained by the filthy hand of mankind. But wherever man unleashes his primal nature, the purity of Mother Nature is often compromised beyond repair. Certainly, desecration and destruction are transpiring - and "unique" folk lurking - in the American backwoods, and that's what we aim to explore in the film.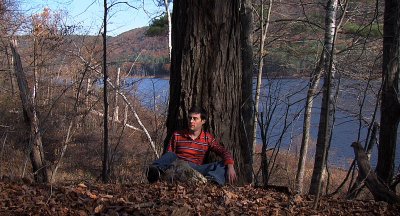 As for our characters, I suppose there are shadings of my own sensibilities amongst each faction. Having grown up in rural New Hampshire myself, I can relate to the banality-busting, puerile pursuits - and inevitable loss of innocence - represented by the "hapless youngsters". As for the hunters, while I don't personally shoot prey - be it for sport or food (be it human or otherwise) - I can appreciate their camaraderie, competitive nature and commitment to their "craft". And as far as our tribesman are concerned, despite the archaic means by which they seek their ends, I empathize with their unrelenting will to complete their mission.
In short, behind the immaturity, illegality and insanity, all of these characters are just damaged souls longing to be loved - and aren't we all?
With American Backwoods: Slew Hampshire being a slasher movie - is that a genre at all dear to you, and some of your genre favourites/inspirations?
Prior to the conception of this film, I hadn't given serious thought to writing/directing a slasher - but in the time that had elapsed since my first indie feature years earlier, all signs gradually began to point in that direction. For one, I wanted to write roles for a bunch of friends who are collectively characterized by an intense, blue-collar approach to artistry - so the characters and story evolved organically from there. Factor in my desire to take a soul-sparing sabbatical from the Hollywood hustle - coupled with the opportunity to film in my own childhood backyard (literally) - and a throwback slasher just seemed like a no-brainer.
Around that same time, I had taken a strong interest in New French Extremism (Martyrs, for instance) and also began revisiting some horror staples from my adolescence. My early exposure to the genre was generally limited to whatever campy 80's schlock my next-door neighbor could get ahold of on VHS back in junior high - but the film that left the most indelible impression was the original Texas Chainsaw Massacre (which made Gunnar Hansen's visit to our set even more special). I also have a soft spot for Return of The Living Dead (big Tarman fan here), and I still consider John Carpenter's The Thing to be my favorite suspense/thriller of all time (not to mention the practical FX, which still hold up to this day).
(Other) sources of inspiration when writing American Backwoods: Slew Hampshire? And is any of this based on true stories or urban legends?
Whether it's a hoax or the genuine article, I consider the Patterson-Gimlin film from 1967 to be one of the most riveting films ever made - and it seems that every state/region in the U.S. has its very own resident boogeyman - so I definitely wanted to inject some of that into our backwoods, brouhaha. Additionally, I wanted to introduce a viable historical "threat" - something specific to the region, a force that had either been awakened after a lengthy dormancy or perpetuated by a modern-day cult.
In short, I can't recall precisely what inspired the film or the order in which my ideas germinated, but I found myself extrapolating some of the more compelling local history while simultaneously exploring some of the more frightening aspects of the human condition. What resulted, I hope, is a low-budget genre film that transcends both the budget and the genre to give viewers a unique ride through the uncharted regions of New Hampshire - and, perhaps, their own minds.
How would you describe your directorial approach to your story at hand?
For this film, my directorial approach was decidedly laissez-faire - partly by design, partly out of necessity. Given the budgetary constraints, significant artistic and technical compromises were inevitable - and since I was also producing the film and playing a larger on-camera role than I had originally intended, when it came to directing, it was really a matter of trusting my instincts and preparation. While I did have a specific vision for the style and tone, I felt that it would have defied logic - and the best interest of the film - for me to have been too heavy-handed in search of some specific directorial signature.
I've often said that I do a majority of my directing during casting - and there was no exception here. Add in some good fortune by enlisting a tiny but talented and tireless crew, and - despite the ambitious schedule that led to the daily avulsion of multiple set-ups or entire scenes - I was confident that we were getting what we needed to at least Frankenstein a movie together in post.
They say that there's the film you write, the film you shoot and the film you edit - and all three are substantially different. From a producing perspective, I'm incredibly proud of the film that we shot and edited. As a director, however, I'll probably always remember the film that was written, and wonder what could have been if only we'd had more time and money. If only ...
Your movie does feature a few quite gory scenes - so for the sake of the gorehounds in my readership do talk about those for a bit, and how were they achieved?
Practical make-up/gore FX were handled primarily by underground horror maestro Michael Todd Schneider, with whom I had long been planning a collaboration. During pre-production, Michael was assisted by colleagues in Pittsburgh, as well as a former art school chum who handled a chunk of the design-and-build process remotely. On-set application was again handled by Michael, with an invaluable assist by Eric James. Both Michael and Eric also appeared in the film, though, so scheduling FX around their shooting schedules proved challenging - but in the end, our bare-bones team acquitted themselves extremely well.
On the page, the script was wall-to-wall blood and guts. The extent to which I detailed each gruesome killing originally read like a coroner's report. With such a high body count, however - and without the time and budget necessary to pull off the FX in brutally honest fashion - there was a distinct possibility that it would not translate on screen and we'd end up with a campy schlock fest. Now, there's nothing wrong with a film like Dead/Alive - in fact, it's rather delightful - but it's just not what I had in mind here.
So since we were only able to allocate about one-third of what had been originally projected for the FX budget, I was left with little choice but to trash a major portion of our FX list. Only the essential elements would now be filmed - and only those successfully executed would make the cut. From there, the emphasis shifted to augmentation in post (via sound design/mix, musical composition and the edit). The audience's imagination and participation - as opposed to mere observation and inevitable desensitization - would now become a key factor in selling the gore. Sometimes less truly is more - and then again, sometimes you just have to slash a jugular - so it really was all about striking a balance between implication and exhibition.
What can you tell us about your key cast, and why exactly these people?
Shoddy casting is often the death knell for what could be an otherwise solid film. Indie horror audiences may be a forgiving bunch, but there's no reason that they should be consistently force-fed wooden or scenery-chewing performances. At the time that American Backwoods: Slew Hampshire was conceived, I was surrounded by a slew of colleagues whose collective talent I felt was being criminally underutilized - so many of the roles were actually written with those specific actors in mind. Then, like the Pied Piper, I lured them out into the woods to have my way with them.
My relationship with some of the cast members goes all the way back to my first low-budget feature (Mike Apple, Brian Allen, John Joyce, for example) and most others I met in the indie film scenes in Boston and Los Angeles in the years since. I also held an open call in Los Angeles, which is where I met and cast a few additional talents, including Dayo Okeniyi (The Hunger Games, Terminator: Genisys) and French actresses Claire Dodin and Gaya Verneiul.
I was thrilled with the collective contribution of our cast and it's always wonderful to hear their work being applauded. I only wish that we'd had more time to experiment - as they were typically limited to just a couple of takes and they were often just hitting their strides when we were forced to move on. Regardless, they deserve a ton of credit for whatever modest success this film may achieve.
With American Backwoods: Slew Hampshire being mostly an outdoors movie: Where was it filmed, why there, and what were the advantages but maybe also challenges filming there?
Principal photography was an emaciated 16 days - and we filmed exclusively on location at multiple properties throughout New Hampshire and on one amazing 14-acre plot of land along the coast of Maine. About 7 or 8 days of pick-ups eventually followed - all of which were shot in New Hampshire, with the exception of one final scene that was shot in Big Bear Lake, CA. Even though it was an interior scene, I still rented a cabin in the woods to simulate the vibe of the New Hampshire backwoods as closely as possible.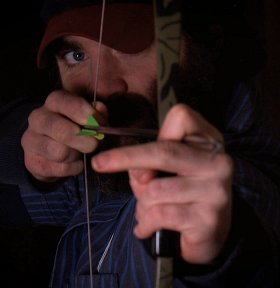 The most obvious downside to filming on location was the cost of airfare required to get our LA-based cast members to/from set - and the tangled logistical web of transportation and lodging that it created. We also filmed a lot of night exteriors - in prematurely frigid October/November - and eventually the sleep deprivation and chattering teeth began to take their toll. There was also snow on the ground during pick-ups - which, as you might imagine, would have been a laughable continuity error.
But for me, the palpable sense of authenticity when you're filming on location - and the immersive energy that it engenders - can't be replicated in a studio or in, say, the Angeles National Forest. Plus, I'm fortunate enough to have an incredibly supportive extended network of family and friends in New Hampshire who provided immeasurably invaluable support services that helped us to stretch a Dollar in ways that are simply impossible in Los Angeles. So, all in all, the anxiety and discomfort associated with a couple of missed flights and runny noses were a small price to pay for filming on location.
What can you tell us about the shoot as such, and the on-set atmosphere?
It was definitely cold. And often dark. And occasionally exhausting. And sometimes heartbreaking. Yet usually educational. And perpetually invigorating. And infinitely enriching. And ultimately inspiring.
And when I wasn't throwing a tantrum or forgetting my lines or worrying that my cast and crew was regretting every second of the experience, we even shared a laugh from time to time. If you get your hands on our DVD, check out the gag reel and audio commentary for evidence.
A few words about critical and audience reception so far?
We enjoyed a brief festival run, got nominated for a few awards, and received recognition from Rue Morgue Magazine for "Goriest Scene Of The Year" - all humbling and encouraging, indeed. We've held a handful of public screenings as well, and while we certainly have left some viewers scratching their heads (or occasionally walking out), we've had just as many repeat viewers, and the prevailing post-show reaction has been visceral - which we obviously hope is indicative of what to expect from the hardcore horror base.
Critical reception to date has been predominantly positive, as well, with well over a dozen flattering reviews - and with virtually every reviewer praising the film for its gore. We understand that not everyone is going to embrace or enjoy the film, but we feel confident that those who really love their indie horror gory but not gimmicky - and familiar but non-formulaic - will really dig the experience.
Any future projects you'd like to share?
I've been developing a project with Matt Hish (Officer Girth in American Backwoods: Slew Hampshire). It's a psychological thriller/horror that spans the course of about 15 years back in the 70s and 80s. It's pretty heavy, heady material; art-house but commercially viable - at least that's the plan. The script is several drafts deep, but it'll require a relatively substantial budget, so it may take some time set in motion.
I've also been collaborating on a project with PJ Hennigan (Pinksock in American Backwoods: Slew Hampshire). We're adapting a script that was originally written about a decade ago by a friend back in New Hampshire, and the plan is for it to become the next installment in the American Backwoods franchise. It's not a direct sequel to American Backwoods: Slew Hampshire, but there is connective tissue between the worlds explored in both films - only this one will be set in neighboring Vermont and will explore a different horror sub-genre or two.
Aside from that, I am always available for hire as a writer/director, actor or circus clown with no discernible talent.
Going through your biography, you seem to have had a very colourful past life - so do shed light on some of your career highlights? And what got you into filmmaking eventually, and did you receive any formal training on the subject?
Full disclosure: A portion of my IMDb bio is actually utter nonsense. I wrote it as a gag several years ago and never bothered to change it. Though I did actually appear in a commercial with Jessica Alba once - and was subsequently sought out for an interview by a Jessica Alba fan site in France. I told them that she smelled nice. It was truly sublime stuff.
As for legitimate career highlights, aside from being cast as a carjacker thrice in a year, I'm not sure that I have any. After all, I've spent far more money as a filmmaker and actor than I've ever made, so I'm not sure that qualifies as a "career." If it does, then I suppose I am actually a biathlete, a game show host and a bicep model (as noted in my IMDb bio) - because at least I'm breaking even in those fields.
As for formal filmmaking training, aside from a few film theory/history electives in college, I've got none to speak of. This might explain why I'm supposedly a "genius" to those who enjoy my work; and why I'm every bit the "f*cking hack" that my detractors vociferously declare me to be.
What can you tell us about your filmwork prior to American Backwoods: Slew Hampshire?
Mutual Admiration Society (feature, dark comedy, 2002) - writer/producer/director/actor
Anvil Pants (feature, music doc, 2008) - cinematographer/director/editor
American Backwoods: Slew Hampshire (feature, horror, 2013) - writer/producer/director/actor/editor
*and a bunch of inconsequential comedic/music/experimental videos and TV pilots in between.
How would you describe yourself as a director?
Typically miserable. But generally adequate.
Filmmakers who inspire you?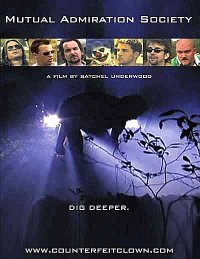 Feeling lucky ?
Want to
search
any of my partnershops yourself
for more, better results ?

The links below
will take you
just there!!!

Find Flood Reed
at the amazons ...

amazon.com

amazon.co.uk

amazon.de
Looking for imports ?
Find Flood Reed here ...
Something naughty ?
(Must be over 18 to go there !)

I've never really pledged my unwavering allegiance to any particular director's entire body of work, but I have been most consistently awed/inspired by the work of Kubrick, Lynch, PTA, Scorsese, Refn, Von Trier and Sean Penn. For horror, I'd argue that masterpieces outweigh missteps in the catalogues of Carpenter and Cronenberg. If I achieve even a fraction of the success that those men feel when they defecate, then I'll know that I've accomplished something in life.
Your favourite movies?
A Clockwork Orange, Boogie Nights, Heat, The Deer Hunter, Tombstone, Dancer In The Dark, American Psycho, Taxi Driver, Mulholland Drive, The King of Comedy, Martyrs, The Thing ...
... and of course, films you really deplore?
I reserve a particular disdain for the career of Cameron Diaz. I find her to be unusually abhorrent. And I'm still furious with whomever greenlit Weekend At Bernie's 2. I mean, enough is enough. The corpse has to rot at some point, right? Cremate the poor bastard already.
Your/your movie's website, Facebook, whatever else?
Website: www.slewhampshire.com
Facebook: www.facebook.com/slewhampshire
Twitter: www.twitter.com/SlewHampshire
Official Full-Length Trailer: https://www.youtube.com/watch?v=6YE9pRK6WBk
Anything else you're dying to mention and I have merely forgotten to ask?
American Backwoods: Slew Hampshire is currently available on numerous digital platforms throughout North America - including select cable providers (VOD), Amazon Instant, Itunes, Vudu, and Hoopla! Also, the DVD - featuring 5.1 surround sound, gag reel and audio commentary - is available for purchase through Amazon: http://www.amazon.com/American-Backwoods-Hampshire-Dayo-Okeniyi/dp/B00RW5AFV0
Thanks for the interview!
Thank you for your interest in the film, Michael - We genuinely appreciate your support!