First of all, why don't you introduce yourself to those of us who don't already know you?
My name is Frederic Mauerhofer and I've been a soundtrack composer since 1994, I've been composing original music for different film projects, television and documentaries from all over the world. I have been born on October 2nd, 1972.
Do talk about your music as such for a bit, your prefered style(s) and sound?
I like to do very different styles of music, classical, electroacoustic music, and electronic music. I like creating beautiful harmony, big orchestration, and very emotional soundtracks, impressive music, darkness or light. The music soudtrack has a very important place in a film, and I like scoring the emotional theme in a film!
What got you into making music to begin with, and film scores at that, and what can you tell us about your musical training? And what instruments do you play?
Scoring films has opened my mind in different directions, creating music adapted to different styles (comedy, thriller, horror, spiritual, etc …), and a capacity to creating very different styles of music for different demands! I have created my brand Polygone Sound Designer in 2010, to have a direct buisness with filmmakers, and I love have a perfect coordination working with filmmakers, to score beautiful music adapted in films with perfection! I have learned solfege harmony and piano at the music school of Versailles, and electronic music producing at SAE Paris, for soundtrack work and to record my music on MAO, I have learned to use all VST plug-in, and scoring the soundtrack with my computer. I play keybord piano and synthesizer. For two year now I've been studying, autodidactically, the history of music and the musicology to discover more styles, I study the source of historic music and the inspiration of past times!
Any genre(s) you especially love to score?
I love scoring genre films with big emotions, (darkness thriller, horror or light comedy, spiritual films), the most important for me is that the music soundtrack is perfectly adapted to the film! And I try to give big emotions with my music! I love to score films about possession or exorcismn because I think it's a real event.
Do take us through the process of composing for a movie, how do you find the right tunes for the right scenes, and how much or little input from the director and/or producer do you, or would you like?
I ask the filmmaker for all information about film, I look at the acting styles, I study the story, I watch the movie or pictures from the film, I look at the poster of ther film, I read the script, and after, I take my emotion, and translate it into the soundtrack. First I record the main theme, and the first part soundtrack proposition! I love make a different propositions when scoring, for the filmaker to have a choice! I like to print my scores or send scores as pdf-files. The filmaker can record the scores in a studio, or I record on an MAO computer. Sometimes, the filmmakers have a precise style of music in mind, and I score to that very demand! This is a collaborative work to make a perfect emotional film! For me, a soundtrack is the invisible actor of fthe ilm, directed by the filmaker, but I add more ideas, more emotion with my composer experience!
So what's a studio session with Frederic Mauerhofer usually like?
A studio session with me is a maximum of music element, experimentation, inspiration and organisation. I like big orchestral record sessions, and MAO computer orchestral recording, I like to create beautiful harmony, big orchestration. I work the solfege harmony all day for scoring, and work with a lot of book method solfege for evolution, sometimes in the studio!
Do talk about your early days as a composer/sound designer for a bit, and what can you tell us about your first film score, and how did it come into being?
I recorded different demo tunes in home studio, and all styles of experimental music I had in my mind, I tested different types of musical sound, I recorded on different types of synthesizers. When I had a lot of titles (more than 400 titles), I used the social network to upload my music, and make a long list of links. One day, I found the IMDb, and sent this list of links with my music to various filmmakers in the USA.
The first filmmaker who sent me one main theme demand was David R. Williams [David R. Williams interview - click here] for the film Red Scream: Nosferatu. I thought real piano worked very well for the story of Red Scream: Nosferatu, so I sent to David R. Williams the melody, and after I have scored a big dark orchestration on computer (choral, full orchestra), this was my first film score!
Over the years, you've worked with director David R. Williams [David R. Williams interview - click here] quite a bit, so what can you tell us about him and about some of the films you did with him?
David R. Williams is a very proffessional film maker, he have a full concept in mind when he makes a movie, so it's very easy to understand waht music he wants, and I score with precision to the demandd of David! I have recorded for David all styles of music, orchestral, dark, electronic music, rock, metal; for the the film Scarlet Samurai: Incarnation, Cleric, Red Scream: Nosferatu, Disintegration, Optica, I made a proposition soundtrack for Manifestation and I do hope to work with David again before long! He has, in all these different films, a really experimental mind, I like working with David R. Williams!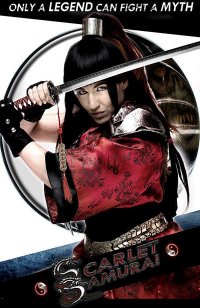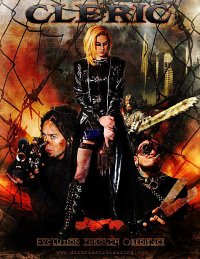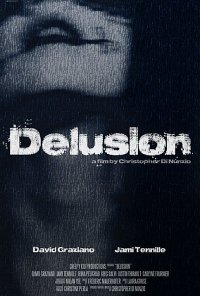 Feeling lucky ?
Want to
search
any of my partnershops yourself
for more, better results ?

The links below
will take you
just there!!!

Find Frederic Mauerhofer
at the amazons ...

amazon.com

amazon.co.uk

amazon.de
Looking for imports ?
Find Frederic Mauerhofer here ...
Something naughty ?
(Must be over 18 to go there !)

Other films you scored you'd like to talk about, and how do you think you've grown as a composer over the years?
For director Christopher Di Nunzio [Christopher Di Nunzio interview - click here] I have scored the soundtrack of for Delusion (2016), a very good experience working on a neo-noir horror-thriller indie feature.
I scored Desired, a film from New Zealand, it's a film with big emotions and needs a very emotionnal impressive soundtrack, and Le Casse des Casses, a French film, it's my film comedy, it needed a really lively orchestral! A big experiment for me, after which I have scored music trailer for Mac Daddy & the Lovers, another comedy.
Finally I've scored varioous comedy TV-series in the past 5 year (Autoroute Express, A Votre Service ) and I have opened my mind in different artistic directions. I have grown as a pro-composer over the years, with a lot of works, and I have scored a wide variety of styles of film, and I have more experience!
Any future projects you'd like to share?
The future projects I'd like to share are The Possessed, directed by Shawn Anthony, I'm creating a terrifying score, dark ambiance, Way to Abbottabad (pre-production) by Tom George, I score an impressive orchestral soundtrack for this hard-hitting political and family thriller, and The Jungle Demon and Dead End Town Movie by director Saul Cajacuri, mysterious and dark orchestral soundtracks. And more film soundtracks coming soon...
As far as I know, you live in France but have scored quite a number of American movies - so how did that come about, and what are the challenges working with people who're literally on another continent and thousands of miles away?
Yes I live in France, and all organisational works are done using technology, transfer files via internet, discussions via email or Skype, messenger etc … I am really indepedant for working on my music and I have experience in understanding the demands of USA filmmakers! With technology, thousands of miles are not a difficulty! I hope to score a music soundtrack one day and record in USA Abbey Road Studios for fun!
How would you describe yourself as a composer?
Motivated, inspired and working composer!
Musicians who inspire you?
Hans Zimmer, Joseph Bishara, Alexandre Desplat, Jean-Michel Jarre.
Your favourite movies?
Constantine, The Exorcist, The Boy, The Conjuring 2, As Above, So Below etc...
... and of course, films you really deplore?
The remake of A Nightmare on Elm Street from 2010 - but I really loved the Jablonsky score.
Your website, Facebook, whatever else?
http://www.imdb.com/name/nm2964742/
https://fr.linkedin.com/in/frederic-mauerhofer-composer-67ba3740
https://www.youtube.com/user/polygonemusic
Anything else you're dying to mention and I have merely forgotten to ask?
Perhaps speak about my future first visit to Vienna, I like the musical story of this fabulous town, and legendary composers Gluck (1714-1787), Haydn (1732-1809), Mozart (1756-1791), Beethoven (1770-1827), I like Vienna!
Thanks for the interview!
Thank you too, dear Michael Haberfelner!