Your new movie 4 Themes on a Variation - in a few words, what is it about?
It's a piece of footage asking itself that very question. Perhaps more accurately - what it could be about.
How did you come up with the concept of making a film pretty much the wrong way round?
By having another project fail miserably. This was a VO-based web series I was planning to release in Summer 2013. Long story short, after presenting the pilot to my writer and co-creator, he vetoed using his script according to which we shot the episode. We were left with a piece of footage with no script. Sitting with my boyfriend Noam Bonnie and director Yaniv Shacham at a café in Tel Aviv, we were asking ourselves if there was any way to save the footage. Those two brilliant men came up with the idea of turning it into a choice, an experiment. When I got back to New York, I decided to do just that, but with new material. I wrote an outline of four silent scenes, following one character as her day unfolds, sent it to different writers and composers, and got 4 Themes on a Variation.
Do talk about your writers and composers for a bit, and how and why did you get them on board?
I really wanted to have interesting and varied minds, styles and personal backgrounds involved, not necessarily people whose work I was familiar with. So I looked in unconventional places - from old friends whose view on life and sensitivities always fascinate me, to professionals I'd never met who have been doing this for years.
What were your inspirations for the scenes you shot, and did you at all have a story of your own in mind when you shot them?
Certainly. I had a pretty specific image and mood in mind for each part, and when I sat with director Jeremiah Kipp [Jeremiah Kipp interview - click here] for the first time, we went over the outline together, and he asked me some great questions which made it clearer for me, and so we both knew what we were about to shoot. Of course, this went out the window once we were done with our part. It was pretty amazing to see that the way Jeremiah directed it and set the scenes with DP Andrea Urbinati, some moments turned out strikingly aligned with what I'd envisioned.
Do talk about your director Jeremiah Kipp [Jeremiah Kipp interview - click here] for a bit, and what was your collaboration like?
I could go on and on. It was one of the best experiences I had both as a producer/collaborator and as an actor. Jeremiah was 100% dedicated to the project at every stage, resourceful and generous, and his approach and sensitivities truly blew me away. He also brought extremely talented crew on set, like Andrea Urbinati, Brian de la Cruz, Alex Gavin and the amazing actor Lucas Rainey. After the shooting, he went over the entire raw footage and sent his comments for each moment, which made our editor's work as easy and effective as can possibly be. Then, he directed the VO recordings of the scripts as well... I feel very fortunate and I learned a lot from him.
Do talk about the shoot as such, and the on-set atmosphere?
We shot all of the scenes in Park Slope, Brooklyn, and we were lucky enough to shoot on one of the most beautiful days of the season. We had a great time, and there was a rare balance between a relaxed atmosphere and on-set efficiency. Let's say that as an actor, I felt understood, supported and focused, but as the executive producer, I couldn't be happier with the footage and the clock.
After your experiences on 4 Themes on a Variation - could you ever be tempted to make a film based on a similar concept?
Hmm... I wouldn't say similar concept, but the interest in deconstructing materials of expression and questioning the nature of and relationship between the whole and its parts is always there on some level. I tend to think that all interesting art - as people - is somewhat aware of itself.
The $64-question of course: Where can the film be seen?
Thank you for asking. It can be seen at Ring the Bells' site - www.ringthebellsproductions.com, where you can view the four separately or back to back.
Any future projects you'd like to share?
I am currently co-writing a narrative feature to be produced in Paris in winter 2014. Briefly, a woman's life as she's known it ends abruptly, which pushes her to remove herself from her immediate environment. In her last attempts to see if she has the ability to reinvent herself or her take on life, she moves to Paris.
How did you enter the filmworld to begin with, and what can you tell us about your education on the subject?
When I was in the military (girls need to serve in Israel, too), I strolled into a local bookstore and found a book called Film and Philosophy by Henry Unger, a celebrated professor in Israel. Since then I would often sneak into the Fine Arts Faculty at the Tel Aviv University (in uniform!), to attend his classes. I remember being astounded by Unger's insightful analyses of some of the best scenes in the history of cinema, and how he showed how fine filmmakers select and use their cinematographic tools in a way that serves a very clear idea they are looking to communicate. What struck me most was the understanding that a filmmaker can create a very particular experience that activates and touches the audience's sensations and feelings profoundly. Through this effect, a thought - that would otherwise have to be intellectualized - can be registered (and more likely welcomed) on a very deep level. When I was discharged, I moved to Paris to study Film and the Performing Arts, and when I graduated, I moved to New York, to continue developing my Acting studies.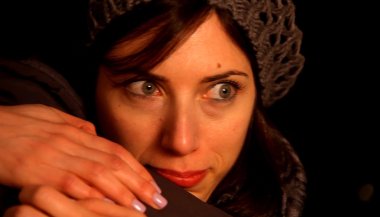 How would you describe yourself as an actress and as a filmmaker?
The same way I would describe myself as a person, probably, as these are difficult to separate. I'd say passionate, detail oriented, innocent, open... Two things that are most important to me to keep developing are honesty and skills to support it. A lot more work to be done!
Filmmakers, actors, whatever else who inspire you?
There are so many... Two of the young filmmakers I love and am inspired by most today are Miranda July and Sarah Polley.
Films you really deplore?

Feeling lucky ?
Want to
search
any of my partnershops yourself
for more, better results ?

The links below
will take you
just there!!!

Find Galia Barkol
at the amazons ...

amazon.com

amazon.co.uk

amazon.de
Looking for imports ?
Find Galia Barkol here ...
Something naughty ?
(Must be over 18 to go there !)

An interesting thing that happens is that the more you make and act in films, the less you hurry to dismiss them, as you realize how much work and thought usually go into them and you're able to see and appreciate things that you would otherwise miss. There are usually things to enjoy or to learn from, even when they don't work out on the screen. I naturally get impatient when I watch films that I feel are not personal and have no integrity, kind of like having a date with a person who never looks you in the eye. There is one thing, though, that I'd love to see more, and that's films that don't rush to be dark as a default. I think people assume that brighter or lighter films are less sophisticated or deep, which is nonsense of course. I actually think that when they're good (and perhaps it's more of a challenge to make these good), they are immensely powerful.
Your/your movie's/your company's website, Facebook, whatever else?
Production site: www.ringthebellsproductions.com
Acting site: www.galiabarkol.com
Anything else you are dying to mention and I have merely forgotten to share?
Thank you for the interview and your generous feedback!
Thanks for the interview!