Your new movie Fifteen - in a few words, what is it about?
The film takes place on the night of October 29th where two roommates are getting ready for a Halloween party they are hosting. A serial killer, nicknamed "Truman" (for his sick and twisted Truman Show style show) is broadcasting his bloody exploits to the masses, via Twitter's Periscope app. Tonight, he's about to meet his match. Fifteen was fully interactive in that Periscope users could comment and engage Truman, helping entice the actors decisions and plot direction.
Fifteen was originally streamed live on the internet - care to explain exactly how, and who came up with the idea for live-streaming, and how did everything come together?
I thought up the idea of a live movie over Periscope within 3 minutes of installing the app and understanding how it worked. It was a real lightning bolt moment of what it could mean for a new form of storytelling. I reached out to Ryan Turek at Blumhouse Productions to pitch the idea and he was immediately supportive. Blumhouse has a strong grasp of what is cutting edge and is always rolling out film projects incorporating new and consumer based-technology; I thought this might be right in their wheel house.
From there we were off to the races with mere weeks to prepare for the perfect horror movie release – Halloween.
What were your inspirations for writing Fifteen, and did you intend it to be a "live performance" from the get-go?
The writing came out of the concept, definitely. I was set out to make an experience that could blur the lines of fiction and reality, since Periscope gives viewers the opportunity to interact with the actors, we were able to incorporate moments where Truman was able to directly address viewers comments.
Truman is sort of Dexter-meets-Patrick Bateman in that he really enjoys killing, doesn't mind boasting a bold and often "bound to be caught" edge to his kill locations and victim choices. Only we've giving him the added advantage of modern technology to invite the world to watch. The idea of Fifteen is what happens if a killer had built up a bit of an audience, had gained a bit of an "invincible feeling" getting away with his killings night after night. How much would he believe his own hype, his sick success and get more theatrical with each outing.
How long did you all rehearse for the film actually, and how much was set in stone from the beginning, and was there room for improvisation?
We had a table read and a walk through one day and then three days of rehearsal which were also tech rehearsal days. It was a very condensed schedule. I was confident in the cast we had to execute everything with precision. We had a lot of room for improvisation. When working on a single take film/shot like this the timing of what you write has to be massaged to fit the timing of the location you are filming at and all of the logistics of making the camera moves work, the activing moments, etc; how to have that all flow in a seamlessly and natural feeling performance.
Because the film is "found footage", seen through the eyes of Truman's iPhone over Periscope, you are dealing with the first person perspective which gave us lots of room to play with how to alter traditional methods for special effects make-up, stunts, lighting and all other areas of filmmaking. We had to think outside of the box in the methodology of achieving each moment which meant adjusting the script here and there. Also having this much rehearsal gives the actors time to play with the dialogue and character and bring everything to life, improving on the blueprint laid out. I personally love it when cast and crew bring new ideas forward. There is rarely the chance that what I wrote on the script page is the absolutely best and final and couldn't possibly be improved in some way moment.
What can you tell us about your cast, and why exactly these people?
Both Sarah Booth (Jessica) [Sarah Booth interview - click here] and Neil Napier (Truman) come from a lengthy background in horror and sci-fi as well as stage performance. It was important to me that the two leads have a background in longer takes, stage combat and improv. When you are live anything can and will go wrong. Neil and Sarah have acted together on SyFy Network's Helix, and coincidentally it is Neil's character that kills Sarah towards the end of season two. Though I'm married to Sarah I would never cast her in a project if I felt she wasn't perfect for it. After we collaborated on The Scarehouse, I knew her range for stunts and being terrorized. I also know she never tires and is incredibly gracious with her fellow cast and crew.
With Neil, he was also saddled with the responsibility of being the camera operator for the majority of the film before Sarah takes control of the iPhone and films the remainder. When Helix was in production I was invited as a guest on location in Montreal and had a chance to watch Neil at work. I remember telling him that day how I really enjoyed seeing him give a great performance in the simplest of moments. It was a set-up where two actors were having a critical conversation and his character is simply reacting and listening to the information. His nuances in gestures and expression blew me away because this was the most throwaway of any shot in the episode, yet he was committed to giving the director the most range to choose from when editing the episode together. It was a real blessing to have seen him on another set before meeting him in person and discussing the role of Truman with him. The energy I saw that day on Helix was magnified tenfold. Neil is beyond professional and threw himself all in with making Truman's exploits as real as possible. I largely attribute his performance to audiences believing Fifteen was real; real enough to call the police during the broadcast!
The remainder of our cast, Alastair James, Paula Jean Dixon and Hannah Kat Jones are newcomers to working with me but after reviewing their material and hearing their enthusiasm for what we were setting out to do I was convinced they too were perfect for the roles. It's scary to attempt something brand new yet I never caught a moment of fear that the challenge was overwhelming. It really was a dream cast to work with.
As a director, how much influence did you have on the actual live performance once it was happening, and was there any way (or need) for you to fix things once the transmission had started?
This is a great question! Yes yes yes! Murphy's law struck right away. Neil had a tiny ear-piece we had rented and used in rehearsals. I had a walkie-talkie that communicated directly to his ear. This was only in case of emergencies, say the camera was covered in water, the broadcast signal dropped out or a timing cue was going to come early or late. It was the back-up to endlessly rehearsing for precision timing. We're talking about a twenty minute unbroken take with a lot of moving parts from live sound effects, live stunts and blood effects to moving in and out of the house location. We were dealing with consumer technology, regular home internet signal, a regular iPhone6s so really any number of things could have had this project crash in disaster!
Minutes before beginning the broadcast I ran up to the end of the street to where Truman's car starts stalking the neighborhood. I get there and right away Neil tells me the ear piece has cut out and is only broadcasting static in his ear – distracting, loud static. Now it may have kicked back in at some point but I had to make and executive decision two minutes from show time to place my trust in Neil and let him remove the piece.
Then we start the broadcast. I logged into Periscope within one second of Neil pressing "broadcast", I should have been the first person logged in to watch but boom! Not the case, there were already 400 plus people logging in. The number just kept climbing. During rehearsals we had established that there is a delay from the camera feed to the audience watching between three to six seconds. Never less, rarely more. Knowing this I knew when to give cues to sound effects such as the police siren, the boyfriend calling Hannah's character in the bathroom, etc. Suddently I'm watching Neil live, getting out of the car but on my iPhone monitor he doesn't get out for another minute, maybe a minute and a half. I nearly had a heart attack. I didn't have a clue when to give my cues.
I ran to the front of the house and tapped on a window over and over until I Hannah heard me and opened the window. I used that to hear inside the house so I could hear the real time events and see when Hannah left her bedroom to head for the bathroom. I was able to reestablish timing and make my cues. It felt a little bit like having Obi-Wan tell me to turn off the guidance system in my X-Wing and trust in the force that my instincts would kick in!
Thankfully our behind the scenes camera captured it all happening and we were able to show a few harrowing moments in the making of video: https://www.youtube.com/watch?v=Ew2yHWffpfA
Do talk about the shoot as such, and the on-set atmosphere?
Excitement and dedication. We were all very much aware that Blumhouse embracing this project was like being handed keys to the kingdom. There was a huge opportunity to stand on the world stage and have this fresh idea be seen by many. The other side of that is having the ability to face plant in front of just as much audience and press! You can't beat that level of adrenaline racing through your veins.
I like filmmaking very much but the best for me is when the people I'm collaborating with become friends and there is a true sense of family or community on set. Fifteen had that for the most part. It is nice to have your ideas embraced and people find and match your passion. The idea of working in this industry simply for the paycheck or the need to work baffles me. I never understand that.
The film was shot where I live so it was very much a sense of family, we dined in the dining room, took breaks on the patio and by the pool out back and everyone chipped in beyond their role – actors helped dress sets, behind the scenes worked as production assistants – on a small budget you really are blessed when you have a team that is willing to wear multiple hats to see a production through.
What can you tell us about the reception of your movie?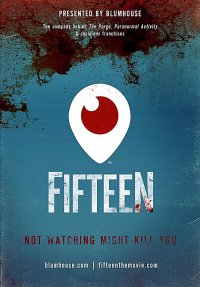 Feeling lucky ?
Want to
search
any of my partnershops yourself
for more, better results ?

The links below
will take you
just there!!!

Find Gavin Michael Booth
at the amazons ...

amazon.com

amazon.co.uk

amazon.de
Looking for imports ?
Find Gavin Michael Booth here ...
Something naughty ?
(Must be over 18 to go there !)

I can tell you a lot actually since there is an instant gratification factor I've never experienced before! Watching live on my own iPhone gave me the ability to experience the film for the first time the same as everyone else. I was able to see the comments and the split between people who were excited to be interacting and watching and the people who were teetering on believing it was really happening. I expected far more trolls given that's what the internet has become full of but the overwhelming majority of comments and interactions were positive.
Since the broadcast ended I've had a flood of messages with enthusiasm for Fifteen and even some invites to pitch other ideas I have. The response keeps coming in as we saved the film to YouTube so that people who missed it live can watch the rebroadcast.
Any future projects you'd like to share?
"Always in motion the future is", Yoda says! Lots of projects in developments. I have a few new projects for rock band Third Eye Blind coming up. I have a new horror feature that is close to being green lit that we'll be able to announce soon and then it is just always writing, always pitching, always hustling in the never ending chase to make movies happen.
Your/your movie's website, Facebook, whatever else?
http://www.fifteenthemovie.com and http://www.youtube.com/fifteenthemovie
Anything else you're dying to mention and I have merely forgotten to ask?
Apparently we did Fifteen within a twenty-four hour window of when Orson Welles did the original War Of The Worlds"radio drama, so it seems fitting that people believed what we did was real!
Thanks for the interview!
Anytime, anywhere. All thanks on this end.