Your new movie The Interview - in a few words, what is it about?
The Interview is about a convicted killer released after 20 years when DNA evidence sets him free. Living the life of a recluse, he finally comes out of hiding to give an interview to a young girl.
What were your sources of inspiration for writing The Interview?
The inspiration was the Stephen Avery case and the Making a Murderer Netflix TV series. I was very compelled by that and I wanted to film something. It had been over a year since I was behind the camera and I was itching to film. So, a short film was in order and to play with the idea of a killer that may or may not be guilty sounded fun.
Of the three main characters in The Interview, who can you identify with the most, actually?
I think Katy, the journalist. By nature, I want to do well and step out of my comfort zone to progress. I think that when you write something, parts of you are in every character you create, but I think that Katy has the most characteristics that I have.
The action of The Interview takes place mostly in one room - so how difficult was it to keep things interesting from a director's point of view?
Itís easy to lose an audience if youíre asking them to sit there and watch two people talk in a room without any immediate action. I was hoping that the story and the writing were good enough to keep them watching and I used some editing, switching from different shot to shot to mix it up and keep it fresh. From a directorís point of view, it comes down to maintaining the characters and keeping it believable. Thankfully, the cast was very good and were very easy to lead.
Do talk about your overall directorial approach to your story at hand!
Because I write and direct, I was able to start my direction well before the camera rolled. I wrote the stories of each character, their motivations, their insecurities and so on, to help the actors get into the heads of who they are. When they came to the shooting location, I had them act it out prior to us rolling camera and began tweaking the scene, although, they did come up with some things that were their own. Jamie Engledow is a good example. She played the role in a much more seductive way than I first imagined it and I allowed her to play a little in the way that she saw it. I feel that Iím still growing as a director. Iíve always considered myself a writer first and Iím still developing my other skills, but my directorial approach is making sure that the point is getting across in the way that I think is most effective. I watch it play out and if there is something that I feel isnít pushing the story forward or not being said in the best way, Iíll step in.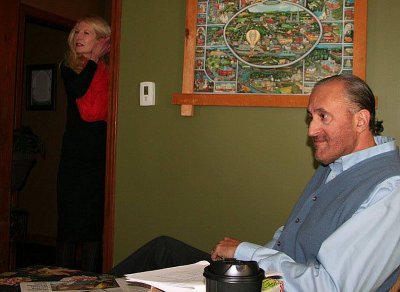 What can you tell us about your cast, and why exactly these people?
Brent Northup plays Jake Martin, the recently released killer. Brent and I have worked together on a lot of projects and have been friends since 2009. Brent is a great actor, a film producer and a teacher at a high school that even teaches a film class. The idea of shooting a short film happened when Brent and I had a coffee at Starbucks. Christina Costello and Jamie Engledow were both introduced to me during the casting of a film we are doing in the near future called Unearthed. It was postponed initially, but after seeing their auditions, it wasnít difficult to choose them. Jamie has this rocker edge that I thought would play out well in the role. She brought that edge and more to the role. Christina is just a sweetheart and she played the role exactly as I thought she would. Morgan Ashley, who has a minor role in this, always shines and I was happy that she worked with me again.
Do talk about the shoot as such, and the on-set atmosphere!
The shoot was great. My crew, Neil Vermette, Rick Caride and Chris Geoffrion, were awesome and the overall fun nature of the shoot made it a great experience. Everyone involved in this project was great and are in this for the love of the game. They had this fire in their eyes and put their all into it. It was all I could ask for as the writer/director. It was easily one of my best film experiences.
The $64-question of course, where can your movie be seen?
Itís on YouTube: https://www.youtube.com/watch?v=J0E8CR4d86Y. Iíve also entered it into a few festivals with high hopes and fingers crossed. Hopefully itíll be shown at a few of those shows as well.
Anything you can tell us about audience and critical reception of your movie yet?
Thankfully, the reception has been very good. I am my own worst critic, of course, and I made some mistakes that I have beat myself up over, but everything from the viewing public has been very positive.
Any future projects you'd like to share?
I have two films getting released worldwide this year. Sickle, my paranormal monster movie and Scary Tales: Last Stop, my horror anthology. Iím also working with John Reign, owner of Reignstorm Productions and Andrew Bard of NeoPhoenix Studios on the biggest production of my career to be announced in the near future. Itís very exciting times.
What got you into making movies in the first place, and did you receive any formal training on the subject?
I was 12 years old and my parents had one of those clunky VHS-loaded camcorders. I had watched a Don Dohler film by the name of Galaxy Invader and it was very low budget. I had never seen a movie that looked like that and I had been writing since the time I could hold a pen. So, the idea of making my own low budget production was very appealing to me. I began shooting short films with my friendsÖ just stupid skits with aliens, zombies, and every other stupid monster that you can think of. My love of film was born. My training has been ďon the jobĒ. I have brought in film people and Iíve become a sponge as much as I could, learning the craft and trying to become capable in all categories.
What can you tell us about your filmwork prior to The Interview?
My first feature film, Evil Awakening, was shot in 2001. My group of friends and I were shooting short films on a weekly basis, basically, and I was renting horror films from Hollywood Video and Blockbuster a lot and saw how these no to low budget films were getting released. I shifted from short film to feature and we gave it a shot. I followed up with Rise of the Scarecrows, my most popular title still, in 2003, and got a distribution deal in 2008. Both films were ďbackyardĒ films and amateurish, but they got me in the game. In 2009, I made Family Secret, which is still my sentimental favorite film. It was a huge step up from the other two and was my throwback to the seventies with a whodunit killer and twist after twist. It still was low budget and I didnít make a perfect production, but I was very proud of my step forward. Scary Tales, a horror anthology was next, Lone Gunman, a conspiracy short, Sickle and Scary Tales: Last Stop was next. I directed The Cowboy and the Tavern, a comedy/drama, written by Brent Northup and being released worldwide in the near future. I was fortunate to be involved with Samurai Cop II: Deadly Vengeance as well.
Your entire body of work never strays too far from horror - a genre at all dear to you, and why (not)?
Iíve written dramas, comedies, action films, but you canít make a low budget action film. A horror film is affordable and thatís where I am currently, although I have a great love for the genre. I own a horror review website (scaredstiffreviews.com) and I gravitate to the dark stuff, but I feel that I can write just about anything. There is a silly side to me, a serious side, and the dark side. Depending on my mood will dictate what I write. I am a compulsive writer as well. If I printed out all the screenplays I wrote, I could build a house with them, and collectively, Iíve written about 60% horror. I desperately want to make an action film.
I was fortunate to direct a drama: The Cowboy and the Tavern and I find my horror work (minus my first two titles) were dialogue-driven films that rely on the story and writing to carry them. So, directing a drama proved to be more of the same.
How would you describe yourself as a director?
A work in progress. I feel that I am capable and Iíve gotten a lot better over the years, but I think that I am still growing and improving.
Your favourite movie?
12 Angry Men. A great example of a great script and actors coming together on a project. This was a test of the writing and acting. It all takes place in one room and it zooms by at a rapid pace. Iíve watched it a million times. I also dig The Texas Chainsaw Massacre, Children Shouldn't Play with Dead Things and Die Hard.
... and of course, films you really deplore?
I am not a fan of found footage, for the most part. The subgenre has ran its course but filmmakers havenít gotten the memo and keep on producing these easy films that have very little thought. Of course, if done right, they can be great, but very few are done right. You see a great deal that fill 85 minutes with meaningless conversation, leading to a shocking ending. The spoof movies can go too. The Wayans brothers need to pack it in and move on. Specifically films I do not like, and there are many, but anything Rob Zombie, Iíll usually pass. Credit to him for making a career and you canít argue with success, but I find his work to be piss poor.
Your/your movie's website, Facebook, whatever else?
People can go to scaredstiffreviews.com or my Xposse Productions Facebook page: https://www.facebook.com/XPosse-Productions-161627670541382/. I accept all friend requests and appreciate any and all support.
Anything else you're dying to mention and I have merely forgotten to ask?

Feeling lucky ?
Want to
search
any of my partnershops yourself
for more, better results ?

The links below
will take you
just there!!!

Find Geno McGahee
at the amazons ...

amazon.com

amazon.co.uk

amazon.de
Looking for imports ?
Find Geno McGahee here ...
Something naughty ?
(Must be over 18 to go there !)

Not really. I really appreciate the interview and positive feedback for my short film The Interview. I just encourage anyone and everyone to check out my work, including Evil Awakening and Rise of the Scarecrows (both on Vimeo), Family Secret, Scary Tales, and to look out for Sickle and Scary Tales: Last Stop. I appreciate any and all interest in my work.
Thanks for the interview!
Thank you!