Your new movie Scaring Sheri - in a few words, what is it about?
Scaring Sheri is a love letter to all the horror films that I grew up with. It follows a young couple as they search for excitement in the form of sneaking into a haunt in the late night while they are closed down. It turns out to be far more exciting than they anticipated.
With Scaring Sheri being set in a haunted house attraction, did you write the script around a specific location you already had secured, or did you write the script first and find (build?) the location only after? And while we're at it, do talk about your location and what it was like filming there!
The idea for Scaring Sheri came to me after exploring Haunted Overload in Lee, NH. I had recently been approached to direct a film for the upcoming United States of Horror anthology. Basically this anthology contains shorts from all of our 50 states. So when I was asked if I wanted to represent New Hampshire I couldn't say no. The problem was I had no idea what my piece would be. Until I discovered this haunt not too far from my home. After that the script basically wrote itself. Haunted Overload is a multi-award winning haunt, drawing thousands each season. They have a one-of-a-kind set-up that is so beautiful and intricate that they have tours open during the day so you can enjoy all of the detail that went into everything. I definitely recommend checking it out. We filmed until 4am in 40 degree Fahrenheit and loved every second of it.
Do talk about Scaring Sheri's approach to horror for a bit!
Like I said, Scaring Sheri is my love letter to horror. Tobe Hooper and Wes Craven and John Carpenter and all the others. These are the movies that made horror fun. Nothing too deep. No important subplots. Just horror for the sake of horror. Just for the fun of it. Young fornicators plus masked psychopath always adds up to smiles in my book.
Do talk about your cast, and why exactly these people?
This entire process from idea to set happened very quickly. Casting included. Right away I had Sheri Lee in mind for the lead. I had worked with Sheri once in the past and couldn't wait to work with her again. She has such natural talent and a true passion for the art. I have also seen so much of her work during the festival that I curate, the Happenstance Horror Fest. There was no doubt in my mind that she would be perfect. Johnny J Gordon was a late addition. I had never worked with him before and most of his experience came from stage performance, but I am so glad I went with him. He brought the character to life. Bringing just enough "extra" to set. Tom Sadowski it our killer. He is actually the stage manager at Haunted Overload. He literally scares for a living. So that was an obvious decision.
A few words about the shoot as such, and the on-set atmosphere?
The work environment was perfect. I kid. It was wet and freezing. But the cast and crew never complained. They warmed the entire set with their tangible passion. I could not have pulled it off with any other crew in the world.
The $64-question of course, where can Scaring Sheri be seen?
Right now the only way to watch the film would be to catch it at a festival as we are just starting to submit now. Other than that you want to look out for the upcoming anthology, United States of Horror, that will be available for purchase and VOD this year.
Anything you can tell us about audience and critical reception of Scaring Sheri?
So far we have played at one festival, Severed Limbs Fest, where we won an award for Best Director.
Any future projects you'd like to share?
At the moment I have many scripts up my sleeve, but my focus is to find investors to turn Scaring Sheri into a feature length film.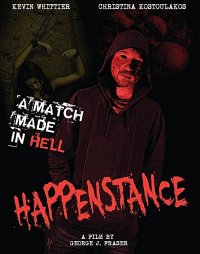 Feeling lucky ?
Want to
search
any of my partnershops yourself
for more, better results ?

The links below
will take you
just there!!!


What got you into making movies in the first place, and did you receive any formal training on the subject?
One day I woke up and decided to make a film. No experience to speak of, knowing noone in the scene. I just decided to do it. I had a concept, wrote a script, gathered my friends and we made my first film, Happenstance. The movie had no reason to come out as good as it did but I love it, and from there on I have never looked back. When I released it I threw a huge viewing party. It was a blast. That's where Happenstance Horror Fest was born. I have held it every year since. We love to spotlight filmmakers that maybe lack in budget but not in heart. I myself have managed to make all of my films on zero budget so I know the struggle.
Your favourite movies?
Dawn of the Dead (original), Texas Chainsaw Massacre, Lost Boys, Monster Squad.
... and of course, films you really deplore?
Hostel and other such torture porn, and any horror film where they use CGI instead of supporting practical effects artists.
Anything else you're dying to mention and I have merely forgotten to ask?
Share the blood, share the love!
Thanks for the interview!