Your new film Beyond Oz - in a few words, what is it about?
Dorothy winds up in Oz after a huge storm, and with the help of her companions Cornielious Maize (Scarecrow), Nick Chopper (Tin Man), and Leonard Leonardo (Cowardly Lion) she fights to save the magical land from the torment of the Wicked Witch of the West.
What got the project off the ground to begin with?
I wanted to make a full length feature with fantasy elements. Something that would really push the limits of Funuda Films as a company. I looked into different options but in the end, The Wizard of Oz caught my eye. Like so many other people, all I knew of the story was what I learned from the famous 1939 movie. I had no idea that there was actually 14 books total in the Oz series. I read about all sorts of crazy characters and places that have long since been forgotten. I delved into the pages of L.Frank Baum's work searching for anything and everything I could include in my film. I found more than I could have ever asked for - and then some! The rest is history.
What got you interested in L.Frank Baum's source material, and how faithful do you remain to his stories?
The characters. Oh my stars! They are so diverse and creative. Ozma, Tik-Tok, Wogglebug, and many others. I couldn't belive how well their existance had been hidden from me. The elements of his books were intriguing and exciting - as they should be. If you are writing a children's book you want to make sure you keep thier attention. I found myself turning the pages with great anticipation.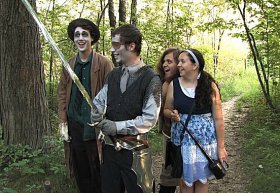 Before I wrote a single line of the script I began researching L.Frank Baum. Eventually I discovered that he himself made quite a few Oz movies. And in those movies, the stories were very different from the books. Most of the time their scenes were compleatly unrelated to his own source material. That was when I started to feel more comfortable with the idea of making my Oz something completely different. Beyond Oz has the basic story arch of the first novel, but there are many elements that I added myself. I feel confident that if Baum was still alive today, he would respect my adaptation for what it is. Something different.
When it comes to Oz-movies, I think it's fair to say that everybody will immediately think of the 1939 adaptation Wizard of Oz starring Judy Garland. Was that movie (or any other adaptations) at all an influence on your film?
I am a fan of Victor Flemings Oz film, but for legal reasons I couldn't really let it influence my work too much. The books are the only Oz material that is royalty free, so I drew my inspiration from those. However, I will say that the phrase "Lions and tigers and bears - oh my!" pops up in one of the scenes. It cracks me up every time.
Any other sources of inspiration when writing Beyond Oz?
I have a big family, so when I wrote it I wanted it to be something that I knew they would really enjoy. When writing a movie you really need to think "What is the point of this film? What am I trying to say to my audience?" The key element of the The Wizard of Oz-story is the longing for a sense of home and family. I think that was what really made me fall in love with Oz in the first place.
How would you describe your directorial approach to your subject at hand?
No matter how much hard work needed to be done (which was a lot), I wanted to make sure that everybody involved was having fun and learning a lot during the process. I don't make movies for the money or the attention. I do it because I adore filmmaking and I want to learn more about it. I think everybody who is a part of Funuda Films feels the same. The best way to sharpen your artistic skills is to get your hands dirty. For Beyond Oz, my focus was on character development. Since the strongest elements of the books were the characters, I wanted to make sure they were properly represented. I encouraged my actors to make their roles "their own". I wanted their performences to be memorable and original. They didn't dissapoint.
What can you tell us about Beyond Oz's cast?
They are a crazy bunch, and that's perfect. Oz is a crazy place. All of them are so talented and dedicated. I honestly couldn't ask for a better group. I don't know if anybody realizes this, but since Funuda Films is so small I can't possibly afford to pay them. But even though there wasn't a paycheck at the finish line they gave it their all. And that alone is such an inspiration to me. I always make sure that the finished product is something they can be proud of.
As far as I know, you play the wizard himself in Beyond Oz - so what can you tell us about Gerrit Nieuwenhuis the actor, and to what extent can you identify with your character?
The Wizard actually lived in the circus before he landed in Oz, and since my parents own an entertainment business I know what that is like. Clowns, inflatables, cotton candy, magicians, animals, puppet shows - the list goes on. Also, as an artist, the idea of making people believe you are something you really aren't is familiar to me. I have always loved acting, so to make up for the fact that I haven't been on the stage since my senior year of high school I give myself performance opportunities through my film projects.
As far as I know, you have premiered Beyond Oz only recently. So what can you tell us about audience and critical reception so far?
I heard great things from the people who saw it! Granted that there are some rookie mistakes here and there. The film as a whole was thoroughly entertaining. People were already grilling me for information as to when DVDs will be available. I was so nervous about what people would think of the film, but now I am sure that Beyond Oz is everything I hoped it would be.
Let's go back to the beginnings of your career: What got you into filmmaking in the first place, and did you receive any formal training on the subject?
When I was young, my dad gave my sister and I a video camera. At first, we just made nonsense videos that were completely ridiculous, but as the years went on, our projects got more and more elaborate. Around the age of 13 I got my first editing system called Dazzle. It was a really badly made program, but it granted me the opportunity to start learning the art of film editing. Then finally, as a sophomore in high school I took a class called A/V (audio visual). Mr. Blevins was the teacher, and I can't even explain how big of a step that class was for me. It's literally the reason why I can make movies like this one. After I left high school all I wanted to do was keep making films. Mr. Blevins even let Funuda Films rent his equipment to do just that. He is my hero.
What can you tell us about your filmwork prior to Beyond Oz?
There are countless silly videos from my childhood that my friends and family helped me make. But the first REAL movie I made was a short called Danny Boy. It was a musical of sorts. And it was horrible! Haha! But it gave me a peek at what filmmaking is really all about. Summer of 2008 I made a short film based on Alice's Adventures in Wonderland and Through the Looking Glass. It's still on YouTube and has over 82,000 views. After making that, I decided it was finally time to try making a full length feature. Ascendancy was filmed in summer of 2010. It was a religious movie that dealt with spiritual warfare. The premiere for that really made waves, and I started to see how far Funuda Films had come and how far it would continue to go.
A few words about your company Funuda Films?
It's small. About 20 people so far at its core. I am at the head of it. "Funuda" is a word that my sister made up when we were trying to decide on a company name many years ago. It's stuck ever since.
Any future projects you'd like to talk about?
I had wanted to make a film adaptation of the classic novel Dorian Gray. It would be a much more faithful adaptation than the ones that already exist. But period pieces are very expensive, and I don't think we could afford to do it... yet. So with that on the back burner, it's free game. I have lots of possibilities swimming in my head right now, but nothing definite. At least, not until we come to a descision as a team. Rest assured, Funuda Films will be back... and soon.
Filmmakers who inspire you?
I absolutely love Tim Burton (don't judge!) - I know he's become a sort of brand name, and I have to admit that some of his recent stuff is not so great. But movies like Edward Scissorhands, Big Fish, and Nightmare Before Christmas shaped who I am today. Not only as a person, but also as a director. Classic Disney films are of course a favorite as well. I really admire M Night Shymalan's work (with the exception of The Last Airbender - my sister and I are very serious about our love of the animated series, and that movie just... it was painful). I know his name is usually followed by a resounding "booooo!!!!" noise, but I don't care. There is something about his filmmaking style that stirs something in me. Lord knows I love me some Kung Fu cinema. Others who inspire me are Hayao Miyazaki, Peter Jackson, Darren Aronofsky and Alfonso Cuarón. The list is really long.
Your favourite movies?

Feeling lucky ?
Want to
search
any of my partnershops yourself
for more, better results ?

The links below
will take you
just there!!!

Find Gerrit Nieuwenhuis
at the amazons ...

amazon.com

amazon.co.uk

amazon.de
Looking for imports ?
Find Gerrit Nieuwenhuis here ...
Something naughty ?
(Must be over 18 to go there !)

Mirrormask, Crouching Tiger Hidden Dragon, Amelie, Alice in Wonderland (Disney), Lord of the Rings trilogy, Howl's Moving Castle, Perfume: Story of a Murderer, Mary Poppins, Donnie Darko.
... and of course, films you really deplore?
The Last Airbender, Daredevil, Madagascar, The Notebook, Cars, Tales of Earthsea.
Your/your movie's website, Facebook, whatever else?
www.funudafilms.com is existent, but is still in the beginning stages. We also have a Facebook page and a YouTube channel - both under Funuda Films, of course.
Anything else you are dying to mention and I have merely forgotten to ask?
Nope, I think I have blabbed enough, hahaha! Thanks for the interview.
Thank you for the interview!