Your band The Selectrics - in a few words, how would you describe your sound?
Retro, James Bond, 1960ís Mod.
Major musical influences on The Selectrics?
Red Wine. Anything Phil Spector did. Nancy Sinatra, The Ronettes, The Ramones, The Cramps, April March, The Raveonettes.
How did The Selectrics come into being initially, and what can you tell us about your partner-in-crime (and not only that) Greg Camp?
When Greg Camp, co-founding member, guitarist and primary songwriter for the band Smash Mouth, left that band in 2008, we started The Selectrics. Gregís a multi-talented creator. The Musician, The Songwriter, The Producer and The Performer; he does it all. Through all the different bands that he creates, he manages to stay true to what inspires him. You can see just a small part of his track record by listening to what he created for Smash Mouth. Currently, besides working on The Selectrics EP, heís collaborating with Benji and Joel Madden from Good Charlotte, as well as creating a another project with Josh Moran. Our first project was recording a few holiday songs for our family and friends and that transpired into a full-length original album available now. We plan on releasing the earlier recorded holiday album later this year to the public after we add a few originals.
What are The Selectrics studio sessions and live shows usually like?
In the Studio we transform into our alter-egoís Collin Sik, and Venus Honeytrap. We debate, and bicker, and then come up with some amazing sounds. Then when itís all said and done I praise Greg on his many talents and he praises me on my perfect pitch. When weíre playing live Greg and I flirt with each other and try to throw one another off for fun. We want to keep the shows light and entertaining.
How would you describe your vocals, and what got you into singing in the first place? And what can you tell us about your singing experiences prior to The Selectrics?
My vocals are brassy and sassy and a little bit classy. J After perfecting Ariel's & Belleís Disney voices, and being a Karaoke star (in my own mind), Greg heard me singing in the car. He asked me if I ever wanted to make music and I told him I always wanted to make a holiday album. We turned one out for our friends and family prior to the original album and that holiday album is coming out this year, 2013.
The Selectrics have placed songs in a few movies too, right? So what can you tell us about these movies, and what kind of a feeling is it to see your tunes set to someone else's vision on screen?
When you actually see and hear your music placed within a story itís a bit euphoric and surreal to know that your sounds are part of the creative process and itís feeding the minds of so many viewers. Greg composed and scored the entire film Valley Of The Sun. He used Pucker in one of the scenes, and we also performed a cover of Peter, Bjorn & Johnís Young Folks for the end credits. Arrangements was an interesting project to place a song in, because I also had a supporting role. In one scene that I was in Wrong was placed. I felt like a scene hog because my voice was everywhere. I think I pretty much giggled through that entire part during the screening. J And Truth Be Told was a film shot in Los Angeles that used all instrumental versions of our stuff. I have to say, mixing two of my favorite things together, film/music, is a dream come true for me. Iíd like to do this much more often.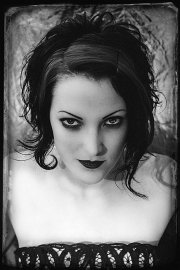 Speaking of movies, you are also an actress - so what can you tell us about that aspect of your career?
I love acting. Even all the pressures that come along with the creative process. Becoming those characters, and conveying my creations to film, and to the director, is exhillerating and sometimes very scary.
Would you like to talk about some of the movies you were in?
Sure. I had the most fun creating a character in the film Arrangements where I played a mortician. Old Brown Shoe is a dark comedy sort of inspired by Dr. Horrible Sing-Along-Blog. It was the creatorís rendition of the Beatles song. Iím also gearing up to direct a few of my own writing projects.
What got you into acting, actually, and what can you tell us about your training as an actress?
When I was a little girl, I used to to record myself broadcasting make-believe news. Iíd then bring my project to my friend and weíd play Newscasters. What I would do to find those tapes!!! J I then started to put together my own plays (probably about 3 minutes long) and put them up in front of all my stuffed animals. They loved me! Acting classes began. It was The Beverly Hills Playhouse where I learned how to use my tools. I think before realizing I had a toolbox I could draw from it was a crap-shoot. J I continue to grow my craft in a class and will always have a coach to keep me warmed up and greased.
Would you also like to talk about Gina Marie Camp the photographer for a bit?
Iíd love to. I started shooting objects about 5ish years ago. Greg left his skateboards around the property. Surfboards, bikes; it was Santa Cruz and so there was a lot to shoot. Once I graduated from cats and dogs to humans I realized that what I loved about shooting was the framing aspect of a beautiful personality. I say ďpersonalityĒ because there is always something behind those eyes and that smile. Itís a life Iím trying to show; I want to find ways to capture that in one single image.
Any other talents of yours I forgot to mention you'd like to talk about?
I am a writer. I have a crazy imagination and something will pop into my head and I have to pen it as soon as I can. I have about 20+ short stories, short screenplays, and 2 feature length screenplays that Iím always working on.
Any future projects of whatever nature you'd like to talk about?
I think I already mentioned most of our upcoming project but letís bring it homeÖ J Greg and I are putting out an EP in the next few months. The Selectrics are going to rough it up a bit and see what happens. We also have a holiday album coming out about Sept 2013. Itís a bunch of your favorite holiday covers, along with a few originals. Greg project with Benji and Joel. And Greg is also a part of a killer band with Josh Moran that Iím a huge fan of. As for me, I have an upcoming project Wilt - The Wilt Chamberlain story that Iím looking forward to being a part of. I hope to produce 2 of my short films and direct another by the end of this year.
Musicians, singers, actors, photographers, whatever else, who inspire you?
As for currently working artists: Daniel Day-Lewis blows my mind with his transformations and magnificent work. And as for past & present Daniel Craig & Sean Connery are my favorite James Bonds, and there is something about Burt Reynolds and his thick black hair that gets me excited! Garry Winogrand (who is at the SF Moma right now and Iím jealous that I canít go) shows that personality that I was talking about earlier. I love his stuff.
Your favourite movies?
This is hard because it changes every year. Argo at the moment. It was my top pick this year. Greg loved Rust & Bone. I think we can both watch Pulp Fiction and Resevoir Dogs every day if possible.
... and of course, films you really deplore?

Feeling lucky ?
Want to
search
any of my partnershops yourself
for more, better results ?

The links below
will take you
just there!!!

Find Gina Marie Camp
at the amazons ...

amazon.com

amazon.co.uk

amazon.de
Looking for imports ?
Find Gina Marie Camp here ...
Something naughty ?
(Must be over 18 to go there !)

My new years resolution is to try to find the art in everything I see and hear. No criticizing. Let me tell you, itís tough but amazingly Iíve managed to keep my mouth shut. But now youíre askingÖ Okay fine, I give up. I was not a fan of Silver Linings Playbook. Am I horrible for saying that? The weird dance scene just threw it whacky for me. I enjoyed the characters that both Jennifer Lawrence and Bradley Cooper developed, and I thought the dark story was pretty brilliant, but when that whole competition thing happened I was like ďWHAAAA?Ē Iím a total jerk right now.
Your/your band's website, Facebook, whatever else?
www.facebook.com/theselectrics
Weíre on Twitter too, but I donít know how to find us or use it yet. Ha. J
If you want a taste of some of the things we create check out some songs at:
www.soundcloud.com/theselectrics
www.soundcloud.com/greg-camp-musique
www.soundcloud.com/moshjoran-1
Thanks for the interview!