Your movie Evil Intent - in a few words, what is it about?
It's about a strange love triangle to leads to manipulation, betrayal, insanity, and murder.
What were your sources of inspiration when writing Evil Intent, and was any of this based on actual relationships you've had (hopefully not to that extreme)?
I don't know that I had any particular inspiration for the script. I did have the general idea for the film come to me on a Tuesday, and over the next couple days I tossed ideas around in my head for the script. On Friday afternoon I began writing the script, and I had a completed first draft by Monday morning. The film isn't based on any actual relationships I've had (thankfully), but there's still time!
Of all the main characters in Evil Intent, who could you identify with the most, actually?
It would have to be Paul, primarily because he's the only character in the film who isn't insane, evil, or both. I'd like to think I'm not either of those things, but I imagine there are some people out there who might disagree.
Do talk about your movie's approach to horror for a bit!
I focused more on the horror/thriller aspect with Evil Intent rather than the gore approach. There's very little blood in the film. The goal was to present a scenario that viewers could find themselves in - that's where real horror can present itself. Hopefully when people watch the film they get the feeling that something like what transpires in Evil Intent could infiltrate their lives. The best horror is that horror which comes off as plausible to the viewer.
At least to me, Evil Intent is also a darkly ironic movie - do you agree, and would you like to elaborate on that?
I like your use of the word "dark". The film is an exploration of how deep people might go into the darkest recesses of their psyches to get what they want. In the case of Paul (played perfectly by Jason W. Griffith), he will go as deep as he has to to show Stephanie (fantastically played by Giovanna Leah) how much he loves her and how devoted he is to her. In the case of Kelly and Tricia (I couldn't have asked for more from Libby Baker and Andrea Rabold in these roles), they are willing to thoroughly explore their darkest corners to get what they want.
With the movie being mostly set in one apartment, how limiting but maybe also liberating was this for you as a filmmaker?
We've shot a number of films in basically one location. In fact, Libby Baker is one of the stars of our comedy feature Separate Checks where 98% of the film was shot in the studio apartment I was living in at the time. There are limitations in shooting in one location - for example, you won't see car chase scenes in films like this. But overall I find shooting in this manner to be quite liberating. It's liberating in that we have all of our equipment close at hand, and it takes only a few minutes to move from one room to the next when we need to shoot the next scene. It's also quite convenient because everything we need, from wardrobe changes to batteries to food, are all right on hand, so we save time with the shoot not having to track these kinds of things down. And we certainly don't have to worry about wasting hours breaking down all the equipment to load it into cars, drive to the next location, and set it all up again. So whatever drawbacks there are to shooting a film all in one location, there are twenty positives that more than balance out those drawbacks.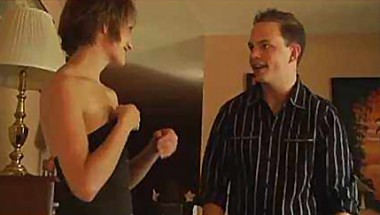 What can you tell us about your overall directorial approach to your story at hand?
In general I'm a pretty laid back director. I try to allow the script and the actors to do the directing, stepping in occasionally when something needs to be changed. With Evil Intent, however, since I had such an incredible cast to work with, I pretty much stepped back and let them do their thing. They all brought great depth and interpretation to the script and their characters, and I could have only muddied things up by saying too much to them.
You also appear in front of the camera in Evil Intent - so do talk about your character, and have you written him with yourself in mind?
My character, the psychologist, is primarily a facilitator in the film, getting Stephanie to tell her tale. I did write that role with myself in mind, as I've done before with characters like Joe McCann in To Die is Hard and Petey in The Worst Movie EVER!. I also write roles for specific cast members with whom I've already worked. For example, with Andrea Rabold from Evil Intent, I specifically wrote the character of Kathryn in our upcoming horror film Paralyzed with Fear (that also stars Kane Hodder of Friday the 13th fame) with her in mind. I knew she would be fantastic in that role, and she was!
What can you tell us about the rest of your cast, and why exactly these people?
I had worked previously with Libby, Andrea, Giovanna, and Jason in our earlier films Therapissed, Guernica Still Burning, and Bad Movies, Good Showers, and Civil Engineers. I knew all of them would be great in Evil Intent because they're all talented, they all show up on set knowing their lines, and they show up on time. In short, they're all real pros. I tend to work with a lot of the same cast (and crew) members over and over because when I find people who are talented and fun to work with, I want to work with them more. In addition, for the role of Paul I needed an athletic guy since part of Paul's backstory is that he's a former athlete, and Jason fit that bill. And with the women - well, they're all easy on the eyes, so that's a bonus.
Do talk about the shoot as such, and the on-set atmosphere!
It was a four-day shoot that we did over the course of two weekends, then later we spent a few hours one day doing some pick-up shots. It was a fun, relaxed shoot. All the cast members are real professionals (none of them are a primadonna), and the crew members were all great to work with as well. From DP Gene Yanza to camera guys Nick Falls and Tom Doyle to sound guy John Schmidt, we all laughed and enjoyed each other's company all weekend long, both weekends. This was one of our many shoots that I was sad to see come to an end because I was having such a great time making a film with these people.
The $64-question of course, where can Evil Intent be seen?
We've recently entered into a deal with the 24 Hour Movie Channel (a Roku network) for them to add six of our films, including Evil Intent, to their catalog of films. All films are free to watch on the 24 Hour Movie Channel, viewers just have to watch a few commercials that are sprinkled in during the film. The other films we now have on this channel are the comedies To Die is Hard, The Worst Movie EVER!, Therapissed, and Separate Checks along with the horror/comedy Midget Zombie Takeover. We've also just reached an agreement with the 24 Hour Movie Channel for them to add our two new films, the dark comedy/thriller The Ghosts of Johnson Woods starring long-time film and TV personality Joe Bob Briggs and the horror/comedy Auto Shop of Horrors, to their lineup - those two films should be available in another month or two.
Anything you can tell us about audience and critical reception of your movie?
We've received an almost universally positive response to Evil Intent. When the film made its limited theatrical run, we were able to get a number of critics to review the film, and every review was positive. We also received overwhelmingly positive feedback from fans. Unfortunately, this didn't correlate into gaining a large audience for the film since our distributor was never able to land a wide distribution deal for the film. With Evil Intent now airing on the 24 hour Movie Channel, there's been renewed interest in the film, and we've picked up more positive critical reviews. Hopefully the fan base for the film continues to grow. My thought is that it's simply a matter of getting people to watch Evil Intent because once people see the performances put in by Giovanna, Libby, Andrea, and Jason, they'll love the film and (hopefully) tell their friends about it.
Any future projects you'd like to share?
It's a busy time for us. We have two new feature films that we'll be releasing in 2017, the drama LoveSexHate that stars Giovanna Leah and Jason W. Griffith from Evil Intent, and the horror film Paralyzed with Fear that stars Andrea Rabold from Evil Intent. We're also in pre-production on a comedy feature titled Poetry Slammed that we're looking to shoot this summer (and will star me, Jonathan Hodges from Midget Zombie Takeover, and Joe Maurer from Paralyzed with Fear). In addition to all the feature films, we have short films that will be part of the British horror film anthologies 60 Seconds to Die (which was recently released), 60 Seconds 2 Die 2 (which will be released in 2017), and 60 Seconds to Die 3 (to be released in either 2017 or '18). I shot and appear in a segment for the feature film Ted Bundy Had a Son that's due out in 2017. And I was interviewed for the documentary VHS Lives: A Schlockumentary, a film that looks back at the halcyon days of the video tape.
Your/your movie's website, Facebook, whatever else?
The Facebook fan page for the film can be found at https://www.facebook.com/evilintent.glenn/. I hope fans will go there, check it out, and give it a "Like". My personal website that I use for booking speaking engagements is www.glennspeaks.com.
Anything else you're dying to mention and I have merely forgotten to ask?

Feeling lucky ?
Want to
search
any of my partnershops yourself
for more, better results ?

The links below
will take you
just there!!!


There's an interesting tale about Evil Intent that I like to tell to budding filmmakers when I do speaking engagements, and it has to do with the edit of the film. When the film was initially edited, the editor wasn't able to put the time into the edit that was hoped for, and the film simply wasn't good. When I watched this edit I was crestfallen - when I was on set during the shoot, it seemed like we were making a really good film, but when I watched the film, it was terrible. It was flat, it wasn't engaging, and it certainly wasn't thrilling or horrific. My thought upon watching it was that I'd send a copy of the film to each cast and crew member, then never think about the film again, merely chalking it up to a humbling experience. When I told my girlfriend Diane Henry about this she asked to watch the film, so one weekend afternoon we sat down and watched it together. When the film ended, Diane turned to me and said, "The acting is great, the writing is great, but the edit sucked." Five minutes later, Diane had convinced me to have someone else do a fresh edit on the film. At that point I contacted Brian Cabrera, and he was excited to do a re-edit of the film. A month later he delivered a totally different film to me. It was the great film I thought I was watching come to fruition on set. It's a simple example of how important the editing of a film is.
Thanks for the interview!