Your movie Therapissed - in a few words, what is it about?
The film is about a slightly twisted psychologist, Dr. Mark Jenkins (played perfectly by Greg Nemer), who has grown a bit bored with being a psychologist and dealing with whiny patients, so he begins to toy with some of his patients by purposely giving them bad advice and encouraging them to imbibe in acts that almost assuredly will make their lives worse.
Sorry if that's a bit of a personal question, but ... is any of this based on personal experience, or in other words, have you ever been in therapy yourself? And/or other sources of inspiration when writing Therapissed?
Nope, none of this is based off personal experience. I simply got to thinking about what would happen should there be a self-centered psychologist who really wasn't all that concerned with whether his patients got better or not. The result was Dr. Mark Jenkins and the confused, sometimes hapless patients who continue to stream through his office.
To what extent could you identify with your film's lead Dr. Mark Jenkins, actually?
Gosh, I hope not at all! Dr. Jenkins is such a tool that I hope I'm not like him. I can identify with some of his patients, though.
Do talk about Therapissed's brand of humour for a bit!
It's a bit twisted as Dr. Jenkins tries to ruin the lives of his patients as they put their ultimate trust in him. Some of the humour, though, is just plain fun or off-the-wall, especially as Dr. Jenkins falls into reveries and fantasizes about some of his patients. I love the performances that Ben Whitehair and Giovanna Leah put forth as the married couple who have a crumbling relationship - the chemistry between Greg, Ben, and Giovanna was fantastic as they played off each other. And actor Joe Filippone was fantastic as a neurotic, insecure patient who is given just awful advice by Dr. Jenkins.
In Therapissed, you've limited yourself to merely a handful of locations - so do talk about these locations for a bit, and what kind of a challenge was it to keep things interesting despite of these limitations?
There were just two actual locations for the film, but we shot in different places to represent other locations. The office scenes where the therapy takes place were all shot in my little studio apartment. All other scenes for the film (other than the short scene that occurs after the credits finish rolling that was shot outside my apartment) were shot at the house that Ben Whitehair was living in at the time. We used the different rooms of the house for different dwellings - the kitchen and family room were used for Ben and Giovanna's house while the bedroom, living room, and dining room were used for Dr. Jenkins's house. I didn't spend much time worrying about trying to keep things interesting despite the limitations because on the micro-budget we were working with, we didn't have much choice!
What can you tell us about your overall directorial approach to your story at hand?
It was pretty hands-off most of the time. When working with such talents as Greg, Ben, Giovanna, Joe, Laurie Clemens Maier, Libby Baker, Tom Doyle, Ashley Henkle, Elena Chin, Lola Manning, and Lauren Yormack, a director doesn't have to do much. They all brought their particular talents to the film, and all I had to do was occasionally give a cast member a suggestion. And with such talents as Nick Falls, Gene Yanza, Tom Doyle (Tom pulled double duty on the film both in front of and behind the camera), John Schmidt, and Adam Madsen taking care of the crew work, the shoot was smooth and easy at all times.
You also appear in front of the camera in Therapissed, playing a particularly annoying patient of the movie's lead - so what did you draw upon to bring your character to life, and have you written him with yourself in mind from the get-go?
I did write the character of Chet with myself in mind. I wanted to play a character who was clueless and a weenie but try to make him believable. He was a really fun character to play, and the way Dr. Jenkins/Greg played off Chet was fantastic.
What can you tell us about the rest of your cast, and why exactly these people?
I had more than a dozen actors audition for the role of Dr. Jenkins, and Greg Nemer was the first to audition, and he absolutely nailed the character. The rest of the day as the actors kept coming through they had a very high bar to try to overcome, but when it came down to it, Greg simply was Dr. Jenkins.
With Ben Whitehair and Giovanna Leah, I had worked with Giovanna before and knew she would be excellent in the role. Ben came to me on the recommendation of actor Jason W. Griffith (who starred in our feature Evil Intent and our short film Bad Movies, Good Showers, and Civil Engineers) who said Ben would be fantastic in the role, and Jason was right.
Laurie Clemens Maier had auditioned for me previously for Bad Movies, Good Showers, and Civil Engineers, and while she wasn't right for a role in that film, I knew she would be awesome playing Eileen, Dr. Jenkins's wife.
Joe Filippone had been in Bad Movies, Good Showers, and Civil Engineers, and I knew he would be perfect for his role, and he was. Joe absolutely nailed his character.
Libby Baker had also been in Bad Movies, Good Showers, and Civil Engineers (as well as Evil Intent and later starring opposite Greg in our comedy Separate Checks), so she was a no-brainer for her role because she's so talented. Elena Chin had previously appeared in - guess what - Bad Movies, Good Showers, and Civil Engineers, so I knew she would be excellentt for Therapissed. Tom Doyle had auditioned for the role of Dr. Jenkins, and while he finished second to Greg for landing the role, he was awesome in his role in the film as one of the patients, adding in the frantic hand gestures of his character on his own. Ashley Henkle had auditioned for me previously as well, and I knew she'd be great, so the following year I cast her in a major role in our action/comedy To Die is Hard, which Greg played a major role in as well.
Other cast members like Lola Manning and Lauren Yormack were referred to me by others and were great, and Lauren Wendt and Tara Earle were students of mine (I'm a part-time college professor) who did a great job in their supporting roles.
A few words about the shoot as such, and the on-set atmosphere?
The on-set atmosphere was fantastic. Everyone who was part of the cast and crew was fun and friendly, and we all got along great. The tone on-set is typically set by the film's lead and the crew members since those are the people who are around all the time, and while Greg Nemer played a jerk in the film, he's so bloody funny and fun to be around that he sets a great tone. Then when we factor in the director of photography/editor Nick Falls and cameraman Gene Yanza - both of who are super friendly, fun, and talented - it just adds to the postive vibes on set. Add in crew members John Schmidt, Adam Madsen, and Tom Doyle, and we had the recipe for a super fun film shoot. Then when the other cast members are factored in - all of whom are fun and professional and showed up knowing their lines - it made for a very easy shoot where I couldn't have asked for anything more.
Therapissed was shot in 2010 if I'm not mistaken - so how come it has gotten a release in early 2018?
I landed a distributor very quickly for the film after it was completed, but the distributor was struggling, not making many sales for any of the films they had, and after a couple years with them, they went out of business without making a single sale of the film. It didn't take me too much longer to land a new distributor for the film, and they were able to make one small deal for the film (of which I never received a penny - I think because it was such an obscure deal that no one could ever find the film if they were looking for it because I would google "Therapissed" and the website it was available on for an inflated price never popped up) in the first year they had the film. Over the next two years (I had signed a five-year deal with them) I heard nothing from the distributor, even when I sent them an email to see what was going on. I finally heard back from them, and they informed me that the owner of the company had been in a horrific car accident and suffered severe injuries, which had basically put every film they had the rights to on hold. They said they would let me out of the deal if I wanted out, but they asked if I would stick with them as they tried to get back on their feet, so I did. Alas, nothing happened with the film, and my contract with them expired at the end of 2017. In late 2017 I had been contacted by the most awesome Harrison Astroff of StacksTV out of Toronto who was wondering if I had any films available for distribution, so I told him about Therapissed, and he gobbled it up and quickly landed it on Amazon (http://www.amazon.com/exec/obidos/ASIN/B0792M9CTM). With the film finally available for public consumption, I'm doing my best to spread the word about Therapissed, which I always thought was one of our hidden gems.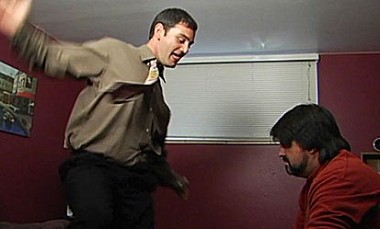 Anything you can tell us about audience and critical reception of your movie?
There hasn't been much response since the film was buried for so long, but when I have held screenings of the film, it's always been incredibly well received as viewers really respond to Greg Nemer's performance, Joe Filippone's off-the-wall excellent performance, Ben Whitehair and Giovanna Leah's bizarre and amazing chemistry, and Laurie Clemens Maier's fantastic counter-point to Greg.
Any other past films of yours ready for release, and any future projects you'd like to share?
We have a lot of projects cooking away on the stove right now. We plan to have two feature films ready for release this summer. One of the them is a horror film titled Paralyzed with Fear that stars Kane Hodder from the Friday the 13th films, Haidyn Harvey, Andrea Rabold, Maya Grace, Lauren von Engeln, Will Beckingham, and Danielle Prall. We also have a comedy feature film titled Poetry Slammed that stars Jonathan Hodges, Clarence Zanders, Kari Gall, Joe Maurer, and Christopher Butturff that should be ready this summer.
We're also planning to shoot a comedy feature this summer that lampoons Leo Tolstoy's The Death of Ivan Ilych - the film is titled The Death of Ivan Nussbaum. The tag line is, "Some people die with dignity - Ivan Nussbaum isn't one of those people." The film will star stand-up comic Pete Buchbauer, and we're trying something different with the film in that two-thirds of it will be scripted while the other one-third of the film will consist of Pete working his stand-up material into the film in the context of what's occurring in the film at that time. The film will also star Kedryn Carpenter, Kristi McKay, and Jonathan Hodges, all of whom starred in our film Midget Zombie Takeover.
Finally, I'm trying to find a producer for a reality TV show we'd like to do titled Bigfoot Psychic (here's a link to the 30-second teaser we put together for the show - https://youtu.be/nSETjzVwPoI). I've gotten to know a woman who claims to have the psychic ability to connect with Bigfoot, and she claims to have seen Bigfoot on five occasions. I recently spoke with a Hollywood producer who has shown interest in the film, and a very small network has made an offer for the show (not a good offer). If I can't land a good deal for the film, I may set up a Kickstarter campaign this spring to see if we can raise quite a bit of money to shoot four or five episodes of the show this summer, then sell the show to a network at that time.
Your/your movie's website, Facebook, whatever else?
My personal website is http://www.glennspeaks.com/. Fans can contact me through my website or my Facebook page at https://www.facebook.com/glenn.berggoetz. We also have individual Facebook fan pages for many of our films (not Therapissed though) like Midget Zombie Takeover, Paralyzed with Fear, To Die is Hard, etc., as well as for Bigfoot Psychic.

Feeling lucky ?
Want to
search
any of my partnershops yourself
for more, better results ?

The links below
will take you
just there!!!


Anything else you're dying to mention and I have merely forgotten to ask?
We're all so appreciative of all our fans who have supported our work over the years - it's the happy, friendly emails and comments we receive from fans that make it all worthwhile. We also have two other films that have recently become available on Amazon thanks to Harrison Astroff and StacksTV, the dark comedy/thriller The Ghosts of Johnson Woods that stars long-time TV star Joe Bob Briggs (http://www.amazon.com/exec/obidos/ASIN/B077T9PPL2), and our horror/comedy Auto Shop of Horrors (http://www.amazon.com/exec/obidos/ASIN/B077SQKL29). Both of those films, as well as Therapissed, are free to watch for those people who have Amazon Prime, and they're just $1.99 to $2.99 to stream for those who don't have Prime. Simply watching indie films supports all of us in the indie film world.
Thanks for the interview!
A million thank yous to (re)Search my Trash and to you, Mike!