Your new movie LoveSexHate - in a few words, what is it about?
It's about the difficult relationship that develops between a fairly regular guy and a gal who is dealing with a lot of issues.
The female lead character of LoveSexHate is a rather unhinged woman - so how much research did go into this aspect of your movie, and is any of this based on personal experience? And who do you actually identify with more in all honesty, her or her seemingly all-forgiving boyfriend?
The film is very autobiographical. Years ago I was involved in a relationship that was very similar to the one depicted in the film, and while I certainly changed some things and added some other things in, it's pretty accurate to what I experienced from the character Bob's perspective. My research was living through many of these experiences.
(Other) sources of inspiration when writing LoveSexHate?
Having dated a woman who mas much like the Jennifer character in LoveSexHate, and also having previously dated a woman who had dissociative identity disorder (multiple personalities), I've read a lot over the years about psychology to try to better understand these women and the issues they are dealing with. My inspiration was to try to show that while sometimes we're not perfect as people, it doesn't mean that we're not worthy of still being loved, even if that love relationship can often be difficult to navigate.
Most of your movie actually takes place in the couple's apartment - so do talk about your location, and what was it like filming there? And how limiting but maybe also liberating is it to only have a handful of locations at your disposal?
We shot the vast majority of the film in the apartment I was living in at the time, which made things extremely convenient for me. Many of our films have been shot largely in one location, and this is quite liberating and efficient because we're not having to waste time moving equipment and people around. The only limiting aspect of shooting like this is that sometimes we find ourselves in tight quarters. For example, the bath tub scenes in LoveSexHate were quite snuggly to shoot for all involved.
What can you tell us about your overall directorial approach to your story at hand
As usual, I was fortunate to be working with a super talented cast. I had worked with both Giovanna Leah and Jason W. Griffith on other projects, most notably our feature film Evil Intent in which they played a couple who was dating, just like in LoveSexHate. Gia and Jason need very little direction because they are both real pros and easy to work with. I've also worked extensively with Libby Baker, who has a small role in LoveSexHate and who played a starring role in Evil Intent, and Libby needs almost no direction, she's so talented. With Ellis McBride, the young girl in the film, since this was her acting debut we coached her along a little bit, but Ellis had a real feel for what she was doing and proved to be super easy and fun to work with.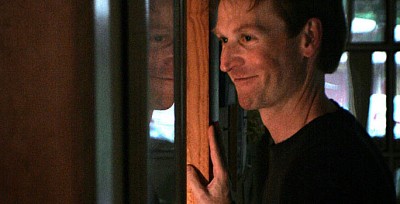 Glenn on set
Do talk about your cast, and why exactly these people?
I tend to work with the same cast members over and over because once someone shows me that they are talented and professional (meaning they show up on time, know their lines, and get along with everyone else on set), I will continue to use them. When it comes to Gia, she did such a wonderful job in Evil Intent and The Worst Movie EVER! that it was a no-brainer to work with her again. With Jason, he was also excellent in Evil Intent, as well as some early short films we did, and I would never hesitate to work with him. And with Libby, she's starred in so many of our films (Evil Intent, Separate Checks, Therapissed) and always done such an incredible job that I will put her in the cast of every film I ever make - if I get the chance.
What can you tell us about the shoot as such, and the on-set atmosphere?
We had a lot of fun on set. There often were only four people on set during the shoot - me, Gia, Jason, and the director of photography, Alan Dague-Greene. Alan is an absolute laugh riot (we've worked on To Die is Hard, The Worst Movie EVER! and other projects together), so he and I were constantly laughing and screwing around. A running gag during the shoot was me and Alan talking like Herbert the Pervert from Family Guy, and somehow or another during the shoot I started referring to myself as "Creamy Goodness" in a rip-off from some old South Park episodes, so we were constantly talking like Herbert and calling me Creamy Goodness, which might not sound like much to read about, but during the shoot it just made me and Alan laugh and laugh. And this has carried over as I typically sign my emails to Alan with the name "Creamy". Alan and I have since worked together on a short film titled Spring Break Chaos that will be ready at some point, and that film was a complete blast to work on as the entire cast and crew consisted of me, Alan, Jeff McBride (who's starred in our films To Die is Hard and The Worst Movie EVER!), and Ellis McBride, who's the little girl in LoveSexHate and the daughter of Jeff.
The $64-question of course, when and where will LoveSexHate be released onto the general public?
LoveSexHate will soon be available for viewing in two ways. First, we've just signed a deal with LeglessCorpse/Back Aisle Video for them to do a Blu-ray release of all nine of our completed feature films, and we've reached a deal with the 24 Hour Movie Channel on Roku for them to add all nine of our films to their viewing catalog. So within a month or so all of these films will be available for Blu-ray purchase on the LeglessCorpse website, and for those people with a Roku set-up, they can already watch six of our films there with LoveSexHate and two others of our films to shortly be available on the network for free viewing.
Anything you can tell us about audience and critical reception of LoveSexHate yet?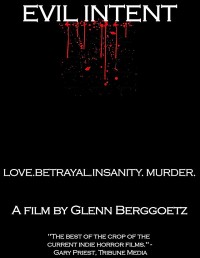 Feeling lucky ?
Want to
search
any of my partnershops yourself
for more, better results ?

The links below
will take you
just there!!!


Very few people have seen the film at this point as it's so new and has yet to be released to the public, but of those who have seen it, the response has been overwhelmingly positive.
Any future projects you'd like to share?
Later this year we plan to release a feature horror film titled Paralyzed with Fear that stars Kane Hodder from the Friday the 13th films and is already generating attention from distributors. We hope to have that film ready for Halloween. In May we're shooting a feature comedy titled Poetry Slammed that should be a lot of fun to shoot and that stars Jonathan Hodges, who previously starred in our film Midget Zombie Takeover. And then there's the short film Spring Break Chaos that will be ready at some point.
Your/your movie's website, Facebook, whatever else?
The web address for my personal website that I use for booking speaking engagements and that has a lot of information about our films is http://www.glennspeaks.com/. My Facebook page address is https://www.facebook.com/glenn.berggoetz, and people can find lots of information about our films there, as well as links to the Facebook fan pages we have set up for some of our films.
Anything else you're dying to mention and I have merely forgotten to ask?
I think you covered it!
Thanks for the interview!