Your new movie Auto Shop of Horrors - in a few words, what is it about?
It's about Randy, a car mechanic who becomes convinced that if he eats enough human eyeballs he'll develop the ability to see into the future, so he begins to eat the eyes of the people who bring their cars into his shop to be fixed.
Two main questions that first popped into my head, why an auto shop, and why Aztecs?
We set the film in an auto shop because the good friend of Tim Gallagher, the guy I made the film with, is John Manka, who owns an auto shop in Castle Rock, Colorado, and John was excited about using his shop for a film shoot and being part of a feature film. When it comes to the Aztecs, they seemed like a viable option for someone to want to emulate since they have such an illustrious history, and there has been much written about them that Randy the car mechanic might have come across.
(Other) sources of inspiration when writing Auto Shop of Horrors?
The main inspiration was to try to find a way to make viewers laugh, squirm, and jump with limited locations and resources on hand.
Do talk about your movie's very own brand of humour for a bit!
When I look at comedies, I view them as needing to fall into one of two categories: either they need to have serious people put into absurd situations, or they need to have absurd people put into serious situations. I find the former to be the kinds of comedy I like to make. So with Auto Shop of Horrors, I wanted to put a character (Randy) who is very sincere in his beliefs into absurd situations where he acts out on his beliefs. When it comes to the gore in the film, Tim and I decided we were going to stay away from any CGI with the film, so we wanted to make the gore as gory as possible while also making it fun, that would make viewers squirm and laugh at the same time.
Auto Shop of Horrors doesn't exactly hold back when it comes to the more gory bits of the story - so you have to talk about the gore effects in your movie, and was there ever any line you refused to cross?
I can't think of any line we refused to cross - doing all actual effects as we shot limited how much we could do. As for the effects we used, the eyes were lichen fruit stuffed with blueberries, the optic nerves were red licorice, and the blood was a mixture of chocolate syrup with corn syrup and red food coloring mixed in. The eating of the eyeballs was really quite delicious, so I enjoyed those scenes quite a bit. In the scene where Randy cuts out the tongue of Tabitha (played by Maya Grace), we had multiple rubber tongues we used for that scene. And with some of the gorier blood scenes we watered the blood down a little bit and tossed buckets of it on each other. Actors Richard Taylor and Zack Beins showed us how to make the eyes look extra disgusting by using tissues doused in our fake blood - it worked great!
What can you tell us about your overall directorial approach to your story at hand - and also talk about your co-writer and co-director Tim Gallagher, and what was your collaboration with him like?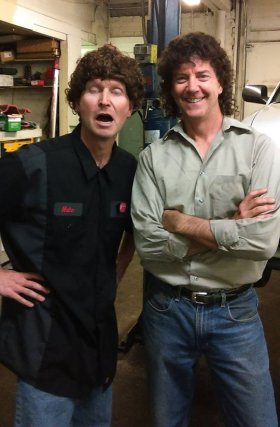 Glenn (wigged) with Tim Gallagher
This was the first time I had worked with someone else, and it went incredibly smoothly. Tim and I are both pretty laid back guys, so we both went with the flow, bounced ideas off each other, and seemed to compliment each other quite well. When it comes to my directing style, I typically trust my cast members to bring their own interpretations of their characters to set. They're all artists, and I want them to be able to express themselves as much as possible. Every now and then a cast member wants to play their character a little over-the-top, and I usually reign them in a bit on those occasions since the situations are already absurd enough, but that doesn't happen too often.
You also play the lead in Auto Shop of Horrors - so what can you tell us about your character, what did you draw upon to bring him to life, and did you write him with yourself in mind?
I did write the Randy character with myself in mind. I simply tried to make Randy someone who genuinely believed what the Aztecs believed regarding eating human eyeballs, and Randy doesn't eat eyeballs for malicious reasons, Randy provides the backstory throughout the film about his eyeball eating all stems from the abuse he received from his father. So I tried to make Randy a sympathetic, serial-killing eyeball eater!
What can you tell us about the rest of your cast, and why exactly these people?
The other cast members are all incredibly talented. Most of them I had worked with previously, and the rest Tim pretty much knew. I like to work with people who are not only talented, but who also show up on time and know their lines, and we batted 1.000 in this regard with Auto Shop of Horrors. From Paul Neal Rohrer to Maya Grace to Lauren von Engeln to Kasha Fauscett, and on through everyone in the cast, I couldn't have been more pleased with their talents and professionalism. And everyone we really fun to work with. We all laughed and laughed throughout the five days of the shoot.
Do talk about the shoot as such, and the on-set atmosphere!
The atmosphere was fantastic! We laughed a ton, we finished ahead of schedule, and as far as I could tell, everyone had a blast on set. I always try to foster a fun atmosphere on set, because what's the point of making films if it's not fun? It was also fun in that cast member and producer John Manka, who owns 1 Stop Tire & Auto in Castle Rock where we shot the film, brought a whole bunch of people by at various times while we were shooting so they could watch us in action, which turned out to be great fun.
The $64-question of course, when and where will the film be released onto the general public?
We've already booked the film into a few theaters in the US, and we're going to use blurbs from the many positive reviews we've been getting from critics to try to get the film into as many independent theaters in the US as we can. From there we've already had an offer for distribution, and a Roku film channel has said they would like to air the film. People will also probably be able to eventually watch the film on various internet outlets, like Amazon.
Anything you can tell us about audience and critical reception of Auto Shop of Horrors yet?
We've received a fantastic response at the film festivals that Auto Shop of Horrors has screened at, and so far every one of the critics who has reviewed the film has given the film a positive review.
Any future projects you'd like to share?
I have a bunch of films coming out in the coming year. I'll soon be releasing a black comedy/thriller feature titled The Ghosts of Johnson Woods"that stars Joe Bob Briggs and has been receiving a fantastic response at film festivals. Late this year or next year I'll be releasing a feature drama titled LoveSexHate. And next year I'll be releasing a horror film titled Paralyzed with Fear that stars Kane Hodder, who has played Jason Voorhees in many of the Friday the 13th films. I'm also part of a number of British anthologies. I have shorts that are part of the 60 Seconds to Die series of anthologies, a short that will appear in a British Blaxploitation anthology titled Badassssploitation, and be one of the filmmakers interviewed in the British documentary titled Schlockumentary that's about VHS tapes and how they've hung on. I'm also hoping to shoot a comedy next year titled Poetry Slammed if I get the money in place to shoot it.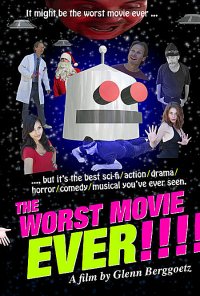 What got you into making movies to begin with, and did you receive any formal training on the subject?
I am completely self-taught as a filmmaker. I have written scripts for nearly twenty years, but it was about ten years ago that it was suggested to me that I should turn some of my scripts into films I made myself. So I read a couple little things about making films, then made my first film, a twenty-minute short titled Bad Movies, Good Showers, and Civil Engineers. I began making films because I couldn't get anyone to read my scripts!
What can you tell us about your filmwork prior to Auto Shop of Horrors?
The features I've made prior to Auto Shop of Horrorsare as follows:
To Die is Hard - an action/comedy that was selected as the 16th-best B movie in cinema history by Paste magazine in their ranking of the 100 greatest B movies ever made. This film received a theatrical release.
The Worst Movie EVER! - a comedy that was selected as one of the ten best indie features of 2011 by Examiner.com. Also received a theatrical release.
Midget Zombie Takeover - a zomedy that received a theatrical release.
Evil Intent - a thriller/horror film that received a theatrical release.
Therapissed - a comedy that will soon be available on Roku.
Separate Checks - another comedy that will soon be available on Roku.
Judging from your filmography, you seem to be as comfortable in front of the camera as you're behind the camera - so what do you prefer actually, and how does working on one side of the camera influence working on the other?
I enjoy the writing of scripts the most, though I really enjoy directing and acting as well. The biggest influence is that when I'm writing a script for a character who I know I'll end up playing, I try to keep my dialogue manageable, because it gets to be a bit of a handful to memorize a ton of lines while also directing and putting the cast and crew together and all the other things that go into making a film. With Randy, I actually wrote a few very long monologues for him, but four months of working on my lines every single day allowed me to get those scenes done within a couple takes.
How would you describe yourself as an actor and as a director?
As an actor, I know I'm much better at doing comedy than something more serious. I really enjoy playing characters who are dead serious in the face of the most insane situations, which is what I had to do in our film To Die is Hard. As a director, I hope I can be described as someone cast and crew members like to be around and work with. I try to allow cast and crew members to have input into our shoots and respect their perspectives, while also having a relaxed, fun set, so hopefully that goes a long way toward having people wanting to work with me. One word I might use to describe myself as a director is "trusting." I trust my cast and crew and allow them to express their talents and perspectives as much as possible.
Filmmakers, actors, whoever else who inspire you?
Leslie Nielsen! I always loved the way his characters would never get ruffled no matter how bizarre the world was around them (i.e. Airplane, The Naked Gun-films, Police Squad!, etc.).
Your favourite movies?
The Naked Gun, Planes, Trains and Automobiles, Nacho Libre, Friday the 13th, Best in Show, The Shining, Storm of the Century.
... and of course, films you really deplore?
I struggle with romantic comedies.
Your/your movie's website, Facebook, whatever else?

Feeling lucky ?
Want to
search
any of my partnershops yourself
for more, better results ?

The links below
will take you
just there!!!

Find Glenn Berggoetz
at the amazons ...

amazon.com

amazon.co.uk

amazon.de
Looking for imports ?
Find Glenn Berggoetz here ...
Something naughty ?
(Must be over 18 to go there !)

My website - http://www.glennspeaks.com - I use this website for booking speaking engagements.
Facebook:
https://www.facebook.com/AutoShopOfHorrors
https://www.facebook.com/The-Worst-Movie-EVER-139039002838788
https://www.facebook.com/Paralyzed-with-Fear-441012799379429
https://www.facebook.com/To-Die-is-Hard-117326704975363
https://www.facebook.com/MidgetZombieTakeover
Anything else you're dying to tell us and I have merely forgotten to ask?
I think you covered everything!
Thanks for the interview!