Your new movie Downriver - in a few words, what is it about?
Downriver is about a young ex-con who was charged with a murder when he was a kid. The body of the child who died was never recovered from the river and so the wound remains open for so many involved. In the film, the lead character returns to the river to try and solve the mystery. Coming face to face with his own actions, however, is what the film is really about. It asks whether actions committed as a child can and should define you always? Can you find redemption? It also asks moral questions about whether someone is deserving of love and how evil can continue being perpetrated in silence.
What were your sources of inspiration when writing Downriver, and is any of this based on personal experiences?
I was inspired by conversations I had around these questions. People came down so definitively in their responses to moral debates around nature and nurture, which is really at the heart of the discussion when a child commits a crime. So it was a very explosive question for me to begin writing from and I wrote to even challenge my intuitions. I question everything. I question even what I believe. I wanted to be the prosecutor and defense counsel of every character, but ultimately let the audience be the jury. I deliberately made the narrative and characterization very complex because these are complex issues. I also deliberately left ambiguities in the facts because as I said, I want to empower the audience to be the jury. I respect then that responses to my film are varied and I say to everyone who questions what they make of it that their impression is valid.
I grew up in a small town by a river much like the one in the story. There were always myths around the river and I definitely took on a kind of spiritual connection to rivers as sources of life and death. When I was about twelve a tragedy occurred in my otherwise pretty good world when my neighborís mother went missing Ė presumed murdered Ė and her body was never found. Thatís the first moment where evil really came close to me and I definitely think that kind of thing haunts a writer for life. To a large degree, Downriver is my personal answer to that confusing and scary time.
How easy or hard was it to get the project off the ground in the first place?
Extremely difficult, mainly because we were first timers, but also because of the choice of protagonist. Youíve got films like We Need To Talk About Kevin which examine similar terrain, but the POV is not the perpetrator. Our lead character is a convicted killer and so many people were nervous that the audience would struggle to empathize with him. I guess that was a valid concern, although I think the film definitely proves that concern wrong. I just stuck to some cinematic touchstones like Taxi Driver or The Woodsman and this belief that if you walk long enough in the shoes of any character you will come to understand them. What I think was wrong and an unfortunate reason why we struggled to get the film off the ground in the first place was the numerous times I had to fight to maintain the fluid approach to sexuality. People thought there were ďtoo many gay people in this townĒ or that the audience would fear more for the character more ďif he was a girl, not a gay guy.Ē Quite hideous and homophobic really. It has become very hard to pigeonhole our film as queer because it was ďnot queer enoughĒ to neatly fit into peopleís conceptions of that genre, but was ďtoo queerĒ to be something else. At best, the discussions were around representation. Could you have the killer as the only queer? What would that say about being queer? I also felt I couldnít just have the boy in peril as the queer, because that suggests that queers are weak or something. Also it was a clichť to have the bad guy as the queer and so what did I do? I made them all queer. All of them. But that certainly didnít help get the film made!
You of course have to talk about your wonderful locations for a bit, and what was it like filming there?
Oh well Iím sure Tourism Australia is very upset with me because I didnít paint our rural towns in a very nice light! But we shot in a town called Warrandyte, which is on the Yarra, a river which ultimately flows through the centre of Melbourne. Warrandyte is a beautiful town and the people who live there are really very nice! It is a sleepy town and quite untouched really. Some of the houses used in the film belong to locals and I chose them because they gave me a skin-tingling impression. Often we did very little to these wonderful locations and just let them be. A good majority of the film is set in a tourist caravan park by the river. This is a very Australian kind of holiday, something I did a lot of as a child. They were very accommodating because we were a small crew and provided some amusement for the tourists who were actually staying on the park. The bush locations were very wild and gnarly. They were dangerous at times because of tiger snakes. These are aggressive and territorial animals and I donít think a single crew member didnít have some kind of brush with one. We also battled ducks, but theyíre not as interesting to talk about unless youíre a duck hunter.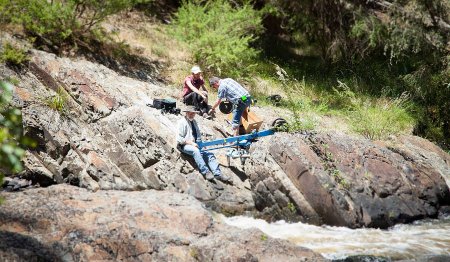 Do talk about your overall directorial approach to your story at hand for a bit!
I use a lot of metaphors when I make films and the one I use with directing is this: a film is a wild beast that you are trying to tame. You need to put your hands down on it and try to calm it. The harder you grip, the more it will panic, so you must press and hold but donít make too hard an impression. This translates as thus: I try and be gentle and collaborative. I put around me extremely talented people and simply try and steer them towards their best work. I try and bring the film and the character to them, rather than force them over to some locked off vision I have for it. That approach of letting things be discovered, making decisions that arenít black or white, allowing aspects to become personal to the actor and celebrating the strengths of your particular crew members allows for a space where I can be surprised. And thatís what Iím always looking for.
My style flows on from this, the camera is never particularly flashy or showing off. The camera works in synergy with the actor, which at times is very beautiful. I also have a very quiet approach to sound design and music. While there are moments that hero music and some unusual sound design, I wanted the film to be very quiet and pragmatic so that the content could be wild and chaotic. I also wanted to hero the performances and so everything was channeled towards allowing for that.
What can you tell us about your key cast, and why exactly these people?
Reef Ireland and I have worked together on my short film The Wilding, which precedes the story of Downriver and will hopefully be on the DVD in America. Reef is so emotionally intelligent and he also has such a compelling and strong face. Any concerns that the audience would not empathize with his character are dashed in his first close up. Reef is going to have a long and healthy career. His talents are so varied, from emotional material like ours, to comedy, to action.
Kerry Fox who plays his mother is a very well known actor who seems to have worked with every indie auteur around, especially from Australia/NZ or Europe, so therefore Iíve seen a lot of her work and have loved her a long time. I think sheís exceptional and always surprising and fascinating to watch. She was so earthy and honest on set and so experienced.
Thom Green plays opposite Reef in the antagonist role. He came to acting via many talents, one of which is dancing. Iíve never seen an actor who is in more command, or perhaps is completely unconscious to, the language of his body. He undercuts what he says with a gesture. He speaks with his body in silences. He is also highly intellectual and curious, so he was illuminating to discuss his character with because he had ideas that only a very smart actor could generate. Thom is a heartthrob sure, but heís not just a pretty face, heís an actorís actor and going to go far.
A few words about the shoot as such, and the on-set atmosphere?
My sets are calm and quiet. I sound like an old man but I canít hear myself think if people are panicking or stressed. So I try and set the tone and have it trickle down that the best work is completed gently and methodically. Having said that, we had very little in the way of money, which means very little in the way of time. It was a fast shoot and the days were limited in that we could not go into overtime. If we did, some crew members would have had to be let go. I didnít want that! So I needed to be clear and we all needed to be smart about our work. I certainly felt these time constrictions but I tried my best to keep my stress from affecting the actors.
On Downriver there was a lot of confronting material and we were working with young actors. So I always tried to ensure that they felt heard and safe to perform. But that goes with how I felt for every crew member. The shoot was challenging, but I speak for almost all who worked on it, that it was a very rewarding experience. More times than that, every one would walk from set each day having felt like they contributed.
Anything you can tell us about critical reception of Downriver?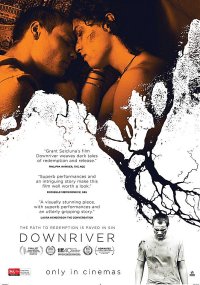 Critics and audiences alike seem to mostly go for it. Weíve had very strong reviews in Australia and got a glowing review from Margaret Pomeranz, who is La Grand Dame of Film Criticism here, which personally meant a lot. The LA Times wrote us up nicely just recently too. These critics are all praising the strong performances and the technical achievements of the cinematography and sound design. Incidentally, it is the refreshing take on sexuality that I had to fight so hard for that is often most alluded to as a compelling aspect of the film. The divisive aspects of the film are in its screenplay, which is a slow burn and is, as I said earlier, not a script that spoon-feeds you. So a few lazy critics have lampooned me for not wrapping everything up in a way that would save them from the need to employ their own intelligence. Ultimately, there are critics who see their job as writing about film and there are critics who see themselves as the arbiter of taste and review films. I want more of the former and less emphasis on how many stars a reviewer gives something.
Any future projects you'd like to share?
I really want to make this gangster romance film called Pigís Blood. Itís very darkly funny, pretty bloody but also very sad. In it this young gangster needs to do a job on someone in order to lift himself from poverty in Naples but he falls in love with this girl in Australia and becomes torn. Heís torn between a life he has bought into since he was a kid and this trashy waif who just wants to have fun and be free. Once again Iím having trouble with people who are worried about morality and although this one isnít queer, the honest approach to sexuality is once again raising the concern of the vice squad. God, itís like a broken record but itíll probably always be like this for me.
What got you into filmmaking in the first place, and did you receive any formal training on the subject?
I was always interested in stories. I read from a very early age and even wrote short stories at a precociously young age. When I was about 9 or 10, my boy scout hall was used as a location for an Australian film and we were allowed to watch. It was a period drama film by a very famous icon called Bob Ellis who sadly passed away just this year, but I remember watching all these actors dressed up in 1940s garb and there was Bob weaving together this beautiful synergy between two young lovers at a ball and his slow-roving camera. All the while he never left his chair and just drank cups of tea. I thought that was marvelous! I should really find a metaphor between boy scouting and filmmakingÖ how we pretend to be little cub bears who promise to do the right thing perhaps. Sorry, I got sidetracked.
At University I did an Arts degree, which Iím so thankful for. It introduced me to all kinds of cultural expression and I believe that to be a filmmaker you must also appreciate all art forms. I then studied Screenwriting more intensively although I never received formal training as a director.
What can you tell us about your filmwork prior to Downriver?
I began directing short films out of necessity rather than because I wanted to. I had these scripts but no director wanted to direct them! They all wanted to be writer/directors so in order to see my short films get made, I was forced to become a writer/director too. I developed my skills through various short films, some had no budgets, like my first film, which I am only now considering I could possibly stomach watching. Then I made a number of films with some arts grants, all flawed but getting better, where with some money I was able to work with professional actors and crew and learn from them. This lead up to The Wilding, which was my most successful short film. It played at the Berlin Film Festival and won many awards. Ultimately my final short film was called Hurtís Rescue, which was made on the proceeds of a prize The Wilding won called the Iris Prize. This is my very favorite short film although itís obscure and strange and not many have seen it. Sorry, I donít think that oneís on the DVD!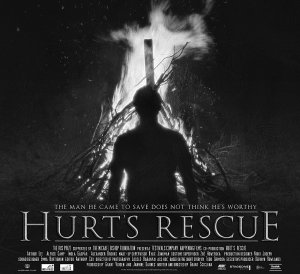 I have also written a lot of scripts that have almost seen the light of day with other directors, mainly genre pieces like thrillers or horrors. I love writing so much but ultimately I am being seen more as a director and so I may turn to writing prose.
How would you describe yourself as a director?
Iím not naturally an extrovert and so directing is a process that is quite demanding on me internally. Which is fine. I still enjoy it, but I much prefer the solitary aspects of the process. Writing for me is where I feel most comfortable. The best advice I ever heard on directing was from the great thinker and French auteur Robert Bresson who said, ďDirect yourself as you direct others.Ē What I take him to mean is that you should always be judging your own work, making adjustments, finding your strengths, working on your weaknesses as much as you are doing that with those you work with. I believe that directing is recognizing my limitations and maximizing my resources. Itís about inspiring others to come along with me but it is not chucking a hissy fit when things donít go my way. Itís the opposite of that. Itís about making the things that arenít working work. So Iím always self-analyzing and very critical of myself. I pride myself on being pragmatic and methodical. I question everything and never trust my decisions so am always circling around them to ensure they are the most interesting. Despite the seriousness and darkness of this first film, I donít want to be thought of just serious and dark. The whole auteur theory thing is such a trap because it can pigeonhole the content people expect from you. Maybe some like that, but I donít. I want to tell a great variety of stories and so the projects Iím working on next will surprise people I hope.
Filmmakers who inspire you?
My axis of awesome arthouse is Roman Polanski, Terrence Malick and Michael Haneke. I will rush out to see anything by them and what I love is that they are inconsistent (although I donít really think Haneke has made a bad film). I also think Andrea Arnold, Gus Van Sant and Todd Haynes are very inspirational in the indie realm, but again inconsistent, which I am heartened by. It means they are risktakers. In terms of Australian and New Zealand filmmakers, I think Jane Campion is a treasure of world cinema whose work is unsurpassed by any other. I also think I walk in the footsteps of the trail blazed by Peter Weir.
Your favourite movies?
Well Polanskiís best is Chinatown, Malickís is Days of Heaven and Hanekeís is Amour. All these films changed me, as have done many of their other films, and I think you can see this in Downriver. Gus Van Santís My Own Private Idaho and Todd Haynesí Poison really opened my eyes to queer cinema. I think Jane Campionís The Piano is one of the most beautiful films every made and thereís another little film called Wonderland by Michael Winterbottom that made me think it possible I could one day make a film myself. Itís very organic and its absence of bells and whistles just champions the story and the performances. Iím not surprised we have been compared many times as the queer modern answer to Peter Weirís The Picnic at Hanging Rock. But I think my guilty pleasure film I could watch over and over and over again is not a film at all, itís a documentary called Grey Gardens by the Maysles brothers. I have easily seen that film 100 times and can quote every line at you.
... and of course, films you really deplore?

Feeling lucky ?
Want to
search
any of my partnershops yourself
for more, better results ?

The links below
will take you
just there!!!

Find Grant Scicluna
at the amazons ...

amazon.com

amazon.co.uk

amazon.de
Looking for imports ?
Find Grant Scicluna here ...
Something naughty ?
(Must be over 18 to go there !)

The TV remake of Grey Gardens was appalling! But anyone who knows me knows that I value and get a great deal from all cinema, so evens films people hate, I will find some aspect that compelled me. I know what goes into them and I also know how easily the process can scuttle good and interesting intentions. I think the trend to sequelise, prequelise is generally pretty tiresome, however.
Your/your movie's website, Facebook, whatever else?
Website: downriverfilm.com
Facebook: facebook.com/downriverfilm
Twitter: @downriverfilm
Anything else you're dying to mention and I have merely forgotten to ask?
How do I maintain such youthful good looks?
Thanks for the interview!