Your film Dawning - in a few words, what is it about?
I think it's basically a family tragedy wrapped in a horror film... it's about the unknown and the unsaid... divorce and death... family and responsibility... our collective fears.
All through the film, you leave your audience in the dark about the actual nature about the film's central menace. Why?
I really wanted to make a film where the antagonist was never shown because I didn't think I could come up with anything that an audience hasn't seen or figured out how to kill... stab the vampire in the heart, shoot the werewolf with a silver bullet, shoot the head of the zombie (or sew it's mouth shut with salt inside), whatever it was, it just felt like it had been done to death.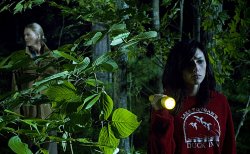 At the time, I didn't think I could add anything new to those tired genre staples and I wanted to push something unique and try and take a chance. Ultimately, I wanted to create a conceptual horror film. I also felt like I would just be talking down to horror audiences and would be adding to the huge shitheap of indie horror films if I didn't try something different, even if that meant I'd fail... but I trusted the audiences and overall, it's been successful. I think there are as many people who are as tired of the last 40 years of horror films as I have been... when they merged with action films and lost all sense of character.
How difficult was it for you as a director to create this sort of threat out of thin air? And how difficult was it for the actors to react to this unseen menace?
It was extremely difficult for all of us but it was also extremely satisfying creatively because we had to truly push ourselves. We didn't have the "luxury" of a creature or psychopath chasing the characters, which could've also taken up a good 60% of the movie. We had to rely very heavily on the voices which would be heard "off-screen" and the sounds which would be added in post. There was also a massive amount of trust on both my part and the actors because we had to believe that the way the film would be put together would bring out the subtext and create tension. A great benefit for us was that when we shot the film in 2006 (a version I completely scrapped after it was shot), we had an actual creature. Up until the moment we brought the creature on the set, there was a palpable fear in all of the actors because they were making up what they thought this "thing" outside was... but once the cast and crew saw the creature, the energy left the whole shoot.
A few words about your main cast?
To me I can only say they are unbelievably dedicated, professional and truly wonderful human beings. I can't thank them enough for the trust they put in me after scrapping a whole shoot and yet they still came back and believed in me and the project (as well as enjoying each others company). They truly were like a family... we spent weeks together in 2006, 2007, 2008 and 2009, as well as 2010. It's been an extreme pleasure for me to work with them and to be honest, I believe their performances are extremely underrated for the minimalism they bring. I would argue against anyone until I'm blue in the face.
Besides the fight against the unseen threat, your film is also carried by the conflicts of a dysfunctional family. Is that an autobiographical aspect/something you can closely relate to?
Absolutely... I come from a divorced family and it has played a major part of my youth and growth as a person. I have always wanted to make a movie about divorce and how my family dealt with it by not communicating and not supporting one another. It's very hard to tackle life when the people who should be closest to you don't seem to have your back and I wanted to show how those old wounds keep this family from being able to move forward in a proactive manner... they are always hurting each other, even if it's the "presence" making them hear the off-screen voices.
Your sources of inspiration for Dawning?
My hatred for modern gore and chase-based horror films, my family's divorce and my belief in the intelligence of movie-going audiences. In terms of films, I looked at a lot of Hitchcock, Carpenter, Bergman and films shot by Tak Fujimoto... as well as Night of the Living Dead.
What can you tell us about audience reception of Dawning so far?
Well, it's been a strange journey. Festival programmers have really seemed to dig it (we've been in 20 festivals since 2009) and we've garnered a lot of nominations as well as earning a few awards, so that's been nice. As for bloggers, it's actually been pretty incredible and not expected. We were on five different horror blogs "Top Ten Lists", we made Best Film of the Year on two of them and have been featured on numerous podcasts, articles, etc... so it's been a very exciting time.
But there are also a lot of people who hate the film, hate the ending, hate the pacing, hate the minimalism and the list goes on and on... but I also think those people probably weren't the audience I was gunning for... they like to watch people being tortured and have gallons and gallons of blood with as paper-thin characters as possible so what can you do? I can't please everyone, but hopefully those who appreciate someone taking a chance and attempting something somewhat unique, well hopefully I've created a film they can enjoy and respect.
From what I've read, there is also an earlier version of Dawning (somewhat confusingly also called Dawning) out there. Is that true, and if yes, what can you tell us about that movie, and in what way does it differ from the film that is being released now?
I actually shot the original Dawning in 2004 for $800 and it was in black and white... really amateur crew and amateur actors but we pulled off some interesting scenes... one of which you'll see on the extras of the DVD when it's available June 28th. I made another feature in 2005 and was shooting another film in 2006 when we found funding to remake Dawning with a better cast and crew, etc... Unfortunately the 2006 shoot was a fucking mess in every way, from personal/familial to professional... and I chose to either get rid of my name or re-shoot and luckily we were able to re-shoot so we went back in 2007 and added more footage in 2008 and 2009, finally finishing the film completely in 2011. Those films had some extra characters which were killed by unseen creatures, we had a scene with a couple skinny dipping, we had more gore and there was definitely a creature... basically everything I didn't want to do at that point in my career. I feel more comfortable using some of those genre staples now but I had to do what I had to do.
Let's go back to the beginnings of your career as a filmmaker: What got you into filmmaking in the first place, and did you recieve any formal education on the subject?
I've always been an imaginative kid and for a long time I wanted to write novels, like Clive Barker stuff, but I was just too enamored by filmmaking. In the summer before 9th grade my friends and I made a horror film after we rented a VHS camera from the local video store... it was pretty bad but a lot of fun. I ended up going to Moorhead State University where I had one of the great film teachers in this country, the late Ted Larson... he said one of the best things anyone has ever said to me: "I've never had a love affair with anyone like I've had with film." - that stuck with me and I continue to strive to make films in hope of making Ted proud of all the work he put into teaching... he may be dead, but I still feel an obligation to him.
A few years back you have directed a short with the beautiful title Waiting All Day for the Green Face of the Hummingbird (If I Were a Lily). You just have to talk about that one!
Ha ha! Well, I learned that titles shouldn't be that fucking long unless you're Stanley Kubrick, which I'm not, so, lesson learned. It's about an agoraphobic man, Geoffery Sherman, who finds out his mother dies and he can't go to the funeral. The guilt of not being able to go to the funeral eats away at him and this manifests into him believing his love doll wife has come back to life... and she's pregnant... so he gets another love doll and starts a love affair in his own apartment... it's a pretty absurd and dark film but I love it... it's got a special place in my heart and I'd love to re-do it one day.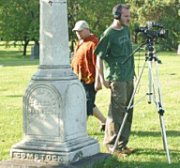 On the set of
(Yielding to) A Willing Breath
A few words about (Yielding to) A Willing Breath?
Yielding was my second feature film. I started the script and started shooting the film in 1999 while finishing up college. It was a collaboration with a few other filmmakers and it fell through. The story was personal to me as I had written it while working at a cemetery during the summer as a groundskeeper. One day I had to dig a grave for a baby and I have always been afraid of death, it's something I struggle with and I wondered why someone who was afraid of death would surround themselves by it... so I kept plugging away until finally meeting actor Paul Cram, a local actor from Minneapolis who first played Chris in the 2004 Dawning... he and I hit it off and he played the lead role in Yielding, which is essentially about a recluse who's girlfriend died unexpectedly and it's never explained how... and he ends up working at a cemetery because of a young woman he becomes obsessed with... it was an ambitious film which we shot for $3,500 and had over 10 locations and 20 speaking roles... the first cut was 3 hours long!!!! It was more of an experiment in dramatic narrative storytelling for me at the end of the day.
What can you tell us about Unhinged?
Unhinged was an 84 page script which we shot over 6 1/2 days and I gave it to the editor, Mike Kolloen, who deconstructed the film into this kind of post-traumatic stress disorder film... about a couple who gets carjacked. It was based on a true story and I wanted to try and tell the story of the carjackers, try to empathize with them a bit... but the script was pretty shitty and the decision to cut it into a short was much smarter as it kept the energy I had originally wanted but cut out most of the extraneous crap... yet still creates tension and atmosphere. I am really fond of Unhinged to be honest.
Any other films of yours you want to talk about, any future projects?
I've got a few projects I'm trying to get rolling, both horror... Nest and Snowblind... we'll see what happens. My pet project, titled Elephant Burial, will probably take forever to get funding for but you never know!
How would you describe yourself as a director?
That's hard for me to say. I just take it seriously and expect the people involved in projects with me to take it as seriously as I do... and there is no room for ego... everything should be for the film.
A few words about your production company, Wholecrue Productions?
It's just a group of people dedicated to trying to make good films... and it's EVERYONE, not just me.
Directors who inspire you?

Feeling lucky ?
Want to
search
any of my partnershops yourself
for more, better results ?

The links below
will take you
just there!!!

Find Gregg Holtgrewe
at the amazons ...

amazon.com

amazon.co.uk

amazon.de
Looking for imports ?
Find Gregg Holtgrewe here ...
Something naughty ?
(Must be over 18 to go there !)

Bergman, Scorsese, Hitchcock, Stone, Spielberg, PTA, Carpenter... there are a lot of them!
Your favourite movies?
The Exorcist, Goodfellas, Schindler's List, Raging Bull, Jaws, Dead Man Walking, Halloween, JFK... I'll just stop right there.
... and of course, films you really deplore?
Ultimately, I hate exploitive films with no point and no redeeming story quality. And I also don't care if you want to make a movie that's entertaining or "artistic", just don't treat me like an asshole either way.
Your website, Facebook, whatever else?
www.dawningthemovie.com and you can find us on FB by typing in Dawning the Movie... we also have a Twitter account which is Dawningthemovie so it's all pretty connected.
Anything else you are dying to mention and I have merely forgotten to ask?
Not that I can think of but thanks for taking the time to watch my little indie film and thanks for the nice questions, I appreciate it.
Thanks for the interview!