Your new movie The VelociPastor - in a few words, what is it about, and what can you tell us about your character in it?
Iím so glad you asked. My character, Father Doug Jones, is a troubled soul. Just as heís hitting his stride in the priesthood, he suffers a familial tragedy. While traveling to China on a visionquest, he encounters an artifact that allows him to transform into a dinosaur. At first horrified by this power, a local prostitute - played by Alyssa Kempinski - encourages him to use his power to fight crime. And ninjas.
What did you draw upon to bring your character to life, and how much Gregory James Cohan can we find in Father Doug?
Well, Doug loves his parents, as I love mine. I think that is at the core of Dougís journey. In every step, he questions his actions and wonders what his parents would think or encourage him to do. I can certainly relate to that, I think a lot of people can. But whether you have a human heart or a dinosaur heart, you have to follow it. Your heart. Other than that, we followed the fun. Director Brendan Steere [Brendan Steere interview - click here] and I were on the same page with the tone of the film since our first meeting. He provided some incredible films and performances to watch heading into shooting, including Michael Jai White in Black Dynamite and William Shatner in Incubus.
Since you're playing a priest in The VelociPastor, do you at all consider yourself a religious man in your personal life, and to what extent could you identify with the "priest"-part of your character?
I was raised catholic, so I can identify with being somewhat religious very early on in my life. And when I say somewhat religious, I mean we would go to church on most Sundays and on holidays growing up. Iíve done confession and taken communion. But I wouldnít say Iím someone who is presently ďreligiousĒ in my personal life. I believe in a higher power, and the power of thought and meditation and prayer, so I would say Iím more spiritual than religious. I can certainly identify with the priest part of Doug because ultimately he wants to do good. He wants to help people. I love that about Doug. We share that in common for sure.
You also do quite a bit of fighting in The VelociPastor - so how did you prepare for that aspect of the movie?
Iíve done some fight choreography training in the past, so I had a little bit of that under my belt, and I like to stay in good shape, just because itís part of my daily routine. But boy did we have a bad ass choreographer in Ryan ďNapalmĒ Wagner. Yes. His nickname/B-boy name is Napalm. He is an incredible martial artist as well as world-class breakdancer. Ryan and his team all played our ninjas and choreographed every bit of the fighting that Alyssa and I were involved in. It was so much fun to work with those guys.
How did you get involved with the project in the first place? And what were your thoughts when you first heard the title "The VelociPastor"?
Itís funny you ask that, because the first thing I heard - before I even knew what it was - was the title. While pursuing acting in New York, I was working with Seed&Spark, the film-centric crowdfunding and SVOD platform, when our head of crowdfunding had announced that ďa movie called The VelociPastor has just submitted for funding.Ē The room erupted with laughter, and we all huddled around to see if it was real. And it was. It turned out I had worked with one of the producers and asked if they were casting. They sent me the audition sides - which I absolutely loved - and I sent in a tape. I had a lot of fun taping that audition. Next thing I knew I was meeting Brendan Steere in Bryant Park to talk the arch of our vigilante Dino-Priest.
What can you tell us about The VelociPastor's director Brendan Steere [Brendan Steere interview - click here], and what was your collaboration like?
I can tell you that I love Brendan. Iím so grateful to have met him in Bryant Park that day and to have grown our friendship from there. The dude just loves movies. He loves music. He loves art. Like, Iím sure thereís at least ONE thing that you can ďgeek-outĒ on. Right? Every person has ONE THING, or should have ONE THING. Brendan has like a THOUSAND things. Heís a really smart guy with a wealth of knowledge of film, music, history, et. al. Everytime I hang with him, I feel like I learn something new, which is the type of person or people you should seek to surround yourself with. Plus he loves to laugh, so that helps too. After we met in Bryant Park, Brendan sent me the ďDOUG BIBLEĒ which was everything I should reference for Dougís journey in this movie. It was chock full of movies he wanted me to watch, a killer playlist, photos of Shatner and Orson Welles, but also Bruce Springstein. It was really fun to dive into it with him. And he totally understands that film is a collaborative art, so if ever he didnít understand something or have a clear enough outcome for something, he would ask his collaborators and we would find it together. There was one in particular which was necessary, but we just couldnít get the tone of it. So we all decided to improv, Alyssa and I, in a rehearsal and Brendan just took what we improv-ed and we shot it. It ended up being one of the funniest moments in the movie.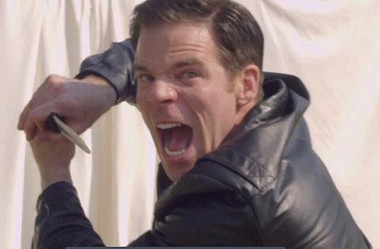 A few words about the shoot as such, and the on-set atmosphere?
Nothing but fun. Everyone brought their A-game to set with their skillset(s), but included in that was the ability to play and to laugh. Everyone wore more hat than one, but I can honestly say there was never a moment where anyone felt like they didnít want to be there. We all had a blast on set together, whether shooting or hanging out at the house after shooting. Being able to see our cast and crew at one of the recent screenings at Nitehawk Cinema in Brooklyn was one of the most joyous nights Iíve had in my career. I love those guys.
Any future projects you'd like to share?
Iíve got another feature film in festivals right now and on track for distribution called A Little Water. Itís way less Dino-Priest as it is family drama. Other than that, small writing projects with creative partners here in LA, auditioning in film and TV and texting Brendan any thoughts/ideas about VelociPastor II.
What got you into acting in the first place, and did you receive any formal education on the subject?
I always had a toe dipped in theater/performing arts in high school, but I was kind of insecure about it. I put all my attention on football and lacrosse instead. It wasnít until college that a guy on my lacrosse team at Hartwick College was a director and theater major and insisted I come audition for his plays. I did, he cast me and I loved it. I did a few plays in college, but still didnít think it was something I could do as a career. I got a full time job out of college selling billboard advertising, but decided to start auditioning for plays and taking classes. I was in a 2-year Meisner program at The Acting Studio, Inc. with James Price. I would rush off to class in a suit and tie in New York every night to do scene work, or rehearse a play I was in. I was always either in class or in a play while in New York. Once I started booking TV and commercial work, I decided to cash in my chips and go full time. The VelociPastor was my first feature film.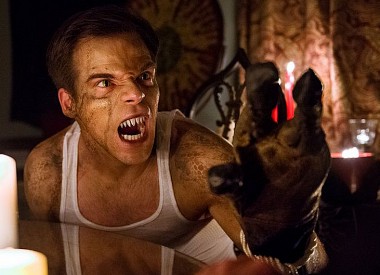 What can you tell us about your film and TV work prior to The VelociPastor?
Other than independent theater I was doing in NY, I had a few student films under my belt and very few TV appearances. I did background work on the pilot episode of Boardwalk Empire, and got some screentime, but it wasnít really acting. So I would just act any chance I got, whether in plays or class. My first TV appearance was on a Nick Jr. TV show called Team UmiZoomi. I actually had two parts; a robot salesman and a court jester. I remember calling my best friend asking him I was going to ruin my career if I accept a role as a court jester. He kindly responded, ďDude. What career?Ē I didnít really say no to anything after that. I just wanted to act. And when I got the chance to audition for a priest that turns into a dinosaur, I jumped at it with a resounding HELL YES. The VelociPastor was my first feature film. It wasnít until after shooting The VelociPastor that I started booking more TV appearances on shows in New York like Blue Bloods, The Blacklist and other night time dramas.
Besides making movies, you've also been in quite a number of TV series - so in how does shooting for a series compare to making a stand-alone feature or short?
Well, Iíve only had small parts in the TV series that Iíve shot. So I know my place. However, I will say that as actors, no matter how big or small the role youíre playing - whether the lead of the show/film or just a day player - youíre still just a small part of the whole machine. It truly takes a village to make a TV show or a film. Just because youíre in front of the camera doesnít mean youíre any more entitled or important than anyone else behind the camera. We all have different skills that apply to the job weíre doing in order to create the end product weíre creating. The only major difference between shooting TV vs. independent film might be the relationships. With a smaller production, everyone has to wear more than one hat. You just know that going into production. I think it also helped us get closer as a cast and crew. We spent a lot of time together over the 3 weeks it took to shoot, and we all got very close as friends. Iím really proud of the work everyone did on this movie and proud to call them my friends.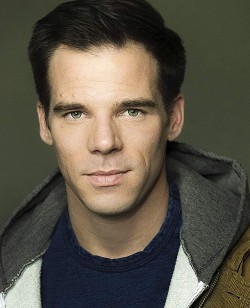 How would you describe yourself as an actor, and some of your techniques to bring your characters to life?
Youíre asking great questions and Iím enjoying this thoroughly. When it comes to my look, Iíd say Iím the love child of Michael C. Hall and Mark Wahlberg. As an actor, I truly do love dramatic roles. Any roles that allow me to access emotions that I donít feel on a day-to-day basis are very exciting to me. But I also love making people laugh, so I enjoy comedic roles very much. I think thatís why The VelociPastor was so much fun because I got to play it - at times - very serious and dramatic, but because the circumstances are so ridiculous, it ends up being really funny. As for techniques, I think the first thing is understanding the genre youíre playing in. We knew what we were making with The VelociPastor, so we understood the tone of the genre. I love the idea of dressing like the character before you get to set. Styling my hair as they would, wearing what theyíd wear, talking like they might talk. Thatís always fun to explore on your own. You may not use it, but itís in there once you get to set. Aside from that, listening is a pretty valuable technique.
Actors (and indeed actressess) who inspire you?
Cranston is my guy. Heís someone who truly inspires me. Someone who has been working most of his adult life, I believe since his early twenties, and who most people didnít recognize until later in his career. But, man, that guy has worked his ass off to get to where he is. His persistence alone is admirable and inspiring, and I think heís so talented because of how much work heís put in. So Bryan Craston is my number one, but after that there are just so many. I love actors/actresses and their stories, learning about how they got to where they are and the amount of hard work that goes into it. They all inspire me in a way.
Your favourite movies?
Jaws, Jurassic Park, Heat. Love me some Spielberg, love me some Michael Mann. Thereís so many that I love, sometimes itís hard to pick three. I was telling Brendan the other day how Newsies was the movie that made me want to act. I mean, being a rough and tough kid on the streets of New York slinginí papers and singiní your heart out about it? Yeah, I want that.
... and of course, films you really deplore?

Feeling lucky ?
Want to
search
any of my partnershops yourself
for more, better results ?

The links below
will take you
just there!!!


Films I deploreÖ hmm. Thatís tough, because in making The VelociPastor, Iíve grown to really appreciate even THE WORST films. Thatís probably not the answer youíre looking for. But itís what you get.
Your website, Facebook, whatever else?
Instagram and Facebook: @gregcohan (way more active here)
Website: www.gregoryjamescohan.com, www.thevelocipastor.com
Anything else you're dying to mention and I have merely forgotten to ask?
Order The VelociPastor on DVD August 13th!!! Thanks for having me here!!!
Thanks for the interview!