Your new movie Johnny Gruesome - in a few words, what is it about?
I hope the title says it all! Johnny Grissom is a heavy metal high school rebel who is murdered and returns from the grave as a talking zombie. It's Tales from the Crypt with high school students. A fun B movie with no aspirations of being anything else.
I've read somewhere that you initially wanted to do this movie as far back as 1984, and later turned the screenplay into a novel in 2007 before now actually making the movie - so could you elaborate on that, and how did the project evolve over the years?
I wrote the script in 1984, but couldn't raise enough money to make it, so I made Slime City instead. This is Slime City's 30th anniversary, by the way. In 2007, I turned the script for Johnny Gruesome into a novel which won some awards and was well received by horror readers. The book expanded the story quite a bit, and features several over the top gore scenes that aren't in the movie. Some friends of mine also produced a rock CD based on the book, and I did a hybrid short film/music video based on that which starred Misty Mundae [Misty Mundae bio - click here]. I was really happy with Killer Rack, the previous film I made, but felt stuck in the micro-budget rut. My best films - Slime City, Slime City Massacre, and Killer Rack - were each made for around 50K. I decided to try to raise close to a million to finally make Johnny Gruesome, which is the only one of my novels that could be adapted as a movie for that budget. I was only able to raise a quarter of that, so I made the movie I could make instead of the movie I wanted. The finished movie is very close to the script I wrote 34 years ago, when I was 20 years old. I changed the setting from winter to spring, which is too bad because winter is a much more dramatic environment, but the characters and plot are the same. I ended up using six of the songs from the CD in the movie, and Robby Takac from the Goo Goo Dolls performs a new theme song, Dyin' Tonight.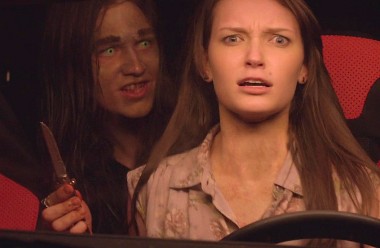 With Johnny Gruesome being essentially a slasher movie, is that a genre at all dear to you, and some of your genre favourites?
Slasher films really took off when I was in high school. A lot of them featured "origin" sequences set in high school, then jumped forward in time to when the characters were older. I wanted to see one set entirely in high school. I also wrote Johnny Gruesome as a reaction to those films: most of them featured masked killers with little or no personality. I'm not talking about the classics, but the bandwagon jumpers. I wanted my killer to be a teenage zombie, and a wiseass - this was before Freddy inspired an army of wisecracking horror characters. For the movie I made, I actually went back and removed a lot of the bon mots - I wanted to play it straight, although there is still a little bit of my 20-year-old self's black humor in there. I like monsters and monster movies more than I do slasher films, and I see Johnny as a monster and a slasher.
(Other) sources of inspiration when writing Johnny Gruesome?
Peter Straub's Ghost Story, Stephen King's Salem's Lot, and Tales from the Crypt pretty much sum it up - all filtered through my immature psyche's sense of humor and violence.
Do talk about Johnny Gruesome's approach to horror for a bit!
Since I wrote this when I was so young, it's a pretty simple premise: it was never meant to be more than a fun B movie. What I think sets it apart - and what made it a project I never gave up on - is the central character. I've read comparisons to The Crow and Evil Ernie, but I created Johnny before either of those characters made the scene. Johnny is a high school student, a rebel, and a horror film fan, so when he's murdered he does what he thinks he's supposed to do - come back as an undead creature and kick some ass.
You of course also have to talk about the special makeup of your title character, and to what extent were you involved in its creation?
The script and novel were very descriptive of Johnny's appearance, and between an illustrated limited edition hardcover of the novel, a trade paperback, a CD, a couple of promotional comic books, and the original concept art, Johnny's look has been pretty well defined - dead kid who rots. Craig Lindberg, who did the special makeup, did the effects for a couple of my micro-budget films that followed Slime City - Undying Love and Naked Fear, and created some cool gags for Slime City Massacre - and when we met around 1990, I discussed the project with him. 26 years later, when he was on a break from Saturday Night Live, he got to do the actual makeup, which was a lucky break for me because he's so talented. I live in Buffalo, which is where we shot the movie, and he's in New York City, but he was able to come out and do the work.
What can you tell us about your overall directorial approach to your story at hand?
I wanted to tell the story as naturally as possible; there was no preconceived style. It's a contemporary story, but it was written in the 80s, and I made my earliest films in the 80s, so the 80s are in its DNA, but there was no overt attempt to emulate that style of filmmaking. This film had the largest budget I've ever had, which allowed me to hire a professional crew and cast, but it's still a very low budget film. My goal was just to get it done, to shoot what we needed to shoot in 18 days, but also to do better as a director. We all worked hard on the film, there were a lot of characters and a lot of locations. Like with most of my projects, there was a really friendly, collaborative vibe on set.
Do talk about Johnny Gruesome's key cast, and why exactly these people?
I knew I had to have a real up and comer for Johnny. Anthony De La Torre submitted his resume, and had just finished filming his part as Young Jack Sparrow in one of the Pirates of the Caribbean sequels, and was getting ready to shoot Lords of Chaos. I knew he was my guy right away. I wanted a "name" to play Johnny's father, and kept coming back to Michael DeLorenzo from TV's New York Undercover. I had been thinking of Byron Brown II, a local artist, for the hero ever since we had worked together as production assistants on the last Teenage Mutant Ninja Turtles movie. For Johnny's girlfriend, I wanted someone who could be a bad girl who is sympathetic, and I selected Aprilann, who was very green, based on a couple of music videos she did. Every anti-hero needs a villain, and Johnny's is Gary, a punk rocker who kills him - I described it as punk takes down metal, but metal roars back. I cast a local filmmaker with crew experience, Chris Modrzynski, and he made a great psycho. When Madison Amey walked in for her audition as Rhonda, the "good girl" in the story, I cast her right away - she was the character I'd pictured in my head for three decades. The high school principal could have been a cameo for a name actor, but I wanted my pal John Renna, who co-produced the film, to play the part, and it's his best performance so far - until people see him in the film I just wrapped. I worked with Richard Lounello on Battledogs, and again on a Fred Olen Ray TV movie called A Mother's Revenge, and I knew I wanted him to play the police chief, Matt Crane. I'll close with Kim Piazza, who plays Carol Crane, the high school English teacher. Kim is one of my "Buffalo regulars". There are many other actors, most of them local, too many to mention. It was a wonderful cast.
A few words about the shoot as such, and the on-set atmosphere?
Everyone worked hard and pulled together, and there was a sense that we were making something above average, something that could really turn out well. There are no interesting stories to tell production-wise, because it was a smooth shoot, very well planned.
The $64-question, when and where will the movie be released?
Johnny Gruesome will be released on VOD on Oct. 16th, just in time for Halloween, and on DVD on Jan, 1st, 2019. Filmmaker Chris Ray hooked me up with the distributor, Uncork'd Entertainment, and they really seem to be pushing it.
Anything you can tell us about audience and critical reception of Johnny Gruesome yet?
The reviews are coming out now, and most of them are good, so fingers crossed. It took me 32 years before I got to shoot the film, and then another two years for it to come out. It's gratifying that the target audience seems to dig it.
Any future projects you'd like to share?
I just wrapped production on Widow's Point, starring Craig Sheffer and based on the critically acclaimed book by Richard Chizmar and Billy Chizmar. It's about a haunted lighthouse, and it's set during four different time periods: 1933, 1985, 2007, and the present. I think it's going to turn out to be an exceptional film, one with strong production value and acting, and it will be scary. No one will accuse it of copying the 80s' style. After all these years, it's my first straight on horror film. I'm also developing a scary, gory creature feature that I hope to shoot this winter. We'll see. This one requires a larger budget, and if I have to wait a year for Johnny Gruesome to hit, so be it.
Your/your movie's website, Facebook, whatever else?
We have a Facebook page for the movie, please check it out: https://www.facebook.com/johnnygruesomezombie/

Feeling lucky ?
Want to
search
any of my partnershops yourself
for more, better results ?

The links below
will take you
just there!!!


Anything else you're dying to mention and I have merely forgotten to ask?
I'd like to acknowledge my chief collaborators: Erin Elizabeth Heald, my executive producer, who made the whole film possible; my wife Tamar Lamberson, who co-produced the film with me and busted her behind on it for over a year; co-producer John Renna; Matthew Nardone, my cinematographer; Phil Gallo, who has been my editor for 23 years; and Armand John Petrie and Joe Rozler, who composed and performed the awesome score. Also Giasone Italiano and Dean Italiano, who composed other songs featured in the film. It takes a village!
Thanks for the interview!