The following is an interview with the stars and producers onThe Ballad of Halo Jones, the stage adaption of the Alan Moore graphic novel. The interview took place after the original Manchester run of the play and it is being revived this month in Leeds in the Library Scream Pub, Sunday 11 November, Monday 12 November and Saturday 17 November, as part of Thought Bubble, the week-long comic arts festival
Any discerning comic book fan will know of the tale of the 50th Century Girl Next Door, The Ballad of Halo Jones. From the pens of Alan Moore and Ian Gibson, the 2000AD strip was ground-breaking in its portrayal of a strong, ordinary woman in the very male-centric world of sci fi comics.
Based in far future Manhattan, it followed Halo and her friends in their adventures on the Hoop, a dumping ground for the unemployed. She eventually fled her humdrum life in the schlup-pit for adventures in space on a luxury cruise liner, and then the army.
As with all of Moore's works, it covered many social issues that still resonate today. The series made it to three books before the creators fell out with the publishers, and that's all we got... or did we?
Well, yes, all we got in terms of comics. But for any fans new and old, Manchester entertainment pub the Lass O'Gowrie has recently achieved the impossible and put The Ballad of Halo James on stage. A collaboration between the the pub's in-house production company and Manchester-based theatre company Scytheplays, it ran through January at the Lass O'Gowrie, and I caught up with the production team and cast after the inaugural performance.
Dan Thackeray Co – Director.
Ian Winterton – Co-writer, Script Editor, Associate Producer, Casting Director
Ross Kelly – Co Writer and Co Director
Dan and Ross met at university studying Film Studies, and have worked on several projects together, and Ian has been writing professionally for a number of years.
Why did you choose Halo Jones for an adaption?
IW: We didn't! It was Gareth (Kavanagh), our producer, who runs the Lass O'Gowrie.
We'd planned to do Hitchhiker's Guide to The Galaxy, but that fell through due to copyright issues, and then the next choice was Halo Jones.
And were you familiar with the piece before hand?
IW: Yeah, I know the book really well. I've had it on my wish list. When it didn't look as though we could do Hitchhikers, Halo Jones was one of the one's I'd wrote down, so I was glad we got the go ahead.
RK: Yep, I'm a big fan.
DT: I only knew of it at first, but I know a lot of Alan Moore's work and really admire him so I was excited about doing it. I like the feminist, ground-breaking quality to it, soI was really interested in tackling it.
What themes in it do you think are relevant today?
IW: Well, it's a big hoop full of unemployed people tethered off the edge of Manhattan, so it was very relevant in the 80's when it was written, and relevant again now. We looked at it and did consider setting it in Europe, having it tethered off the Northampton peninsula!
RK: The only reason we didn't was that it's written for an American accent, so it would have meant changing quite a lot of the dialogue, and we didn't have that much time.
When did the clock start ticking?
RK: We were given the 'go' in November, and started writing then.
IW: We didn't have a script until it was cast, at the beginning of December.
DT: We went through 9 drafts of the script, which was pretty ridiculous! We were on to draft 3 by the time we cast it. Between casting it and the two weeks before beginning to rehearse, the script just got rewritten and rewritten.
What changes were you making?
RK: Well, the first draft was just copying from the comic, with very little changes. Then we found out what worked and what didn't. What's written in the comic book might not work when spoken. There were also cliffhangers at the end of each comic, like 'tune in next week', which wouldn't have really worked on stage.
IW: The dialogue also wasn't designed to be spoken. No one was saying to Alan (Moore), 'that'll be difficult to say'. I kept thinking of Harrison Ford during Star Wars when he said, 'You can type this shit, but you can't say it!' Things like, 'Let's propel protoplasm'. That's quite hard to say! The auditions were useful to try it out on actors.
DT: I think the first person we saw for any role was Paida (Noel), who plays Ludy, and she read the scene with Ian reading in the other parts. Then we asked her if she had any questions and she said, 'Yes. Erm... What's happening?' She'd done it with conviction and belief you'd expect in an audition and it sounded really great, but she'd not really understood a word of it! So we explained what was happening, and she was like 'Oh...', and then it suddenly became alive.
When you put on fringe theatre, there's usually some problems, like double booking the venue or last minute drop outs. Did you suffer anything like this?
RK: Well, not dropping out, but we have had a lot of throat infections. Three of the cast, including the lead actress. They all seemed to lose their voice over the weekend.
IW: It's the Hoop!
RK: They all seem to have recovered really well, thank god!
DT: We also had a three-person costume team that went down very quickly to a one-person costume team. One of them got a paid job, and the other one was hit in the back of the head by a bus! Lizzie, she got off a bus and it drove into her. She's alright but she had bad concussion so that was the end of her contribution. Hannah Telfer, who then had to handle the costume requirements all by herself, has done an incredible job. Halo's dress for the party scene at the end is beautiful.
So tell us about Scytheplays?
DT: For a long time I had the idea of creating a company that was all about taking literary science
fiction, probably short stories, and putting on double bills of short plays. A standard theatre audience doesn't know about science fiction, and sci fi readers don't necessarily know that much about theatre. Putting the two together is probably uncharted territory, but I think they'll go well together, and that's what I've been wanting to do for a long time – and suddenly I've been made redundant so I have the time to do it! Last year my friend Kevin Cuffe, who's a great writer, invited me to work with him on his play called The Say Can Blues, which was a big success at the Lass O'Gowrie and he was kind enough to let me use my company name for that show, so that gave us a prestigious first production which then led to Gareth asking me to do this. So Halo Jones has ended up being the first of our sci-fi adaptations under the name Scytheplays. Its been amazing and it was just the sort of thing I wanted to do.
Louise Hamer - Halo Jones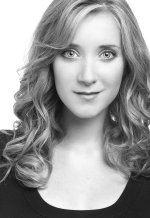 Louise Hamer
I hadn't actually heard of it before, but when I read it I fell in love with it. Halo Jones is just a normal, ordinary girl who wants to get out of the hoop and get out of her situation. She's nothing special, she hasn't got any powers, she's just someone who's motivated by something and acts upon it. She says in the book that anyone could've done it, and that's what I like about her. She's just the girl next door, but she did it.
It's been such fun to work on. It's such a good story and it was great to play the lead. We've had a lot of fun and I've made a lot of new friends.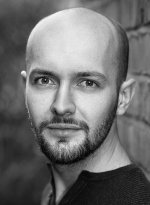 Benjamin Patterson
Benjamin Patterson - Toby
I've just been told that one of the real fan boys who came to see it said 'The thing that was going to make or break it for me was if Toby was going to be good', and then he said he loved it, which is just superb. You've got someone there who's obviously a real fan of the comic, and has got a lot of history with it, and if you can tick their boxes that's brilliant.
It's the first time I've acted full mask, and I'm actually kind of scared of masks! Usually when you're getting into character, who'll wear your shoes or whatever, get in the zone, but I couldn't look in the bloody mirror!
It was a fascinating little part to play though, as we had Toby as part dog and part human, so it was a real learning curve working out who he was going to be. It was a privilege to play as it was the only lead male part.
Zoe Iqbal - Swifty Frisco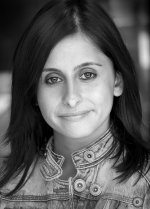 Zoe Iqbal
Swifty's an entertainment presenter that tells the Hoopsider's celebrity gossip and fashion tips, and most importantly, passes on the messages from the government. It was a really good comic part that I had a lot of fun with.
Through being in Halo Jones, I've had my eyes opened to a whole world of comics. They weren't what I expected, I think Halo is really political and it's got lots of undercurrents and twists to the story. I also do stand up, and I think comics are a really rich source for anyone writing comedy, as the characters are just brilliant.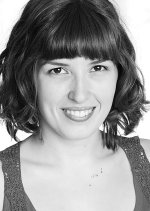 Michelle Ashton
Michelle Ashton - Brinna
I didn't know about the comic before the play, and I think it can be difficult to get your head around the whole 50th Century thing at first, but the whole cast got really involved, and we were all immersed in it by the end. The language was pretty alien, but it's not that difficult, because of the context of it. You can figure it out. Slappy is a word that's thrown in there a lot but you can work out what it means, and it became part of our own natural vernacular! We were all saying it.
Brinna is the mother figure to all the other girls on the Hoop. They actually wrote in the bit about the rejuvenation, because she's dead old in the comic, which would explain why I was so young playing quite an old lady. I think it really worked.
Next I'm in a play that I've actually written myself. It's called Fine, it's about a girl and her counsellor. It's pretty dark, a bit of a departure from comic books!
Marlon Solomon - Mix Ninegold
I studied drama about 10 years ago, but I've been working in music for most of that time, I've just got back into acting recently. I'm new to the comic but I've read it now. The play is the first two books. The third book is where she joins the army, and you can't really show that at the Lass O' Gowrie.
Mix Ninegold, who's got the best name of any character I've ever played, is a cyberneticist who works on board the Clara Pandy Space Liner, and he is responsible for all the machinery. He is fascinated by Halo Jones' robot dog, Toby. He doesn't have a huge role in the play, but he is pivotal to the plot when he replaces Toby's audio memory and gives Halo the old one, as she's missing her friends. It reveals that the dog is the murderer!
Danny Wallace - The Glyph
The Glyph s a really interesting character, but all the characters in the play think he's really boring, he just kind of fades into the background. So much that no one notices him, he's a bit invisible. I think of him a bit like a ghost. He's in scenes, but no one even sees he's there, unless he jumps in front of them. The Glyph is neither boy nor girl, he's had so many sex changes that he's lost his personality, and no one knows he's there most of the time. That lets him solve some problems and help people though. It's a lovely little part to play.

Feeling lucky ?
Want to
search
any of my partnershops yourself
for more, better results ?

The links below
will take you
just there!!!

Find The Ballad of Halo Jones
at the amazons ...

amazon.com

amazon.co.uk

amazon.de
Looking for imports ?
Find The Ballad of Halo Jones here ...
Something naughty ?
(Must be over 18 to go there !)

Gerard Thompson - Several Ensemble Parts
I go to Mark Hudson's Manchester School of Acting and I've been there for 10 years. He helped me get an agent, and then got me in front of casting director David Shaw, and he cast me as Lillian's son Rodney in Shameless. That was hilarious. Sally Carman (Kelly Maguire) gave me a really lovely compliment. She said, 'You're sat on a goldmine, and you don't even know it'. Hopefully they'll bring him back, Lillian keeps getting his picture out of her purse...
This is my first theatre in about 4 years. I know Ian (Winterton) through a mutual friend. He asked me to be in a play last year called Tag Team, but I bottled it because of a gay kiss in the script. Then I went to see it, and he only kissed his hand! I was like 'What'! So it's good to finally work with him.
Alastair Gillies - Several Ensemble Parts
I've been a huge fan of comics since I was old enough to read them. I worked in a newsagents, and I'd get first pick of 2000AD when it came out. Halo Jones was much more tongue in cheek sci fi. It was great. Comics seemed to get a bit more serious later on.
It's mainly strong female parts in Halo Jones, so the lads were playing smaller parts, doubling, trebling, quadrupling up, on and off like a jack in a box! It was a great deal of fun, it meant you could play around a lot more, doing silly voices and what have you. As an actor, you always want to do the lead roles and all that, but it's very liberating to have the pressure off. Just to go on and help tell the story, and make the audience laugh!
For more information check out the Scytheplays blog:
http://www.scytheplays.blogspot.co.uk/