Your new movie The Ghost Club: Spirits Never Die - in a few words, what is it about?
It's a loving but tongue-in-cheek look at ghosthunting shows and the sport. It is not found-footage and shows people what they always wanted to see happen in the shows.
Have you ever been part of an actual ghost hunt, and how much research went into that part of your story?
I interviewed many ghosthunters and organizations and did a great deal of research. We built a participatory platform and Ghost Club University. I also did a number of actual hunts in famous places that were posted to Theatrics.com. Most ghosthunting groups are very small and exclusive so we tried to open that up to a larger community.
(Other) sources of inspiration when writing The Ghost Club: Spirits Never Die?
Houdini and Sir Arthur Conan Doyle, the original skeptic-and-believer ghosthunting duo. Poltergeist, The Shining, Ghost Hunters and all the cable shows, Scooby Doo, and most importantly, Jay and Mark Duplass and the mumblecore movement of mixing improv with scripting.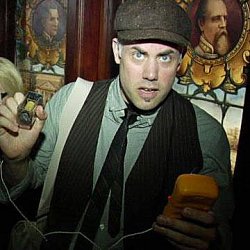 Jason Nunes
What can you tell us about your co-writer Jason Nunes [Jason Nunes interview - click here], and what was your collaboration like?
Jason and I passed the screenplay back and forth and tried to push the envelope of an artistic ghosthunting script. Appreciative of the genre, but also trying to do something different than the muddy-looking, grim, found-footage genre. Some of William's dialogue is very experimental. We also were thinking about a transmedia property that would work in other media. Jason and I both have done many digital media content experiments online so we looked at how this story would expand a mythology and canon.
Your two main characters, the sceptic Jimmy and the overly enthusiastic Tab - who do you identify with more, and maybe related to that, do you actually believe in ghosts?
I'm more of the skeptic, but open-minded. I have heard many chilling first person stories so I think there is something going on. Jason and I have tried to evolve a quantum model that will explain real ghosts—that will be in upcoming movies.
Do talk about your directorial approach to your story at hand?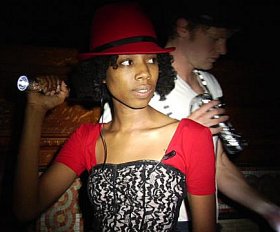 Enisha Brewster, Jason Mac
My first goal was achieving authentic performances. We cast for months and improvised a great deal with the actors. William Forsythe came in 3 days early just to do his homework and rehearse. Second was to create a camera-style like the TV shows that slowly evolved into a more filmic style. The look evolved from standard Panasonic HD P2 news cameras to a top end SLR with rented fast lenses. However we also had a set of "rules" including that the camera always followed the characters. Third, we tried to create a subtle suspense like the TV shows, that we continually topped with each new ghost event. It is sort of a "what if" applied to the ghosthunting show genre.
What can you tell us about your cast, and why exactly these people?
Well of course, William Forsythe, is a great actor, from Raising Arizona to the Rob Zombie films. He is well-known in the horror community but also does wonderful work on shows like Boardwalk Empire.
He helped ground the story and make the early exposition fun—and you have to watch for his twist at the end. The rest were unknowns from Atlanta when we shot it, but have all gone on to key roles in TV and movies. Enisha Brewster starred in the Halo: Forward Until Dawn movie and Jason Mac has been guest starring on many TV shows. Jeph Cange was a regular on Army Wives.
As far as I know, The Ghost Club: Spirits Never Die was filmed in an "actual" haunted house - so do talk about your location for a bit, and how did you find it in the first place? And any creepy anecdotes?
I related my haunted house stories to the real Ghost Hunters, who featured them in an episode about Rhodes Hall, our location. There were some suspicious locking of doors and one take interrupted by loud footsteps on the fourth floor. There was no one there.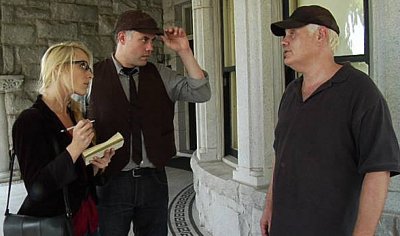 Clark Sarullo, Jason Nunes, William Forsythe
What can you tell us about the shoot as such, and the on-set atmosphere?
It was a fantastic crew who worked happily and well together. It was hard because we shot all nights but we were very lucky in getting so much accomplished in 10 days.
The Ghost Club: Spirits Never Die is supposed to be more than a movie but rather a transmedia experience - care to elaborate?
This was conceived as a transmedia storytelling experience that would allow people to engage the story in many ways. Some people created ghosthunting personas on Theatrics.com and did their own ghosthunts. Others played the iPhone and Android augmented reality games we created. A web series started appearing a year before the movie was released and featured The Ghost Club Girls, and featured origin stories about the team.
A few words about audience and critical reception of The Ghost Club: Spirits Never Die?
We have had a very good, but mixed reception to The Ghost Club: Spirits Never Die. The reviewers have mostly got it and had fun watching it but it has not fit exactly into genre expectations. We applied to the top festivals and most were not enthused about the horror genre, while horror festivals found it a little cheeky and unusual. I have had a great deal of previous success with indie art films, so this was more of a challenge to find an audience. Now that we are on digital platforms, it is finding an audience that is looking for spooky, fun entertainment and happy to take the ride.
Will there ever be more Ghost Club movies ... and other future projects you'd like to talk about?
This was conceived as a franchise so we'll see if any companies have a transmedia vision. I would like to explore the characters more.
My next project is about Fairy Tales 2.0— reconceptualizing a modern take on emerging stories. There are are also a few movie projects in various stages of development.
What got you into filmmaking in the first place, and did you receive any formal education on the subject?
I went to NYU Film School and started from there. I started directing for The Great Space Coaster but then moved into AD work, then UPM, and finally producing many movies including In the Soup.
What can you tell us about your filmwork prior to The Ghost Club: Spirits Never Die?
I have produced many indie movies out of the New York film scene that were released theatrically, on TV, DVD, and many big festivals. I worked as director of production for Arrow Entertainment, and director of post-production for IFC Films. I have a number of scripts in various stages of development.
How would you describe yourself as a director?
I try to push the envelope, defeat expectations, and be true to a vision. However, I hate pretentiousness and think big ideas can be contained in an entertaining package.
Filmmakers who inspire you?
This movie was inspired by the work of Mark and Jay Duplass. Just go out and do it, and make it real and fun. Also Spike Lee, who I worked for, who has surmounted many obstacles to make his movies. Beyond that, of course, Scorsese, who also attended NYU Film. Alex Rockwell, who I did two movies with, was also an inspiration to get authentic performances.
Your/your movie's website, Facebook, whatever else?
The Ghost Club Girls: A web "reality" series, which introduces viewers to The Ghost Club team and their investigations. Watch the first episode here: https://www.youtube.com/user/TGCTheGhostClub
Ghost Club University: Do your own ghost hunting: https://www.youtube.com/user/TGCTheGhostClub

Feeling lucky ?
Want to
search
any of my partnershops yourself
for more, better results ?

The links below
will take you
just there!!!

Find Hank Blumenthal
at the amazons ...

amazon.com

amazon.co.uk

amazon.de
Looking for imports ?
Find Hank Blumenthal here ...
Something naughty ?
(Must be over 18 to go there !)

Social networking, which includes Facebook and Twitter pages for The Ghost Club, as well as for a couple individual characters from the film:
View The Ghost Club Facebook page here: https://www.facebook.com/TheGhostClubUSA
Android Ghost Hunting App: Free augmented reality app so you can "find" ghosts at your current location and create photo evidence. A demo of the app can be viewed at: https://play.google.com/store/apps/details?id=com.hauntedplanet.branded.ghostclub
The Ghost Club website: http://www.ghostclubusa.com/home.php
The Skeptics Diary, Ghost Club comics following its leader Jimmy: http://skepticsdiary.tumblr.com
Anything else you're dying to mention and I have merely forgotten to ask?
We really want people to enjoy the movie but then go out and do your own ghosthunting. This is about creating new ways to have fun and peak experiences with your friends.
Thanks for the interview!