Your new movie Agramon's Gate - in a few words, what is it about?
A young couple are having a housewarming party with a psychic, and a spiritual force comes through in the shape of Richie's dead father and starts haunting the party goers. Soon enough it goes from disturbance to terror and they realize they're dealing with Agramon - The Demon of Fear.
Agramon's Gate deals in mythology, spiritualism and demonology - so how much research did you put into that aspect of your story, and how much artistic license did you take? And would you at all describe yourself as a spiritual person in real life?
Let's answer the second part first with an absolute yes... I believe we are spiritual beings having a human experience.
I researched demons in mythology, interested in seeing what would make the story move, and build in a bit of a Hitchcock kind of way, and I came across Agramon.
(Other) sources of inspiration when writing Agramon's Gate?
So many films ahead that paved the way from Poltergeist to The Shining and much in between. I wanted a great story, I wanted some comedic moments, I wanted great suspense and some good jump moments and scares/frights!
In a way, I interpret Agramon's Gate as a movie about guilt and coping (or the failure to cope) with it - would you at all agree, and if so, care to elaborate?
Absolutely, I wanted the dilemma that Richie buried and never dealt with what happened but in a way none of them did, and it made them vulnerable... there is pride and walls and shame and guilt all over.
What can you tell us about your movie's approach to horror?
I was hoping for it to be the kid of movie that makes you chuckle then builds the tension until you're sitting on pins and needles with suspense and anticipation, sometimes giving a thrill, sometimes resetting you to a chuckle while building and stakes going up.
A few words your directorial approach to your story at hand?
I mostly needed to guide the "red herring" and make choices on how much to show vs how much to leave for interpretation. It's a very fine line and ideally we danced on it.
You also play a key role in Agramon's Gate - so what can you tell us about your character, what did you draw upon to bring him to life, and have you written Zeb with yourself in mind from the get-go?
I wrote Zeb without anyone in mind, but after reading it I felt Billy Wirth and had him in mind for it ever since. He ended up busy on a TV show, and a few weeks out from shooting I suddenly was faced with a dilemma, and Aphrodite was trying to find Vesna. We jumped in head first and created a great prequel backstory to our characters, it was pretty wild!
Do talk about the rest of your cast, and why exactly these people?
We had a really good casting call with over 700 submissions and I was so stoked when Yan Birch and Laurene Landon said yes. Afterwards we needed the demon origin, and we backstoried it to an Asian demonic force, and Calhoun Koenig fell in perfect place. Kris Reilly and Kaiti Wallen played opposite before with great accolades, so that came easy. Took a little longer to find our "sidekicks", but Jessika Johnson and Francisco Posada found the comedic side in their characters that many had missed, and Aphrodite Nikolovski had an amazing although very different audition of a gypsy version of Vesna. It all came together incredibly well I think.
A few words about the shoot as such, and the on-set atmosphere?
In general we actually had a pretty fun shoot on this one, relaxed but professional is my motto and we achieved that a lot of the time I think.
The $64 question of course, where can Agramon's Gate be seen?
I have been told we are having a full VOD release on all major sites such as Amazon, Vudu, Fandango, XFinity, Direct TV, AT&T, Spectrum etc.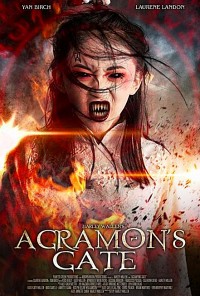 Feeling lucky ?
Want to
search
any of my partnershops yourself
for more, better results ?

The links below
will take you
just there!!!


Anything you can tell us about audience and critical reception of Agramon's Gate yet?
So far it's been a pretty overwhelming start of positive reviews and positive accolades at festivals. I actually went to a couple of festivals and blended into the crowd and was very happy with how a real audience responded to it!
Any future projects you'd like to share?
Ash and Bone is in post production, and I have a feeling it'll be our best yet, and starting production on a TV series this month called Tale of Tails and yet another horror film, Beneath Us All - we'll be making vampires scary again!
Your/your movie's website, Facebook, whatever else?
"Agramon's Gate" on Facebook, otherwise follow us on "Painted Creek Productions" or me, Harley Wallen.
Anything else you're dying to mention and I have merely forgotten to ask?
I think you covered it!
Thanks for the interview!
Thank you Michael!