Your new series Tale of Tails - in a few words, what is it about?
Steve Kopera wrote the short synopsis and I think itís pretty dead on: ďTails is not a white-collar gentlemen's club. It's a borderline-legal bar with topless dancers and a back room where anything goes for the right price. Nick, the owner, keeps Tails afloat by taking advantage of the desperate women who dance for money and the desperate men who pay for female attention. When a dead body shows up in the bathroom, Nick's control begins to unravel. Hunted by an ambitious, relentless cop, Nick's enemies begin to surround him. He must decide how many friends to sacrifice in order to save himself.Ē
Now how did the project come into being in the first place, and what can you tell us about Tale of Tails' co-creators Tevis R. Marcum and Steve Kopera [Steve Kopera interview - click here]?
This is one of those projects thatís been passing through hands for a decade or so. Tevis Marcum gathered a ton of stories many true and some cooked up from real incidents and thought it would be an entertaining idea and started writing a pilot and an outline. After some disappointments and detours he got together with Steve Kopera who had just recently released Boyne Falls and was itching to make it work. Steve is an excellent writer, so he started massaging the pilot and outline, and after that they looked for an other partner to help get it off the ground. Tevis came to me with the idea of having me play the main guy ďNickĒ, and although I really liked it I felt it was a heavy load to carry as an indie actor so I had some thoughts and suggestions that would balance the story as well as cater to an audience that has seen shows like Sopranos, Sons of Anarchy etc. disappear. I was stoked when they liked my ideas, and soon after we started pre-production.
Very basic question, why a strip club?
Thatís Tevis, he has worked in them for some years and the stories are just simply fantastic. There is something about the peephole to look inside and to see many of the realities of some strip clubs. Just like Breaking Bad or Ozark we get to sneak a peek into a world many have a curiosity of.
(Other) sources of inspiration when writing Tale of Tails?
I loved co-writing Tale of Tails, it was a lot of fun and we all bounced ideas and story lines off each other, and I think it really pushed the story.
With Tale of Tails being a rather epic ensemble piece, how easy or hard is it to not lose sight of the individual narrative threads and keep them integrated into the whole?
It can get tricky for sure, we tried to outline characters so weíd have individual arches that worked in conjunction with the main plots. Now that season 1 is virtually complete we are talking season 2 and where to take the main story and characters next, and itís a ton of fun and we are itching to do it again! I think like all series the first episodes kind of set the table but after those two episodes it really picks up and itís not letting go of you! Our test audiences all say the same thing, it picks up steam and has you wanting more as it goes!
What can you tell us about your directorial approach to your story at hand?
Because of the large cast this hasnít been quite as easy as the films, but we had two solid table reads and that helped a lot. But ultimately directing is having the capacity to convey story, feel and vision to your cast and crew, so thatís what I do, development to post production.
According to my information, Tale of Tails is your first TV series - so how does shooting a serialized show compare to shooting a feature film?
The simple answer is that the plate got a lot bigger with a lot more on it. But I have to admit that I really enjoyed it, it was a blast to make this. I could tell our cast and crew could feel we had something special going and they really delivered. Also I have to commend my team with my wife Kaiti Wallen who plays a lead character, she was our nuts-and-bolt producer, and much of this was shot over the summer with a pandemic that threw us a big curveball. Tevis Marcum, who was always on hand filling in as and where needed while playing a lead role, and Steve Kopera who has been editing and taking care of the incredible amount of footage as well as pitching in all kinds of places throughout.
You also play the lead in Tale of Tails - so what can you tell us about your character, what did you draw upon to bring him to life, and did you create him with yourself in mind from the get-go?
Yes, I play Nick and heís not out there trying to be liked. Heís a fun character to play though, definitely a very different character for me. I think the closest thing Iíve played is Mikhail in Betrayed, but itís different. I honestly donít see Nick as a villain. Itís like Breaking Bad and Ozark, the circumstances kind of make him and yes, heís selfish to a high degree, thatís evident but mostly heís making selfish reactive choices to get what he wants, that he feels he deserves even.
Do talk about the rest of your cast, and why exactly these people?
Kaitiís roles were written with her in mind, we wanted a strong female lead but we wanted her vulnerable and we found the dilemma of two sisters to a single mom where one became an officer and one a stripper. It allows for incredible drama honestly. Much the same with Tevis playing Roadie, heís Nicks right-hand man in a way, but itís hard to tell where he really stands on things because of his loyalty to Nick. Another character I really enjoy is Fisk, our own slick and influential lawyer played by Jerry Hayes, one always feels heís got an ace up his sleeve and a step ahead of the game. Grover McCants plays another main character that is hard to pin down. He seems too close to be objective but still willing to go uncomfortable places. Brett Stanfield is the perfect yin to Alisonís yang, and them two work off each other really well! Jovie Lyn plays Nick girlfriend Vikki, and thatís a tricky relationship, Vikki starts sniffing out issues working as the bar manager, and it causes a rift between her and Nick. There are a ton more solid performances but I would love to touch on our guest stars, first off Richard Tyson is just so awesome as Anthony, whoís essentially the guy who raised Nick and his older brother. Richard is across from Michael Emery who plays Nick and Joeís real father, and heís straight up fireworks as well as Jesi Jensen as the birth mother. We werenít sure about doing more flashbacks to their times, but after seeing them on screen there is no denying us needing to revisit them. We also have Yan Birch as Fransisco, and heís simply incredible in a role I doubt youíve seen him, and thatís another character we want to expand on in season 2. UFC and Rizin MMA pro fighter Daron Cruickshank has a cameo guest appearance and heís just awesome and provides a nice action sequence of scenes! I had the pleasure of working with Blanca Blanco on my trafficking and dirty politics feature Betrayed, and sheís simply stunning as Lola and her storyline makes for some stand-out scenes, not to mention we get to see this goddess on the pole! Last but not least we snagged the always kick ass Jimmie Chiappelli, who has finally been able to let the cat out of the bag of his big role in the upcoming Guardians of the Galaxy 3, and he really brings it as the biker club leader Gemini. Phew yeah, youíre right we have a huge cast and I could totally keep going as we have so many stand-out performances!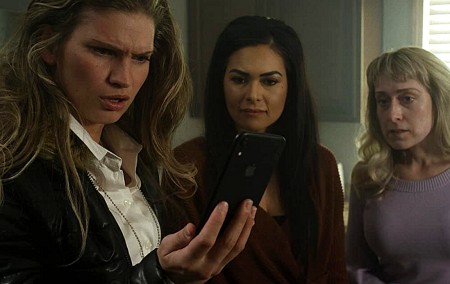 A few words about the shoot as such, and the on-set atmosphere?
Even with the Corona virus around we took the steps we needed for safety and the atmosphere was fun and light much of the time, even with all the restrictions. Iím really happy how willing people were to deal with all of that, Iím super proud of the decisions we made to keep people safe. Obviously eight episodes ranging from 20 to 25 minutes makes for a lot of shooting days, it was hard wrapping season 1 because of how close we had become...
The $64-question of course, when and where can Tale of Tails be seen?
Yes thatís exactly it!! We are in the very early shopping stages as we do not yet have all episodes finalized. But I think right now we are eyeing several outlets and in early talks with a few. I hope we can strike a deal that starts up season 2 quickly, but we are prepared to go the Cobra Kai route and let out audience speak.
Anything you can tell us about audience and critical reception of Tale of Tails yet?
Iím glad you asked, Iíve never seen anything like it. The accolades have been incredible and so far weíve made 13 out of 16 festivals with an incredible amounts of wins in all kinds of different categories from best TV show/pilot to acting, directing, editing and more, and itís getting very common for us to get music and sound awards. I want to give big thanks to Randy Lynch and Allen Lynch for the score and the incredible amount of music, and hats off to Kaizad Patel and Firoze Patel who have worked tirelessly in getting us great sound design and mastering. I think the best I can tell you is follow Tale of Tails on Facebook and weíll keep you clued in!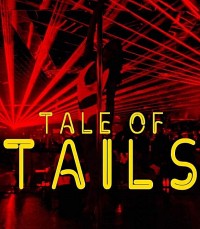 Feeling lucky ?
Want to
search
any of my partnershops yourself
for more, better results ?

The links below
will take you
just there!!!


As far as I know, the first season of Tale of Tails is in the can as we speak - so will there ever be a second season, and if so, what do you have in store for your characters the second go round?
Iím sorry but with season 1 not yet complete and not out I canít give that away since it would contain spoilers. But we have outlined our main characters and the main plots... The audience will ultimately decide about a season 2 but I feel good about our chances!
Any (other) future projects you'd like to share?
We just recently released the trailer for Ash and Bone, and that was very well received on horror sites around the world. That should be complete by the end of February and the shopping will begin. I am hoping for either a summer or October theatrical run. I would say I dipped my toe when I made Abstruse and Enigma (although they were much more thrillers). Then I paid homage to the supernatural horror genre with Agramonís Gate, and now here I am with a violent dark horror story in Ash and Bone and I love it!
Your/your series' website, social media, whatever else?
Iím Harley Wallen on Facebook, OfficialHarleyWallen on Instagram and HarleyTheSwede on Twitter.
The TV series has its own Facebook, and so do most of my movies as well as the production company myself and my wife Kaiti founded, Painted Creek Productions.
Anything else you're dying to mention and I have merely forgotten to ask?
I think we covered a lot and as always, my pleasure! Always such a good interview! Thanks Michael!
Thanks for the interview!