Your new movie Blood Rush - in a few words, what is it about?

Popular model Nicole Diamond finds herself trapped in an upside-down car in the middle of nowhere. With her damaged cell phone unable to dial emergency numbers, she's forced to call random people until she connects with a mysterious man named Casey, who seems willing to help, until it becomes clear: Roadside assistance is the last thing on the stranger's mind.

What were your sources of inspiration when writing Blood Rush - and even if this might sound like an odd question, is any of the film based on personal experience?

It actually was based on experience, at least vicariously, inspired by accounts from friends who'd been in abusive relationships. Also, when my co-writer and I began working on the script, the Chris Brown/Rihanna domestic abuse incident resurfaced. It was incredibly ironic: On one hand, you had Rihanna, who seemed to have it all – looks, fame, riches, talent – entering into a relationship with an abuser. On the other, Chris Brown also seemed to have it all, yet he possessed a rage he was clearly incapable of controlling. People on message boards were excusing Brown's behavior, claiming "Everyone makes mistakes" and "He was younger then", as if beating a woman senseless could be put under the category of "Oops!" or as if such behavior could in ANY way be attributed to maturity. There's always the question of whether a person should be forgiven, but ordinarily that follows the accused showing even an ounce of remorse, which with Brown, at least publicly, was nonexistent.

One other source of inspiration was smartphones, and how these days, so many people refer to them as their lifelines. I wanted to see how that would play out in a literal context.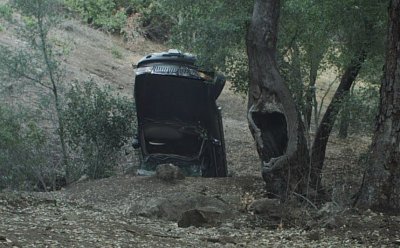 What can you tell us about your co-writer Rob Greenberg, and what was your collaboration like?
I wrote my first script solo, and it took nine months to complete. For shooting my first movie, I needed something simpler, at least logistically. I didn't want to lock myself in a room for another nine months, so I recruited my long-time friend and prolific screenwriter, Rob Greenberg, to help.
To me, writing is an intensely introspective exercise, and something I need to do alone. So, Rob and I developed a method where we'd pass the script back and forth, each adding new pages and discussing any edits we'd made to previously-written material.
Once we got going our collaboration was actually pretty smooth, and we moved at a good clip. We also felt the topic of domestic abuse is important, and it hasn't been covered very much in movies of late, and so it became our story to tell.
Blood Rush is mostly limited to just one location, the inside of Nicole's car - so how limiting or maybe even inspiring was that for you as a filmmaker?
I remember a story about a Japanese filmmaker who was considered the greatest of his time. He was offered an unlimited budget to make his next movie. There were no obstacles, he could dream up and shoot anything he desired. So… he committed suicide. The point is, obstacles and limits can be helpful, much like guardrails on a highway.
When I was about ready to shoot Blood Rush, I took a two-day course that was designed to demystify the filmmaking process. The message of the course was to simplify, which meant write a new script with a minimal number of characters, one location, no kids, no animals, and no special effects. When I presented these confines to Rob, his response was "That's impossible." To me, "impossible" is merely the start of a juicy challenge, and I love a juicy challenge.
The limitations were both difficult and inspiring. How much story can you evoke from a single location, a single character, or a single damaged cell phone? And how can you keep an audience glued to their seats for ninety minutes with those restrictions? I remember seeing a movie called Buried, which went beyond a single-location – It all took place inside a coffin! Now THAT's a tough gig, but they absolutely made it work. The acting, directing, cinematography and sound were exceptional, and I figured if they could pull it off, I should've been able to pull my movie off, considering I had more space than a coffin (despite the fact that I was a first-time filmmaker).
What can you tell us about your overall directorial approach to your story at hand?
I think it's easier to direct material you've written, because you've given birth to a new world, the characters who inhabit it, and the collision course they're on. I love when actors understand their characters to the point where they can ad-lib or suggest lines that are fitting of those characters. I'm wide open to those things, as well as suggestions from anyone on the crew, because you never know what people may come up with. I took the same approach with my staff when I was in the corporate world, because it's silly for anyone to kid themselves that only they have solutions or good ideas. I ended up using a number of ad-libs from both Stella and Madsen in this movie.
I'm also stubborn about capturing what I see in my head, though I'm willing to settle by getting elements of shots, which can be pieced together in post via visual effects – which in independent filmmaking is not only cost-effective, but considering time/budget constraints, often necessary. It also helps if you're a director who enjoys taking a hands-on approach with visual effects.
Also, I like a casual vibe on set, despite all the pressures. Drama's reserved for the screen.
Blood Rush features the voice of fan fave Michael Madsen - so what was it like working with him, and how did you get him even? And why doesn't he make an on-screen appearance?
One of my stunt coordinators said he knew Mike, so I told him if he could get me in touch with him, I'd hand him my first-born. I guess Mike changed his cell number, and that connection never materialized. Later, Rob and I learned that a producer he'd worked with had a connection to Mike, so I got the script through to him, which thankfully he liked, and next thing I knew I was on the phone with Mr. Blonde. It was a great conversation, and soon after, he was on board.
Mike's a powerhouse. His emotional range is incredible. Directing scenes can be like getting from A to B in a rental car, and it can be a bit jolting when you realize your rental car's a Ferrari. Needless to say, it was great working with him.
In terms of not showing his face on screen, the reason was, very simply, that the story didn't call for it. People have told me that that was a pretty ballsy move for a first-time director – having such a great actor on board, yet not showing his face – but the calibre of actors attached to my movie didn't change my job description, which was to present the story as I saw it on screen.
What can you tell us about the rest of your cast, and why exactly these people?
We held closed auditions for the lead role in the heat of Los Angeles, and as luck would have it, I managed to catch a cold. All the actors were good, but my antihistamines had me on the verge of dozing off. And then Stella Maeve walked in. There was something very New York about her, something very kindred. She began and I was immediately floored. I witnessed my character come to life off the page, and it was a magical moment. I knew right then I had my lead.
Evan Taubenfeld was recommended by someone I'd worked with. His audition was great, and I knew he'd have great on-screen chemistry with Stella. Not just that, but both he and Stella were up for the gruelling task of literally hanging upside down for roughly ten days, and that was the spirit I needed from the actors.
A quick anecdote about Stella – the role of Casey was cast after principal photography, so Stella was acting opposite an on-site reader. The first reader told me he was going to convince me he was the perfect fit for the role of Casey. I tried to explain to him as tactfully as I could that I had someone else in mind for the role. The next thing I knew, he started not showing up on set. So, the person reading for Casey changed hands a few times, but regardless, Stella was great in staying in character, which is another testament to what a great actor she is.
Do talk about the shoot as such, and the on-set atmosphere?
Our biggest challenge, aside from freezing temperatures, was hanging our actors upside-down inside the car. Planning could've been a lot better in terms of loading them in, and we lost time due to our lack of preparation. We had to reposition the car so they had some (versus zero) back support.
Regardless, Stella and Evan were great sports. Evan had to be perfectly still, despite his discomfort, returning to the same positions over and over. Stella had a 90-page script to memorize while struggling to be clear-headed in the midst of hanging upside-down. Those two will always be my heroes for what they endured and how well they handled it.
The atmosphere on set was upbeat, despite the freezing temperatures, the darkness of the material, and our actors' massive physical challenge. And it was a lot of fun hanging with the animals and reptiles, though we were told not to lock eyes with the wolf, (actually, there were two wolves and two snakes), as they'd perceive that as a threat. And one of my producers was terrified of snakes, which I found amusing, because I thought the snakes were adorable. The mouse was, too. And the deer. And birds.
Anything you can tell us about audience and critical reception of Blood Rush?
Following its release, I was reading the first review and literally sweating. Thankfully, it was positive, but I was waiting for the other shoe to drop, thinking the next review would rip the movie to shreds. Surprisingly, the next one was even more positive.
The thing is, the movie's somewhat experimental in nature. The title, Blood Rush (which the distributor wanted renamed from "Flipped" for more "immediacy"), sounded horror-ish, but it's not really a horror movie. It's more of a psychological thriller, which may not be what horror fans expect. And the upside-down aspect, which is very unique, is tough for some people to view for the movie's duration. Regardless, I'm sincerely grateful for anyone who does connect with the movie.
Any future projects you'd like to share?
I've got a couple things in the works – one being a heist script, the other being Mafia-based.
What got you into filmmaking in the first place, and did you receive any formal training on the subject?
I've always been active in the arts – drawing, writing, etc. Later, I got into computers and sound recording, and ultimately I landed a job as a web programmer and webmaster, which encompassed all those things. When the corporate world became stale to me, I wanted to make my own movie, as I believe film is the most powerful medium of all the arts.
On the education front, I took some film-related college courses, and while in the real world, I produced some cheesy corporate videos. Prior to making the movie, I took the aforementioned two-day film course, I'd read a ton of books on the craft, and I also watched a slew of director commentaries on DVDs, which are often full of gems for filmmakers. However, my greatest learning was achieved, of course, on the set of Blood Rush.
What can you tell us about your filmwork prior to Blood Rush?
When my co-writer, Rob, made his own comedy feature (Saturday Morning, available on Netflix) several years ago, it was interesting to witness the process on set. When his production wrapped, a producer who claimed he was going handle post-production stiffed Rob, so, drawing on my experience, which was pretty limited at the time, I helped him finish his movie off. I took on the editing, sound design, foley, and whatever else needed doing. I was shocked when Rob informed me the movie won best editing at one of the film festivals he'd entered.
How would you describe yourself as a director?
"Patient", to put it in a word. I've dealt with some pretty hairy things in the tech world, like helping rebuild a brokerage firm's tech services following the 9/11 attacks, playing negotiator with someone who'd stolen sensitive corporate data who was attempting blackmail, and hardening a server that had just been cracked by one of the world's most infamous hackers (before he was hauled off to prison). You learn to keep your cool and work pragmatically toward a solution when a service dies and a head trader starts screaming, accusing you personally of costing them unheard of amounts of dollars for every minute you're taking to fix their problem.
Nightmarish experiences aside, I like a calm set, because I believe peaceful environments bring out the best in people. And I believe in inside-out direction, meaning I don't want to recite to actors how a line should be delivered, but rather have them understand the mindset of the character, where they give a more genuine and organic performance. I'm a big believer in teamwork, greatly appreciating everyone on board, their ideas, and their feedback.
Filmmakers who inspire you?
My favorite director is David Fincher. There's a coldness to his imagery and darkness to his humor with which I really connect. Also, it seems like every Coen Brothers movie is a self-contained film course. Quentin Tarantino has the ability to take the absurd and make it grounded (I mean, two hitmen having a philosophical discussion about foot massages before doing a job? Beautiful!). I find Guillermo del Toro to be incredibly imaginative. I also appreciate Spike Jonze for the risky material he takes on (how many directors could've pulled off Being John Malkovich?). Overall, I guess I'm attracted to those skilled in working with dark tones, but at the same time, who possess a childlike imagination.
Your favourite movies?
American Beauty, Fight Club, Being John Malkovich, Goodfellas, Scarface, The Godfather I & II, The Matrix, Hable con ella (Talk to Her) and Amélie, to name a few.
... and of course, films you really deplore?

Feeling lucky ?
Want to
search
any of my partnershops yourself
for more, better results ?

The links below
will take you
just there!!!

Find Harris Demel
at the amazons ...

amazon.com

amazon.co.uk

amazon.de
Looking for imports ?
Find Harris Demel here ...
Something naughty ?
(Must be over 18 to go there !)

There's a lot to learn from great movies, but you can learn more from really bad movies. So, for that reason, I can't say there's any movie I deplore. I mean, how could anyone be down on something that offers such an incredibly rich, educational experience?

Your/your movie's website, Facebook, whatever else?

https://www.facebook.com/FlippedFilm/

https://twitter.com/bloodrushfilm

Anything else you're dying to mention and I have merely forgotten to ask?

I'll just shout out this – Support independent film! :)

These were really great questions, and it was a real pleasure chatting! Thank you so much for your time, and thank you to your readers for their time, too!

Thanks for the interview!