Your upcoming webseries Miskatonic West - in a few words, what's it going to be about?
H.P. Lovecraft's Miskatonic University has a West Coast campus. That's the basic premise. So, in this world, everything H.P. Lovecraft wrote about exists, and Miskatonic U is a real place that opened a West Coast satellite campus. Professor Sousaku Kaos is the head of Biology, who's Okinawan village was destroyed by a mysterious evil Lovecraftian force when he was a child. He is also a consultant for the LAPD on cases of interest. An X-Files of sorts. Unlike X-Files, the majority of these cases are hoaxes or fake. The series starts with a case that is real. It leads to the Esoteric Cult of Dagon and a plot to conquer the world with an army of Deep ones. Kaos recruits a few of his students, and his contact at the LAPD, to foil the Cult's plans to awaken the Elder God, Dagon.
Your series is inspired by the writings of H.P. Lovecraft - care to elaborate?
His monsters and certain events from his short stories are real events in the series. The whispers of Herbert West reanimating a dead corpse are true. There were alien civilizations that ruled the Earth hundreds of millions of years ago. Some of these civilizations were lead by creatures of tremendous size and power, like Dagon, Hydra and Cthulhu.
I love monsters, I have since I was a very young boy. Lovecraft's personal style of writing sets up the character's environment and emotional life specifically in the face of encounters with such monsters. In his stories the actual encounter is often a sentence or two. I've had to go back and reread the encounter, it happens so fast, but it's real cause he's set it up. When my co-creator, Noah James Butler - http://www.imdb.com/name/nm3676222/?ref_=fn_al_nm_1 -, came to me with the idea to do a web series based on those writings, I jumped. He wanted to capture the psychological trauma that Lovecraft portrayed in the face of these encounters. A kind of disbelief that creatures like this exist, even though you are witnessing them first hand.
Other sources of inspiration for Miskatonic West?
The great genre films of the late seventies and early eighties. They all concentrated on being visually and emotionally real, yet they couldn't rely on CGI, so they had to work to make a quality piece of cinema. Alien and it's use of shadow to hide the xenomorph is a major source of visual inspiration. It's what you don't see that's scary. The Thing. The Fog. Blade Runner. Close Encounters. All focused on being real while taking care to create visual poetry.
What can you tell us about the series' intended look and feel?
I want to be more suspenseful than gory. Scary. Things coming out of the dark. We intend on being emotionally honest, with a sense of humor. Elements of college drama, West Coast cop show and supernatural episodic. We want things to feel real and really accentuate the insanity of monsters existing.
"Based on H.P. Lovecraft" by itself already suggests quite some special effects - so what can you tell us about yours?
Creative film making. We actually have a very talented make up fx person attached, Laura Lieffring - http://www.lauralieffring.com/specialfx.php. We're going to put a sizeable portion of the budget into the makeup effects, then show it only when we really have to. Use in camera strategic lighting, camera tricks and good old fashioned filmmaking to make it seem realer than it is. Then implement just enough CGI to fill in the gaps and specify certain elements. It should be fun. I'm really amped by the challenge of making low budget original genre filmmaking that looks effing real. I'm a big believer in in-camera monsters, made to look even more real with CGI. I just won Outstanding Production Value at the Laughlin International Film Festival for the short film What Future - https://www.facebook.com/whatfuture11. We did it on a modest budget, so I feel pretty confident we can pull it off. ;)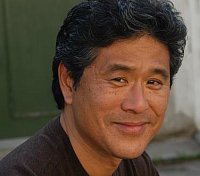 Ken Narasaki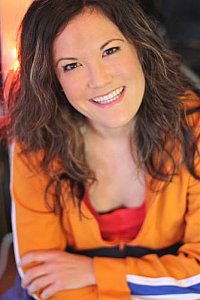 Lisa Hori Garcia
Anything you can tell us about your projected cast yet, and why exactly these people?
Ken Narasaki will be playing Professor Kaos - http://www.imdb.com/name/nm0621238/?ref_=fn_al_nm_1. Ken is a veteran actor of TV and film. I knew Ken and felt he was very right for this unique role, so he read for it and really captured what we were looking for.
Lisa Hori Garcia will be playing Kaos' number one student. She is in the teaser on the Kickstarter page. She is a member of the San Francisco Mime Troupe. Noah knew her from his days in San Fransisco. He felt she was right, so she auditioned and was perfect.
We have a casting person to help us with the rest of the casting. For this first episode, there will be Kaos, three students and the monster.
Miskatonic West is as of yet in its fundraising stages - so what can you tell us about your fundraising efforts?
It's been an amazing experience connecting to the community of Lovecraft, monsters and horror. This is the first time running a fundraiser for a project, so it's pretty new. We have an angel investor who is willing to put in half if not more, but we still have a long way to go to get to half. We definitely need all the help we can get.
https://www.kickstarter.com/projects/1070256304/miskatonic-west
Once your funds are raised, what's the schedule ... and any idea when the film might be released onto the general public yet (and I know it might be waaayy too early to ask)?
We're shooting the inaugural episode of the webseries in January. We will have it go viral, then take that to production companies who do webseries to fund an entire season. We are also prepared to pitch it as a TV show as well.
Any future projects beyond Miskatonic West you'd like to share?
I'm writing a script for my mother, Oscar nominated June Squibb, and Margo Martindale of The Millers.
I have a horror script called Black Nile that was a finalist in multiple contests. That's about a journalist embedded with a squad in the last month of the Iraq War who find a hidden bunker full of undead mutants. She believes it's a bioweapons lab created by terrorists, when it's actually controlled by an American company.
I am aiming to get my first feature film into production by next year. I'm working on scripts for that, among other projects I'm developing, both film and TV.
I mostly do horror/scifi/fantasy, and indie character pieces. Giant Monsters and superheroes are my passion.
What got you into filmmaking to begin with?
As you saw, my mother is June Squibb. My father was an acting teacher. I grew up in NYC with them, so I was exposed to a lot of films and high quality theater. I realized I had a real talent for cinema in high school. I went to the University of New Hampshire for Theater, then came back to NYC and made short films and theater until I came to LA in the mid two thousands. I was hired to write a horror/scifi movie of the week soon after I got here.
What can you tell us about your filmwork prior to Miskatonic West, and your evolution as a director?
I went to the New York Film Academy, then teamed with DP, Derek Rittenhouse - http://www.spectrepictures.com - to make his junior and senior thesis films when he went to School of Visual Arts. Later We made a PSA for moveon.org's Bush in 30 Seconds contest in 2004. We got the second most votes and went to their event to name the winner. Since I've been in LA, my most accomplished work has been Admission" starring James Cromwell - http://www.admissionsfilm.com. That's about an Israeli couple and Palestinian who meet in the entrance way to the afterlife. It won several awards. Most recently has been What Future, mentioned above.
Filmmakers who inspire you?
Akira Kurosawa, Spielberg, Francis Ford Coppola, Sergio Leone, Stanley Kubrik, Terry Gilliam, the Coen Brothers. Classic filmmakers who made lasting work. A lot of their films had action or genre elements. Heavily influenced by Japanese genre film like kaiju and samurai films. They are often very well shot and composed.
Your favourite movies?
Empire Strikes Back, Fisher King, Yojimbo, Alien, The Thing, The Godfather, Brokeback Mountain, Batman Begins, Jaws, Close Encounters, Saving Private Ryan, Once Upon a Time in China, Braveheart, Dragonslayer, Galaxy Quest, The Big Lebowski, 1977 King Kong, Ingloorious Basterds, 12 Years a Slave, Wall-E, Romero's Dawn of the Dead, Casino Royale. I like when big spectacle movies have brains and a heart. This year was a pretty good year. I really liked the new X-Men movie.
... and of course, films you really deplore?

Feeling lucky ?
Want to
search
any of my partnershops yourself
for more, better results ?

The links below
will take you
just there!!!

Find Harry Kakatsakis
at the amazons ...

amazon.com

amazon.co.uk

amazon.de
Looking for imports ?
Find Harry Kakatsakis here ...
Something naughty ?
(Must be over 18 to go there !)

Anything that's cheap, boring and insults my intelligence. The Transformers movies. Not a fan of Man of Steel.
Your/your series' website, Facebook, Kickstarter, whatever else?
https://www.kickstarter.com/projects/1070256304/miskatonic-west
https://www.facebook.com/MiskatonicWest?ref=aymt_homepage_panel
https://www.facebook.com/pages/Harry-Kakatsakis/154089878049978
Twitter: @HarryKakatsakis and @miskatonicwest
Anything else you are dying to mention and I have merely forgotten to ask?
No. Can't think of anything.
Thanks for the interview!