Your new movie Rabid Love - in a few words, what is it about? And what can you tell us about your character in it?
Rabid Love is our love letter to the horror films of the late seventies and early eighties. It is set in 1984 and follows a group of college-aged friends who go on a hunting trip together where they themselves become the hunted. I play Heather Ross, a young woman who has just graduated college along with her high school sweetheart John, but is considering leaving behind her small town life to pursue bigger and better opportunities.
You're credited with writing the story for Rabid Love as well - so what were your initial inspirations? And what can you tell us about the writing process as such, and your collaboration with your screenwriter (and husband) Paul J. Porter [Paul J. Porter interview - click here]?
The original inspiration was all Paulís. He had the idea for Rabid Love back in, I donít know for sure but maybe, 2009. Paul wrote the first draft on his own and then I came in and helped hash out the story as we got closer to shooting. It became easier to write when we knew exactly where we were shooting and who our actors were. A lot of the dialogue and character development was written specifically for the actors that we had.
Speaking of Paul [Paul J. Porter interview - click here] - what was your on-set collaboration like?
Paul was completely in charge of directing on set. I headed up the special effects department and help with getting a lot of the wardrobe together. I also acted as Paulís personal acting coach for when he was on camera, because even though he plays John he had had very little acting experience before we shot.
What convinced you to also picking up producing duties on Rabid Love?
Iíd say that came about mostly because of proximity. Unlike any other employee or partner, Paul has me at his disposal 24 hours a day so heís been putting me to work on his projects from the beginning. With Rabid Love though, I really started to step up more as an equal producer. We collaborated from the beginning and made a lot of the major creative decisions together.
What did you draw upon to bring your character to life? And have you written her with yourself in mind?
Heather was always going to be me so we definitely had my own quirks and personality in mind during the writing, but her experience within her heroís journey are what really shaped who she was. I think the first time that it clicked in my mind who she was, is when we came to the point in writing where we established what Heather wanted versus what she needed. Your hero may or may not get what he or she wants, but they will always get what they need. Spoilers: Heather wanted to make the people she loved happy, what she needed was to find her own happiness independently from the ones she loved.
Do talk about the rest of your cast for a bit, and as a producer, how much influence did you have on the casting process?
The casting started back when we wrote and shot the short film version of Rabid Love. We started with myself and Brandon Stacy on the cast although we originally had Brandon playing the role of John. Then we took Brandonís advice to bring in Josh Hammond for the role of Adam, and for the short we just needed the one other role of Summer. Initially we held auditions but werenít happy with who we were finding. So we turned to Brandon again for help (we were new to Los Angeles and didnít know as many actors as we do now). Brandon suggested both Hannah Landburg and Jessica Sonneborn to us. We ended up going with Hannah just because she had brown hair and we didnít want her to look too much like ďHeatherĒ. Then we ended up bringing Jessica on in the feature to play the role of Julie, which was originally written for another actress who we knew but wasnít available.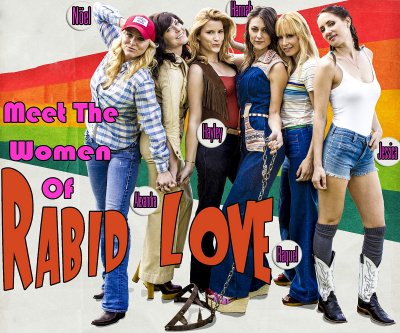 For the smaller roles, we wanted to cast in Kansas or the near by Colorado. We got a couple interns from the Colorado film school one of which was also an actress, Natalie Turner, so most days she PAíed for us and then had a couple shoot days playing one of the sexy hippies. It was the same case with Meagan Hensly who came in from Kansas City. Similarly Chris Bylsma was our day-to-day sound mixer except for when he played the part of Ben. Brian Reese, our Sheriff and 1st AD, hooked us up with all of the Kansas City talent.
What can you tell us about the actual shoot, and the on-set atmosphere?
It was like movie-making summer camp! We were all living together in a tiny town of which we made up a tenth of the population. We would shoot all day, wrap, drink, sleep, and get up the next day and do it all over again.
Do talk about critical and audience reception of your movie so far!
The response has been incredible. Weíve gotten so many great reviews from horror bloggers with really great things to say about the film. Itís like they ďgetĒ what we were trying to do, and as a filmmaker you couldnít ask for more. I also love the great comments that I get from people on Twitter. Donít think that if you tweet something to me, it will just disappear off into the internet world. No, I read them all and they really brighten my day when someone posts how much they enjoyed our movie. Iím @HaylzBellz by the way.
What can you tell us about your previous collaborations with your husband Paul [Paul J. Porter interview - click here], and how did you first hook up?
Paul and I have been working together pretty much from the beginning of our careers. We met at a wrap party for a History Channel project I worked on. I was very green to acting professionally and Paul was getting his undergraduate degree in film from UNM. I asked him out on a date and our mutual collaboration in film and in life began. (Wow! That was cheesy!) We did a lot of short films while Paul was still in school including some 48hour film competitions. And Rabid Love was our first feature. We refer to it as our first child. I hope we end up with a very big family!
Any future projects you'd like to share?
Paulís just been in Kansas doing some scouting and rounding up interest for our next feature, which we hope to shoot out there. We have a few scripts on hand as options, including my first screenplay that is still in re-writes. Itís a horror as well. If we donít make it this time around, Iím sure it will make its way to the big screen eventually.
What got you into acting in the first place, and did you receive any formal training on the subject?
Iíve been acting since I was a little girl, and Iíve wanted to become a professional actress since I realized that that would be the only way that I could be a secret agent, archaeologist, rocket scientist, and Miss America. Or at least the easiest way. I studied acting all through grade school and college, and Iíve been taking some classes out here as well. I like to branch out from the norm and learn things that arenít just acting because I think as actors we need to be able to portray real people and just need to learn as much as we possibly can. Iím taking swimming classes right now. I never learned as a kid, so maybe Iíll play a role in the future where Iíll be a swimmer. Who knows? Youíve just got to be ready for anything.
What made you pick up writing and producing eventually?
Thatís just a natural progression for a lot of actors. You can only sit around waiting for other people to hire you for so long before you decide that youíve got to start making your own projects so that you can hire yourself. Plus being married to a producer makes it a lot easier.
What can you tell us about your filmwork prior to Rabid Love?
Iíve worked a lot. There are a couple dozen credits on IMDb. There are a few movies, that can be rented or downloaded. In horror, thereís 100 Ghost Street: The Return of Richard Speck and Zombie Night. Those were both Asylum films along with 500 MPH Storm. I also do a lot of comedy. I play a funny role in the movie Frank which stars Michael Fassbender, Domnhall Gleeson, and Maggie Gylenhall. It was at Sundance this year and is going to make its way around some movie theaters next month. Other than a few TV co-stars, most of the stuff Iíve done is super indie and doesnít have distribution.
How would you describe yourself as an actress, and what do you draw upon to bring your characters to life?
I am constantly growing as an actress. When I started, I thought I was only a dramatic actress good for crying and doing emotional scenes. A few years ago, I got thrown into comedy and loved it. Iím very adventurous when it comes to stunts, so Iíd really like to do something heavily action driven. Who knows where all this crazy business will lead me.
Actresses (or indeed actors) who inspire you?
I tend to be inspired more by specific performances than by an actor's entire career. Iíve always loved Kim Basinger in Batman and recently I rewatched Election with Reese Witherspoon and really loved her performance in that. I also really like Olivia Wild in Tron Legacy. Iíve always been told that I looked like Julia Roberts so that made me like her a lot of course. I know that these are all random, and Iím sure Iím leaving out tons of actors. Anyway, I just find inspiration all over the place.
Your favourite movies?
I love movies with very strong character development. My favorite is Love Actually. The way you meet every character in very short scenes at the opening and you leave each scene knowing exactly how you feel about each and every character. Thatís some pretty talented filmmaking.
... and of course, films you really deplore?

Feeling lucky ?
Want to
search
any of my partnershops yourself
for more, better results ?

The links below
will take you
just there!!!

Find Hayley Derryberry
at the amazons ...

amazon.com

amazon.co.uk

amazon.de
Looking for imports ?
Find Hayley Derryberry here ...
Something naughty ?
(Must be over 18 to go there !)

I dare not answer this question. As an actor it is very dangerous to ever say that you donít like something. You never know who you could be working with tomorrow.
Your/your movie's website, Facebook, whatever else?
www.hayleyderryberry.com, www.facebook.com/hayleyderryberry, www.rabidlovemovie.com, www.roguetaurus.com, and follow me on Twitter: @HaylzBellz
Anything else you are dying to mention and I have merely forgotten to ask?
Nope, or not that I can think of right now anyway. Thank you for the interview, Michael, and thanks for supporting our film by helping to get the word out. Everybody, order or download Rabid Love today and review us on sites like Amazon and Netflix! You would be doing a very good deed by helping out some highly passionate independent filmmakers :o)
Thanks for the interview!