Your movie Massacre at Femur Creek - in a few words, what is it about, and what can you tell us about your character in it?
Massacre at Femur Creek is an homage to 1980's slasher films, with lots of blood, guts, and a liberal dose of cheeky comedy. My character, the Hitchhiker, opens the film and helps set up the era the film is set in, as well as the tone of the film with her dark-humour death scene.
What did you even draw upon to bring your character to life, and how much of Heather Dicke can we find in the Hitchhiker?
I tried to put myself in the mindset of hitchhiking across the country in the 80's - no cell phones, no GPS, no internet - basically putting yourself into fate's hands and hoping that everything works out. Of course, you have to have a certain attitude to be a young woman doing that, and I really enjoyed playing a bit of a tough cookie. As for where you see Heather Dicke the most, it's probably the last scene right before I die: I'm pretty stubborn, I'd probably just stand there daring the killer to actually attack me rather than run away screaming. It's not bravery. It's just foolishness.
Since you die rather early and rather gorily in the film, you just have to talk about your death scene for a bit, and how much fun was it to film it?
So much fun! Working with Kyle Hytonen [Kyle Hytonen interview - click here] and his crew last year (for Follow) was my first time ever shooting a gory kind of scene with fake blood and SPFX makeup, and I loved it. When I read this script I was so pumped to shoot another death scene with him! Thanks to the awesome IndieGoGo campaign Kyle set up, we had a much better budget to work with this time around, and he really upped the game in terms of the special effects. We had assistants off camera to help pump the blood through a series of tubes that we had taped to my neck and stomach for the death scenes, and while it was cold and we had a couple of misfires initially (the tube on my stomach got pointed down during the struggle with the killer, and ended up just pouring blood straight into my pants) it was really fun. I got so into that stabbing scene, actually, that I ended up grabbing John's hand a bit too forcefully and managed to stab myself with the fake knife... Just a tiny little puncture, but it drew blood and I have a scar now! I consider it a badge of honour.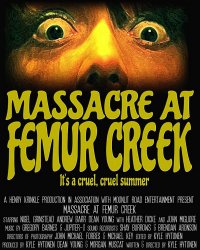 How did you get hooked up with the project in the first place, what did you find appealing about it? And since it's a slasher movie, is that a genre you can at all identify with? And to what extent could you identify with the film's brand of humour?
Kyle & I met last year when he cast me in his short film Follow, and I was lucky enough that when he was looking for someone to play the Hitchhiker in Massacre at Femur Creek he asked me if I'd be interested. I loved working with Kyle and everyone else on Followso there was no hesitation to say yes to this project! And then the more I found out about it, the more I loved it. I got to dress up like it's the 80's again, I get to have a fantastic on-camera death, and even the parts of the script that I have no part in were just great - I loved the references to future technology, the play on selfies, it was just so silly but still clever. I love watching films that can be fun without taking themselves super seriously, and this just struck me as exactly that kind of project, while at the same time being a really well crafted homage to retro slasher films.
I've actually ended up being cast quite a bit in the Canadian horror/paranormal genre of films, and I'm pretty happy about it. My personal favourite films tend to be the ones that are a departure from reality, so being cast in these projects is a lot of fun for me. It's great to be involved in creating films I enjoy watching!
The film's humour can be a bit crude at times, but the jokes about where technology is going to be in the next 30 years, and specifically the ways we tend to use that technology for stupid reasons, are totally my sense of humour. I'm pretty sarcastic, which is how I think these jokes come across. I think Kyle really wrote some good jabs at our current society into the script, and those are some of my favourite parts of the entire film.
What can you tell us about your director Kyle Hytonen [Kyle Hytonen interview - click here], and what was your collaboration like?
Kyle is a great director to work with. He's creative, laid-back but totally professional, he really clearly communicates what he's looking for in a scene, and he encourages me to do my own thing with the character and see what happens. Kyle creates a really comfortable set. We had some students working on the crew when we were filming my scene and I was very impressed with how Kyle was guiding the students and getting them involved in actual production, encouraging them to get behind the camera, or the mic, or man the pumps for the blood scenes, instead of just using them as gofers as I've seen other directors do with students on sets. I feel like that's Kyle in a nutshell, really - sharing his passion for a project. It's impossible not to love being on set when everyone there is so excited to be a part of the project.
As for collaboration, Kyle started talking to me about Massacre at Femur Creek really early on in the process, so I had the privilege of seeing early drafts of the script, and my character changed quite a bit between the first script I read and the finished film. The Hitchhiker turned into a much fuller character, with some great funny moments of her own, and honestly it's such an honour to be given a bigger role in the film. Kyle and I e-mailed back and forth about the project a few times, had a couple of Skype meetings to go over the script, the wardrobe, etc, and he was always really open to any questions I had, be it about the character or the filming technicalities. Every time we talked I'd get more excited about the project, and I'm dying to see it on the big screen! (Hehe, I made a joke.)
Do talk about the shoot as such for a bit, and the on-set atmosphere?
This shoot was a fun challenge because we were filming on a public road, so we had to try and time our shots with the traffic as much as possible. I for sure accidentally asked an actual motorist to pick me up in one take, because I thought it was the car driven by our crew member! As the night wore on there were less cars, but John Migliore [John Migliore interview - click here] & I had to start turning away from traffic or hiding in the trees by the road whenever a car would pass by, because we were both totally covered in blood, my shirt was ripped, John had that mask on... it was pretty funny.
But the atmosphere on set was fantastic, everyone working together, having a great time, there were a lot of jokes and laughing while we set up between takes. At one point we had a raccoon show up and try to steal my backpack at the side of the road, so we set up a camera on the cherry Jello covered fake intestines on the cardboard sign at the side of the road to try and get a gross, creepy shot of the raccoon eating my guts. That's the kind of set it was - laid back enough to jump at a new opportunity for a cool shot, but so well run that we had the time to take a few minutes to try something different. It was a great, supportive environment. I was happy to be laying face-down on the pavement at 2am, just because I was enjoying being on set so much.
Any future projects you'd like to share?
Right now I'm working on two different short films, Difference Engine and Billy Burke's Wife's Car, both written & directed by Cavan Campbell. I've been wanting to work with Cavan for years, so I'm pretty excited about these projects. While I love working on Kyle's films because they're high-energy, fun, and involve elements of the fantastic (spirits, masked serial killers, etc), Cavan's work is very grounded and dramatic, exploring the tarnished moments that make up every day life. It's a new challenge for me, and I've really enjoyed the work we've put into the projects so far. I've spent the past year as part of a troupe that wrote & performed a full-length comedy revue that was performed on The Second City main stage in Toronto, so I'm really changing gears for these projects. As well, based on the footage I've already seen, these films are going to be gorgeous.
What got you into acting to begin with, and what can you tell us about your training as an actress?
I've wanted to be an actor since I was a kid. I loved movies and shows where the fantastic was made real - space travel, magic, Victorian England brought to life - and I wanted to be a part of that. But, after I didn't get into my first choice acting programme at a university, I decided to let life take me in a different direction. I ended up being in my mid-twenties and working in an office 9-5, Monday to Friday, I hated my job, I was overweight and miserable, and I just suddenly realized that I couldn't picture this being my life. So I put together an 8-month plan to pay off my debts, started taking acting classes again, and with the support of my husband, quit my job just after my 29th birthday to pursue acting full time. It's been an amazing journey, getting to work with some amazing people, and really live my dream of being involved in the type of projects I love to watch.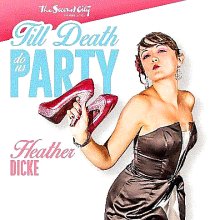 I began taking acting classes in high school, both for stage and on-camera classes, and kept involved with community theatre and student films right up until I graduated from Ryerson. I became convinced that it wasn't a viable option for a career, though, so I stopped performing at all for years, but I always ached to be acting. When I decided I needed to go after my dream or live a life of regret, I started taking classes again, starting small with a local community acting class, then moving on to improv classes at The Second City Training Centre. I ended up finishing their 10 month improv foundations programme, which got me back on stage again, and then auditioned for their Conservatory Programme, which is a year-long course focusing on sketch comedy, which was right up my alley. It was an amazing experience, and through it I got the chance to work with some of the best names in Canadian comedy. The Second City training centre is a fantastic place to network, and through my classmates and my teachers I was able to find out about a lot of workshops in the city that I probably wouldn't have otherwise come across.
Can you still remember your first time in front of a camera, and what was that expecience like?
My first time in front of a camera was probably back when I was in high school, and we had a video class - literally, a huge camera that recorded straight onto VHS tapes. I was asked to walk on and say a line in the class project of the student director for the school play that I was cast in. I almost peed myself with excitement. I'm sure looking back I was just the worst, I was so excited to go up and ask for drugs on camera and I can remember feeling so stiff and unnatural, but to me this was super thrilling. I'd spent my childhood forcing my sisters into hours upon hours of elaborate play-acting on our farm, so that I could pretend to live this life of being a screen actor, and here was my first step! I don't think I even saw the final product, and it was years before I was on camera again, but it was such an event for me. I couldn't wait to do it again.
What can you tell us about your filmwork prior to Massacre at Femur Creek?
I started getting cast in school projects about a year and a half ago, when I was trying to build up my reel and get more experience in front of the camera. I did quite a few projects for Ryerson University and Humber College over the course of the spring, all class projects. Then last summer I auditioned for Kyle, and we shot Follow, which as I've said was an amazing experience, and I continue to be blown away by the reception at film festivals all over the world. Around the same time I was shooting Follow I also shot another short film called Divine Rite, which is still in post-production, but I can't wait to see the finished product. Divine Rite was my first shoot that requires I stay on location - in Niagara Falls - and it was a big deal to me to be important enough to be put up in a hotel!
Other than that, I shot a pilot for a web series called Under Pressure earlier this year that I'm still hoping gets off the ground, as I really loved my character, and the cast & crew were just fantastic. I've also helped a few projects for friends I've met through Second City, comedy troupes branching out into the web-series world or incorporating elements of video into their stage performances. Those kind of projects are always a blast, because I generally get to spend a day or a weekend playing a huge character that I wouldn't normally get to play in a more traditional film.
In terms of actually being seen nationwide on the big screen, I've only had that happen once so far, and it was in a commercial for Cineplex Theatres that ran in February of this year. But it was an amazingly fun shoot, and I've actually had people recognize me from it, which is mind-blowing.
Besides making movies, you have also done quite a few stageplays. So how does performing on stage compare to acting in front of a camera, and which do you prefer, actually?
They're almost totally different beasts, acting on stage vs acting for camera. On stage you have to project your voice and speak clearly, you have to slightly exaggerate your facial expressions and movements to make sure the audience can read them, your movements are dictated by where the audience is so that you can be seen at all times. On camera you can speak softly, wince and the camera sees it, you can use the entire space (and you have access to way more props and locations to help set the scene!). And then of course, on stage you must have all your lines, movements, looks, memorized in their entirety, perfectly, from start to finish for the whole performance. On camera, you're going to do one scene, one look, six different times for different angles, over and over, and then move on to the next scene another day.
As for which I prefer, I don't think I could choose. There's something electrifying about getting the immediate feedback of hundreds of people while you perform - the laughter, the groans, the gasps. But I'm also the kind of person who loves investing themselves completely, obsessively, in a project for a couple of months, and then moving on to something new, so in that respect screen acting is a perfect fit for me.
Actresses (and indeed actors) who inspire you?
I find that the actors whom I most look up to are the ones who take their craft seriously, but don't take themselves too seriously on screen. David Tennant is actually the actor who inspired me to get back into acting in the first place. Some friends introduced me to Doctor Who and I was struck by how he threw himself into these totally absurd situations, and just seemed to love it, while at the same time conveying this intense sadness, or utter danger, or total happiness. He was amazing. I watched Casanova and Hamlet, of which he performs both the title roles, and he handled both masterfully. I travelled to London earlier this year and went to see him live on stage, and again, he was just an inspiration. He's so totally committed to his roles, you believe anything he does.
I find this in a lot of British actors, actually - Tom Hiddleston, Patrick Stewart, Martin Freeman, they all seem to be able to move between really serious roles and rather silly characters and everything they do is great because they just give their all to whatever project they're working on. It's awesome. Sigourney Weaver is another actor who seems to have fun with her projects, and has some surprising, really fun cameos. These are the kind of actors who inspire me.
Your favourite movies?
I'm all over the map on favourite movies! On the one hand, Gone With The Wind and The English Patient are two of my very favourite films, and if we're talking classics, the entire Star Wars trilogy was integral to my childhood and hold a place in my heart. I watch them over and over. But then I also have films like Independence Day, Men In Black, Ghostbusters, The Abyss, Alien, and even Megamind on my favourites list. And I have a couple of films that people love to hate on my list, too; no apologies, I really like Lost In Space and Waterworld. The execution may have been lacking, but the concepts are just fantastic. I love stories like these. I'm a sucker for sci-fi adventure.
... and indeed, films you really deplore?

Feeling lucky ?
Want to
search
any of my partnershops yourself
for more, better results ?

The links below
will take you
just there!!!

Find Heather Dicke
at the amazons ...

amazon.com

amazon.co.uk

amazon.de
Looking for imports ?
Find Heather Dicke here ...
Something naughty ?
(Must be over 18 to go there !)

Ooooooooh no! This industry is too small, I won't trash talk films in an interview! Good try, though!
Your website, Facebook, whatever else?
My website can be found at flavors.me/heatherdicke and my Twitter handle is @HeatherDicke. I can also be found on IMDb by searching my name!
Anything else you are dying to mention and I have merely forgotten to ask?
I just want to credit my husband for being so supportive of my creative endeavours. I really could not do this without him. He works extra hard so that I can chase my dream without worrying about giving it all up for another horrible office job. That's love, baby!
Thanks for the interview!
Thank YOU! This was fun!