The Hillbilly Horror Show - in a few words, what is it about?
Blu: Each volume of Hillbilly Horror Show will showcase some of the best shorts the genre has to offer - and provide plenty of laughs (and a few beer burps!) along the way. The fun one-hour comedy show is hosted by Bo, Cephus and their hot kissing cousin, Lulu.
Bo: Hillbilly Horror Show is a horror anthology series, being done in one-hour volumes that showcases short films from all over the world. While our primary focus is live action horror shorts, we try to mix in a few that qualify in peripherals of the genre as well, such as thriller, paranormal, horror-comedy, and animated.
How did the four of you first hook up, and how did the project get off the ground?
Blu: Believe it or not, the show concept came to me two and half months ago after watching Bo Keister play Bruce in the film The Cabining. I started thinking about all the short films I get sent from filmmakers looking to have produced into feature length films. Being a filmmaker, I absolutely understood the struggle and when I pitched it to Bo and Dave Mun (director House of Good and Evil) [David Mun interview - click here], they loved it. Dave made some phone calls and got the team from House of Good and Evil together, while I reached out to Scott Geiter (Gruesome Hertzogg). Things evolved from there and when I reached out to film reviewers, including you and Kevin Scott, things really came together. Thanks by the way. [You're ever so welcome!]
Bo: Blu and I worked on his film House of Good and Evil. We stayed in touch, and found that we worked well together. I think we both have a similar drive and similar goals, so we formed a partnership. We had been bouncing ideas off each other for a while, and when Blu came up with the idea for Hillbilly Horror Show it just felt right, so we moved on it. It just felt right and all the pieces fell into place.
Scott and I met when I was promoting my role in the film The Cabining. We hit it off, and he has been a great supporter of my work. We had always said, "Hey, we need to find something to work on together." So, when Blu suggested him as a co-host, it was a no-brainer.
We did a casting for the role of "Lulu" and just hadn't gotten anyone who blew our hair back for the role, so I reached out to an agent friend and she suggested Rachel. From the moment we got the first picture of her, it was pretty clear we had our "Lulu". She's just beautiful. But more importantly, Rachel really got what we were going for and the humor behind it. She was that perfect fit we'd been looking for, and we're thrilled to have her on board.
Rachel: I was introduced to Bo via my agent Sheri Bias from Liquid Talent. She contacted me to see if I was interested in auditioning for the role. I had to giggle at first since the role was quite unlike anything I had ever auditioned for, but I went on a whim and filmed a one-take improv self audition and never looked back! From there Bo introduced me to Scott and the rest of the crew.
How did you come up with the concept as such ... and why hillbilly hosts?
Bo: The concept was all Blu's, so I'll let him speak to that part. As for using "hillbilly hosts", I think it was probably the only way to have me hosting the show and, at the same time, justify my heavy Southern accent. LOL
Blu: I'm a hillbilly as is Bo Keister, so stick with what you know.
What can you tell us about the look and feel, and of course also the humour of the host segments?
Blu: Think about the hosted live skit shows from the 80's. Dave Mun [David Mun interview - click here], who executive produced this time around, really had a look he wanted, which Sharif Salama directed.
Bo: It really reminds me of Wayne's World in a way, as far as the set and the whole "two guys in a basement" thing, but the humor is very much like Hee Haw. It's full of quips and it's sometimes a bit racy, but still subtle, lighthearted, and fun.
That's really what we were aiming from the beginning; Hee Haw meets Tales from the Crypt, and I really believe we achieved it.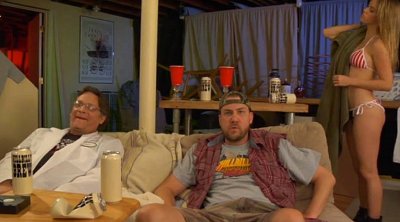 Scott Geiter, Bo Keister, Rachel Faulkner
Bo, Scott and Rachel, do talk about your characters for a bit, and what do you base your performances on?
Scott: Michael Cephus is a very different person than Gruesome Hertzogg - I can't say much, you will have to wait and watch - it's funny and challenging at times.
Bo: Truthfully, I'm pretty much playing an amplified version of myself. Being loud, over the top, and fun loving are all traits I embrace in myself. Most people would say I'm "wide open", and I love having that type of personality. My name and the terms "shy" or "introverted" don't usually get associated with one another often. LOL
Plus, I grew up in rural Virginia, USA, around hillbilly culture, so that part just comes naturally to me.
Rachel: My character is Lulu, the "kissing cousin". She is fun, flirty and stubborn. Lulu is notorious for wearing outfits that make absolutely no sense for tasks that she partakes in... or should I say little to no outfit! Haha. I base my performance just on experience alone from being raised in the South as a Georgia peach.
Anything you can tell us about the shorts you are showing yet? And how easy/hard was it to find enough shorts for an anthology show like yours, and what are the criteria the shorts you'll run have to fulfill?
Bo: Finding them was no issue. We put out a couple posts and just got flooded with submissions!
As for the shorts selected, all I will say is that these are QUALITY films. Many, if not all, have won multiple awards. These are not, in any way, your "friends in the back yard making a movie with a cheap video camera" shorts. These look like they were done by full blown studios! People are going to be stunned when they watch. It's a real testament to the capabilities of these filmmakers.
The $64-question of course, when and where will the Hillbilly Horror Show be released?
Blu: Tonight!! (March 1st 2014) - but for your fans, it's up.
Bo: GO WATCH IT NOW!!!!!!!!!!!!!!!!!!!!!!!!!!!!!!!!!!!! Haha!
Any future plans for Hillbilly Horror Show after its first season you'd like to share? And future plans beyond Hillbilly Horror Show?
Blu: We have 2 volumes ready and will shoot 2-3 more volumes shortly.
Bo: Well, Volume 2 is already done and will be released on May 1st.
As for the future, we're already setting up for Volumes 3 & 4, and hopefully many more to follow. We just want to keep it growing. After the initial launch, we'll be filtering out to more platforms, such as iTunes, Google Play, and perhaps even traditional TV platforms.
We're also putting together a shorts festival with some great prizes for filmmakers, and distribution through the show for the winners in each category.
Your/your series' websites, Facebooks, whatever else?
Don't forget to click our YARD SALE sign on the website to pick up some Hillbilly Horror Show merchandise too!
www.facebook.com/HillbillyHorrorShow
https://twitter.com/@HillBillHorror
Bo: https://www.facebook.com/BoKeister
https://twitter.com/@BoKeister
Scott: www.gruesomehertzogg.com
https://www.facebook.com/voiceofhorror

Feeling lucky ?
Want to
search
any of my partnershops yourself
for more, better results ?

The links below
will take you
just there!!!

Find Hillbilly Horror Show
at the amazons ...

amazon.com

amazon.co.uk

amazon.de
Looking for imports ?
Find Hillbilly Horror Show here ...
Something naughty ?
(Must be over 18 to go there !)

Rachel: You can find/follow me on Instagram and Twitter @rachel_fbabyy and view my website at http://rachelfbabyy.4ormat.com. My IDMb is also accessible at http://www.imdb.com/name/nm6253277/
Anything else you are dying to mention and I have merely forgotten to ask?
Blu: We are always looking for more short horror films and thank you for supporting indie filmmakers.
Bo: I just want to give a shout out to our entire crew, especially David Mun [David Mun interview - click here], who has worked his butt off for us in post-production. Also, to Clint Morris and the team at October Coast PR, you guys are beyond awesome! Thank you for your tireless efforts.
We definitely want to send out some love to all the filmmakers who have supported this project from the beginning. It wouldn't have been possible without their efforts and talent.
Lastly, to the horror fans and media folks, like yourself, we truly appreciate the way all of you have rallied behind the show. We hope you all enjoy what we've put together.
Thanks for the interview!