Your new movie Aimy in a Cage - in a few words, what is it about?
A cinematic circus about a teen girl and the end of the world. It is a new kind of counter-cultural cinema - an outsider's vision brought to a grand stage. I hired a cast and crew of experienced professionals and pushed them off a cliff.
Being an artist yourself, how much of you can we find in your character Aimy Micry, actually?
It is pretty much directly autobiographical, but a nightmarish telling of it. The film expresses the isolation, loneliness and alienation of my teenage years. I wrote the script when I was 17, and did very little editing on it. It's pretty much a time capsule. I would go in the back yard and smash all my things in slow motion, the same way Aimy smashes the dolls. I just love how proudly she is constantly throwing it back in their faces. She doesn't care one bit that she's digging her own grave. Nothing they can do to her is of any consequence, perhaps, she is rebellion personified.
Aimy in a Cage does abandon linear storytelling every now and again for a more associative approach - would you like to elaborate on that, and how difficult was it for you to not just lose your story in this?
At first, there's sprinkles of associative, expressive editing… then about half way in, the whole thing goes off the rails. I was influenced by the non-linear editing of Nicolas Roeg films - which attempt to express on film the abstraction of how we live. Like Scrooge… the ghost of Christmas past, present, future, all inform the action of how the film is cut. Yet we are not telling this via structural gimmicks - it's just little moments or flashes that key into Aimy's inevitable fate, an unravelling self-fulfilling prophecy… Or remind us where she's been. Or totally random. I could never quite get on board that I made a midnight movie. I feel there is a little more to this. I also love Godard's impatient asshole style of cutting. I think if I had investors, they would have locked me out of the editing room.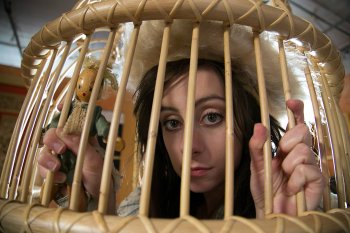 Allisyn Ashley Arm
How would you describe your directorial approach to your story at hand?
This is a film about spaces. It takes place entirely on one set, and when I wrote it was inspired by Roman Polanski's claustrophobic apartment thrillers (Repulsion, Rosemary's Baby, The Tenant). The 10mm lens helped as it totally morphs the reality of what you point at. Suddenly the space is no longer a window into the story, but the space itself becomes the story. A canvas materializes. We did a lot of complex blocking, 360s and a cyclical motif. The limitation was inspiring, and a way to show off what I could do. As I said, the running time is also a canvas. Sometimes we are fast, associative and over-the-top. Sometimes I will let a scene roll for two minutes without a cut while the music does most the lifting. What it builds up to, I hope, is an honest portrait of its subject and the nightmares around her. We ended up with a kind of horror Dr. Seuss ballet. It's interesting because I totally thought I would be a wide, medium, close-up director - or if struggling - you can always default to handheld. But as soon as I looked through the lens, everything became clear. I do have regrets. I wish I had double the shooting days, two units, and shot it anamorphic. Though then the pressure in our little fish tank might have forged an entirely new evolutionary ecosystem, we might have grown new limbs or gone full-on Lord of the Flies.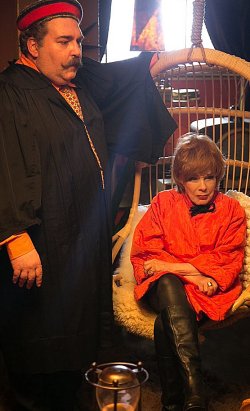 Theodore Bouloukos, Terry Moore
Aimy in a Cage features quite the stellar cast - so what can you tell us about these people, and what made them perfect for their characters? And how did you get some of these people, and what was your collaboration like?
Allisyn Ashley Arm is like a best kept secret, she is a star from the Disney Channel. If you are ever channel-surfing and come across one of those over-the-top sitcoms, and wonder, what if that person was put in a Gaspar Noe film, then you approach the spectacle of her taking this role. The question keeps popping up, is Aimy likable? But to me that's a very primitive way of viewing a film. It's rock and roll… The Misfits, Sex Pistols, this is our film. Allison's skill, I think, is to always communicate this character to the viewer, there is intent with every decision. I think the best performers are storytellers, and use the character and story beats beyond simple inhabiting. Theodore Bouloukos and Rick Montgomery jr are also excellent at that - the character work that is sly and subtle, but pushes the story forward. The craft becomes invisible and you're just paying attention. Crispin Glover, I can't even find the words. He is a torrential whirlwind, or a black hole that sucks the movie in slowly, yet he knows how to reach an end point that moves it forward. Terry Moore, who was nominated for an Oscar in 1953. She's been making movies for eighty years! She was close friends with Walt Disney and I sense she was almost playing a wicked witch. Allisyn and Terry Moore are 67 years apart but matched each other beat for beat.
Yes, beyond colors and style, the performance aspect is by far the biggest joy of filmmaking, and after writing I consider casting to be my passion.
What can you tell us about the shoot as such, and the on-set atmosphere?
A festering pressure cooker! It was nuts. A PTSD factory. The overhead dolly took 25 takes over two days - these demonically possessed maniacs drag Aimy across the entire set while she is begging for her life. The shot lasts for about a minute and they're all shouting over each other in an endless stream before they trample her. There are like four or five scenes like this. It's all so lovely.
Your favourite movies?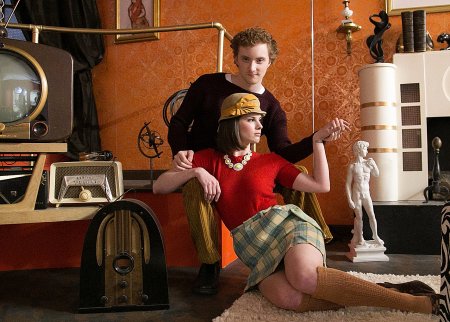 Michael Hunter, Sara Murphy
I love when the avant-garde fuses with the mainstream. I am influenced by those works by the brooding outsider… Ken Russell, Terry Gilliam, Alex Cox [Alex Cox bio - click here], Peter Greenaway. I love British film… even James Ivory or anything that bores in its study of social minutia. I relate to it because I grew up in a culture where bad manners is almost a spiritual attack… so there is a kind of poise and mannerly quality to this, in contrast to this anarchic figure at the center. Here is the thing though. Those directors I mentioned have universally struggled in the film business, and if there is something to learn from them, it's how to realize the entire spectrum of yourself as an artist (a fancy way of saying I'm gonna sell out). I mean, this was the right film for me, at the right time. General audiences, I don't know anymore. I hope they like the freaking costumes. I mean if anyone thinks Aimy in a Cage is weird they have not seen what I have. In art school they once showed a video artist's piece - people had electrical devices strapped to their genitals, with keyboards, mouses and monitors glued to their naked bodies, and they were all bashing keyboards over and over frantically. And every key they bashed would send electrical shocks to each others genitals. So they're all shocking each other and miming an orgy, covered in sweat, and the camera was zooming in and out rapidly and getting right to their face, while the soundtrack is like an industrial jackhammer. The professor made us sit there and watch this for an hour. That was weird, okay. Aimy in a Cage is not weird.
... and of course, films you really deplore?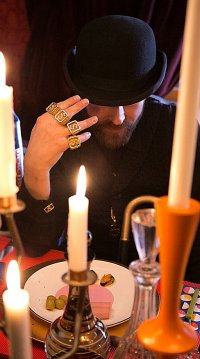 Crispin Glover


Feeling lucky ?
Want to
search
any of my partnershops yourself
for more, better results ?

The links below
will take you
just there!!!

Find Hooroo Jackson
at the amazons ...

amazon.com

amazon.co.uk

amazon.de
Looking for imports ?
Find Hooroo Jackson here ...
Something naughty ?
(Must be over 18 to go there !)

Some feel good crap. I like a movie that really explores its concept. This is why David Cronenberg is so great. It's never half way. Every film he makes is a deep study on its subject. He came out a couple years ago saying that film just isn't interesting anymore. I think he hints at a larger problem in the film culture, where it's all intellectual shortcuts. Directors have learned they don't have to do the work. If you hint at a theme, it's the same thing as exploring the theme. I am not sure who can tell the difference anymore. So why even put the work in? I think directors have realized the medium has far less to do with what you are doing, than who you are. I would hope to never fall into this trap and give every project a legitimate identity. Film is weird though, because it encapsulates so many crafts - I am a totally different writer than I am a director, than I am an editor. It's three me's collaborating with no negotiation.
Is there anything else you wish to discuss?
I spoke about British film, but I think the US film culture is moving in an interesting direction. The US loves underdogs, and when we're given a chance, we love crazy shit. Make no mistake, it's not because we're superior, it's purely accident - we are greedy capitalists through and through. But eventually things tip so far in one direction they land upon the other side of the circle. In business they explain this as two avenues for potential success… 1) The useful, and 2) The theoretically useful. The theoretical has an eye always on the fringe, as it represents the next frontier to steal from. Thus the theoretically useful becomes the exact same thing as the useful. This is an expanding virus - the accidental validity of the counter-culture. I believe this is why a film like mine has been given a legitimate platform for release. Having a background in business and finance, I find the art world has a lot more in common with the stock market than they like to realize. Right now the art world heavily favors a certain political, social agenda - and it has to be extremely literal, and overt. If there is metaphor, arrows must point to it. Cinematically stylized works are dead. You're better off shooting hand-held at bare walls - as long as you touch upon the politics of the moment. The world I have been trying to play in is the world of Pasolini or Jodorowsky. While these too are political works, they present their themes in groundbreaking, cinematic ways. If those auteurs were starting out today, it would not be the European art house giving them their platform - it would be the US genre ghetto.
How can we follow your film?
Please follow us on facebook.com/aimyinacage
Thanks for the interview!