Your new movie Ugly Sweater Party - in a few words, what is it about, and what can you tell us about your character in it?
This flick is about two buddies, Cliff and Jody, who are invited to an "ugly sweater party" by some hottie twins, but Cliff ends up getting possessed by a killer evil Christmas sweater. I play Jody, who is trying to help his friend overcome the evil of the sweater.
What did you draw upoon to bring your character to life, and how much Hunter Johnson can we actually find in Jody?
Iíd like to say that thereís no Jody in me at all, but I wonít lie, thereís a bit of him in me for sure. Iím definitely not as crude or oblivious as Jody is but I can relate to the guy on a certain level. I occasionally had to go to a pretty juvenile headspace which was fun, but hopefully some of the true human moments of Jody come through as well, especially in regards to his buddy friendship with Cliff.
Do talk about Ugly Sweater Party's brand of comedy, and to what extent does it correspond with your own sense of humour?
Iím a huge fan of crazy, hard R rated raunchy comedies. Some of my favorite comedy films are BASEketball, Scary Movie and Harold and Kumar, so when Ugly Sweater Party started to come together I was so stoked it had some of those flavors in it. Iím also a fan of really dark humor, which I feel Ugly Sweater Party really delivers on. Thereís so many moments in this film where you really canít help but laugh, even in the middle of some pretty brutal situations.
How did you become involved with the project, and how did you end up on the production side of things as well?
I first got a call from my good friend Charles Chudabala [Charles Chudabala interview - click here] and he told me that he had pitched me as an actor for a director that he knew, Aaron Mento [Aaron Mento interview - click here]. I asked him about the project and when I heard the title alone I knew I had to be a part of it. Charles set up a meeting and we all hit it off really well. We began preproduction as Aaron wrote the script. It was a very organic process and it sort of grew from there.
What were the challenges of making Ugly Sweater Party from a producer's side of view?
Logistically this film was challenging just because we lived at ďCamp MandixĒ for the duration of principle photography. We were fortunate to have an amazing cast and crew who were willing to sleep in cabins and use a fireplace for heat for a couple of weeks. I think at one point during the shooting we had close to 30 people on set, shooting in a remote location, so that always brings up some fun challenges to coordinate.
What can you tell us about your director Aaron Mento [Aaron Mento interview - click here], and what was your collaboration with him like?
Aaron is such a madman, working with him is incredible. My favorite memory from preproduction was from a meeting Aaron and I had at a Starbucks on Sunset Blvd. We were a few weeks from shooting and discussing specific logistics on how we were going to pull off some of the kill sequences. A barista politely asked us to stop the conversation or leave. I think thatís when I realized that we were about to make a pretty gnarly horror movie.
A few words about the shoot and on-set atmosphere?
I just remember everyone stepping up and doing getting things done that needed to be done. Making 25+ ugly sweaters isnít easy, on top of everything else. Our cast & crew were always on point and every person helped this film in a major way. It was a great shooting experience.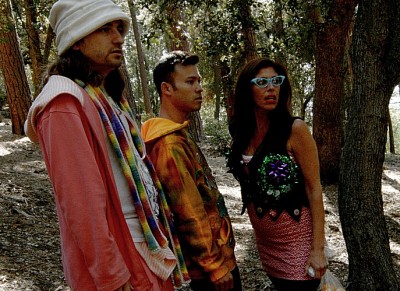 Hunter with Charles Chudabala and Felissa Rose
Any future projects you'd like to share?
Lilith, a film I acted in, drops digitally on Christmas. My revenge horror film called Serena Waits will be dropping in 2019. Irrational Fear, my collaboration with Slasher Studios, will be dropping digitally in 2019. For Jennifer, the next installment of the to Jennifer franchise, will also be out in 2019. I also contribute to Malvolia: The Queen of Screams, check her out on YouTube.
What got you into acting in the first place, and did you receive any formal training on the subject?
I have been acting and my entire life. I began taking formal acting classes in middle school and studied acting at Columbia College Chicago. Itís definitely something I love to do and hope to get more opportunities to do in the future, especially in horror films.
In recent years, you've also branched out into writing, directing and producing - so what prompted that move?
Honestly, breaking into the industry as an actor is really tough to do, so after a few years of call backs but only a couple roles, I decided to start to create content on the regular to stay productive and to give myself some sort of illusion of control. Now I just love to make movies and help other people tell their stories and hope to continue to do so, whether thatís in front of or behind the camera.
What can you tell us about your filmwork prior to Ugly Sweater Party?
A lot of the horror films Iíve been a part of have been very dark and serious by nature, so doing a balls to the wall comedy like Ugly Sweater Party was really refreshing. Iíve always gravitated towards the horror genre because itís the most fun place to be, so most of my previous work is horror related or very dark comedy.
How would you describe yourself as an actor, and some of your techniques to bring your characters to life?
My only goal when Iím acting is to deliver what the director wants. I tend to put my trust in the director and if theyíre happy, Iím typically happy. I try to find the subtext and character intentions in the script and roll from there. If a director gives me some freedom - which Aaron gave us lots on this film which was super fun - I love to play and improv on set and discover new things about the character.
Actors (and indeed actresses) who inspire you?
Actors: Marlon Brando, Brad Dourif, Glenn Howerton.
Actresses: Jane Fonda, Ellen Burstyn, Sigourney Weaver.
Your favourite movies?
Top five: Sleepaway Camp 2, Black Christmas, Texas Chainsaw Massacre, Henry: Portrait of a Serial Killer, Calvaire
... and of course, films you really deplore?

Feeling lucky ?
Want to
search
any of my partnershops yourself
for more, better results ?

The links below
will take you
just there!!!


I donít want to put any films on blast, but I will say that though Iím generally a big Darren Aronofsky fan, one movie I just couldnít understand was The Fountain. Iíve seen it a few times and still have no idea what the fuck is going on or why everyone is eating tree bark.
Your/your movie's website, Facebook, whatever else?
Twitter / Instagram: @LAHorrorcom
Thanks for the interview!
Thank YOU!!!!! :)